Top 40 BPO companies in the Philippines 2022
Last updated: August 16, 2022
UPDATED: This is the Top 40 BPO Outsourcing Companies in The Philippines for 2022.
The BPO (business process outsourcing) industry plays a vital role in the emerging economy of the Philippines and contributes over 11% to the GDP.  It is the single largest sector and employs over 1.2 million people, spread across some 700 outsourcing companies.
Navigating the outsourcing suppliers can be tough — especially if you're new to outsourcing or not based in the country (which most clients aren't).
As a result, we have compiled this review of the most notable 40 BPO companies in the Philippines. These are just some of the companies that placed their trust in the human capital of the Philippines and built incredible world-class outsourcing operations as a result.
Top 40 Outsourcing Companies in the Philippines
Top global outsourcing lists
Outsource Accelerator is the world's leading outsourcing marketplace and advisory. We list over 700 BPO firms located across the globe in our global directory, and we provide detailed information, price guides, and reviews.
Whether you're a solopreneur, SME owner, or a corporate executive, we can help you find the most suitable outsourcing provider for your business.
Explore our outsourcing directory now. You may also check out our Top BPO Outsourcing lists per country here:
Business Process Outsourcing (BPO) definition
Outsourcing is a broad category that covers many different staffing solutions and outsourcing firms.
In the context of the Top 40 BPO companies in the Philippines list, business process outsourcing (BPO) firms are categorized as the newer, and typically smaller, firms that offer the modern form of outsourcing.
The newer generation of outsourcing firms typically offer a broader range of staff roles, on more flexible terms, at a lower margin (transparent pricing), and cater more to the small- and medium-sized business (SMB) sector clients, instead of the bigger enterprises.
Typical BPOs can also be referred to as "seat leasing" or "staff leasing" and may also offer virtual assistant (VA) services, staff augmentation, and a range of 'non-voice' services.
Outsource Accelerator also publishes the Top 40 Call Centers in the Philippines, which covers the larger, more traditional high-volume call centers which typically offer voice and customer service (CS) services and cater to multinationals and enterprises.
If you want to connect with these or any of the 700+ outsourcing suppliers that we have on our list below or across our site, you can browse our BPO directory or get a free independent quote.
Before we get to the list, here's a brief background of the BPO industry in the Philippines.
>>> Coronavirus (COVID-19) is forcing a lot of companies to review their traditional staffing, offshore, and Work-From-Home (WFH) options.  Outsourcing enables businesses to slash costs whilst at the same time maintain and rebuild their companies. Read our dedicated COVI-19 articles here: OVID-19 Business Recovery Action Plan
BPO in The Philippines
Despite starting only 25 years ago, the sector is now the single biggest contributor to the nation's economic activity, and it's showing no signs of slowing down. Every year, outsourcing suppliers are setting up, or expanding their operations — as a result of the highly educated population, close cultural alignment to the West, and comparatively low-salary environment.
The very first call center was set up in the Philippines back in 1992 and in just over two decades, has grown exponentially, to become the economic lifeblood of the country. The BPO industry has played a vital role in providing jobs to thousands if not hundreds of thousands of Filipinos.
More than other popular fields, the business process outsourcing industry has helped showcase the many talents of the Philippines as a country. It helped the Philippines leave its mark globally in terms of its people's skillset. The BPO industry has leveled the playing field for Filipinos and given them the chance to compete with the rest of the world.
Right now, the BPO companies in the Philippines range from ambitious startups and midsize BPOs of 500-5,000 seats to huge global conglomerates.  The biggest outsourcing suppliers, such as Concentrix, employ as many as 80,000 staff in the Philippines, and over 250,000 globally.
We have only covered the top 40 BPO outsourcing companies in The Philippines here — there are many hundreds more… If you need help navigating the market, just reach out to us.
Comprehensive outsourcing BPO directory
Outsource Accelerator offers the world's most comprehensive outsourcing (BPO) directory for the Philippines.  We list over 700 BPOs in this directory and provide detailed information, corporate videos, price guides, and reviews.  In fact, 34 of the 40 top companies are listed in Outsource Accelerator's BPO directory — just click on the links to learn more.
Explore the BPO outsourcing directory now. You can also read about the Top 30 BPO companies in India.

Top 40 outsourcing BPO companies – Philippines
Cloudstaff is a leading provider of cloud-based workforce solutions for small to medium-sized businesses. With a focus on technology and culture, they offer advanced staff and project monitoring as standard and boasts the highest staff retention rate in the industry.
Read a full review of Cloudstaff, here.
Six Eleven Global Services is based in Davao, a southern city of the Philippines. They have been operating since 2005, have over 1,500 seats and provide customer service and other business processes to its clients, covering all industry verticals. They specialise in voice and customer service operations as well as offering a broad range of generalist services.
Read a full review of Six Eleven Global Teleservices, here.
Booth & Partners is an American-owned, full-service staffing and managed services solutions company. B&P prides itself on providing high-quality talent that are tailor fit to all the client's needs. Their commitment to generate results as well as reducing costs for their clients is truly top-notch. Simply put, B&P can allow any company to enjoy up to 70% cost savings, access to top talent, and the most tailored & flexible outsourcing solutions in the market.
Read a full review of Booth & Partners, here.
123Employee was founded in 2006 to meet the needs of small and medium-sized businesses. Since then we have grown to a team of hundreds of virtual assistants. We set out to create a company that would make outsourcing affordable to all businesses, while offering a high level of on-going training for our employees and clients.
Read a full review of 123Employee, here.
Wing Assistant is the world's best assistant for business. Wing provides businesses, startups, and executives with dedicated assistants who will take over busy work such as basic research, data entry, social media management, lead generation, etc.
Read a full review of Wing Assistant, here.
MVP Asia Pacific (MVP) serves as an efficient bridge between businesses of all sizes and the resources that they need at a fraction of the cost. The firm provides field experts to scale organizations quickly, smoothly, and cost-effectively. MVP is shaking up the offshoring and outsourcing industry with top-of-the-line methods and processes, to get you where you want to go, faster.
Read a full review of MVP, here.
DOXA is your x-factor in leveraging borderless talent. Founded by business leaders that are striving to make a difference in the world, DOXA is where people and trust come together. They strive to understand your business objectives and values to connect you with talent you can depend on.
Read a full review of Doxa7, here.
Staffwiz's mission is to help you grow your business with reliable, flexible offshoring solutions in the Philippines. We value integrity, clarity, professionalism, social responsibility, and family. Our workers carry these values with them in every job they do.
Read a full review of Staffwiz, here.
Remote Employee is a Western-owned & operated business with over 50 years of combined business and outsourcing experience. We help businesses of all sizes reduce operating costs and improve productivity just by rethinking the way you find great talent.
Our Mission is to give every size business the ability to easily connect to the global workforce. Giving our clients the means to grow and scale faster than traditional methods.
Read a full review of Remote Employee, here.
Big Outsource Support Services Inc. (commonly known as Big Outsource) is a Philippine-based startup-friendly Business Process Outsourcing (BPO) company and managed support services provider. Capable of handling front and back-office work – Big Outsource is the Premiere one-stop-shop for all of your managed services and outsourcing needs.
Read a full review of Big Outsource, here.
Outforce is one of the leading BPO companies in the Philippines, with success and trust built on our 'people first' approach, while leveraging the latest technologies to provide premium outsourcing services to our clients across the globe.
Read a full review of OutForce, here.
Intelliworx Ph is a start-up BPO company that specializes in virtual assistant services and offers business solutions. Our company offers a wide range of services that support and streamline our client's operations to help them achieve their business goals.
Read a full review of Intelliworx Ph, here.
At MySource, we are committed to continually evaluating and improving our services – ensuring that we're always firmly ahead of the curve, providing our clients with everything that they need to be successful.
Our team of Six Sigma trained associates is lead from the top-down by our black belt certified COO. With our office being centrally managed this allows us to foster that Continuous Improvement Culture while enabling us to ensure your Organizational and Brand Culture coincides.
Read a full review of MySource Solutions, here.
Virtual Worker Now is a team of world-class specialists from all around the globe, trained and experienced in making businesses work better, scale faster, and make more money.
Read a full review of Virtual Worker Now, here.
Touchstone Communications is an industry leader, providing omni-channel customer service with a focus on the travel, mortgage, e-retail, automotive, and solar industries. We provide a proprietary call analytics platform that ensures QA performance. We are new to the Philippines, but own and operate four facilities across Asia.
Read a full review of Touchstone, here.
We help you build your full-time, dedicated team in the Philippines, taking care of everything on the ground, while you retain full control of your team, including KPIs, quality, workflow and productivity. So not only do you enjoy significant cost savings (up to 70%), but you still get employees who work just for you, in your business, working towards your business-specific goals.
Read a full review of Liveware Labs, here.
At your service worldwide 24/7 services in approx. 40 languages Some 10,000 associates worldwide provide and optimize our customers' business processes. We offer a wide range of services in the areas of Mobility, Customer Experience and Monitoring – with proven Bosch quality, whether in a single location or across multiple locations worldwide. The competence, engagement and internationality of our associates make us the ideal partner for carrying out complex international projects.
Read a full review of Bosch, here.
24×7 Direct is a leading Australian BPO focused on delivering intelligent, intuitive and effective Offshore/Virtual Staffing solutions across Australia.
From its humble beginnings 21 years ago, 24×7 Direct has grown to a skilled and experienced sales force of over 100 full-time staff based out of the Philippines building real, humanised relationships with our clients and their customers in industries such as Telecommunications, Tourism, Real Estate, Financial Services, Travel, Education etc.
Read a full review of 24×7 Direct here.
nXscale is a People Solutions Partner for Startups and Scaleups. We empower rapidly growing organizations by building and scaling high performing teams in the Philippines through a service-oriented, people-centric and impact-driven approach.
With our years of startup and outsourcing experience, we combine industry knowledge and tailor-fit solutions to allow rapidly growing organizations to Start Fast and Scale Smart.
Read a full review of nXscale, here.
OP360 is a global business process outsourcing firm that offers 24/7/365 professional services for inbound and outbound call center, data center, accounting, technology support, application and web development, back-office, and all other related activities. Founded in 2006, the all-around organization has grown its business, with locations in the United States, El Salvador, Guatemala, San Marcos, India, and the Philippines.
Read a full review of OP360, here.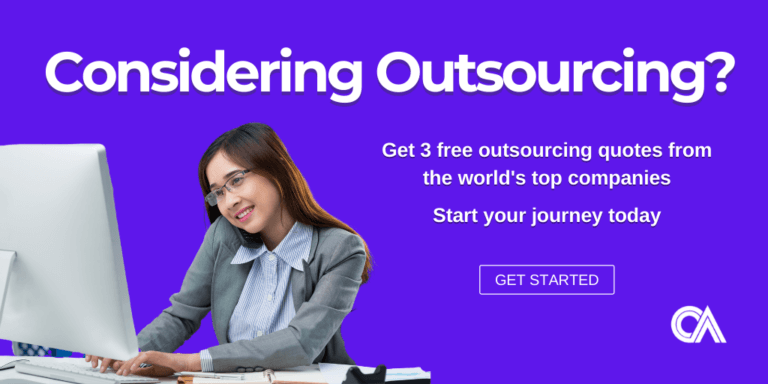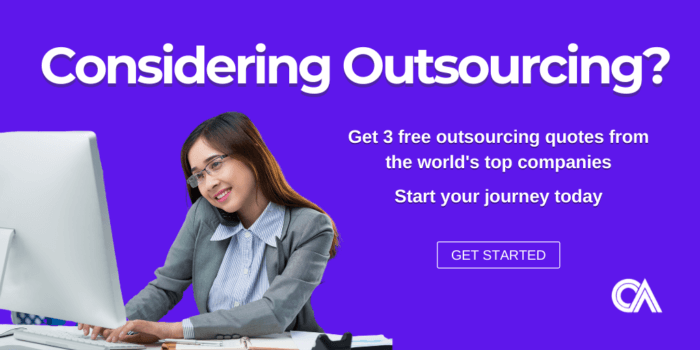 Founded in 2011, FGC+ is an outsourcing company headquartered in New York, with operations in Davao and Bacolod. We provide end-to-end, all-inclusive outsourcing solutions across a variety of roles, functions, and industries, most notably in these four service towers: Customer Service, Specialized, Back Office, and Medical Support.
Steered by our brand essence, #IgnitingPossibility, our workplace culture thrives through Empathy, Reliability, Possibility, and Growth.
Read a full review of FGC+, here.
BruntWork has been named one of the world's leading outsourcing companies by Apple News, Fox, Digital Journal and Marketwatch based on its growth rate and exemplary customer service.
What separated BruntWork from the competition was their ability to service both listed enterprises or a growing startup with fully managed outsourcing solutions with hourly rates that range from $4 to $8 USD an hour, which can make a huge difference to a company's bottom line.
Unlike the competition, BruntWork have teams across admin, sales, support, finance, payroll or web development functions with low-cost, high-output talent hand-picked and individually selected for the needs of each client.
Read a full review of BruntWork, here.
Remote CoWorker delivers world-class BPO services for prices that any business owner can afford. Whether you have one employee or 1,000, our team can provide a full-service solution or fill in your talent gaps to maximize your company's productivity.
We deliver success-based consultation strategies based on an individualized approach to ensure your mission, vision, and goals are met with the greatest efficiency possible. Our team offers training and simplified onboarding processes to ensure that each transition is as smooth and comfortable as possible.
Read a full review of Remote CoWorker, here.
Eastvantage enables seamless offshore operations for global companies from its locations in the Philippines, India, and Bulgaria through customized solutions in the areas of digital transformation, customer experience, and business support.
Read a full review of Eastvantage, here.
Outsourced is a leading Business Process Outsourcing BPO in the Philippines that provides dedicated full time remote staff and offshore staffing services to international companies of all sizes. We specialise in providing offshore staff of the highest quality who will continue to exceed your expectations ongoing.
Read a full review of Outsourced, here.
Virtual Latinos is the first platform focused on connecting entrepreneurs, teams and agencies from the US, Canada and the world with virtual assistants and virtual professionals from Latin America.
Read a full review of Virtual Latinos, here.
Concentrix was founded in 2006, and offers a range of Marketing Solutions, IT and Consulting, Product Development and customer service solutions. With its merger with Convergys in 2019, the combined conglomerate now has over 265,000 staff worldwide with over 80,000 people in the Philippines.
Read a full review of Concentrix, here.
Teleperformance is an omnichannel customer experience management company with clients spanning 160 markets.
Read a full review of Teleperformance, here.
Premier BPO LLC is a private, US enterprise that creates a synergy between personalized solutions, technology, and customer needs for exemplar Customer Service. Established in 2003, we strive to deliver end-to-end Business Process Outsourcing and Contact Center services to generate higher profits, reduce overall costs, and enhance Customer Satisfaction and loyalty.
Read a full review of Premier BPO, here.
KMC Solutions is a fast-growing outsourcing supplier which offers everything from co-working space, seat leasing, staff leasing and full-services BPO. They now have over 20 sites across the Philippines, with 12,000 person capacity.
Read a full review of KMC Solutions, here.
IBM is the oldest in this list at over 105 years old. The company provides innovation to the next level simplifying the process of doing business, increasing network, reducing overhead costs and enabling its clients to grow simultaneously.
Read a full review of IBM Solutions Delivery, here.
HGS employs over 45,000 people in 66 centers located in the US, Canada, the UK, India, the Netherlands, France, Germany, Italy, Jamaica, UAE and the Philippines.
Read a full review of Hinduja Global Solutions (HGS), here.
IBEX Global, originated in the US, was founded in 2002, and employs over 7,000 people. They specialise in customer service management such as the 'Customer Lifecycle Experience' product they offer.
Read a full review of IBEX Global, here.
Transcom was created back in 1995 by Kinnevik, led by the visionary Jan Stenbeck, and now has 29,000 employees at 50 contact centers spread across 20 countries.
Read a full review of Transcom Asia, here.
Alorica is one of the best-known outsourcing suppliers, with 100,000 employees operating out of 150 locations from sixteen different countries in the world.
Read a full review of Alorica, here.
[24]7.ai is redefining the way companies interact with consumers.
Read a full review of 24/7 Customer, here.
Genpact, a digital business process management and services provider started off in 1997 as a business unit of General Electric.
Read a full review of Genpact Services, here.
Conduent is the leading business services partner worldwide. Specializing in financial transaction processing and automation, business analytics, and constituent experience for both private companies and government agencies.
Read a full review of Conduent, here.
Founded in 1980, SPi is a data science and information technology company at heart, and now a leading provider of content technology to businesses around the world.
Read a full review of SPi Technologies, here.
TaskUs is a recent Silicon Valley darling – and newly crowned unicorn. They have had a recent investment by Blackstone. They now employ over 13,000 staff and have offices in over 7 locations in the Philippines
Read a full review of TaskUs, here.
The top 40 Philippine BPOs in review
These are the top 40 BPO outsourcing companies in the Philippines for 2022.
Despite the challenges that these BPO companies are facing, the Philippines still proves to be a very promising country with its capability and capacity of producing a globally competitive workforce. Operational cost is also lower here than in most countries, which is a value add for the Philippines.
Moreover, more managers are starting to realize the need to streamline their processes to maximize profit while improving operations. Plus, innovations are coming to fruition these days and some of which are unique to the needs faced by companies in the Philippines. The use of software in both accounting and payroll are just some examples.
With these promising innovations and developments in mind, we are seeing are a very bright future for the BPO industry in the Philippines which means that this list could include more companies this coming 2022.
Are you interested in outsourcing?
If you're a small/medium sized business and interested in outsourcing, then these top 40, maybe aren't the ideal BPOs for you.  There are over 700 BPOs in the Philippines alone – many of which specialize in the smaller, more agile needs of the SME/SMB market.
If you want to find out more, browse our website for endless free resources – or fill in a quick form to get a free independent quote.
The top 10 outsourcing cities in the Philippines
The Philippines is home to over 100 million people and over 7,100 islands! While much of the outsourcing is happening in the capital city, Manila, there is a lot of action in other parts of the country.
The second- and third-tier cities offer good alternative options to Manila.  The cities can have good universities, abundant eager graduates, good spoken English, and significantly cheaper salaries (and cost of living) than Manila.  If you're curious to find out which Philippine cities are the best alternatives to Manila, then keep reading…
You can check out another list that we have compiled for you: Top 10 Outsourcing Cities in the Philippines. 
The Top 100 Outsourcing Destinations by Tholons – Philippines rank
Tholons produces a report which ranks the world's major outsourcing destinations on an annual basis.  If you want to read more about how the Philippines ranks, go to our top 10 outsourcing cities guide now.