Top 30 BPO companies in Germany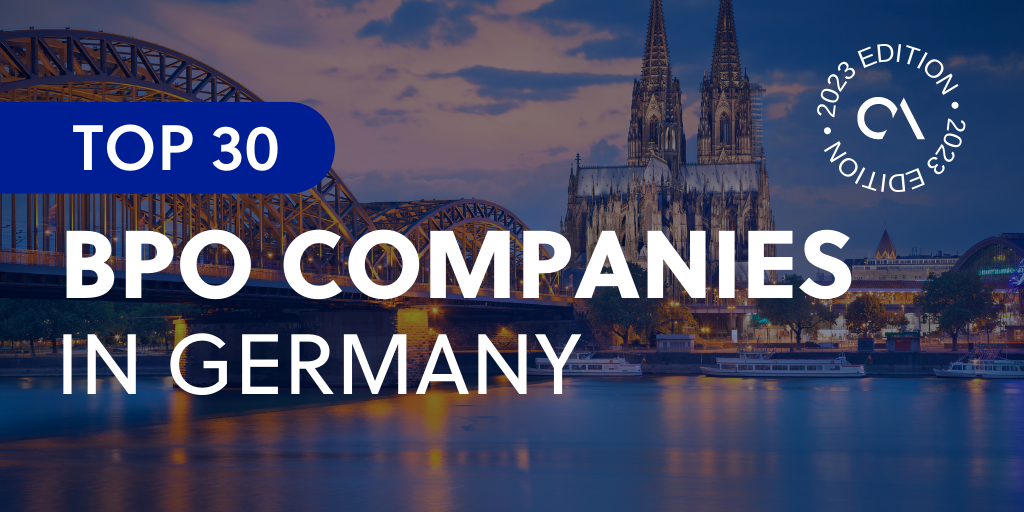 The Business Process Outsourcing (BPO) sector all around Europe has indeed grown exponentially over the years.
Germany is a perfect outsourcing destination, especially for nearshoring among European countries. What makes it an appealing choice is because of the cultural similarities, common languages, close time-zones, and common mentality.  
According to Market Research, the call center outsourcing in the region is set to reach over $3.2 billion within 2020-2024. 
Eastern Europe has also become well-renowned in terms of outsourcing technological services like software, application development, and other IT related functions.
Ukraine and Poland are among two countries that have a generous amount of IT talent. Thus, this also makes up for the shortage of IT talent pool in the western parts of Europe.
Germany, on the other hand, is considered as one of the countries in the EU with the biggest business service markets. It has over 7,000 call centers with annual revenues amounting to 21 billion euros.
Further, its IT outsourcing services have also been vastly accelerating with up to 3% annual growth rates. Let's take a quick look at the current outsourcing state of Germany. More so, be familiar with the top 30 BPO companies in Germany as you read further on this guide. 
Top 30 German BPO companies
Top global outsourcing lists
Outsource Accelerator is the world's leading outsourcing marketplace and advisory. We list over 3,000 BPO firms located across the globe in our global directory, and we provide detailed information, price guides, and reviews.
Whether you're a solopreneur, SME owner, or a corporate executive, we can help you find the most suitable outsourcing provider for your business.
Explore our outsourcing directory now. You may also check out our Top BPO Outsourcing lists per country here:
Business Process Outsourcing in Germany
Germany is regarded as the fourth largest economy across the world. In terms of the BPO and SSC sector, it is one of the top market contributors all over Europe.
The country is considered as one of the EU's biggest service markets not just for local but also for international business service providers. What attracts more and more companies to outsource to Germany is its low fluctuation rates and moderate wage cost developments.
As for the country's wide talent pool, Germany is brimming with highly skilled and motivated individuals with intercultural backgrounds. As you know, a lot of Germans usually have international work experience.
On top of that, these people are often backed with foreign language credentials. There is no doubt that in the succeeding years more outsourcing companies will be set up in the country. 
As of the present time, we have compiled the top 30 BPO companies in Germany to help businesses consider their options.
Top 30 BPO companies in Germany
Here are the top 30 Business Process Outsourcing (BPO) companies in Germany:
Aside from its location in Berlin, Plaxonic Technologies also has its headquarters in the United States and India. Backed with years of industry experience, this outsourcing company is known for engineering smart IT solutions.
Apart from IT-related services, it also offers other BPO services like staffing augmentation, data analytics, digital transcription services, and more.
On Service Gmbh provides scalable solutions for different companies in the insurance industry. Through its physical location in Hamburg, this outsourcing company has been serving its clients for over fifteen years.
It is one of the few owner-managed service firms that is within the financial services industry in Germany. On Service GmbH also prides itself with employing highly qualified insurance salespeople and specialists.
Getaline GmbH provides BPO services across various business sectors. It also specializes in customer care services like inbound & outbound telephony, chat, email processing, and more.
With its stringent criterias and cost-efficient service solutions, the company has maintained to serve countless organizations since its inception in 1994.
Headquartered in Erkelenz, Tolksdorf Communication specializes in call center services like telemarketing, inbound telephony and web-based customer service.
This BPO company also offers marketing consultation and research analysis for different industry sectors.
maXima Service is another call center outsourcing company that is based in Bremen. Aside from inbound and outbound services, the company also provides other services that support their clients' support sales channels.
Among its full service functions are mailbox handling, mail processing, fax sending/processing, mailing, and email sending/processing.
Besides inbound and outbound telephony services, Abravo GmbH also offers its expertise in telephone services training, communication logistics and call design. This outsourcing company has stuck to its core business which is to ensure that all their clients' remain accessible through telephony since its inception in 2002.
Competence Call Center (CCC) has been officially a part of TELUS International since the start of 2020.
As its name implies, the BPO company has international call center solutions offerings for various clients all across industries.
What's more is that, CCC also provides multilingual call center services for over fifty languages around the world.
INFON Communication Center is focused on providing technical support for organizations in the telecommunications, trade, craft, public utilities and health industries.
Clients are well assured that their services are always available around the clock and 365 days a year. INFON Communication Center can be located in Hamburg.
Profil24 represents a group of companies with professional expertise in services related to mobility and customer care. The company has been working as a service provider specifically for car rental companies that are based in Germany and Austria since 2011.
Apart from car rentals, Profil24 has also been catering to companies in the insurance, automobile, funeral homes, and  property management industries for several years.
Also known as ZALARIS ASA, it is considered as the top outsourcing provider in terms of HR and payroll services in Germany. It is headquartered in Hamburg, with over 250-999 employees.
This outsourcing company also offers consultancy service for human resources and other personnel services.
LetterHouse GmbH is a BPO company located in Munich. Among its service lines include telemarketing, sales outsourcing, lead generation, inside sales services, event management, and lead nurturing.
Established in the year 2002, LetterHouse GmbH has been offering its services for clients that are in the IT services and IT business solutions industry.
Infopulse is an international BPO company specializing in IT-related services. Its area of expertise revolves around big data, blockchain, devops, cloud, AI & chatbots, and more.
Among the companies that Infopulse has been working with are in the Banking, Automotive, Finance, Healthcare and Retail sectors. Moreover, this BPO provider also has several physical locations in other countries like the USA and UK, besides Bonn, Germany.
Situated in Munich, The Outperformers GmbH has been offering sales and marketing functions since 2006. This BPO services company has been working for clients that are within the Finance, Healthcare, Manufacturing and other industries.
Its featured services include market entry support, telemarketing, concept development, and event management.
UIZ has been serving different companies with their web solutions, call center services and virtual assistant functions since 2014. Small, medium and large size organizations are able to avail of its services.
More so, the UIZ has been serving various companies that are in water resources management, geoinformatics, and more.
Getsix is an outsourcing provider that is well known for its HR, accounting and consultancy services. The company is a proud member of HLB international which is a global network of independent accounting firms and business advisers.
This outsourcing company has two locations in Poland and one in Berlin. Getsix also offers IT sales, IT services, as well as legal services.
Innowise Group is a software development company with multinational clients from over twenty countries around the world. This IT outsourcing company has over twelve years of professional experience in the industry and it also has two headquarters in Ukraine and Belarus.
To be more specific, Innowise Group has specializations in software architecture, custom software development, 2D, 3D designs, modelling, animation, IT consulting, and more.
Simon & Focken Bremen is one of the three pillars of the Invitel Group of Companies. It is considered among the biggest owner-managed, group-independent service providers in Germany.
Its featured services are focused on sales support, specifically inbound and outbound sales.
Situated in Mainz, Cloudsecretry provides virtual assistants and online administrative services for entrepreneurs, start-ups, SMEs and freelancers.
They also cater to self-employed professionals, doctors and lawyers through their telephone services. Clients also have the option to hire a cloud secretary who can speak the language of their target markets.
This BPO company that can be found in Munich is a leading global legal services provider specifically for law firms, law departments and academic institutions.
UnitedLex has digital, corporate and contract solutions to help optimize and boost their clients' overall business landscape and performance.
Additionally, UnitedLex has operations from over 18 countries across the globe – with over 3,000 employed legal, technology professionals and engineers.
Dokumenta is an IT outsourcing services company that is based in Hamburg. Shaped by its fifty years of experience in the IT industry, this outsourcing company is an expert in providing hosting, managed, cloud and colocation services for companies in different sectors.
Established in 2016, this call center outsourcing company that is situated in Leipzig claims to have the highest standards of customer service functions. Part of its services include outbound, inbound and quality assurance.
It also offers energy-related process management services like billing, entry and exit processing, supplier change management, and more.
Office Call Center GmbH has 100% voice services and is laser-focused on customer and service orientation.
This call center outsourcing company has been working for multinational corporations for over twenty years. Some of its big clients include L'oreal Paris, Schokoladen Museum, DEJORIS, and more.
Azur Dialog is one of the several BPO companies in Bremen, its service lines include mailing campaigns, telephone marketing, coaching, seminars, and more. The company has experience working with clients in nearly every market industry since its founding in the year 2002.
Founded by Dr. Bernd Rödl, this outsourcing company has been offering its professional services to countless clients since 1977. Over the years, the company has developed several headquarters in over 108 locations in 50 countries across the globe.
Its professional services include tax consulting, management and IT consulting, audit services, legal advisory, and more.
Outsourcing Bear is an all around BPO company that is managed and founded by digital experts with over ten years of industry experience individually. Its customer service functions include multilingual and multichannel services.
Aside from that, they also offer top of the line software development, also copywriting and translation services.
Intan International is deemed as one of the leading media distribution companies not just in Germany but also in Switzerland and Austria. At present, Intan Internations is said to have over 2 million subscribers.
They cater to their customers through their innovative digital models. This famous BPO company has been partnering with renowned publishers and companies for over thirty years.
Unlike other outsourcing companies, Numiga specializes in travel expenses accounting and travel management processes. This travel expense accounting outsourcing provider based in Bremen offers customizable solutions that are specific to German standards.
Established in 2004, this IT outsourcing company based in Hamburg has been offering IT solutions for small and medium sized companies. Among its service lines are custom software development, cloud consulting & SI, as well as cybersecurity.
Hagel IT Services provide their clients with IT systems based on Microsoft Windows, Apple Mac OS and Linux.
SITO is another software and IT outsourcing service provider that is located in Hamburg. Backed by fifteen years of experience, this IT outsourcing company has been working for international clients from startups to successful multinational corporations.
Its services lines are composed of IT strategy consulting, IT staff augmentation, web development, application platforms, frameworks, cms, programming and scripting.
OnGoingMedia GmbH has been providing outsourcing services solely for industry sectors with  e-commerce, lottery and gambling platforms. They have registered clients not just locally but also internationally.
The outsourcing company is composed of well experienced individuals both in German and European e-commerce and betting brokerage markets.