Top 20 BPO companies in North Macedonia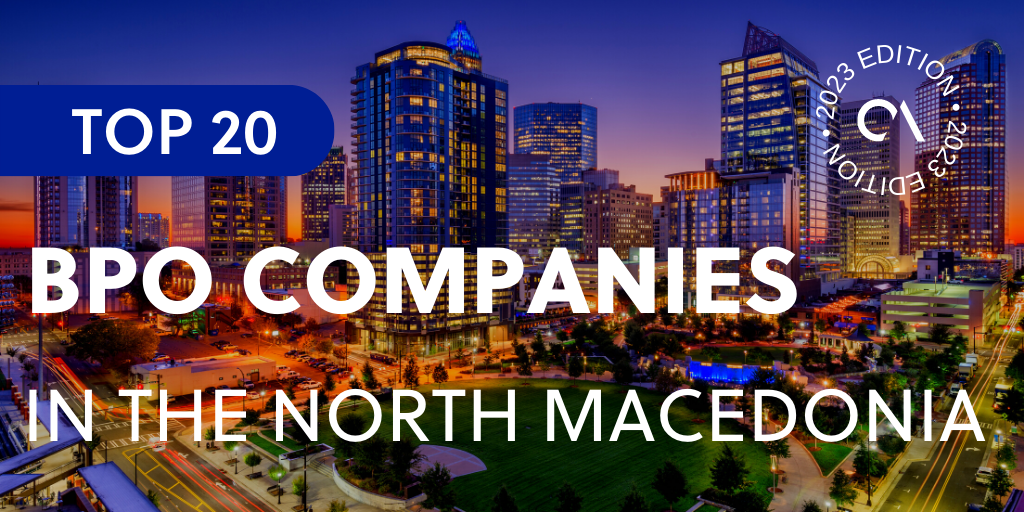 Top 20 BPOs in North Macedonia
North Macedonia is a country situated in the south-central region of the Balkan Peninsula in Europe. It is bordered by Kosovo and Serbia on the north, Bulgaria on the east, Albania on the west, and Greece to the south.  
Officially known as the Republic of North Macedonia, the nation got its name from being in the northern area historically known as Macedonia. 
After a dispute with Greece regarding the name, an agreement for its official name was reached in 2018. In recent years, North Macedonia has become the home of several start-ups and branches specializing in outsourcing.  
Top global outsourcing lists
Outsource Accelerator is the world's leading outsourcing marketplace and advisory. We list over 3,000 BPO firms located across the globe in our global directory, and we provide detailed information, price guides, and reviews.
Whether you're a solopreneur, SME owner, or a corporate executive, we can help you find the most suitable outsourcing provider for your business.
Explore our outsourcing directory now. You may also check out our Top BPO Outsourcing lists per country here:
North Macedonia Outsourcing
Outsourcing is an excellent option for companies looking to cut costs while keeping production close to home. This practice has become a vital strategy for many businesses regardless of size. 
In Europe, North Macedonia has become a reliable location for finding skilled and affordable talent. Quite a few business process outsourcing (BPO) firms have set up their physical offices in the country. 
Here are the reasons why many major groups outsource to North Macedonia:
Fluency in English 
English is widely understood in North Macedonia, particularly among the youth and in the capital city, Skopje. The language is taught as early as primary school. 
This is good news if you're looking for talent, especially for BPO-related services. English proficiency is a necessary skill that many companies look for in outsourcing partners. 
Many North Macedonian workers are also capable of speaking French and German. This is another bonus if you're thinking of outsourcing. 
Educated and qualified talent
North Macedonia produces outsourcing prospects that are generally motivated, talented, and well-educated. The education system is strong and has helped in the country's progress. 
Additionally, the rise of many supplementary education centers has created individuals well-trained in both practical and theoretical abilities. 
IT staffing is a popular service in outsourcing, North Macedonia included. Find top talent for this and other accounts by dipping into North Macedonia's deep workforce pool.   
Location and culture
When it comes to outsourcing in Europe, North Macedonia is excellently located. Businesses can practically nearshore their operations because of the convenience of reaching the country. 
Cultural similarity may also be a factor for companies when outsourcing. Fortunately, this isn't a problem for North Macedonia, being in the heart of the Balkans and with much of the cultural influence of its neighbors. 
Cost-effectiveness
The main benefit of outsourcing is to cut down on costs without compromising quality. 
Labor costs in North Macedonia aren't as high compared to other European countries. There are no additional fees when outsourcing, and secondments and apprentices are also available for lower costs. 
Your work gets done for a fraction of the price by experienced people with great prowess. No wonder many choose to outsource here.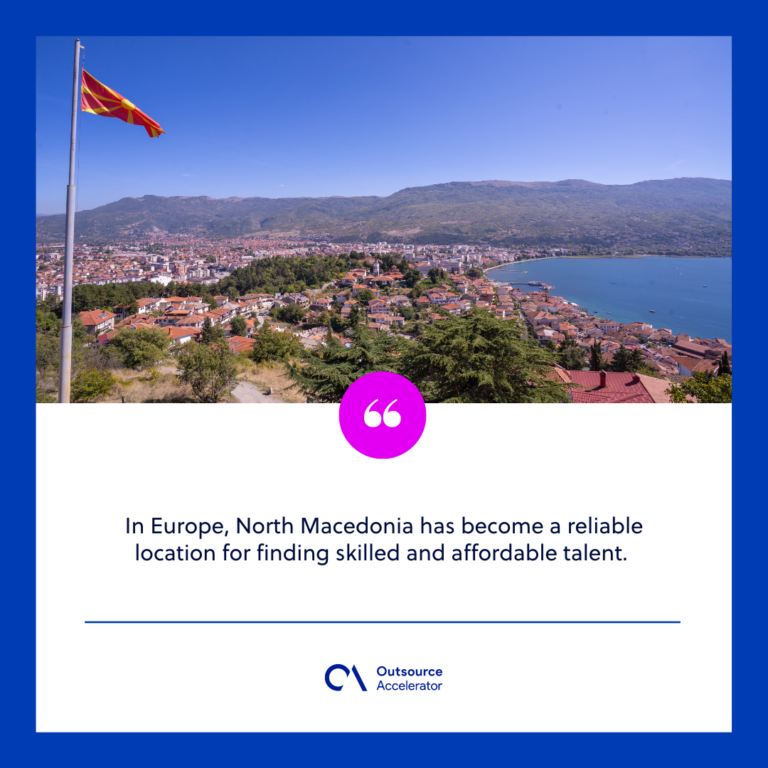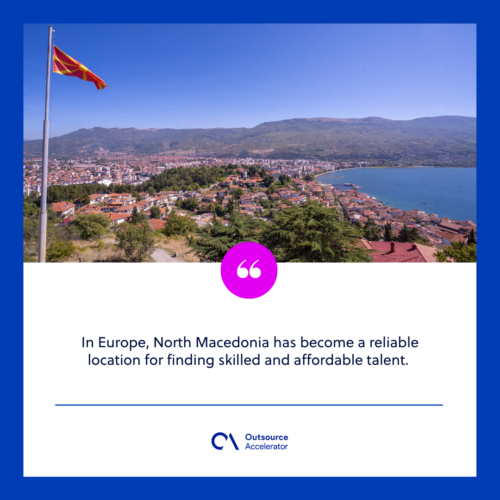 Top 20 BPO companies in North Macedonia 
The following are the top 20 BPO companies with a presence in North Macedonia. 
Location: Skopje
Emapta is a premium staffing company with expertly sourced and immediately accessible talent. It consistently seeks to align with your operational standards, brand, and culture. 
Emapta makes nearshore outsourcing simple, building dedicated teams in a variety of services. 
Access the top 1% of talent by outsourcing to North Macedonia through Emapta. Tapping the North Macedonian talent pool with a trusted partner lets you stay competitive and proactive.  
For a more detailed review of Emapta, please see here.
Location: Skopje
Taskforce BPO provides consulting and administrative support services to different industries, including healthcare, insurance, and accounting. By removing organizational burdens, clients can focus on core activities. 
Aside from North Macedonia, Taskforce has seven offices in Europe and 1700+ employees. 
Taskforce sees North Macedonia as an ideal outsourcing destination, citing its education and location. This lends well to building customized teams. 
For a more detailed review of Taskforce, please see here.

Location: Skopje
Accace is a consultancy and outsourcing partner that bridges the gap between needs and solutions. They manage over 800 experts with 2000 customers from small to global businesses. 
This outsourcing provider specializes in accounting, HR and payroll, tax advisory, legal advisory, and secretarial services. 
Accace also has an e-shop to deliver their support in the easiest way possible. 
Location: Ohrid
Bright Campaigns is a BPO focused on telemarketing services. It offers operations 24/7, for 365 days of the year. 
It began as an IT company in the field of software development. Over time its expertise expanded to sales and support of energy contracts, telecom, and print media subscriptions. 
Bright Campaigns goes beyond being a standard call center, also offering social media campaigns, marketing automation, and web development.  
Location: Skopje
Webhelp designs to deliver and optimize unforgettable human experiences for today's digital world. 
All services are uniquely tailored to your business. Webhelp boasts innovative technology, proprietary processes, and global talent for leading brands in their digital transformation journey. 
Webhelp operates with 120,000+ employees across 60 countries, including North Macedonia.  
For a more detailed review of Webhelp, please see here. 
Location: Skopje
Causeway Connect offers evolved, bespoke, and professional business process outsourcing, all built around you. 
It provides solutions in three primary competencies: Dedicated remote staffing, Shared resource support, and Digital marketing. 
Causeway Connect exists to help businesses grow. Companies of all sizes can leverage its infrastructure and expertise to get to the next level. 
Location: Bitola, Skopje
Jupiter BPO is an Australian-owned outsourcing firm with operations in North Macedonia. 
It aims to provide affordable and highly skilled offshore staff so companies can expand their team, grow their revenue, and reach new markets. Jupiter BPO is dedicated to your success. 
Jupiter BPO capitalizes on the highly educated and ideally located workforce of North Macedonia to offer premier solutions. 
Location: Skopje
Scalefocus' world-class engineering team powers tailored software solutions and services, reinventing the future through technology. 
It has outsourcing services concentrated on software development. Salefocus offers solutions on Strategy and Advisory, Digital Engineering, Intelligent Automation, and Infrastructure and Operations. 
With 300+ clients worldwide, Scalefocus is committed to delivering long-lasting success.   
Location: Skopje
Symphony Solutions, true to its name, finds the link between coding and music. It is a company of IT professionals with a strong offering of lean agile techniques. 
Symphony Solutions brings agile development throughout your whole company through all departments, including HR, Finance, Marketing, and Leadership.  
Location: Skopje
EchoGlobal primarily focuses on IT staff augmentation. Hire software developers with exceptional engineering talent from North Macedonia. 
Additionally, your teams will be customized and scalable to suit your needs. EchoGlobal's strong IT connections in various industries ensures first-class recruitment and reliability. 
Location: Skopje
In hiring remote staff from North Macedonia, BOST makes nearshoring easy. 
Cut down as much as 40% of labor costs with their staff augmentation model. BOST also offers a variety of other services that can help your business, such as development, design, and marketing. 
No matter what industry their clients work in, BOST is determined to help lessen their technical workload.  
Location: Skopje
Xessable connects the best professionals to clients and the most challenging projects. The firm was created to address the growth of the IT outsourcing market in North Macedonia. 
After previously working as a nearshoring group, Xessable has since converted its business venture to allow more companies the opportunity to outsource faster. 
Location: Skopje
Talent meets opportunity at Axeltra. You can access top IT talent through its dedicated team formation and IT staff augmentation services. 
Axeltra provides software outsourcing to Serbia and North Macedonia, the most competitive nearshoring locations in Eastern Europe. 
With Axeltra, you gain entry to their expertise in custom software development, QA outsourcing, DevOps outsourcing, business and technology consulting, and data science outsourcing. 
Location: Skopje
LinkPlus IT is a software development company specializing in developing scalable enterprise applications. It uses the latest technologies to enable businesses to reach their customers through all mediums. 
LinkPlus IT provides services in Project Planning, Custom Software Development, and Quality Assurance. 
Location: Bitola
IWConnect helps you bridge the gap to where you want your company to be by implementing Digitally Optimized Technology Solutions to transform your business. 
It recognizes that every industry comes with its own challenges. In response, IWConnect offers customizable industry solutions to unleash its clients' business potential. 
It offers additional services in retail, customer service, e-commerce, telecommunications, IT, sales and marketing, human resources, and finance. 
Location: Skopje
3E Accounting describes itself as a one-stop solution for your business. It is an international accounting network that offers financial outsourcing. 
For 3E Accounting, North Macedonia brings all the advantages of an open market with a supportive business environment. The country is a rising investment destination. 
3E Accounting operates with the concept of 3Es: efficiency, effectiveness, and economy. 
For a more detailed review of 3E Accounting, please see here. 
Location: Skopje
Teleperformance is one of the top BPO companies in the world, and its center in Skopje, North Macedonia doesn't fall far behind in excellence. 
Teleperformance offers world-class digital integrated business services. It is also a global leader in solution design, business optimization strategies, customer support, and back-office tasks. 
With over four decades of deep, industry-specific expertise, Teleperformance offers the world's most comprehensive service portfolio. 
Location: Skopje
Akota Solutions is an IT consulting company that specializes in innovation consulting and outsourcing services. 
It focuses on Internet product development and providing software services to international companies, particularly Germany, Switzerland, and the UK. 
The agile technique is its principal strategy. Akota Solutions' center in North Macedonia makes use of the country's supply of well-educated and driven talent. 
Location: Skopje
Euroanswer is a leading provider of BPO services. The company has a regional footprint and a global outreach, with a strong affinity for multilanguage talent. 
It combines the best of both worlds, fusing Western standards with an Eastern mindset to forge a company skilled in technology. 
Euroanswer offers outsourcing services in IT solutions, ITSM Managed services, talent acquisition and staffing, and general BPO services. 
Location: Skopje
NMK Solutions provides professional outsourcing companies to companies worldwide. Its support agents and telesales specialists are ready to answer your every need. 
The firm's outsourcing solutions focus on inbound and outbound call center services, customer support, and live chat. 
NMK Solutions heavily endorses North Macedonia as an outsourcing destination. The company strongly believes in the country's potential and capability to deliver big business worldwide.