Everything you need to know about outsourced payroll solutions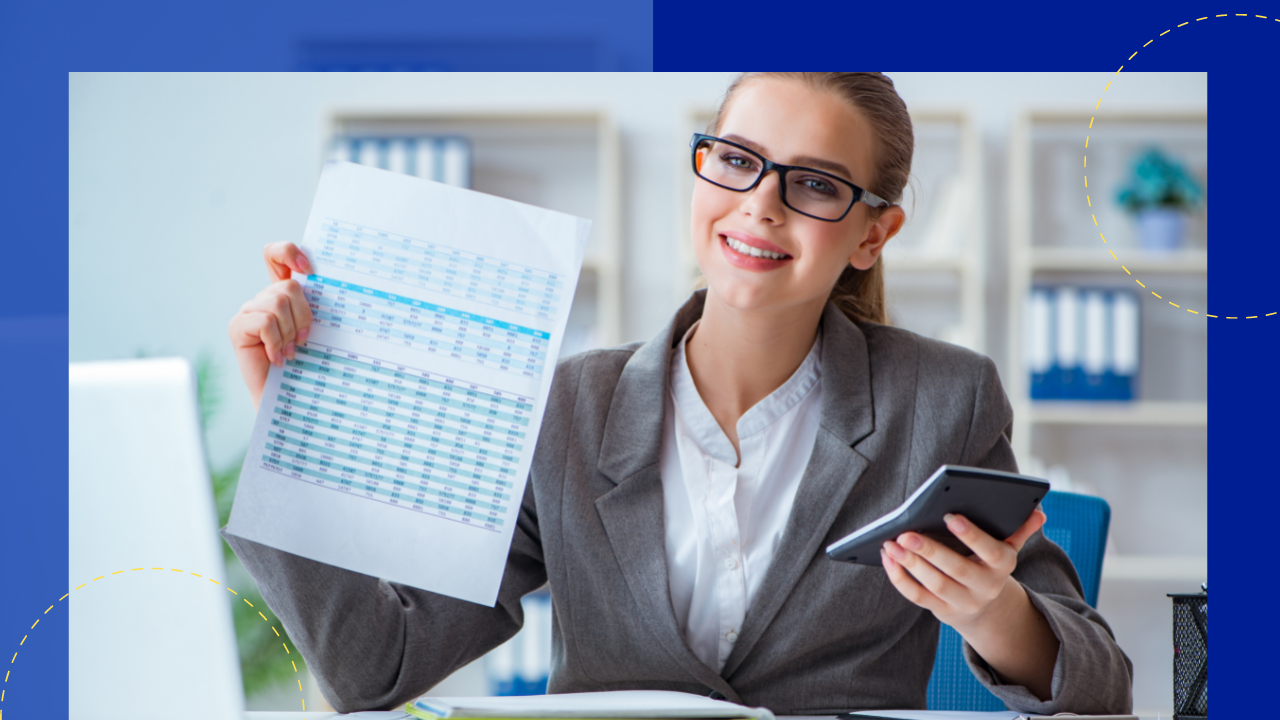 Everything you need to know about outsourced payroll solutions
Payroll is one of the most important tasks that businesses cannot afford to process incorrectly. Hiring an internal team to process payroll can be an option, but it is expensive. 
First, payroll processors should either be licensed accountants or bookkeepers to ensure that the payroll is organized. Second, they need equipment with proper accounting software for the payroll team to work with. Not to mention the additional space to work on.
Lately, businesses have been using remote teams and business process outsourcing companies to leverage outsourced payroll solutions. 
How outsourced payroll solutions work
Outsourced payroll solutions involve hiring third-party providers to handle payroll tasks. These companies form a team to organize employee records, handle books using accounting software, and process compliances such as tax forms, social security updates, and HMO contributions. 
Teams comprised of outsourced payroll solutions are usually accountants and bookkeepers with expertise in handling corporate accounts, especially payroll. With this, businesses can ensure that their payroll accounts are handled and organized properly.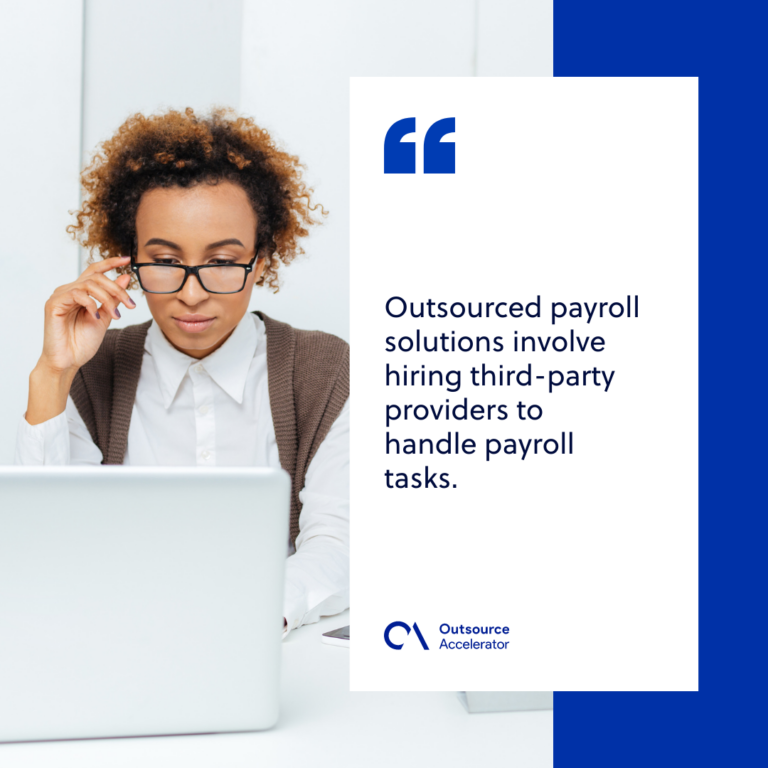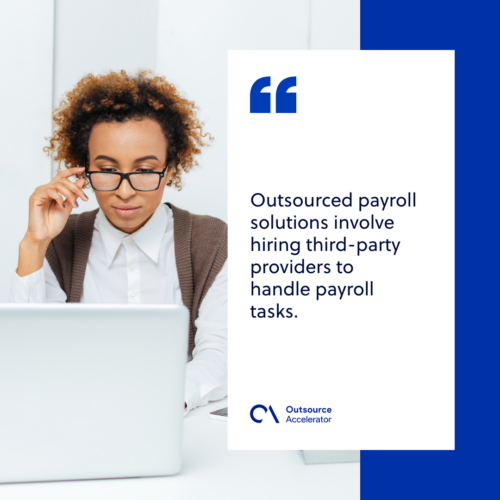 Why consider outsourced payroll solutions
The main purpose of outsourcing payroll is to ensure business continuity while saving on costs. However, there are other reasons aside from these that businesses should consider when they want to outsource their services.
Save time

. Startups that outsource their payroll save a lot of time and effort to add this to their duties. They don't have to worry about paying their employees on time since they have a team to do it.

Expert handling

. Since this is handled by experts, they don't have to worry about organizing books for payroll as well. They can save effort on auditing their records for corporate tax filing and regular compliance by the government.

Access to technology.

Outsourcing also allows them to have access to the latest software and tools provided by their BPO company.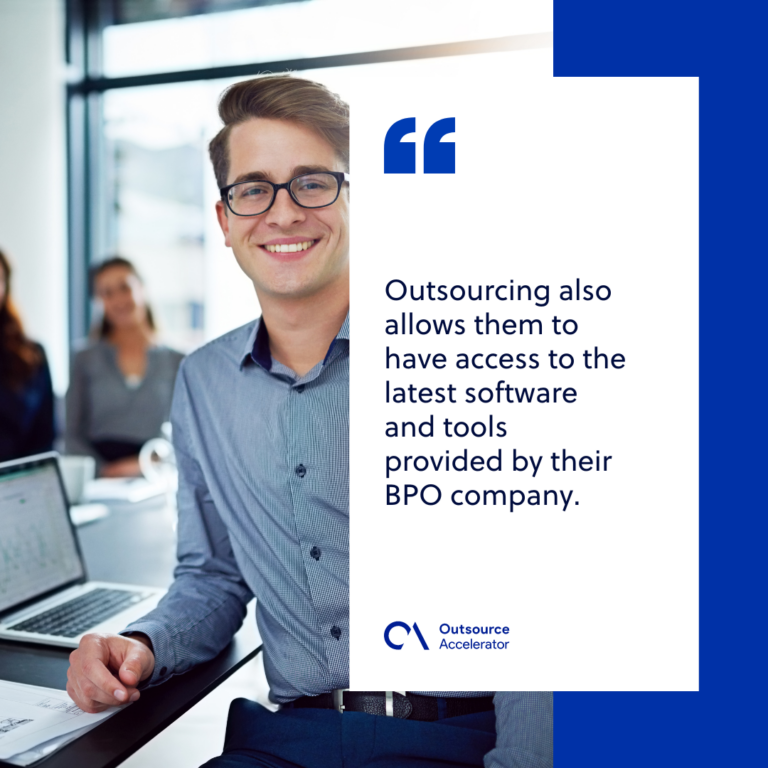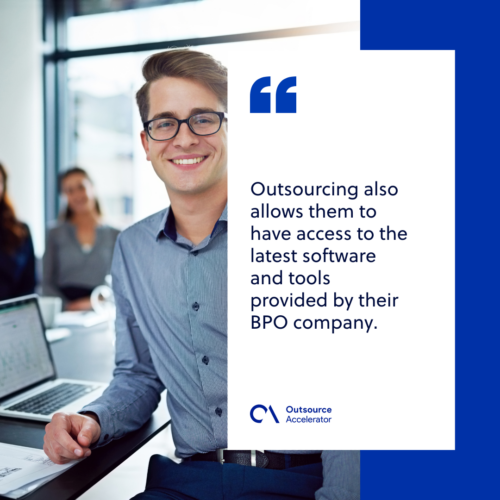 Pros and cons of outsourced payroll solutions
Outsourcing payroll can have advantages and disadvantages for a company. However, these can be worked out by both the BPO and their clients to ensure that these risks will be minimized.
| | |
| --- | --- |
| Pros | Cons |
| Better government compliance | Exposure to sensitive records |
| Minimal errors | Lack of control |
| Talents and expertise from different countries | Delays on payroll errors |
| Access to better equipment | Inaccuracies on filed forms |
| More focus on core activities | Hidden charges by BPOs |
Outsourced payroll services
Payroll services can be outsourced in different ways: through freelancing, agencies, and business process outsourcing.
Freelancing

. Businesses can hire freelance accountants through different platforms that can focus on organizing employee payroll. At times, they hire

virtual assistants

to do overall accounting or HR duties for their convenience.

Agencies.

Accounting firms and agencies are usually hired for quarterly or annual auditing of books of accounts for a company. This includes income tax filing for employees.

BPO Company

. With outsourcing business processes, they don't just have access to experts in handling payroll accounts. They also have access to different tools and equipment that their BPOs provide for their teams.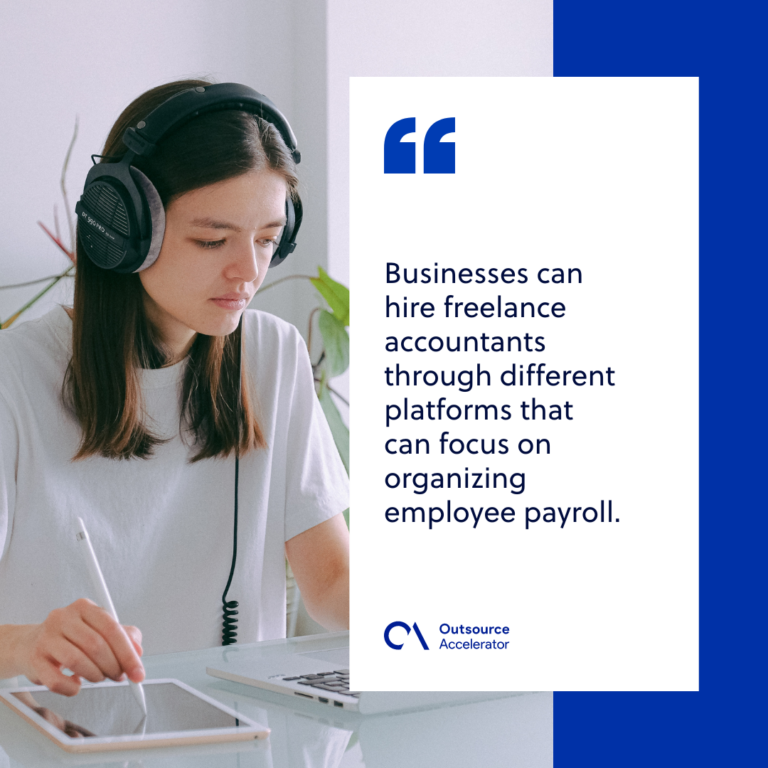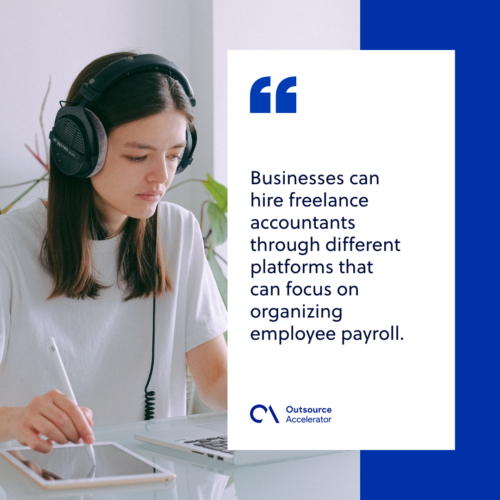 Online payroll services
Outsourced payroll solutions provide companies with the expertise and ability to handle their payroll needs in a more cost-effective and efficient manner.
Payroll teams use different platforms to organize their payroll accounts. These platforms may vary on the services, prices, and features that they offer.
Gusto Payroll
Gusto Payroll not only offers fully-automated payroll services for employees. It is an all-in-one platform that includes tax filing and HMO contributions updates. 
Gusto also enables integration with time tracking, expense monitoring, and accounting software for a more convenient way of managing HR and accounting duties.
Intuit Quickbooks Payroll
Quickbooks Payroll integrates with Quickbooks for better management of business accounts. It is one of the outsourced payroll solutions that allows users to file and pay corporate taxes within the platform for convenience. 
What's good with the platform is that they guarantee accurate calculation and on-time payment of taxes. In case their clients are charged with penalties, they will waive the fee on behalf of the business. 
ADP
Being the largest payroll service in the US, ADP offers its clients a full-service payroll and HR service. Aside from tax filing, payroll, and HMO contributions, it also enables payment of insurance and retirement plans. 
The platform has several features for different business sizes. Payroll for small businesses has all features activated, while medium to large enterprises has the option to scale employees and manage outsourced teams.
Paychex
Paychex offers both payroll-only and full payroll + HR solutions for small and medium businesses. The payroll-only option includes an organized payroll account, direct deposits, tax payments, time tracking, and other basic features of the platform. 
Full payroll + HR, meanwhile, includes new hire onboarding, custom reports, employee screening, training, and even a financial wellness program. 
OnPay
OnPay is a perfect tool for small and medium businesses. They have basic features such as automated salary and tax payments, insurance contributions, and error-free filing of tax forms. 
This is one of the outsourced payroll solutions services that allows its users to manage their payroll through mobile for tax processing away from their computers. The platform even lets employees self-onboard through the system and integrate records from QuickBooks and other top accounting software.
Finding the right payroll outsourcing company
Tholons ranked the top countries to outsource in terms of manpower, technology, and other aspects. India and the Philippines are the top outsourcing destination because of their strong English proficiency, expert workforce, cheap labor costs, and 24/7 service. BPO companies in these countries cater to different sectors with different specializations.