Design with ease: Outsource graphic design services now!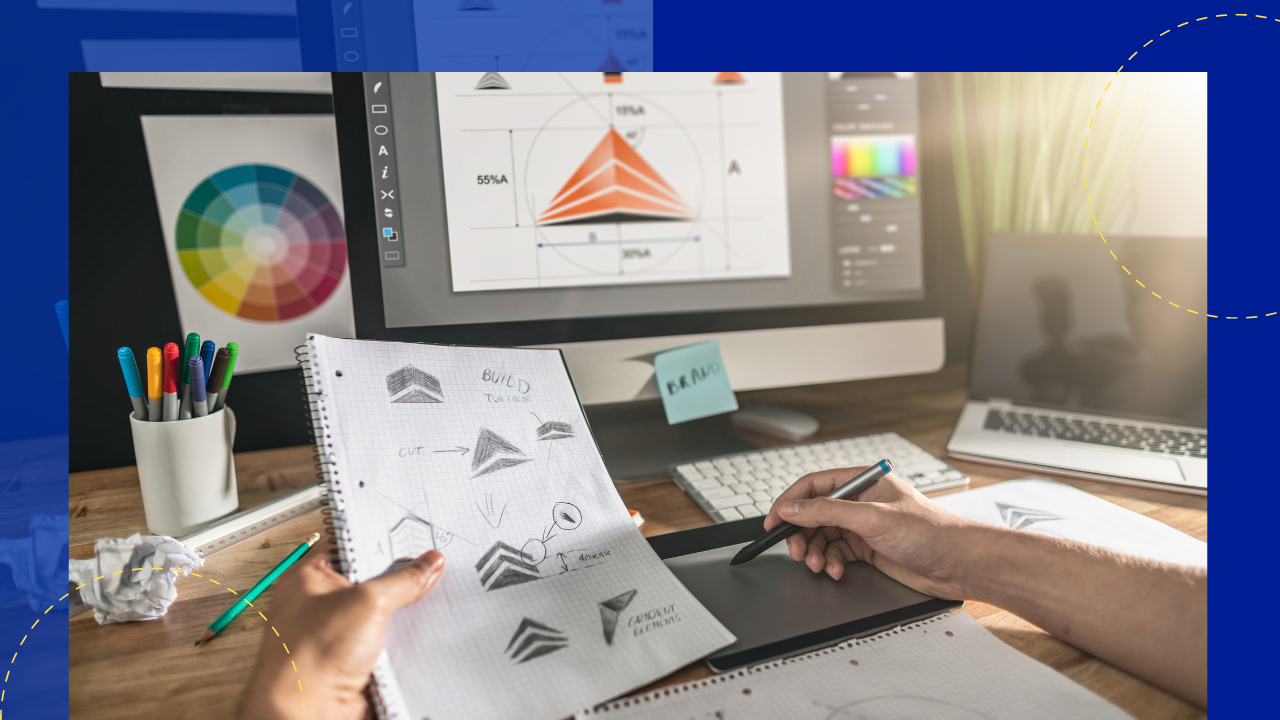 Outsourcing graphic design & drafting services is an effective way of being able to produce more quality output to your clients by utilizing well-educated and qualified employees in the Philippines. Choosing to outsource work gives you the flexibility to get more projects done and scale.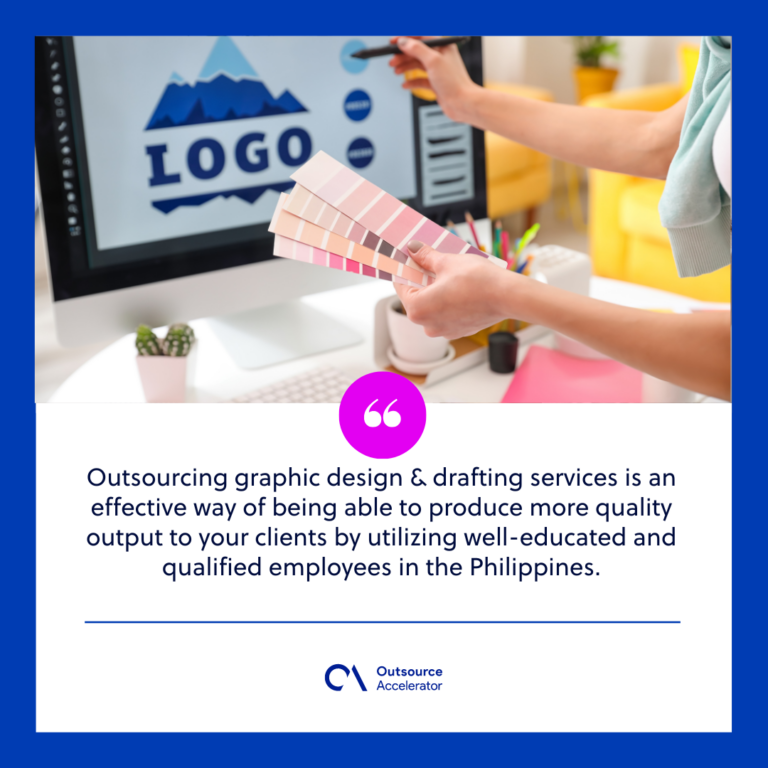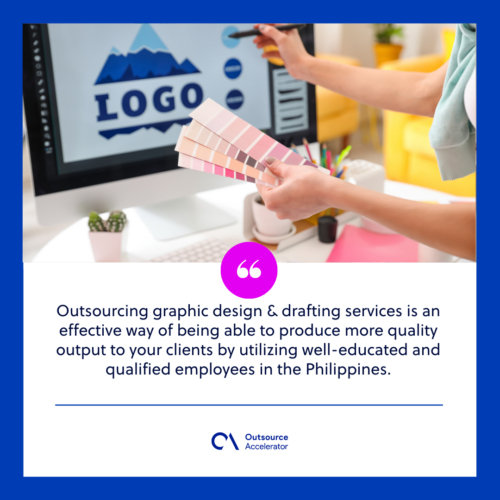 Most companies do not have sufficient time and resources to hire in-house graphic designers to do the initial drafting of their clients' projects. Some want to focus more on the final touches of the project to be able to meet the clients' expectations. It's a smaller upfront economic investment than hiring in-house.
Why outsource design services
Companies choose to outsource due to the following reasons:
Lack of manpower.

They outsource their designs because their current team is already stretched out. With this, non-core tasks are assigned to an outsourced employee to ensure deadlines are met.
Gaining new perspectives and ideas.

Outsourcing enables them to come up with new ideas and perspectives on a project. This allows them to improve the layout and concept of a campaign or collateral they're working on.
The demand for a project.

Businesses don't always need a designer to do their marketing materials and website designs. With this, they can consider outsourcing for their campaigns whenever they need it.
Cost control and scalability.

Lastly, outsourcing enables them to save on labor costs consumed with hiring in-house employees. They won't have to worry about additional costs and HR processes when dealing with an outsourcing service provider.
Graphic design services
Businesses can outsource different graphic design services depending on the need of the company.
Branding.

These are designs that state the identity of a business. Designers specializing in brand identity conceptualize logos, typefaces, and color palettes to associate with their clients.
Marketing and advertising collaterals.

Marketing designers propose materials such as brochures, banners, and cover photos for their client's marketing campaigns. 
User interface.

Graphic designers also create an interface that increases customer engagement with a website, mobile app, or game. They work with UX designers and UI developers.
Publishing.

Publishing designers team up with editors and publishers to create covers and layout for different publications. Aside from print, they keep up with the increasing demand for digital publishing.
Packaging.

Product packaging also tells the story of its brand. This is why it's important for designers to create and develop the packaging of their products to sell it more effectively to its customers. 
Motion graphics.

Motion graphics opened new opportunities to advertise and market a product. Motion graphic designers make storyboards and bring those concepts to life using video presentations, GIFs, and apps.
CAD services
Businesses can also outsource computer-aided designs (CAD) roles for their campaigns. This is mostly used by industry professionals in real estate focusing on services such as.
Architectural services

Structural services

Mechanical, Engineering, Plumbing, and Fire Protection (MEPF) services 
Outsourcing design services
Design services can be outsourced to a freelancer, a design agency, or a business process outsourcing company. Each one is hired depending on the demand and nature of the service the business will avail.
Freelance platforms
Freelancers are hired through different platforms. They offer a wide range of specializations depending on the needs of their clients. They are suitable for one-off duties such as logo making and web design.
Upwork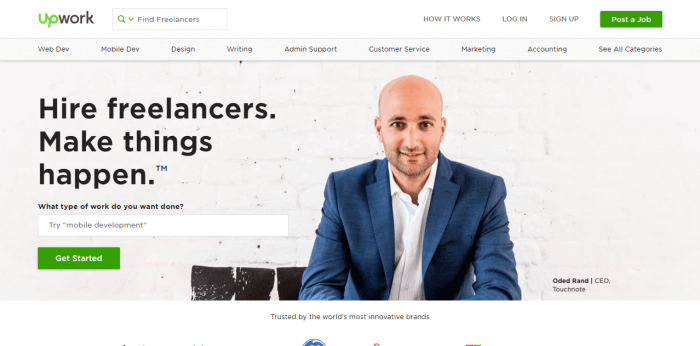 Upwork operates like other freelance platforms in the market. Employers post jobs online, then they will hire their freelancers directly through the platform. It is designed so that work collaboration, performance monitoring, and payment processing will be done directly through the platform to ensure security.
Fiverr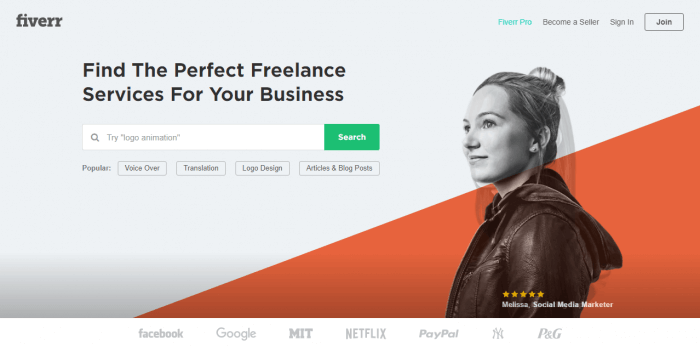 At Fiverr, employers "buy" freelancers' services. They will post their offers for as low as $5 to attract interested clients. Employers will then contact them to purchase their services and get work done as soon as possible.
FreeeUp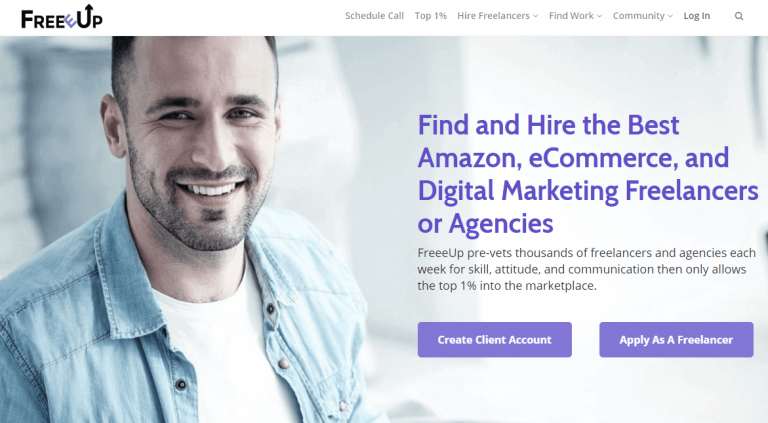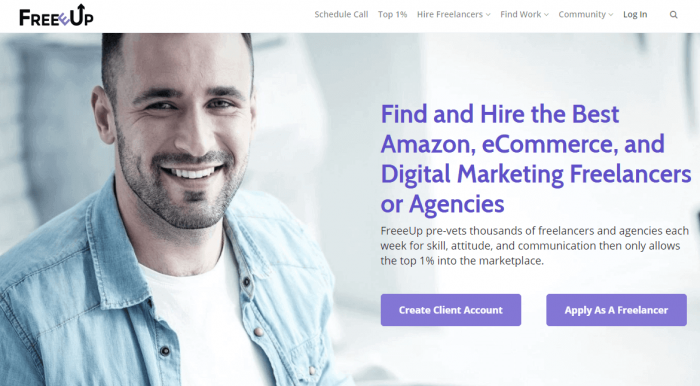 FreeeUp lets employers hire pre-vetted employees depending on their needs instead of searching for them. This is to lessen employee turnover within the platform. All they need to do is fill up a request form for the roles they're looking for. Then, the system will match them to a qualified applicant the next day.
Freelancer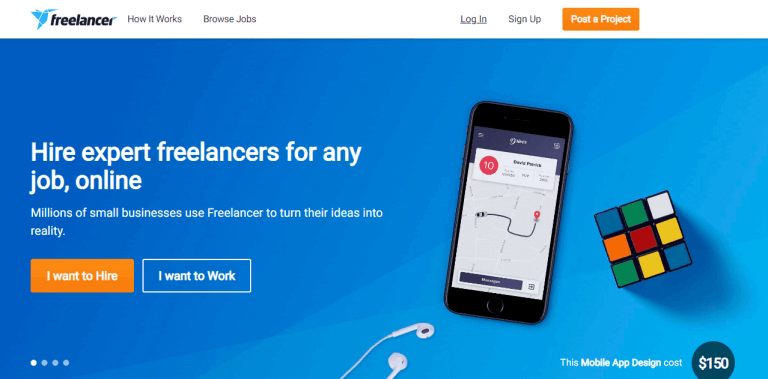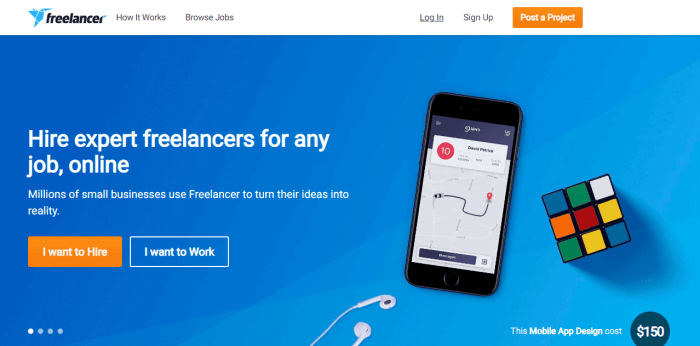 One of the oldest freelance platforms in the market, Freelancer is the marketplace for freelancers and business owners when it comes to web and graphic design. It works like UpWork, hiring through posting a job offer where freelancers will submit their proposals.
Design agencies 
For bigger tasks such as advertisements and social media campaigns, businesses usually hire creative or design agencies. They are tasked to do projects from design consultancy, ad production, to product launching and release.
Upwork Agencies
Upwork not only stores freelancer profiles in their platform. They also have a directory of different agencies a business can hire for their design tasks.
Clutch
Clutch.co is an independent research site that ranks agencies according to client reviews. They include the pricing and specialization in their rankings to help businesses search for their agencies easily.
Manta
Manta, meanwhile, lists different design agencies in the US. Employers can filter their search according to the state or location of their preferred agency including its rating and points of contact. 
DesignAdvisor
DesignAdvisor, meanwhile, ranks web design agencies according to their ratings. They feature the top 10 agencies on their website including their estimated prices and other specializations.
The Manifest
Lastly, The Manifest is the sister company of Clutch. They list the top 100 agencies in different industries, including graphic design, according to the research methodology of Clutch.
BPO companies
BPO companies, such as Booth and Partners, are most suitable for regular graphic and web design needs. They offer different services from web layout, UI/UX optimization, animation, to CAD designing for different projects. 
Outsource Accelerator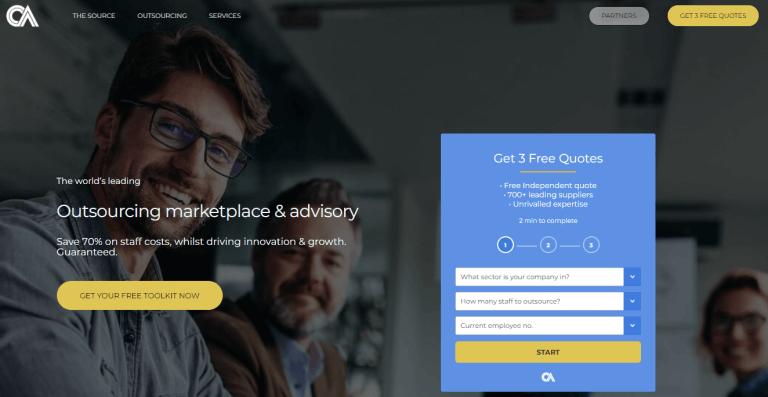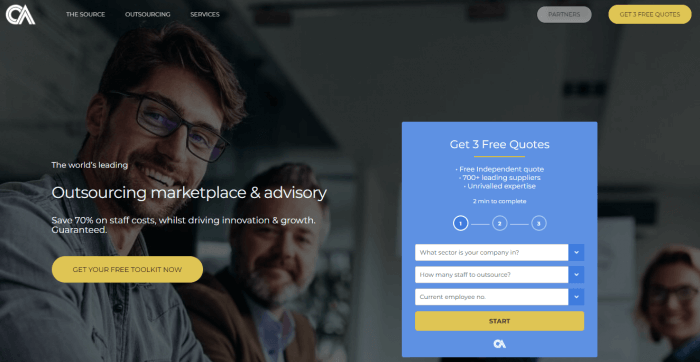 Outsource Accelerator is the leading marketplace for BPO. We list over 700 companies on our website and offer staffing services to clients who need to fill their graphic, web design, and CAD roles.