7 outstanding benefits of creative outsourcing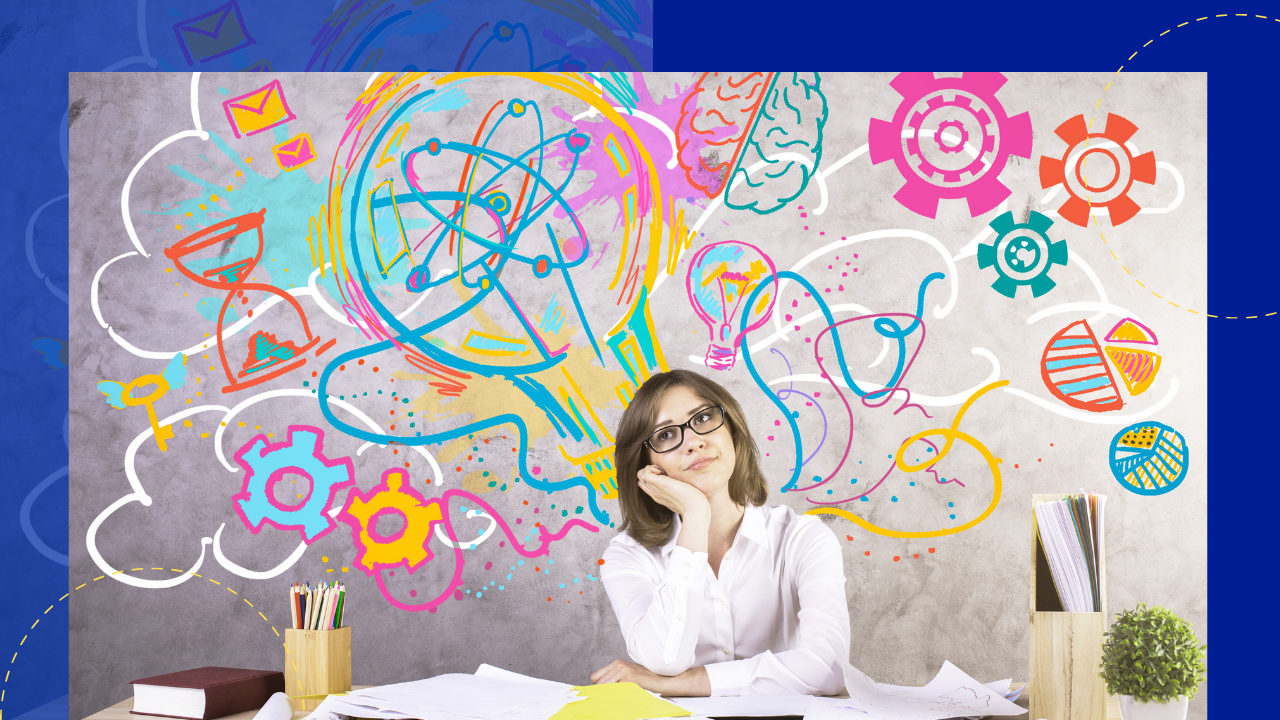 Creative pursuits in business should not only mirror and incorporate market trends. To grow successfully, organizations should reinvent and transcend the conventional ways of thinking. 
As you fill in your business endeavors with creative processes, there's the need to produce and develop unique and original ideas. All industries draw a significant demand for creative resources. 
In the process of creating your company packaging, growing your brand, and translating all of your marketing plans into reality, creative insights play a crucial role. 
This is where creative outsourcing comes in. The competitive emergence of various digital channels and the volatility of market trends have strengthened the need for creative services. 
Outsourcing companies offer a wide range of creative services to fulfill your business needs. So, how exactly does creative outsourcing work? And what benefits can you gain from doing it? Read on to discover more!
How does creative outsourcing work?
Conventional marketing strategies would likely promote only the basics. Creative marketing, on the other hand, will rethink new strategies or reinvent them to evaluate business goals. This is possible with creative process outsourcing or CPO. 
CPO is a business process where an organization outsources its creative tasks or functions to a third-party vendor or CPO service provider.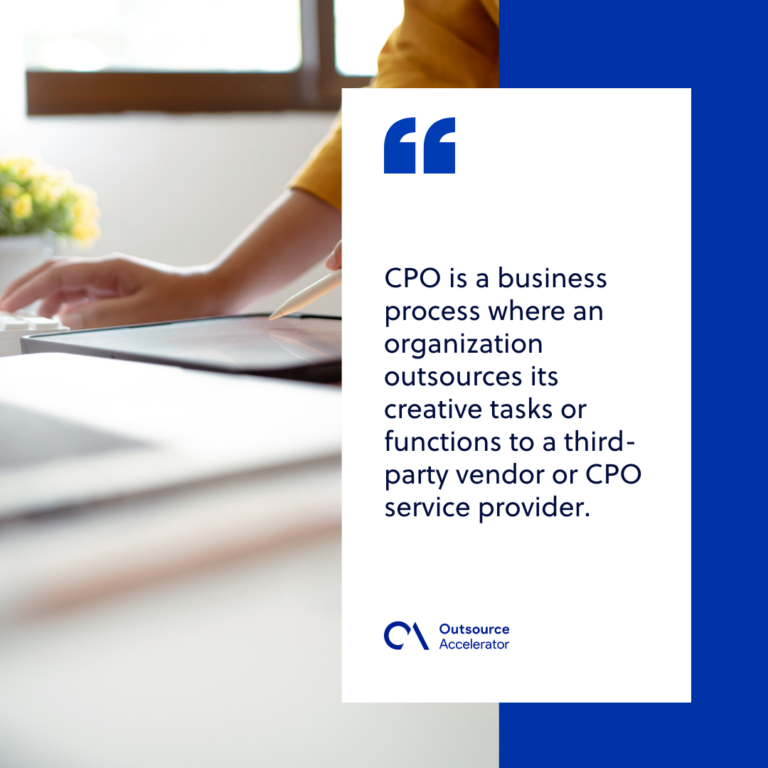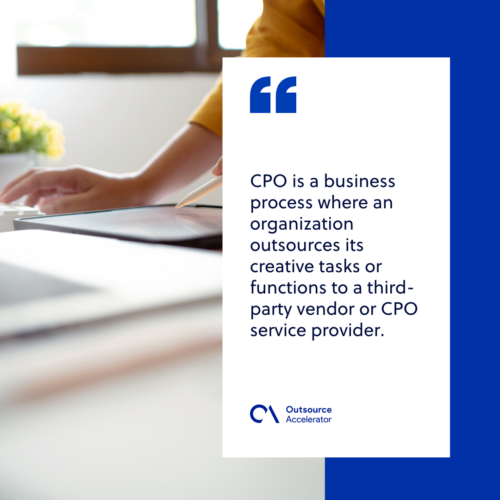 The creative assets that CPO renders include marketing collaterals, graphic, web, and presentation design, video editing, logo creation, and all that needs creative outputs. 
These valuable additions of creative assets are essential to "dress up" and present your business in the best way possible. 
This is especially true for business-to-consumer or B2C industries where people heavily rely on marketing and creative materials to establish relationships and attract consumers.
Benefits of creative outsourcing
Apart from the tangible outputs and materials that creative outsourcing offers, it also comes with a bundle of benefits that would contribute to your brand's growth.
1. Work with talented artists
Good relationships and contact-building within creatives are important. Artistic associations provide fantastic networking opportunities, especially in the world of creatives. 
This helps build up the artist's reputation and proves their involvement and professionalism towards fellow creatives. 
Creative outsourcing will give you a fresh perspective on your marketing efforts. Having to work with talented artists will open a lot of doors for your business. 
If you grow your network, you can promote your brand better. It increases your reach and potential of attracting more clients.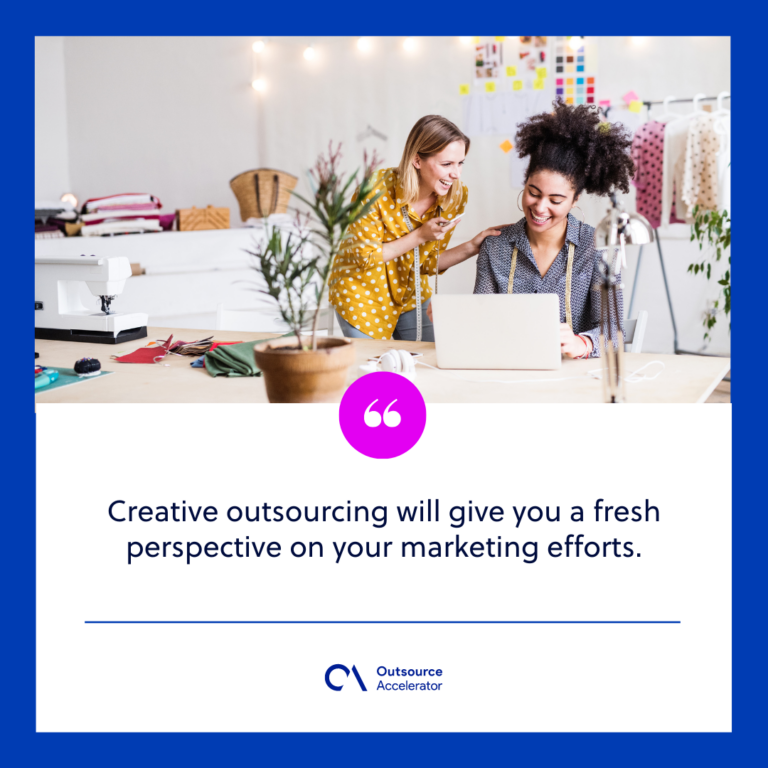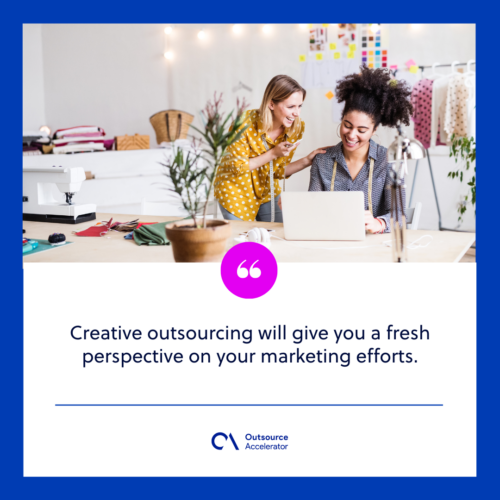 2. Discover fresh ideas
There is an immense value and sense of uniqueness in having fresh ideas. Often a business can get in a rut cycle just by thinking about how they resolve problems. While new hires bring fresh ideas to the table, sooner or later, they'll be assimilated into the existing group. 
If you keep a team outside your company, their ideas would remain unbiased and wouldn't get affected by office politics.
Creative outsourcing connects you to an external team that can provide a fresh perspective outside your business. They may have better insights on your target market, helping you the best collateral to develop.
Meanwhile, outsourced designers can share relevant knowledge, especially if they have experience in other industries. 
In an event where your team can't figure out why your video is not getting any engagement, an outsourced video content editor or web designer can help you determine what went wrong. 
3. Grow your team
After establishing your business, your next goal is to expand your network and branches. But if your plate is already full with your core duties, it would be challenging for you to conduct the recruitment process for growing your team. 
At the same time, you can't simply pull out employees from your in-house team to do creative marketing efforts for you. This may compromise their crucial tasks and productivity.
The answer to this is creative outsourcing. You conveniently get an extension of your team, as the outsourcing provider has already fulfilled the recruitment and onboarding process.
Outsourced creatives are trained and experienced in optimizing your company's resources to grow further. While they accomplish this, you can work better on your core areas.
4. Improve collaboration
Collaboration comes very naturally for creatives. It's so easy for them to work and bond within a collective. When talented people come together as one, they can produce the best content there is.
Collaborative work is a crucial element in producing creative marketing materials. It sparks fresh ideas and brings the best critical thinking out of your team members.
Apart from shared ideas, collaboration helps in network expansion. No matter what industry you're in, it's important to build contacts and connect with other businesses. 
Creative outsourcing is a great avenue for marketers to get friendly and initiate collaboration with other organizations.
5. Enhance work efficiency
If you have an outsourced team of creatives focused on producing your creative materials, your team will definitely improve work efficiency.
Planning for a new marketing campaign is not a walk in the park. Some deadlines need to be met if you want to strictly adhere to your timeline. If you opt to have your in-house teams do the planning, things can get pretty overwhelming.
The tendency is that they get stressed and overworked. This will require you to reallocate your staff to meet your clients' needs. 
But if you outsource to an external firm, they have their dedicated staff ready to perform the functions you need to complete on time.
6. Manage timeline better
If you decide to outsource your creative staff and functions, your outsourcing firm will follow the timeline you set for a certain project. 
One of the best benefits of hiring an external provider is that your creative staff are already trained and up-to-date on the current techniques. Instead of wasting time in hiring and training, you can use that time for more important processes instead.
7. Reduce costs
Creative outsourcing means only paying for the work specifically required to complete the project. This will have you prepare your entire budget and avoid overhead costs. 
Hiring an employee will require you to pay for a salary and benefits. As an employer, you'll also have to spend time and money on skills training and development. 
But when you work with outsourced creatives on a contractual or project basis, you don't need to spend that much. There's also no original capital expenditure required for materials and creative resources since everything is shouldered by the provider.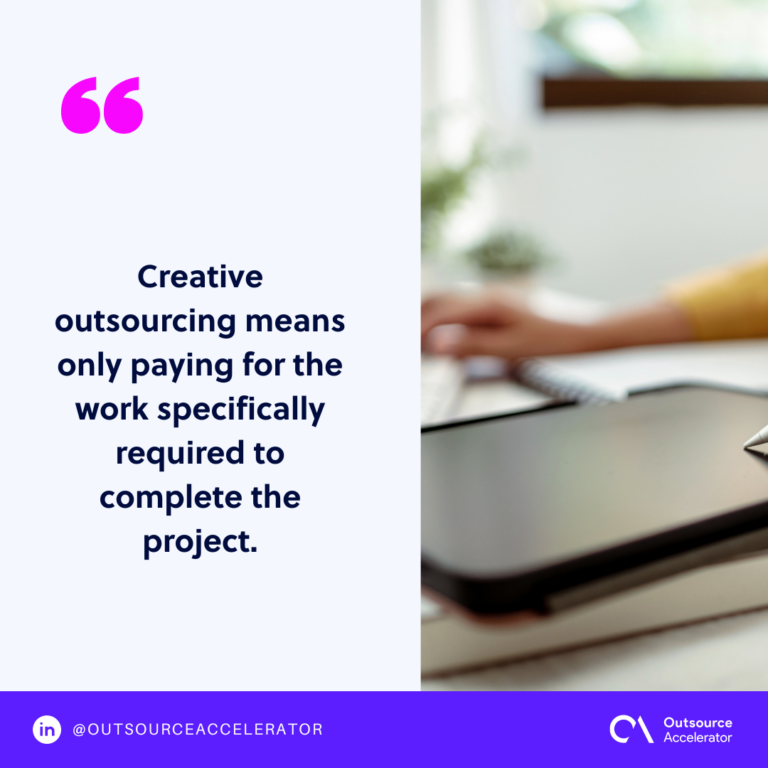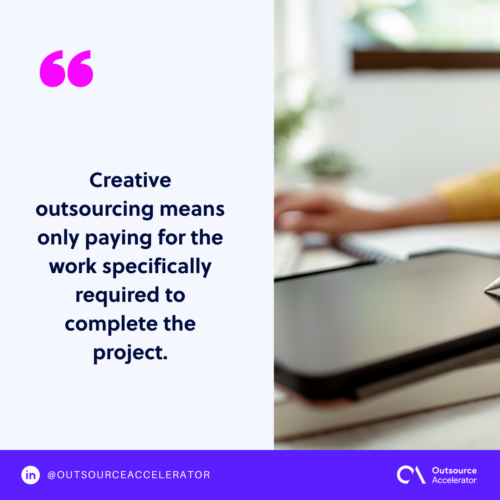 Curate your way to success with creative outsourcing
Creativity isn't a mere choice in the marketing industry. There's a necessity that surrounds the call for creative assets—may it be workers or material resources.
Creative functions put the direction on how a specific product should be designed, how it functions, how it can be sold, and how it can grow your business in the long haul. All of these can be answered with the help of creative outsourcing. 
If you need a trusted and reliable outsourcing partner for your creative services needs, Cloudstaff is just the right outsourcing company to turn to.
Let these outstanding benefits of creative outsourcing help you curate your way to success as you develop new goals that you can translate into reality.