The travel and tourism industries cover the same range of sectors. However, while tourism focuses on whether a trip is for business or leisure, travel focuses on the technicalities of moving one person to another. This includes the duration of their trip, flight and transport details, and accommodation.
The travel industry is also a cut-throat competition. Small and large travel agencies keep their quality services affordable to keep them in the race. This is what entrepreneurs and small teams should focus on. However, due to limited budget, agencies also think they can only offer limited services, a mindset which can lose their customers and fail their business.
Business process outsourcing and hiring a virtual assistant can help them ease the burden of these tasks and focus on core strategies for the business. At a fraction of local teams, they can also assure that they get the best service for their client base.
Outsourcing travel management
Most entrepreneurs are always on the go and travel a lot. At first, they do their own research, prepare their flights, and plan their itineraries on their own. Solopreneurs handling travel agencies mostly do this along with managing their clients' travels. However, this may get out of hand, which can affect their business performance.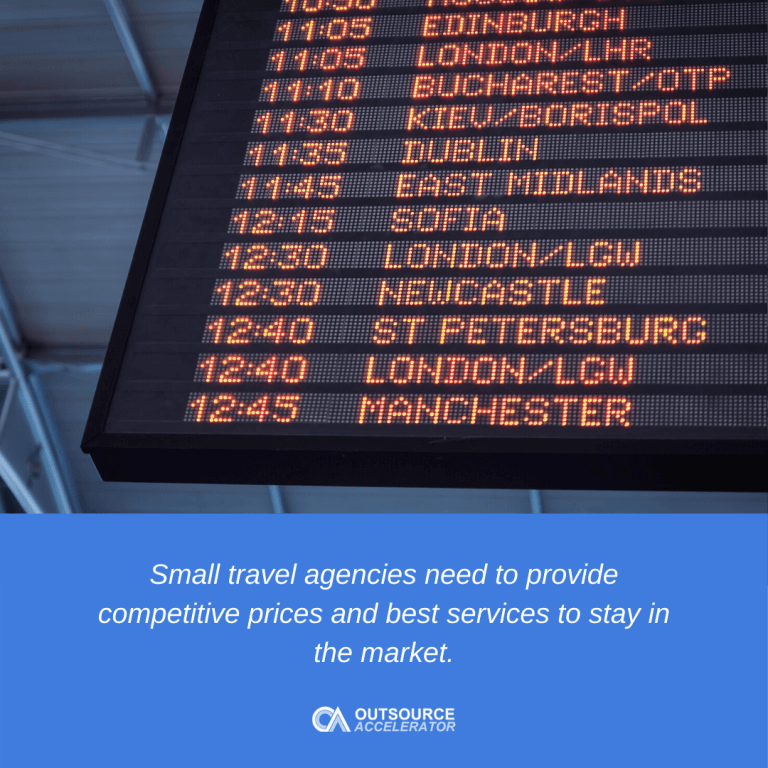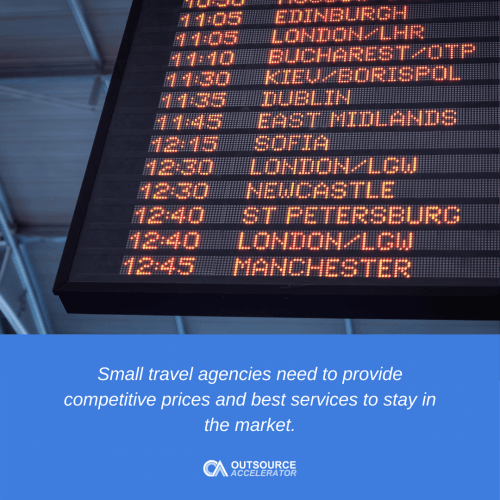 This is why entrepreneurs should hire virtual assistants that can help them with:
Travel policy
Setting a travel policy for a small team is important when monitoring finances. Businesses should set a specific budget for their in-house team's travels and create booking policies for business trips. Their virtual assistant can set and monitor these according to the company guidelines to avoid abuse and limit excess usage.
Location research
Same with an executive assistant, a virtual assistant can also help to research a location for the first time. They can also know how to navigate the location and the top spots to go for a short recreation after meetings and seminars. They will get to know their destination quickly and may recommend it in their listing.
Itinerary preparation
Their virtual assistants can prepare their itinerary, whether for business or personal. Depending on the length of their trip, it can include their preferred flights, hotel check-in and out, their appointments, and a few activities they can do during their stay. It may also list the names of restaurants and food chains within the location.
Risk management
Entrepreneurs should also be mindful of some concerns that can affect their trip. Virtual assistants keep track of the weather, current condition, and news updates about their destination. They can also help process travel insurances and travel changes when needed. This can help the entrepreneur decide and manage travel risks for their safety and security.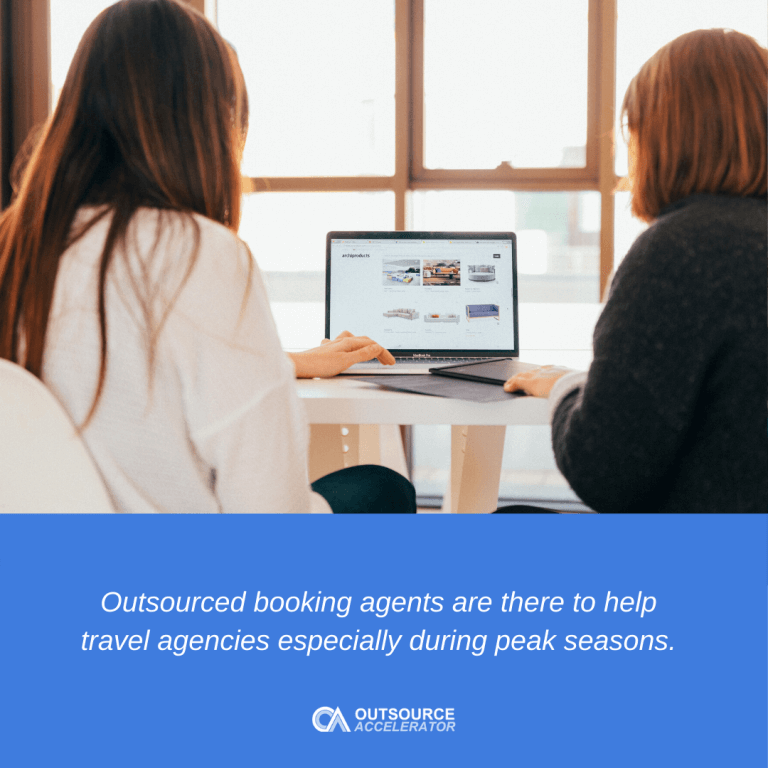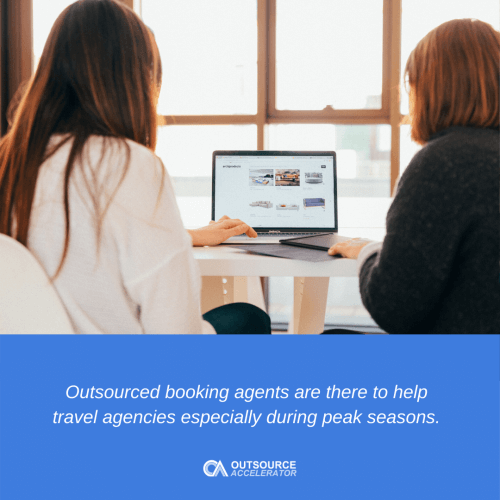 Travel process outsourcing
Small travel agencies, meanwhile, cover the dirty work of arranging clients' travels. They need to provide competitive prices and best services to stay in the market. With this, small travel agencies can take advantage of outsourcing to get ahead of the competition. They can delegate processes such as:
Procurement
Researching for deals takes time and effort. They need to be proactive in looking for the lowest prices for flights, transport, and hotel, especially during peak season. Outsourcing procurement to a travel BPO eases their burden of researching and helps them curate the best deals for their clients.
Booking and reservations
Booking flights, hotel, and tours can be time-consuming. That's why outsourced booking agents are there to help the business book clients, especially during peak seasons. They can also provide 24/7 booking service with their outsourced team to ensure continuity and convenience of their clients.
Refund and claims processing
Emergencies and last-minute changes can't sometimes be avoided. With this, clients may ask for refunds or travel insurance claims for a cancelled trip, lost baggage, or a delayed flight. Data entry specialists also help the business process these claims and fulfil their clients' requests in a short period.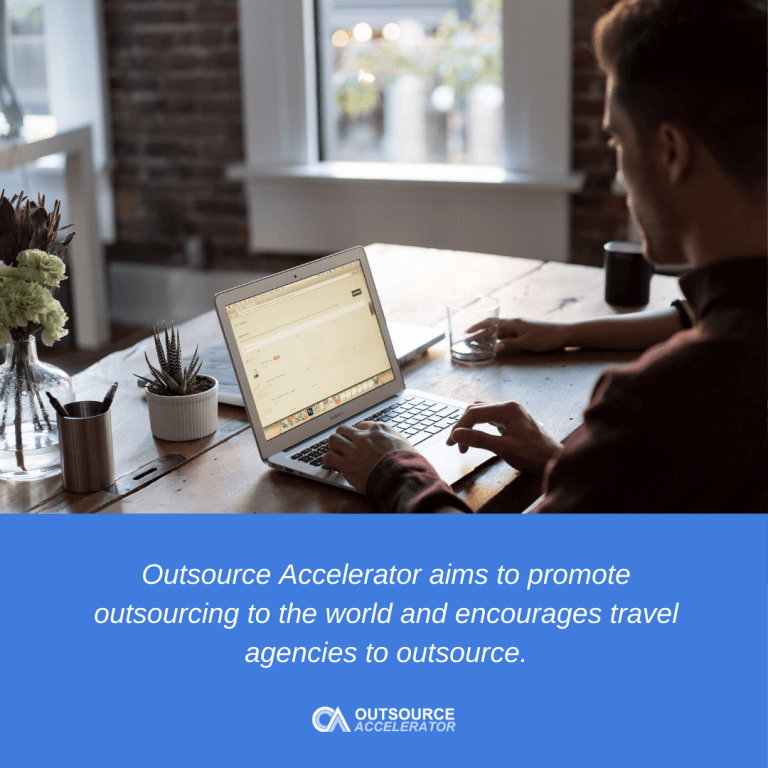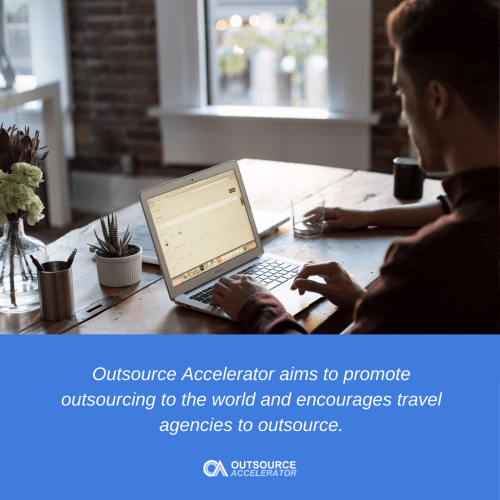 Lead generation
Generating leads is also a way to increase sales in any business. Travel agencies who outsource their lead generation have an advantage in it. They can attract more potential customers and personalise their offerings to turn them into sales.
Helpdesk
Travel agencies should also extend their customer service and be available for their customers 24/7. They can set up a helpdesk by outsourcing to a call centre so they can run their services even weekends and after office hours.
Travel outsourcing companies
Aside from being travel destinations, India and the Philippines are also popular outsourcing countries for IT and customer service. They can help small and large travel agencies in the world fulfil their needs and focus on growth and expansion. BPO companies in the regions have compliances and recognitions that prove their great service. To learn more, check out the Top 40 BPO companies guide.