Outsourcing in Real Estate
Last updated: November 16, 2022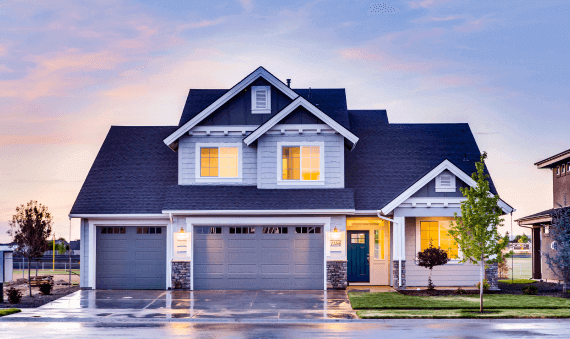 The real estate industry is highly competitive. There is a constant demand for businesses and individuals looking for properties, whether for business or personal purposes. It is also highly technical since selling a property involves legality and regulatory compliance. Aside from this, entrepreneurs also take care of other aspects such as their manpower, resources, marketing strategies, and bookkeeping.
Real estate agencies hiring virtual assistants have an edge from its competitors. Since repetitive and administrative tasks are delegated, business owners can focus on closing deals and contracts. They can also save a lot of resources and labour costs compared to hiring in-house teams.
What is a real estate assistant
Businesses can hire a real estate assistant for general duties. A real estate assistant deals mostly with administrative roles but can also handle more complex roles.
What does a real estate assistant do
A real estate assistant mostly does administrative tasks, such as:
Setting appointments
Updating property listings
Answering inquiries through phone and email
Delivering client documents
Filing documents
Preparing reports
Recording business expenses
Ordering supplies
Contract management
Document interpretation and advice
Client information research
Delivery of documents for signature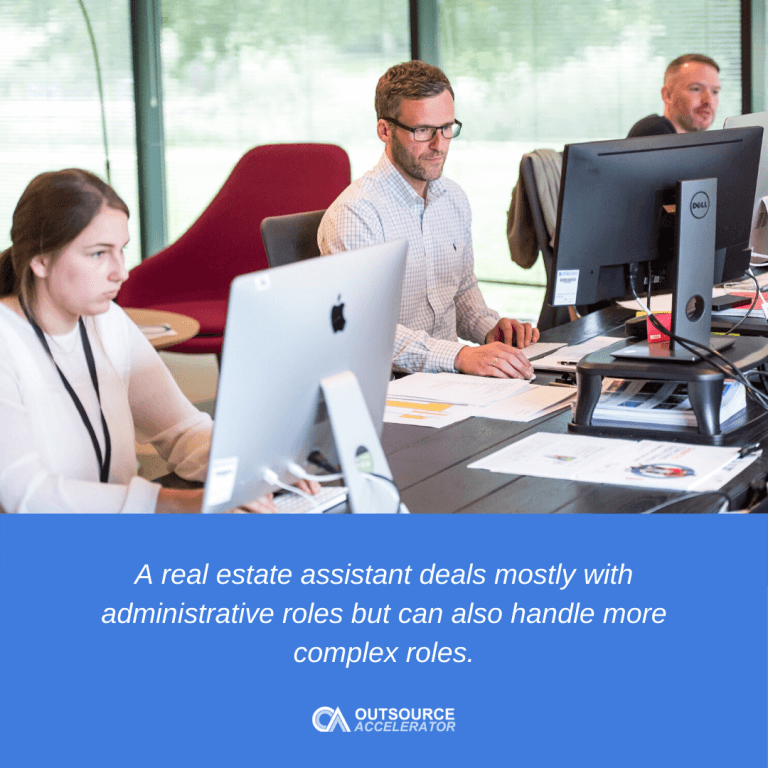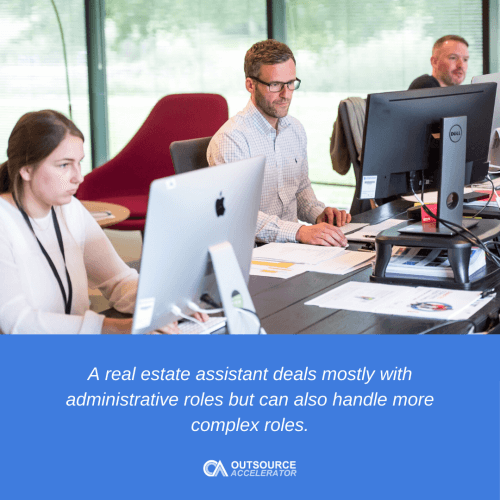 Virtual assistant for realtors
Hiring an in-house real estate assistant can be costly and difficult. Aside from their standard salaries, businesses also need to pay for their professional fees depending on their license.
They also need to take care of the workspaces and supplies they will work on. Since they work with licensed professionals, they should also undergo regulatory compliances needed in their operation.
Why not hire a virtual assistant instead. More than administrative duties, real estate virtual assistants can do other roles. Some of them are certified accountants, graphic designers, and marketers, to name a few. No need to rent additional office space and provide office tools as well since most of the work is done online.
Tasks to outsource
Real estate virtual assistants usually handle duties such as:
Digital marketing
Real estate agencies today use digital marketing platforms to promote their products and services. Outsourcing digital marketing duties to a VA gives them the advantage of a better marketing campaign and strategy.
Graphic design
Visual communication is also important in promoting a business. Hiring a graphic designer helps them keep their websites and marketing campaigns presentable and functional for their clients' convenience.
Customer service
Most VAs are also trained to handle customer service. With this, agencies can offer extensive customer support when they outsource this task. They can assure that their client concerns are attended to, whether through email, phone, or social media message.
Bookkeeping and accounting
Agencies should also keep track not just their profits and expenses. They also need to make sure they regularly file taxes and other compliances to their government. Delegating accounting duties to a VA helps them balance their finances better and avoid penalties from errors and delays in filing income statements and taxes.
Lead generation
Most importantly, real estate companies should generate sales. Lead generation is crucial to doing this. VAs may not promote a property personally as an agent or broker can. However, they can help generate leads through outbound calling and market research, to name a few.
Screen monitoring
Most businesses still worry about monitoring remote employees, especially VAs. Some are still complacent to hire employees in a different location. This is the reason they still hire local employees that can go to the office every day.
Luckily, screen monitoring tools are available in the market. With this, employers can monitor their VA's activities, website logs, and attendance. These tools also allow them to take a screenshot of their employees' desktop as proof of their work.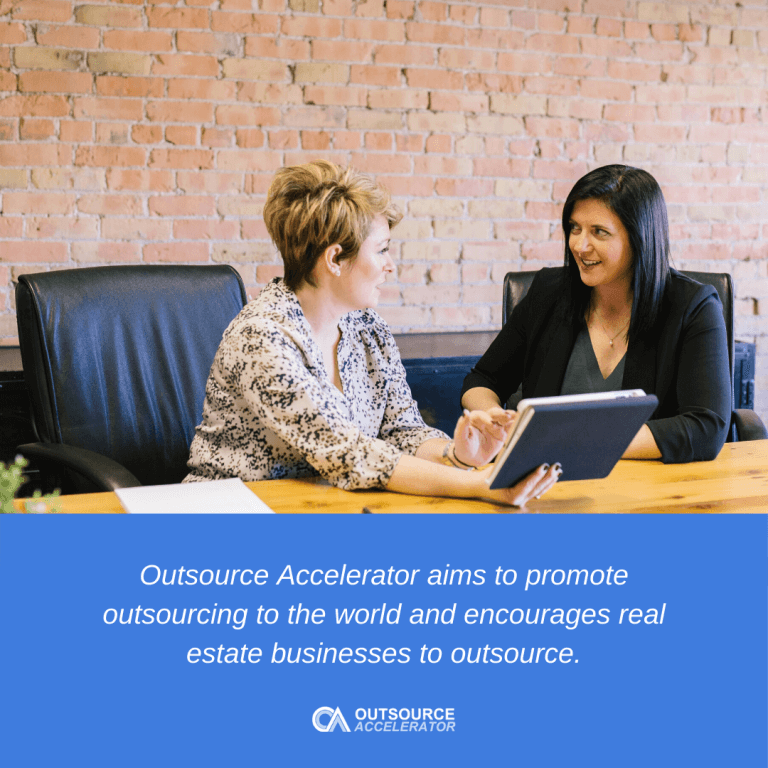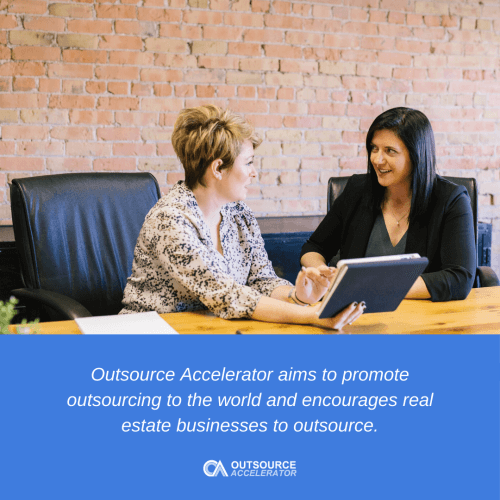 Collaboration
Employers also keep track of their employees' progress through work collaboration software.
Delegating daily tasks can be done with tools such as Asana and Trello. Streamlined communication is possible with Slack while video and voice conferences with Skype.
On-demand document sharing and editing can also be done through G Suite and Office Online. With these tools, working with a VA is easier and more flexible.
Payment
Payment platforms now make payments with VAs fast and easy. Payoneer, for instance, allows cross-border payments without additional charges.
Employers can instantly send payments to their VAs through the platform even without a bank account. No more hassles with currency conversion charges and transfer fees.
Hiring real estate virtual assistants
Through the internet, virtual assistant staffing has become more accessible to realtors and agencies in need of additional workforce. Employers can hire virtual assistants either through freelance platforms or virtual assistance companies.
VA platforms
VAs hired through these platforms are either freelancers or full-time remote workers. Depending on the service, agencies can hire them on a short-term or long-term contract. Some popular VA platforms include:
FreeeUp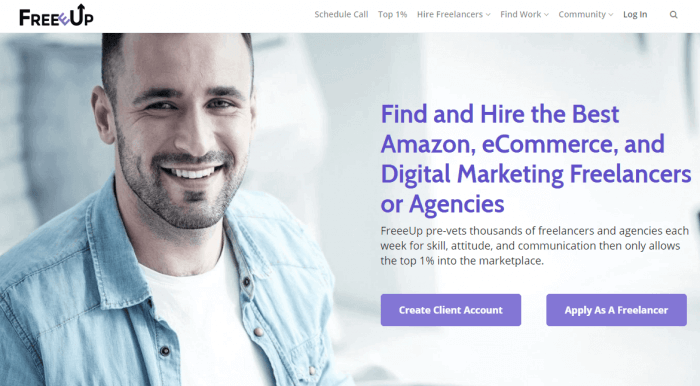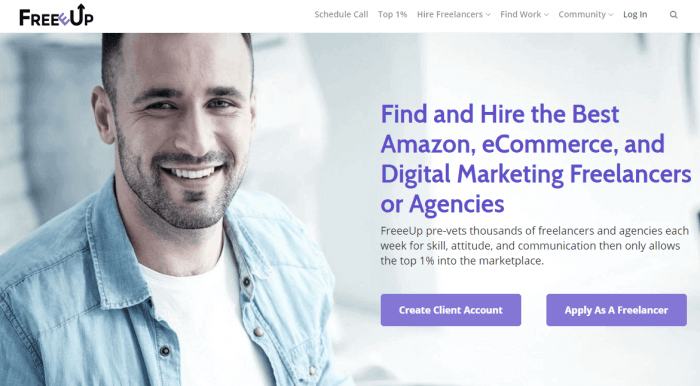 FreeeUp provides pre-vetted VAs specializing in web development, digital marketing, accounting, and customer service. Upon signup, the system will match employers with a qualified applicant and let them undergo the hiring process.
Upwork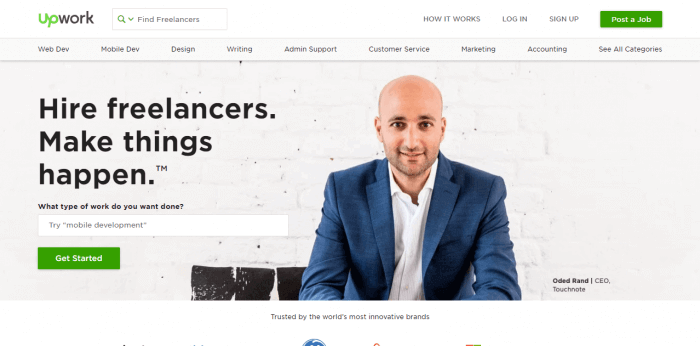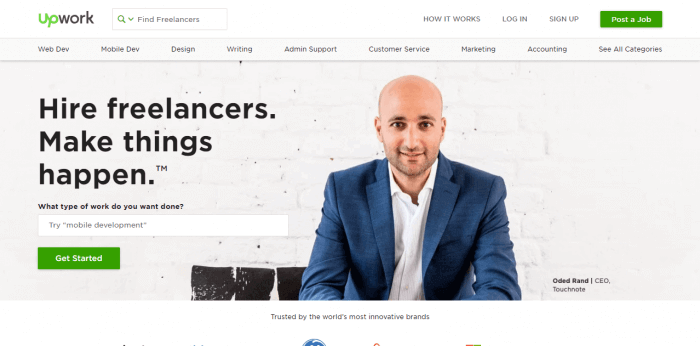 Upwork lets employers browse available VAs in the platform. They can also post their projects online to let applicants send their proposals. Upon hiring, their work and payment are processed in the platform to ensure a safe transaction.
Fiverr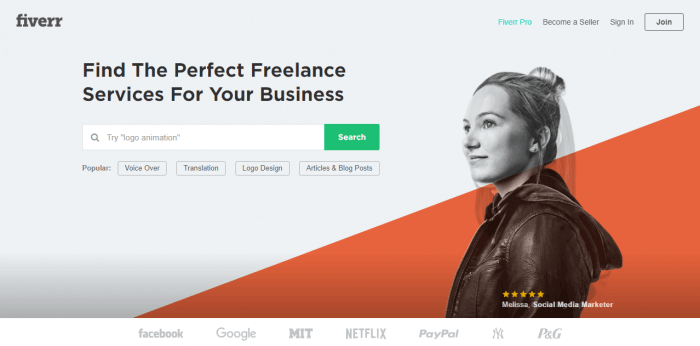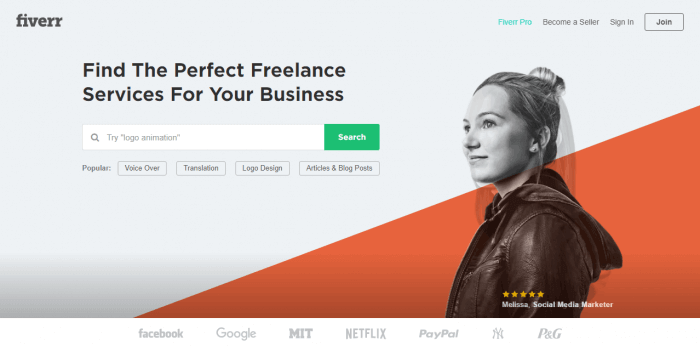 Fiverr provides a "bucket system" to the employers availing a service. They "buy" a VA's service starting from $5. Depending on their agreement, the VA may set an hourly or fixed rate for their services.
OnlineJobs.ph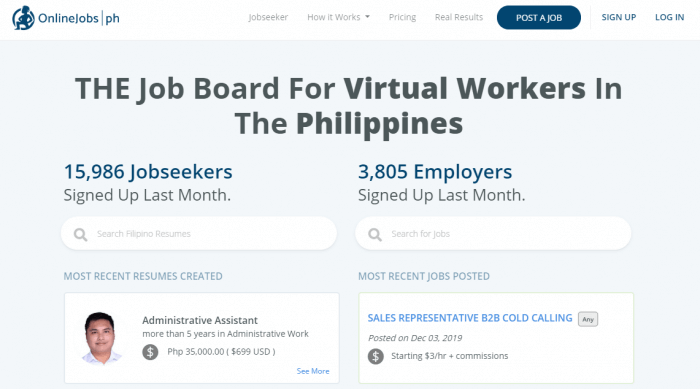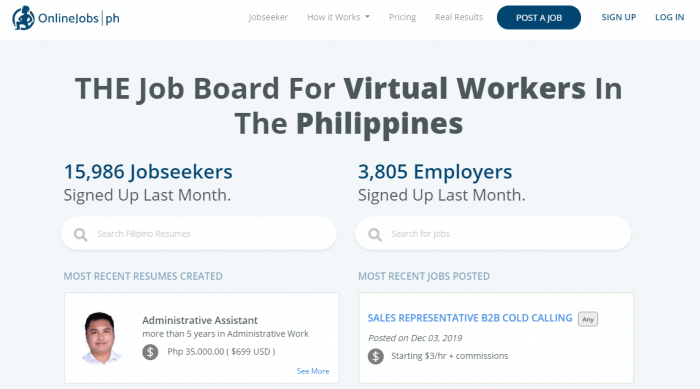 OnlineJobs.ph has a huge database of VAs from the Philippines. Though not a usual freelance platform, they store VA profiles and highlight updated ones, especially with guaranteed English proficiency, to assure that they hire the best employees.
PeoplePerHour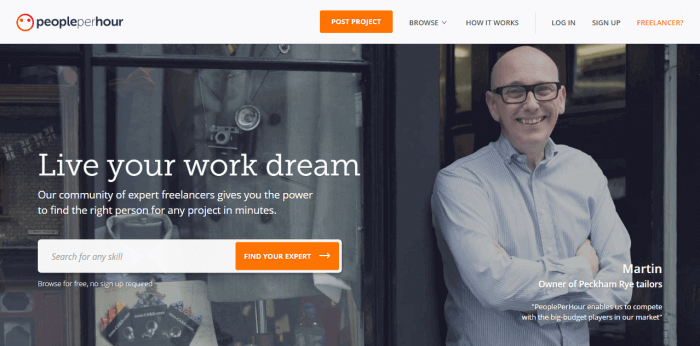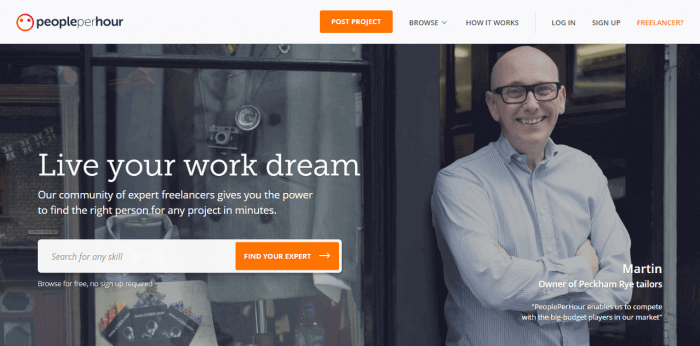 True to its name, PeoplePerHour lets employers hire VAs with an hourly rate. Good thing is, the platform also lets them hire and manage multiple employees for streamlined and secure transactions.
Virtual assistance companies
Business process outsourcing, meanwhile, gives a more professional approach to hiring VAs. They work in a controlled office and are paid regular salaries and benefits. BPO companies provide the resources needed for their work. This includes workspace, desktop, phone, internet connection, and IT infrastructure.
Outsource Accelerator
Outsource Accelerator, the leading marketplace for BPOs aims to promote outsourcing to the world and encourages real estate businesses to try it. The company lists over 700 companies and thousands of educational resources about outsourcing, including articles, site videos, and the Outsource Accelerator podcast. To learn more, check out the Top 40 BPO companies in the Philippines guide.