The financial services industry joins the new wave of technology trends to fit its consumer needs. As a result, from the traditional brick-and-mortar banks and institutions, online banking and digital banks rose to popularity.
Business process outsourcing helps banks and FinTech startups reach global consumers by hiring offshore teams in different aspects, such as customer service and web development.  They know that hiring in-house teams for product development costs a lot, especially if they are targeting another location.
Outsourcing trends in financial services
Before, banks and financial institutions keep their processes in-house. This is to protect the welfare of the consumer and the bank. Now, with the data and transactions getting transferred online and services being outsourced, trust circles around the consumer, institution, and the outsourcing company.
Deloitte released an updated record on the outsourcing trend for financial services. Below are some of the topics they are looking at in 2020:
Government frameworks
With international banking, institutions still work on government frameworks of their preferred location to expand to. This includes the required compliances and the codes they need to follow for their operation.
Non Financial risks
Before the internet, Businesses were more focused on handling money. Now, they think of driving forward to grow the business while taking care of their consumers' welfare, especially when transacting online through their platforms.

Third-party risk management
Institutions should also update and continuously monitor their business with their third-party companies, whether agencies or BPO companies. They need to make sure their third-party performs well in terms of processes, achieving KPIs, and managing risks on their operations.
Credit risks
Credit scores of financial institutions are managed through measuring traditional performance metrics. This includes unpaid loans, the number of delinquent creditors, and the total number of active bank accounts.
Data management
Institutions should also be mindful of managing their data since their operations hugely rely on this. New data requirements include improved data capabilities, which can create bigger risks since they have to update publicly-disclosed data.
Reasons to outsource
Service optimization
Financial institutions should focus on their strength: finding solutions to manage money. They should then outsource the technical aspects that come with it, including website and service optimization
Strengthening customer relations
Financial institutions should maintain the loyalty of their customers. Outsourcing marketing and customer support is a strategic way to attract and convert customers and keep them satisfied with the services they offer.
Blockchain technology application
FinTech companies are also expected to support blockchain technology in their services. Though it may be difficult for them to incorporate a decentralized platform, outsourcing IT services can help them further improve their platform.
Savings with high-quality performance
Nowadays, businesses don't just outsource to save. Instead, they look for a better performance that can exceed their in-house teams. Some outsourcing countries such as India, the Philippines, and Poland lead in IT and business processes outsourcing.

Services to outsource
Institutions such as Deloitte and Elixirr also identified the top services that financial institutions should outsource.
Cybersecurity
Primarily, banks are built on trust in handling people's money and information. A single breach can cost them money and reliability. Outsourcing cybersecurity can help them strengthen this by applying encryption and other layers of security to the institution's website and mobile app.
Software development
User interface optimization of their website and mobile app should be their next focus. It may be difficult to keep up with the latest trends and what they should add. With this, outsourcing software development helps them.
Accounting
Outsourced accounting services also make it easier for them to create their general income statement and follow regulatory compliance in tax and additional fees. It can also help in maintaining their credit score and managing the finances to prevent them from bankruptcy.
Customer service
Since they need to build a good relationship with their customers, they should attend to their needs anytime at any channel. This can be achieved by outsourcing call and contact centres that can handle customer concerns better.
Compliance
Whatever services they outsource, working with compliance is important in a financial institution. They should make sure that their outsourced company runs under proper laws and regulations to ensure consumer safety and the quality of their services.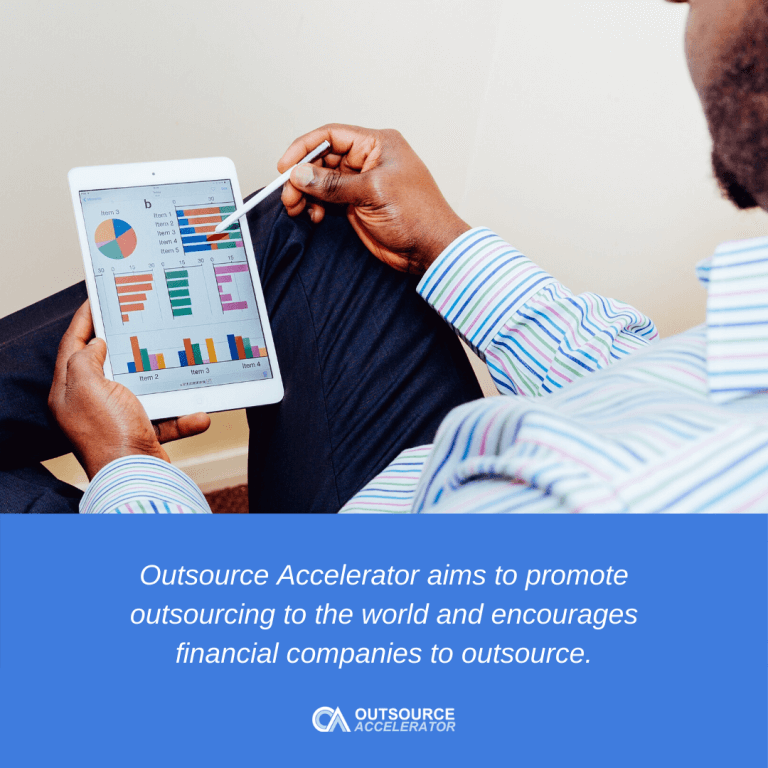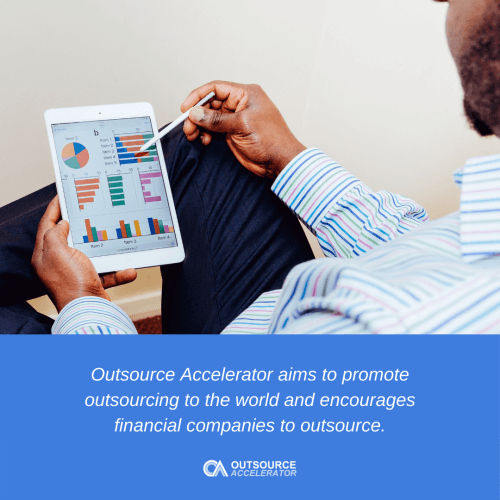 Financial services outsourcing solution
Most aspects of a business, such as software development, digital marketing, and accounting, can be outsourced to a freelancer or an agency. This can help them try outsourcing through a short period.
One-time services can also be done by hiring a full-time remote employee. However, being in an industry that relies on customer loyalty and satisfaction, it is better if they hire a BPO company. They can make sure that they run on a controlled office, with proper equipment, stable connection, and guaranteed compliance from the government.
Outsource Accelerator, the leading marketplace for BPOs aims to promote outsourcing to the world and encourage small and medium businesses to try it. The company lists over 700 companies and thousands of educational resources about outsourcing, including articles, site videos, and the Outsource Accelerator podcast. To learn more, check out the Top 40 BPO companies in the Philippines guide.