Remote work gives advantages to both the employee and the business hiring them. The time flexibility for remote employees gives them more freedom to do their work while planning for their personal lives. No more traffic going to a physical office since they can work in the comforts of their own home with just a laptop and the internet. 
However, remote work also has its disadvantages. One of these is the lack of control and monitoring. Especially with freelancers, it's difficult to track their time and activities since they usually don't have a formal login needed.
Employers don't know how their employees use their time doing a project or a task. As a result, employees either give a half-baked output or none at all. When hiring a remote employee, it's best to make it a habit to include screen monitoring in the agreement terms.
Employers who hire through business process outsourcing providers, meanwhile, can have an agreement to monitor their teams through their preferred monitoring software. There are reliable tools they can use for screen monitoring, having an easy to use interface that's perfect for small businesses and startups.
What is screen monitoring?
Screen monitoring or computer monitoring is an act of recording a user's activities on a computer. The latest studies show that almost 80% of major companies in the US monitor their employees' activities, mostly their emails, internet, blogging, and social media. 
Employers usually have software that monitors their employees' time used in working on the project, when they are away from the computer, and the websites they usually visit. Here, every time a user logs in, their username and timestamp will be registered.
From then they can monitor the employees' productivity and the most frequent software they use. The system will also log the websites they usually visit and how often they visit it. Periodically, employers have the option to take screenshots of their work.
Screen monitoring is one of the ways to ensure productivity, establish accountability, and properly track the employees' work time. However, the use of this tool depends on a case-to-case basis.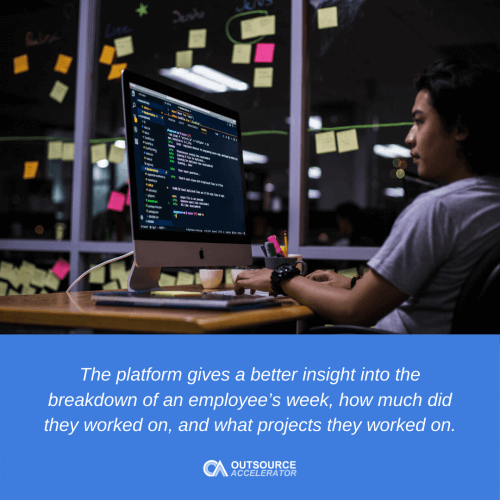 Pros and cons of screen monitoring
| | |
| --- | --- |
| Pros | Cons |
| Ensuring fairness at work | The threat of employee privacy |
| Ensuring work productivity | A decrease in employee's trust |
| Create accountability | Additional cost to maintain |
| Simplified employee supervision | Potential 'gamifying' or 'hacking' of result |
Good thing is that the disadvantages can be worked out and agreed upon by the employer and their remote employees. For instance, they can agree to limit screen monitoring to time tracking and periodic screenshot captures. Some monitoring tools restrict access to several websites, such as social media.
Graphic designers who need to check on these sites as a part of their job can have this feature disabled. Writers are mostly output-based, so monitoring can be minimized. Proper usage of this tool benefits businesses a lot, especially in tracking the productivity of your employees.
Pricing and features
Most screen monitoring tools are available for as low as $7 per user per month. Many of these have a free trial for up to one month so they can check if the tool is fit for their business.
Features include:
Time usage alert.

Remote employees receive a notification once they're away from their computer too long or browsing a website not related to their work.
Payroll and invoicing.

Employers can generate invoices based either on a fixed salary or number of work hours generated by the tool.
Chat logging.

Employers have an insight on chats and calls made by the remote employee, including usage frequency.
App and URL tracking.

The system saves a record of software and websites visited by the employee and its usage frequency. 

Mobile app integration.

On-the-go employers can access and track their employees even when they're away from their desktops.
Best screen monitoring software
Each software differs in terms of price, offering, and features. We have listed the best screen monitoring software you should check out right now for your team.
Time Doctor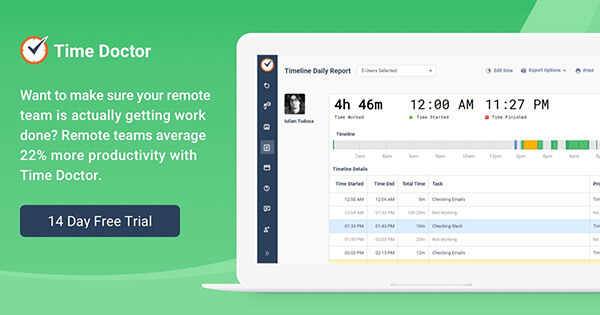 For almost $10 per person per month, Time Doctor gives access to full employee monitoring features, including web and app usage, payroll, and webcam shots.
Employer's clients have exclusive access to screenshots and reports to projects they worked on. They also have a mobile app companion that tracks down employees' locations and allows integration for employers on the go.
Timecamp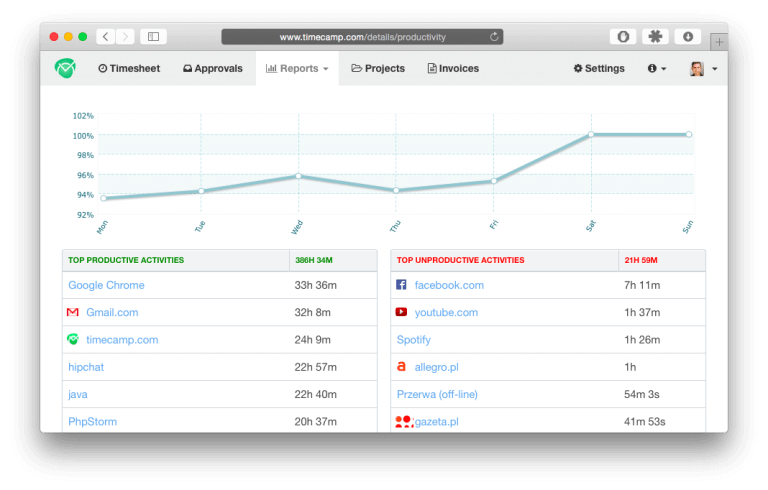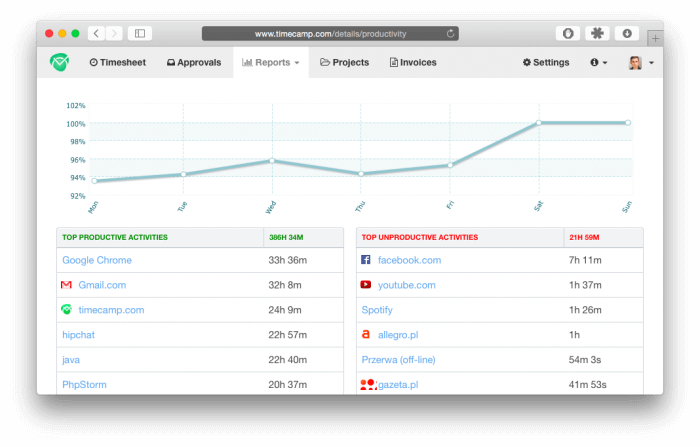 For projects that need minimal monitoring, TimeCamp offers free services for one user that only includes time tracking and graphical timesheets. This feature is perfect for one-time and output-based projects.
Other options are also available ranging from $7 to $10 per user per month, with added features such as invoicing, payroll, and software integrations. Their mobile app version also enables manual time tracking and task input for on-the-go individuals.
Workpuls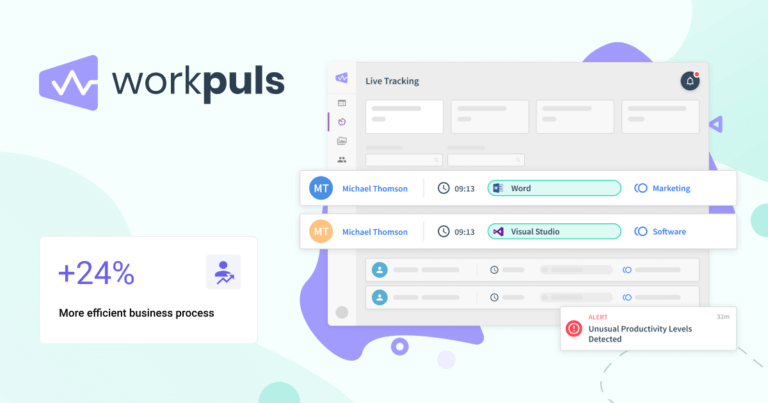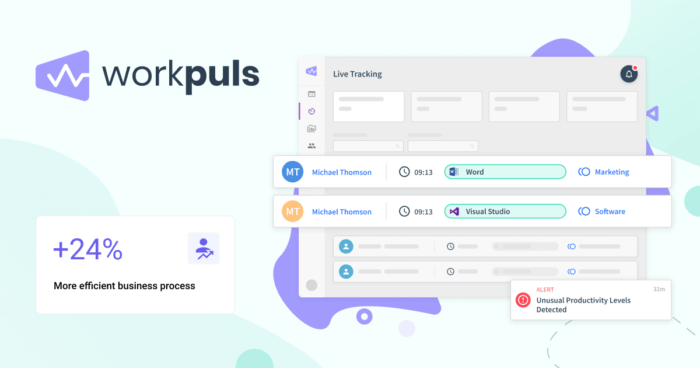 Workpuls is an employee monitoring software that gives employers a "unique perspective" of their teams' productivity, reports, timesheets, and day-to-day activities. This software offers features to help companies better streamline their operations and organize their teams. Some of its unique, productivity-focused features include:
Real-time monitoring

Automatic attendance tracker

Manual time entries

Productivity labeling and tracking

Timekeeping; and

Manual screenshots
For as low as $4.80/employee monthly, companies can enjoy these services. Further, Workpuls also offer a seven-day full-access free trial to help you get set up! Sign up here to start the free trial.
Hubstaff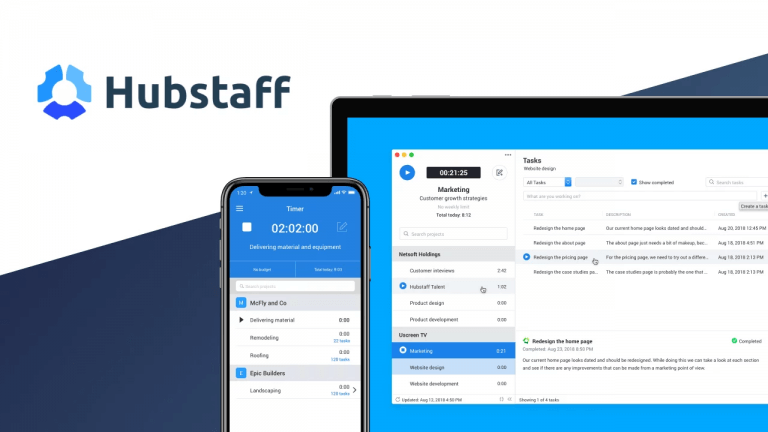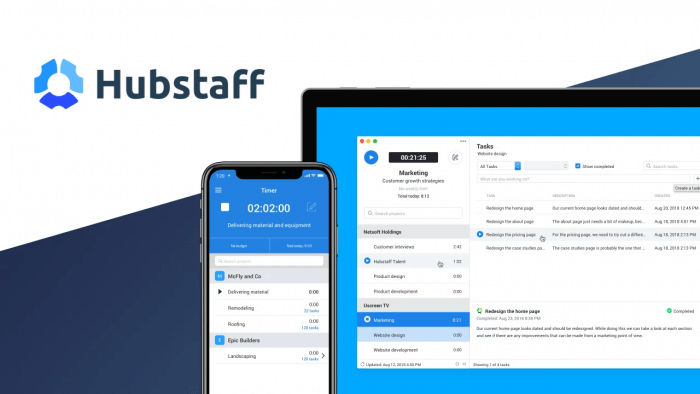 HubStaff's pricing starts with $7 per person per month for at least two users. The platform includes an optional screenshot of employees' desktops which can be customized or turned off altogether.
HubStaff gives employees more freedom and flexibility by letting them choose tasks they'll do and set their timer to begin working. This lets employers track activity rates and view reports in real-time through the organized interface.
Harvest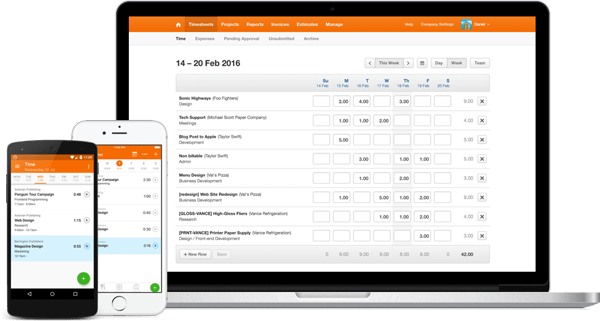 Among the platforms in the list, Harvest not only tracks employees' activities and work times, but it also prevents employees from possible burnout through its unique tracking feature.
It shows the billable and non-billable time each employee has made and alerts the employees if an employee exceeds their work times. The platform gives a better insight into the breakdown of an employee's week, how much did they work each day, and what projects they worked on. 
ActivTrak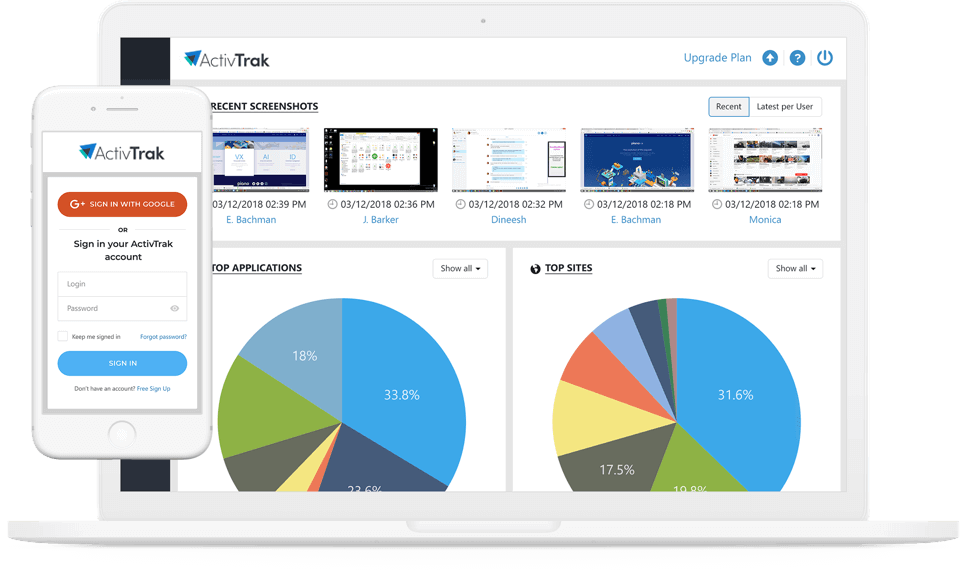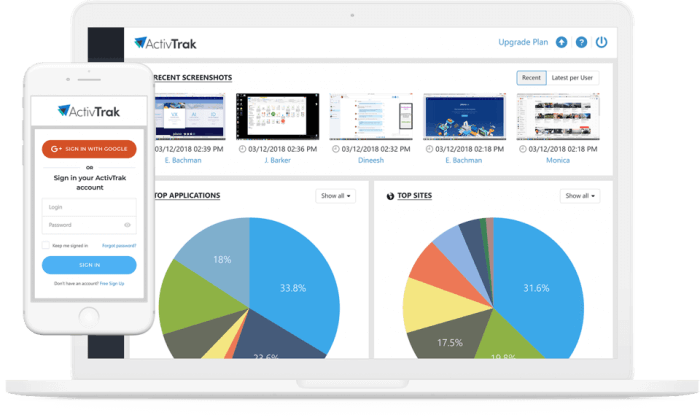 ActivTrak, when activated, is invisible to the employees' desktops. The platform enables employers to discreetly track the employees' activities like other screen monitoring tools. It detects the idle time of employees through mouse and keyboard movement tracking.
A workstation without input for two minutes is considered idle to the system. ActivTrak offers limited features for free up to three users and $7 per user per month for full access.
Kickidler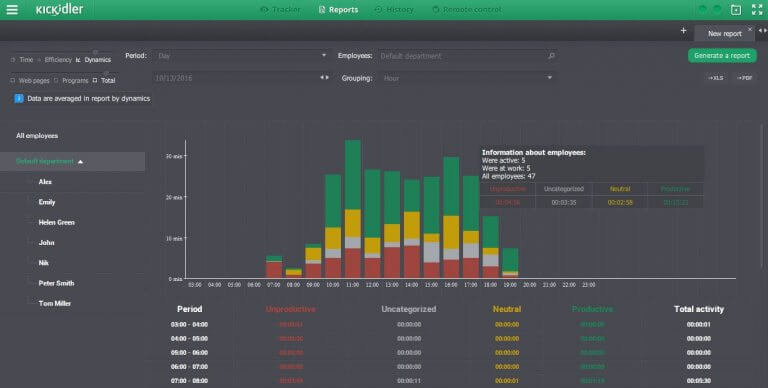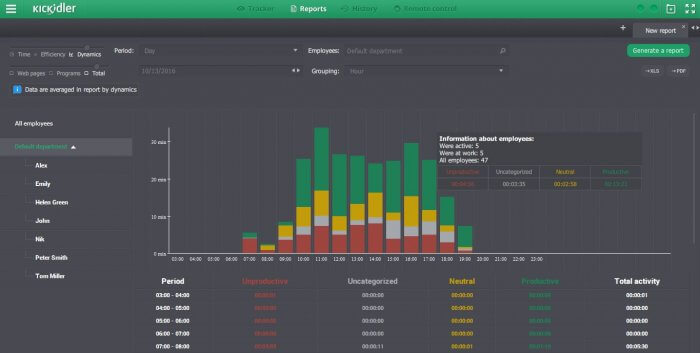 Kickidler offers its full features for as low as almost $10 per month or a lifetime license of $170. Among the platforms in the list, KickIdler has a screen recording feature where employers can have access to a video record of their employees' activities.
This includes the website they've visited and the software they've interacted with. The recording feature gives employers a more in-depth view of their employees' activities and evidence of the violations they made if any.