The hospitality industry covers a wide range of businesses. This includes restaurants, hotels, airlines, and travel agencies. The industry handles all services needed when travelling.
Though most of its operation requires in-house staffing, business process outsourcing also helps them gain an advantage with the tough competition, especially with the rise of different platforms such as Airbnb, Booking.com, and Zomato.
The industry
Hospitality is divided into four sections: food and beverage, lodging, tourism, and recreation.
Food & beverage
Food and beverage refer to businesses serving meals and drinks for everyone. It claims the largest portion of the industry. This covers the restaurants, fast food chains, bars, and delivery services. A food and beverage establishment may be a standalone business or a part of hotels, malls, or movie theatres.
Travel
This section is responsible for helping people move from place to place. This includes airlines, bus stations, and transport services such as Uber and Lyft. Travel agencies that arrange everything for their clients, whether for business or vacation, are also part of the travel section.
Lodging
Lodging or accommodation deals with a temporary place to stay for clients. Hotels, transient houses, BnBs, and booking platforms such as Airbnb and Agoda are included in this section. They offer rooms, villas, and other places to make a client feel comfortable with their stay in a specific location.
Recreation
This section, meanwhile, aims to make clients relax and refresh their minds and bodies within their stay. Recreational places such as sports arenas, gyms, and spas are sometimes found inside hotels as part of their amenities. Zoos and museums, meanwhile, are found in the cultural centre of a specific location.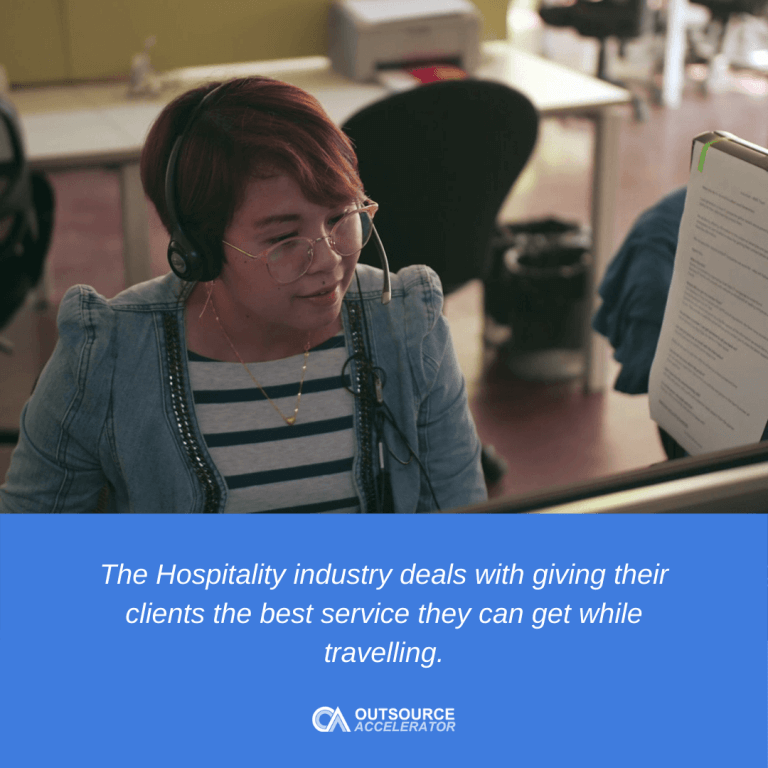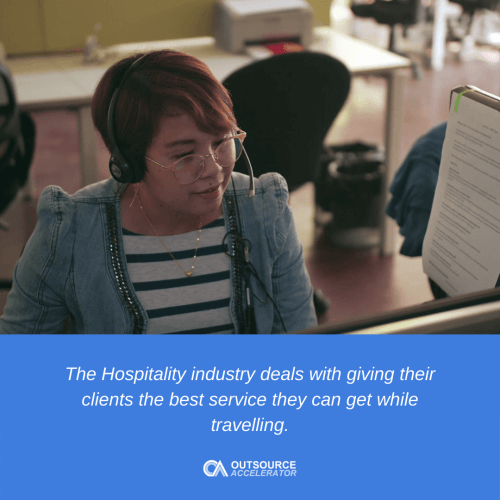 Hospitality industry trends
The industry competition continues to be a cut-throat one. It follows trends in technology like any other industries in the market. And with the rise of different platforms, the demand for better services continues to increase over time.
Digitization
The industry continues to digitize its operations, from bookings and reservations, food delivery, to transport navigation. There will be less and less need for direct bookings since clients find third-party bookings easier, more flexible, and more affordable.
Some hotels also practise instant check-in through mobile phones, making it more convenient for clients. However, hotels plan to increase direct bookings to gain profit.
Sustainability
More and more clients become conscious of the environment and social issues. This is why they look at the sustainability of the establishment they're patronising.
They strongly support brands that care about the environment and show concerns on social issues. With this, businesses should also keep up with their corporate social responsibility duties.
Increase in tourism
More and more people also travel every year. Millennials take a large part of this increase, with their desire for travelling the world. Though there will be a slowdown in the economy, there will still be a continuous influx of young travellers from different countries. The only catch is that businesses should think of strategies on how to attract them to patronise their services.
Improved experience
Also, more travellers look for a more immersive experience when travelling. They wouldn't mind spending a lot for a hotel room or a recreational activity to gain the best experience they can get. With this, tours, retreats, and other activities are expected to increase its demand.
Hospitality outsourcing
With this increase in demand, businesses in the industry also take advantage of outsourcing their services. This helps them keep up with the trends in their business and focus on strategies for growth and improvement.
However, there are several things they can and cannot outsource.
What can be outsourced
The hospitality industry is a service-oriented industry. They deal with giving their clients the best service they can get while travelling. With this, most aspects should still stay in-house, such as housekeeping, valet, culinary, and physical front desk.
Back office support, meanwhile, can be outsourced to a virtual assistant or a BPO company. They can give the best service their clients deserve so they focus on growing their business.
Airbnb assistant
Solopreneurs with multiple Airbnb listings can gain the advantage of hiring a virtual assistant to manage them. Airbnb assistants are responsible to screen potential guests, reply to inquiries, organise cleaning and maintenance schedules, and provide online support to guests.

Restaurant bookkeeping
Restaurants can organise their finances more through virtual bookkeepers. They are responsible for consolidating payments, receipts, accounts, and deposits made. They also take care of managing the budget and inventory of the supplies needed at the restaurant itself.
Travel virtual assistant
Travel assistants, meanwhile, deal with an all-around duty for business owners. While they focus on planning their trip, their assistants will research the location, search for travel deals on airlines and hotels, check tour packages, and prepare travel itineraries for their clients. They only need to appear at the place and contact them for refunds and issues regarding their trip.
Online concierge or online receptionist
More importantly, small agencies need to have an online reception to attend client concerns after office hours. With this, they can make sure that their guests are fully-attended to even when the front desk is out.
Hospitality outsourcing companies
Several outsourcing countries, such as India and the Philippines, produce the best talents in the hospitality industry. Outsourcing helps businesses gain access to these talents at a fraction of hiring a local employee. With the support of their government, BPO companies can also provide the best equipment to work on.
They can guarantee that their offshore teams are in class A buildings, with proper equipment, stable connection, and phones to use. To learn more about this, check out the Top 40 BPO companies in the Philippines guide.