The strong future of outsourcing: White Paper
Last updated: October 4, 2021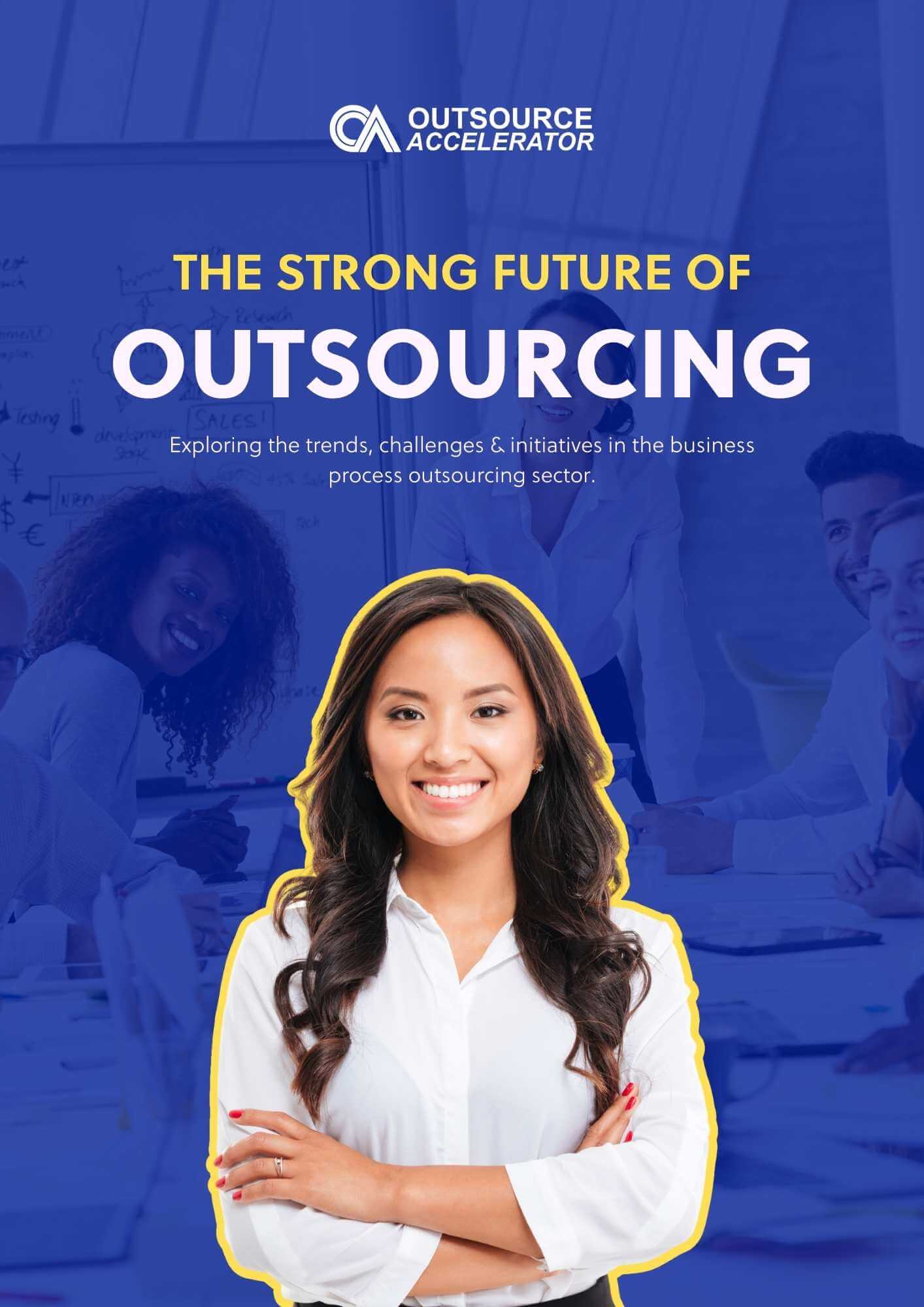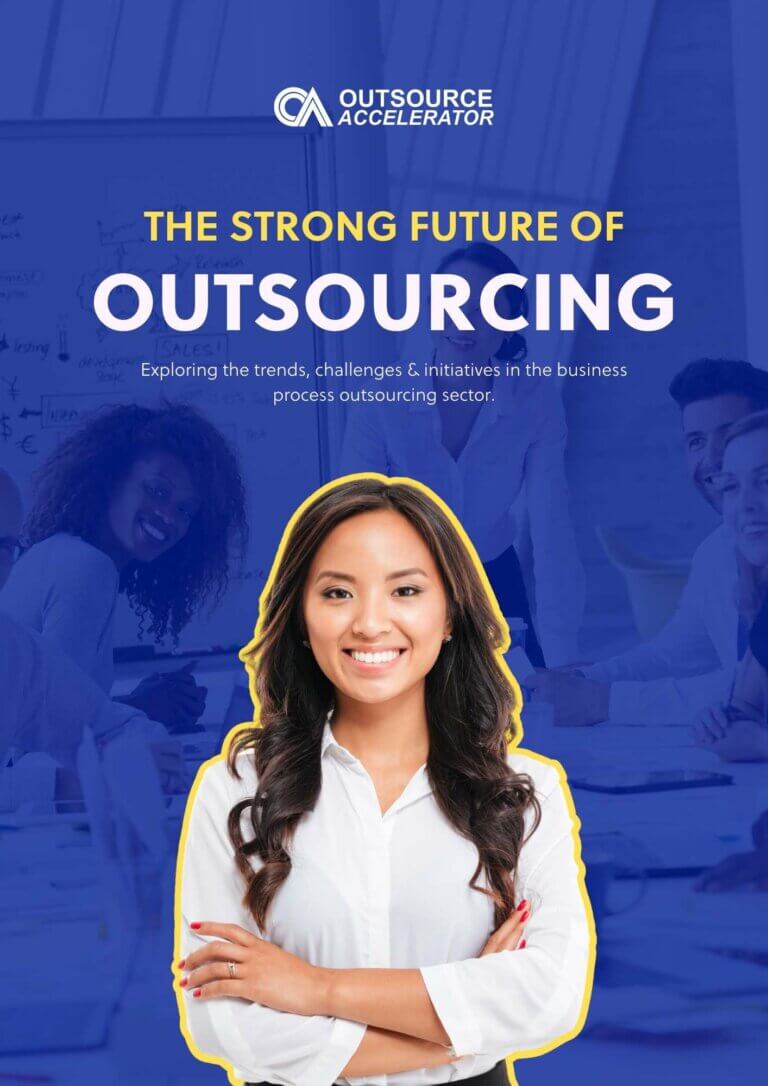 Get the easy-read PDF version to your inbox now
Strong Future of Outsourcing: Executive Summary
Staff outsourcing is a young industry of only 25 years, facilitated by improving telecoms and IT.
Recently the industry has seen a slowdown.   Fears of negative growth abound, due to a dearth of new enterprise clients, and the rise of automation and Artificial Intelligence (AI).
Contrary to common observation, there is huge burgeoning growth in the outsourcing sector, coming from the oft overlooked SME market.
There are over 35m Western-based SMEs, employing over 100m people.  Due to infrastructure and scale costs, outsourcing was previously unaccessible to this market.
Cost reduction means outsourcing is now accessible, and offers a huge opportunity for both the SMEs and the outsourcing providers alike.
SME outsourcing is more agile in nature which means it is better protected against the concerns of AI and automation.
However, there remains a education and awareness gap, which is stifling engagement.
Official outsourcing bodies have traditionally focused on the big players only, as such, there is a lack of essential infrastructure and support for this potential next boom.
A white paper, by Outsource Accelerator, exploring the trends, challenges, and initiatives in the outsourcing sector, and the unrecognized potential of the SME Sector as the potent success factor.
Part I. Overview
Introduction to outsourcing:  a recent search for efficiency
The 1997 Asian financial crisis caused waves of economic anxiety and hardship that compelled many developed regions of the world to recalibrate their ways of doing business, push costs down, and diversify their operational portfolio as means to manage risks and mitigate costs. Outsourcing emerged at that time as a nascent key strategic thrust among companies, which allowed them to free up resources and redirect managerial focus to core competencies. Large firms began to look for providers that could take on the outsourcing of some of their operations, taking the following factors into consideration:
High absorptive capacity for knowledge and technology
An environment characterized by a resilient market and good governance
Sufficient infrastructure to support advanced telephony and staffing needs
An affinity to the customer and company culture
With such qualities that are desirable to businesses abroad, the Philippines thrummed with potential and quickly became a shining star within the dynamic Southeast Asian region. The BPO (Business Process Outsourcing) industry would later emerge as a sunrise industry for both the world's large corporations and the Philippines.
The Philippines' Department of Trade and Industry defined BPO as the "delegation of service-type business processed to a third-party service provider." This later on evolved to "Information Technology and Business Process Management" or IT-BPM to better reflect the coverage and changing nature of its services.
In just 10 years, the Philippines increased its world share of IT-BPM service provision from 4 percent in 2004 to 12.3 percent in 2014, or three times its portion of the pie. The Philippines' BPO industry raked in USD 22 billion in 2015 and is today the second largest source of employment in the country. It services over 20 sectors across regional markets, most notably in North America, Asia, and Europe.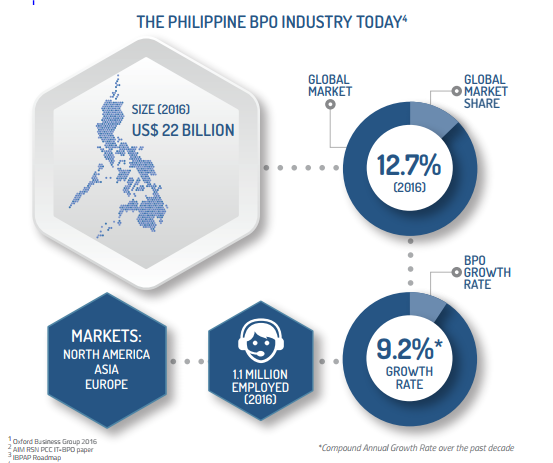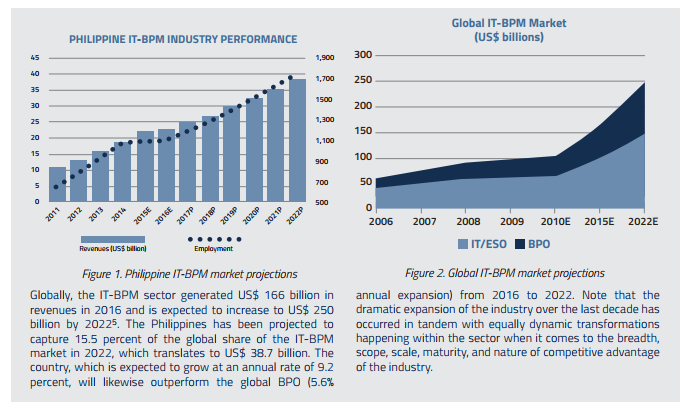 The table below illustrates the evolutionary development of the BPO sector service provision, as well as the emergence of regional cities such as Cebu, Bacolod, Iloilo, Pampanga, and Davao as new hubs of the global BPO market. The growth in these provincial areas puts the country in a good light, as a representation of the general state of Philippine development.
Despite the growing demand for non-voice services, voice services will remain a significant source of employment and growth in the Philippines in the coming years. In 2014, 6 out of 10 people employed in the sector belonged to the voice-sector. If this trend persists, there will be an estimated 1.1 million people employed in voice-based services in the Philippines by 2022.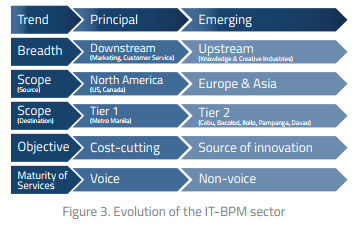 A maturing sector?
The Philippine BPO sector is expected to slow down from the double-digit growth rates it enjoyed during the first phase of its expansion. Even as the Philippines builds its non-voice capabilities, which points to a "maturing" sector, it is critical that the policy stance indicated in the 2017 Investment Priority Plan and industry initiatives embodied in the new IBPAP roadmap maintain its momentum.
This roadmap has been endorsed and supported by IBPAP or the Information Technology and Business Process Association of the Philippines, which is the "enabling association" for the IT-BPM industry in the country, supported by various stakeholders, namely the government, chambers of commerce, and allied industries. IBPAP, keen on leveraging on the lessons and successes of previous roadmaps, hopes that the roadmap provides a new architecture for fully capitalizing on the potential benefits of the industry. This will fully capitalize on the potential benefits of this multi-billion dollar industry. It is clear that the BPO sector will remain a top contributor to nation building:
It is projected to overtake OFW remittances as the primary source of foreign exchange earnings of the Philippines in 2017.
It will remain the largest source of employment, with an estimated 1.8 million direct jobs by 2022.
If we assume the current job multiplier of 2.5 jobs per BPO worker to hold true in 2022, it would create 4.5 million more indirect jobs .
It will spur the growth of development in areas that will host IT-BPM companies (Makati City, Bonifacio Global City, etc.).
It will increase household savings and consumption as seen in the emergence of a "new middle class" and the proliferation of late-night and 24-hour small businesses catering to the "BPM consumer" and the BPM sector.

Part II. Democratization of outsourcing
Tapping into the business of small enterprises
The outsourcing sector is fast changing in both its breadth and depth of service provision.  It is quickly upskilling in response to an increasing demand for broader services.  This is an exciting development for the industry as it allows it to offer increasingly higher-value services, but it means that the industry has to keep pace with educational requirements to ensure that there is adequate supply of higher skilled roles.
However, when it comes to the main bulk of the outsourcing market, it is evident that the vast majority of jobs still remain within the original, more basic functions.   When it comes to the global IT-BPM sourcing market for 2015, IT Services global sourcing accounted for nearly 60 percent of the world's US$166 billion total. Another 40 percent came from BPO global sourcing services.
According to Frost & Sullivan Analysis from the iBPAP Roadmap 2022 show, demand for IT services will remain prevalent across all sectors while sub segments indicate an increasing Knowledge Process Outsourcing (KPO) demand followed by Finance and Accounting.
Key players who are keen on gaining a foothold on the sizable Business Processing Management (BPM) market understand that business-as-usual is not a viable strategy in a complex and dynamic environment.
Examples of such forward thinking businesses include Sharepoint and Tallyfy, which offer workflow and process automation platforms, as well as Zapier and Salesforce which are pioneering remote work solutions for businesses. With the attendant increase in competition through evolution and innovation, it is not only strategic but also practical to define new market segments within the broader IT-BPO segment. And as mainstream outsourcing services sign on the bigger players like multinational companies, the next impetus for growth in the sector appears to be smaller businesses.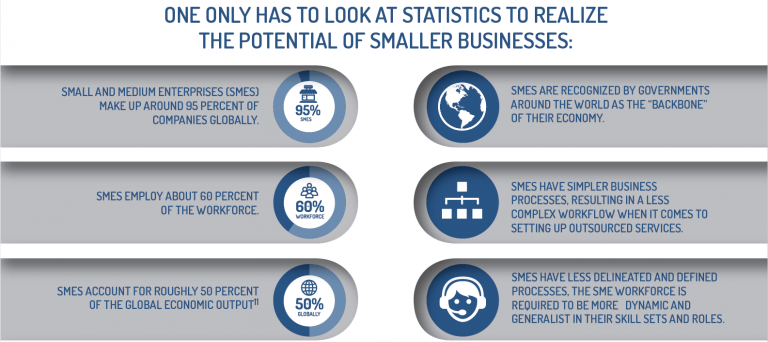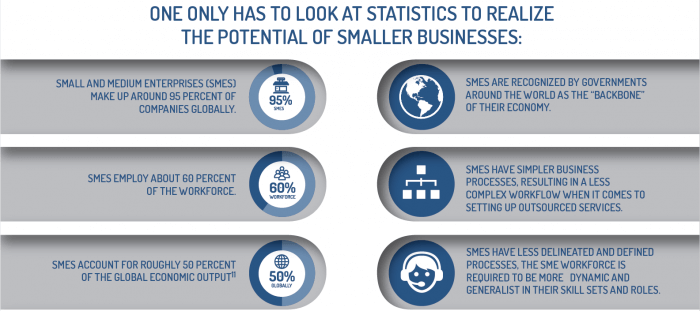 A different story for SMEs
The same reports that tout the contributions of Small & Medium Sized Entities (SMEs) to the global economy also show that SMEs and startups are excluded from many of the critical support services that allow them to more efficiently grow their business.  In comparison, the bigger, more established corporations has access to a broad array of services which enable to them to better optimise the efficiencies of their business.
Despite SMEs constituting 95% of all businesses, employing 60% of the workforce – and being more fragile than their bigger counterparts, SMEs are excluded from many of the opportunities for cost savings, operational flexibility, access to skills and labor, and the ability to focus on the core business. And these are the areas that are often of most need to small companies, and those in the start-up phase.
Staff outsourcing can save companies as much as 60 percent on overhead costs, and 15 to 20 percent on outsourced data management and accounting. BPOs also provide the solution to common constraints that SMEs face such as attracting and retaining talent, and bearing the cost of additional office infrastructure and full-time employees.
Outsourcing part of their backend operations can allow SMEs to focus on sales or growing their core business and not bear the costs of inefficient sub-specialisation and role-multitasking at this critical phase of the business. Management research suggests that employees who are handling multiple tasks at once could yield a 40 percent drop in productivity, and costs the global economy an estimated $400 million annually.
Because of the mammoth collective size of the SME market, and the obvious operational and strategic advantage that BPOs can offer businesses – especially small ones – it is an obvious evolution for the SME and BPO markets to eventually migrate towards each other.
Defining SMEs
Currently, there is no standard definition for SMEs as countries who are at different stages of economic development also face a high degree of heterogeneity among firms. Regional groupings such as OECD define SMEs quite broadly as enterprises which "are non-subsidiary, independent firms which employ fewer than a given number of employees". The frequent upper limit in the European Union is 250 employees, while the workforce could consist of only 100 people in the Asia Pacific Region.
For the purposes of this paper, we maintain country-level definitions of SMEs for 10 high-cost English speaking economies (see Table 3). These advanced economies have the greatest potential in cost-savings from outsourcing given the relatively high labor costs within their respective countries. In addition, the English-speaking population of these countries makes it easier to do offshore activities because of the low cost of language barriers.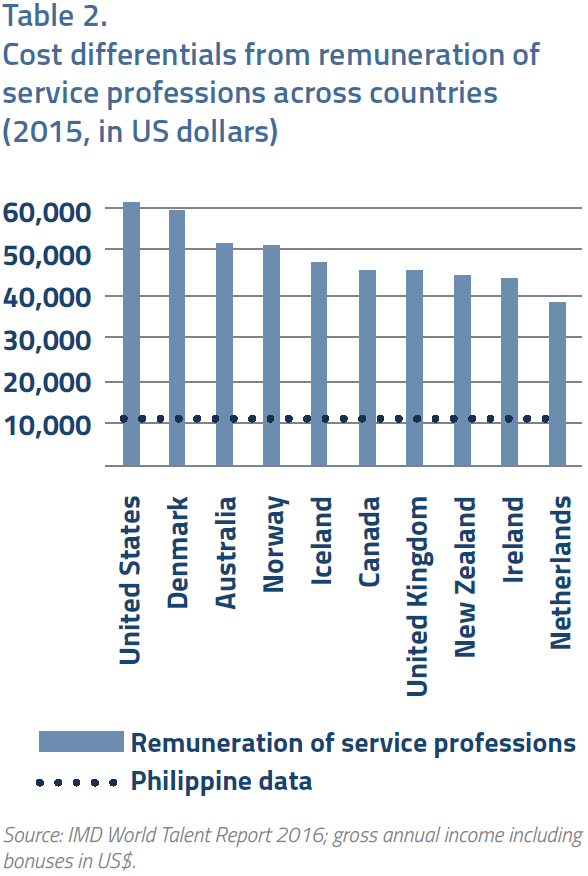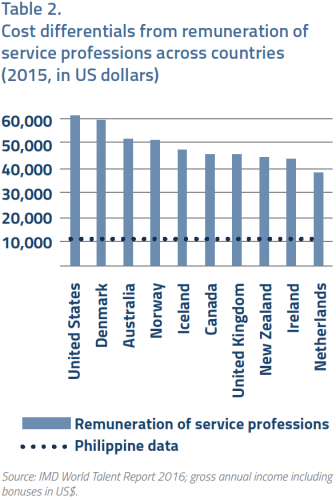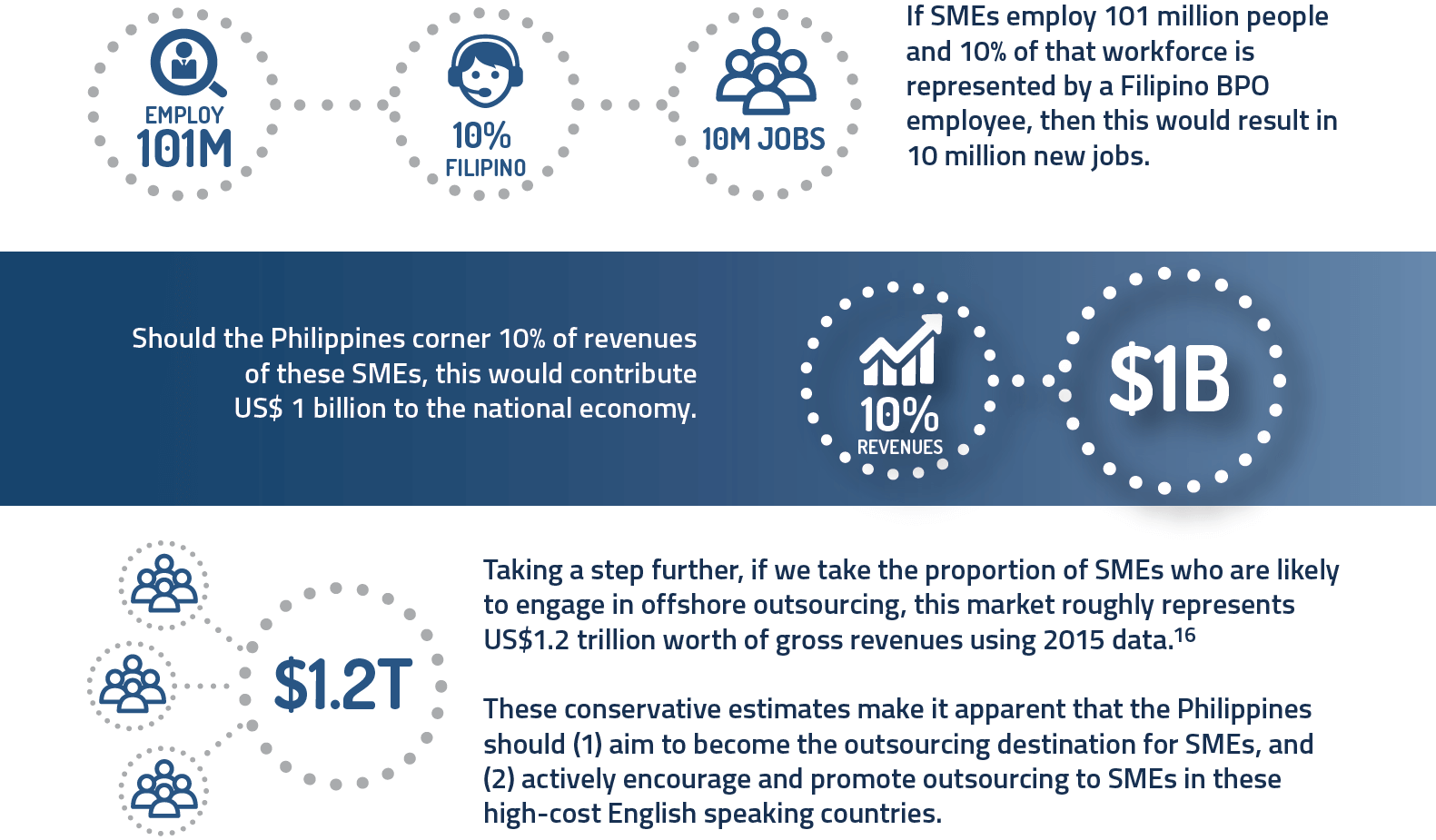 Declining trends
Observers of the BPO sector have seen a decline in the growth of large scale outsourcing clients.  They see Artificial Intelligence (AI) entering the space, putting downward pressure on the industry's basic roles.  They see that the sector has little interest in the SME market because it is used to catering to the single clients that contract thousands of staff each.  They conclude that the future of BPO, which is traditionally linked to large multinationals, may not seem as robust as in the previous years of the industry – and may now be a sunset industry.  But, this simple exercise illustrates a massively untapped market in SMEs – a market which can produce at least one million more jobs for the Philippines.
The world's small businesses are expected to be the next sources of innovation and growth, and a few may become the next big corporate mammoths of the future. In the US for instance, while small businesses accounted for 8 percent of patents granted, they make up 24 percent of patents in top 100 emerging technological hotspots– from agrigenetics to telecommunications and semiconductors.
In Canada, whether in business processes or their respective products. In the UK, SMEs are expected to grow by 11 percent by 2020, or contribute as much as GBP£ 196 billion.27 Likely sectors that dominate the SME environment are from the professional services and, increasingly, from the wholesale and retail sector. Australian data on SMEs also point to double-digit growth rates in recent years and are expected to grow even as middle-sized businesses transition to large enterprises.28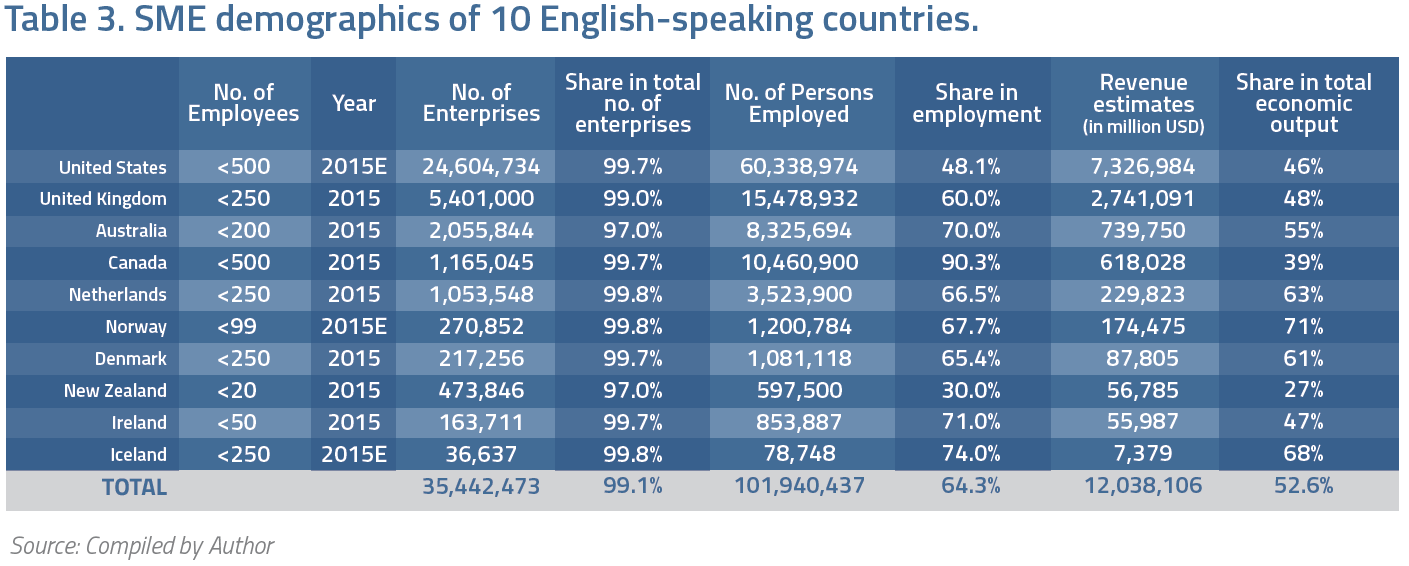 High value demand
What are the type of jobs SMEs are likely to outsource?  Ironically, SME's might, on a whole, be less sophisticated than large multinationals.  But within an outsourcing setting, it is the SMEs that generally seek more highly skilled roles for fulfilment.  For example, the large multinationals might seek to outsource 5,000 basic tele-support roles; whereas an SME might need one web designer, one digital marketing manager, and five sales executives.
Small businesses by their nature do not yet have the advantage of scale and specialisation.  Their small size and rapid pivots mean that their limited number of staff need to be agile generalists.  This requirement has previously not aligned well with the service offerings of BPOs, which specialise in large-scale highly standardised repetitive tasks.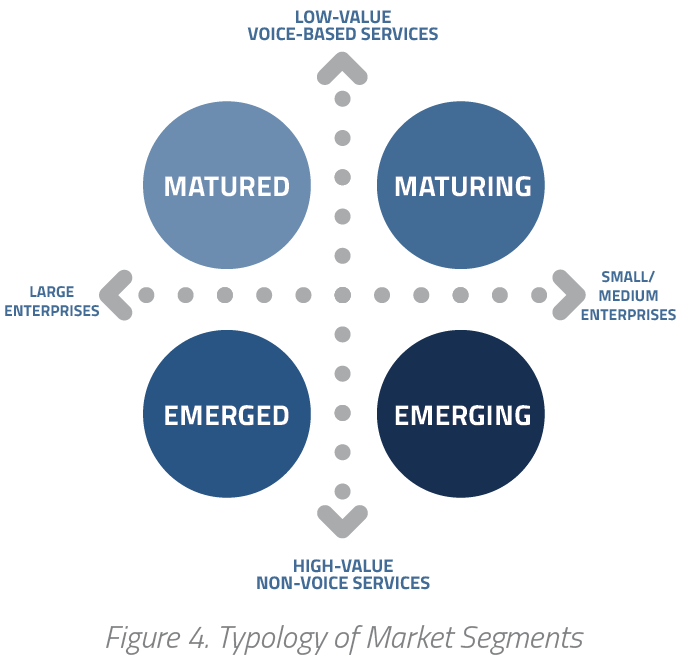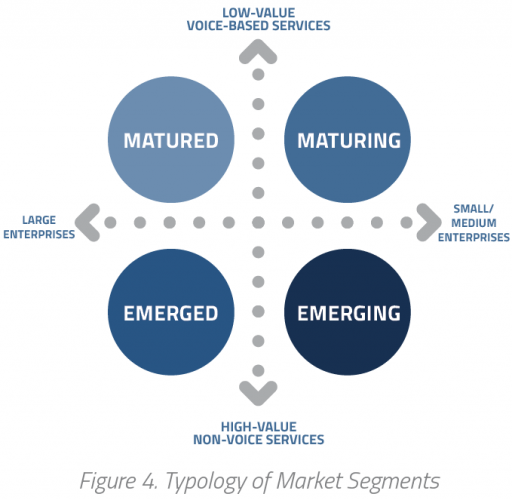 Using the example above, it is far more complex for a BPO to manage seven staff covering three roles than it is to provide 5,000 people fulfilling one function.  But as the industry matures, the BPOs are becoming more nimble and increasingly able to provide a broader range of more flexible services.  They are realizing that despite seven staff being less impressive than 5,000; the seven staff are more highly skilled (value-add offering), and there are far more potential SME clients in aggregate than there are multinationals.
Outsourcing is an obvious, but until now overlooked, performance-enhancing opportunity for small and nascent companies.  Companies in the startup stage can benefit from freeing up resources from tasks that are more standardized in nature and/or highly administrative. This is true as early-stage businesses focus on low-tech but skill-intensive tasks mostly for executive support and process automation. As the business matures, however, the focus shifts towards creating more value through analytics and the application of technologies to achieve business impact and drive down costs.
The new economy
If we take into account the "gig economy," we get a better picture of the kind of freelance work Filipinos are already rendering. The table below shows the skill areas employed by websites that specialize in online freelance services such as UpWork (formerly Elance & oDesk) and Freelancer. In 2015, UpWork registered 1.4 million Filipinos onto its platform. The company estimates revenues amounting to USD 200 million from its operations in the Philippines alone. UpWork makes more than USD 900 million a year, making it the biggest company of its kind in the world.
It is now time to ask if the Philippines is ready to take best advantage of the expanding international SME market, and mature in-step with the burgeoning "gig economy".
Growing by 16 percent from the previous year, the Philippine BPO sector generated at least USD 25 billion in revenues in 2016, which represents approximately 8 percent of the country's GDP. While the Philippines still lags behind the sheer scale of India's outsourcing, the sector is still expected to grow and even overtake overseas remittances and become the major source of foreign exchange earnings. At current estimates, the country employs 1.4 million full-time employees. This shows that the Philippine BPO sector is not only significant in terms of its domestic benefits to the economy but also in the international business ecosystem as an established world leader in outsourcing services.
In addition to this, the Philippines can count on its young population, with the country's average age being an admirable 23 years old. This young, growing, and increasingly skilled workforce is expected to sustain the country's impressive economic growth in the upcoming years. The youth nowadays is also more open to technology, using different forms of learning to supplement the traditional classroom setup. With this is the emergence and widespread adoption of Massive Open Online Courses (MOOCs), and other free, or very low cost, platforms utilizing this development such as YouTube channels, Udemy,  and Khan Academy.
However, major shifts in the industry are to be expected, especially in a sector that is both closely connected to technological development, and quickly maturing. A potential slowdown in growth – not just in terms of revenues but also in terms of the number of people it employs – will pose new challenges for the industry.
Questions on the future of work generally, and the ways that we hire and outsource, will be more closely considered as we move towards the so-called "fourth industrial revolution" characterized by breakthroughs in technological fields such as in artificial intelligence, robotics, internet of things, autonomous vehicles, three-dimensional printing, nanotechnology, biotechnology, materials science, energy storage, and quantum computing.
This vast and sweeping disruption will affect all industries, across all countries and will have a monumental impact on employment traditions.  The Philippines will have to ensure that it stays relevant to these changing skill and role requirements, or else it could that the traditional outsourcing provision becomes obsolete.  The Philippines however – with its young, dynamic, well educated, English-speaking workforce – is well placed to stay abreast of these developments. This fast changing environment could even play to the advantage of the country.