Outsourcing to the Philippines, the top destination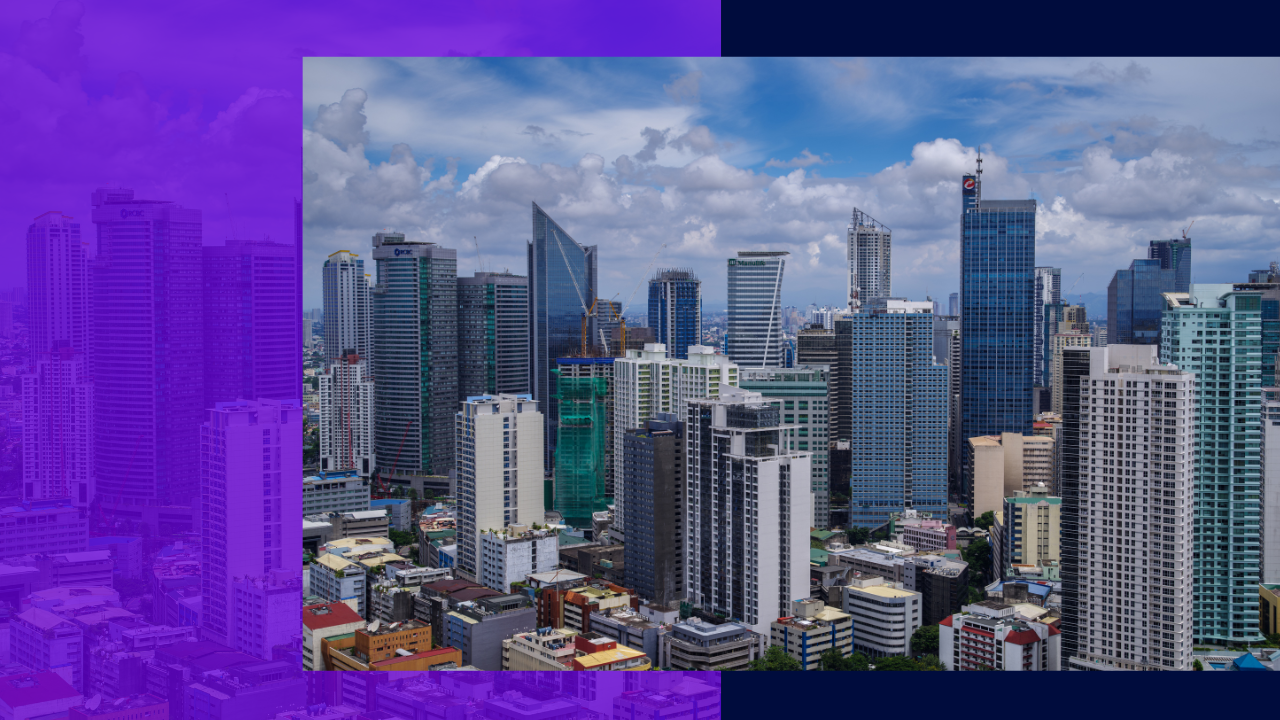 Outsourcing to the Philippines, the top destination
The Philippines has been long regarded as the top outsourcing destination and call center capital of the world. India's outsourcing industry has been around for about the same length of time – 30 years – and is about three times bigger.
Although the Philippines faces stiff competition from India, Central America, and fast-emerging Eastern Europe. The country has a better balance of overall cost, ease of doing business, cultural alignment, English language proficiency, and broad capability.
Outsourcing to the Philippines: A brief history
When you talk about the history of Philippine outsourcing, Accenture will always come up. The business process outsourcing industry in the country started with a single contract with Accenture.
Frank Holtz founded Accenture Global Center in 1992. It outsourced work in the country and offered management consulting and professional services worldwide. It now has 50,000 employees in the Philippines alone.
Among the businesses that outsource, Accenture remains one of the top BPO companies in the Philippines.
Here is a brief overview of the significant events that led to the BPO's success in the Philippines:
1992 – Accenture, founded by Frank Holtz, set up the first contact center. It was located at Robinson's Cybergate 2 tower in Mandaluyong City.
1995 – The Philippine Congress passed the Special Economic Zone Act providing tax incentives to foreign investors.
1997 – Sykes set up the first multinational BPO company in the Philippines which focuses on inbound call center support.
1999 – Jim Franke and Derek Holley founded eTelecare.
2000 – 0.075 percent of the country's GDP was recorded to have been generated by the BPO industry.
2005 – The Philippines was reported to comprise up to 3 percent of the Global BPO market.
2010 – The country was becoming the world's BPO capital with 525,000 call center agents and approximately $8.9 billion in revenue
2016 – The BPO industry reached an annual growth rate of 17 percent.
2020 – Despite the pandemic, the industry's revenues climbed 1.4 percent.
2022 – The industry reached 721,000 employees, a 15.54% increase from the previous year.
All these events in the country's top BPO have been significant in helping to establish the Philippines as a major lucrative and ideal outsourcing destination.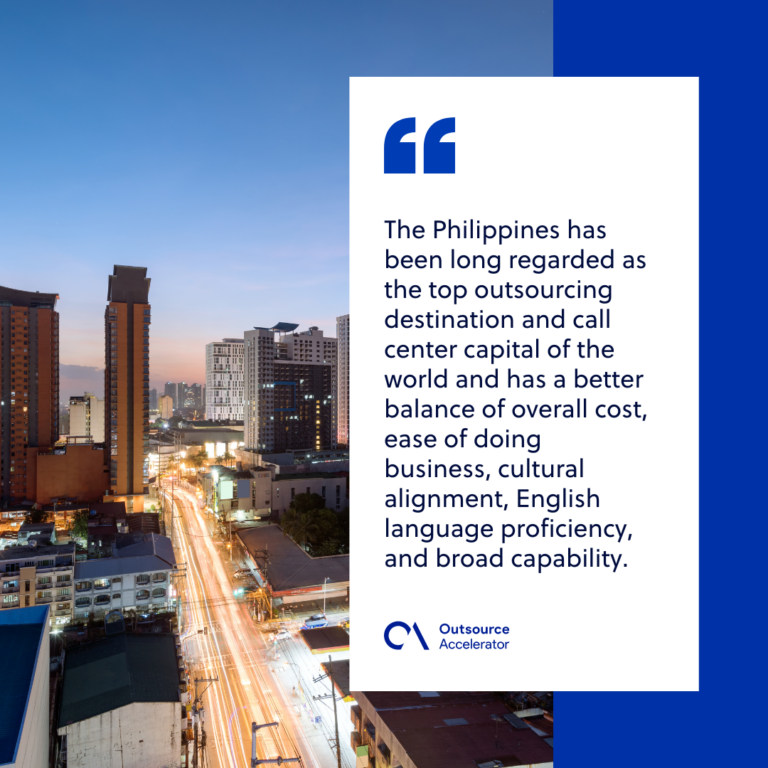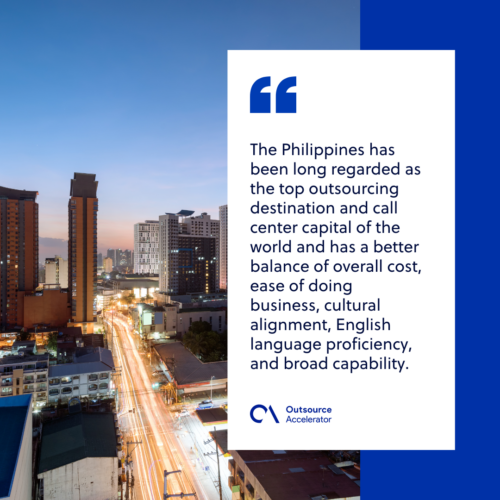 Why outsource to the Philippines?
To truly appreciate its existence, you need to understand why outsourcing is good for your business. Here are three common reasons why businesses outsource to the Philippines:
1. Cutting costs
Reducing costs is the most appealing reason why companies outsource. Operational costs that are usually cut down include labor costs and overhead expenses.
To put it straightforwardly, when you outsource work, you don't have to provide a workspace for your employees anymore.
This includes electricity, furniture, and equipment. These can already be indicated as part of their qualifications, or the outsourcing firms take care of it for you.
2. Decentralizing command
Always checking your employee's progress is time-consuming. You have to give out instructions and see to it that they are carried out correctly.
This is why companies offshore – to delegate supervisory and managerial responsibilities.
3. Centralizing focus
Business owners are now embracing reality. A company that outsources avoids being consumed with repetitive tasks that can be easily handled by an outsourcing service company.
The Philippines today – ready for innovation
Ever since Accenture launched its first contact center in the Philippines, the number of large companies that outsource in the country has been steadily rising. Accenture put the Philippines on the map of modern industrialization through outsourcing.
Accenture was the first company that recognized the country as an excellent source of talent and professionals. Its trust in the companies helped in establishing why companies outsource in the Philippines.
It has taken a risk by offshoring, and today, the Philippines is known to be the "BPO capital of the world." Due to its fast growth and development, the BPO industry in the Philippines has become one of the top outsourcing destinations in the world.
The BPO sector has been generating $29.1 billion in revenue as of 2022. It is even expected to surpass the revenues generated by overseas contract workers, who have been the most income-generating Filipino workers for decades.
The Philippines is now maintaining its position among, if not the top choice, companies that outsource.
The continuous expansion of training facilities for English proficiency can help the Philippines preserve its high ranking on the English Proficiency Index. It's one of the most respected and sought-after qualifications, so ensuring its current status is essential.
The country guarantees to construct infrastructures conducive and ideal for outsourcing continuously. It's also imperative to preserve the government's support for all outsourcing opportunities.
Outsourcing agencies in the country may also create new laws, rules and regulations, government courses, and training that will ensure the quality of BPO candidates. All of this can contribute to the country's knowledge of how BPO works.
Being aware of what outsourcing companies do helps in establishing expertise on what the clients' demands are and how the Philippines can meet them. It will give the outsourcing service providers insight into what an outsourcing client company is looking for.
By genuinely appreciating the positive influence of outsourcing jobs on the Philippines economy, effective strategies can be implemented for the improvement of the industry.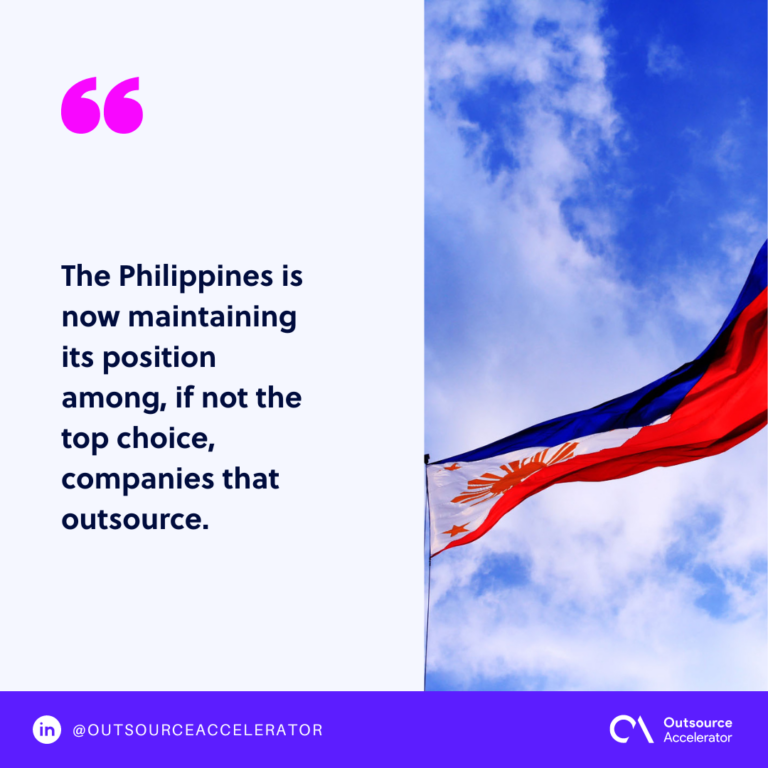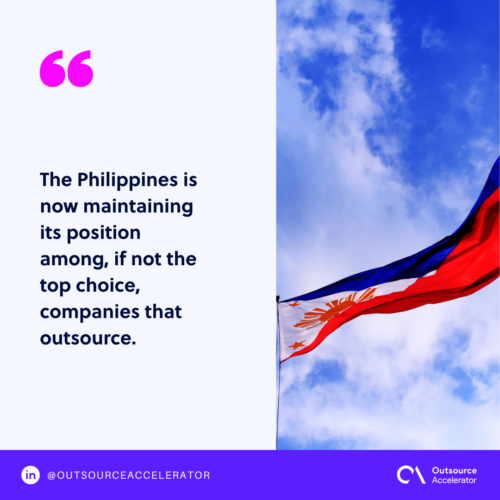 What made outsourcing to the Philippines different?
India and Singapore are also top destinations where companies outsource. India boasts a low labor cost, while Singapore contains a deep talent pool of qualified professionals.
What would an outsourcing company gain from the Philippines? The best of both worlds and more.
This is also a distinguishable difference from other Asian countries that cater to offshoring companies. Offshoring companies acknowledge this is an undeniable asset when companies outsource.
The Philippines' BPO skill set
Aside from those benefits, outsourcing companies also look at skill sets. They are always on the hunt for a unique combination of talent and work ethics.
Here are reasons why the Philippines' outsourcing skill sets are different:
English literacy
Aside from low labor costs and a big talent pool, the Southeast Asian nation also has a high rating in English proficiency. Filipino professionals graduate from schools that adhere to Western standards when it comes to English.
Standard Filipino education requires an introduction to the English language. From pre-nursery up to the college level, it has been the medium of instruction for most subjects. Even the simplest blue-collar workers know the basics of the language.
No strong accents
Filipinos' most valuable asset as an offshore destination is that the majority of those working in outsourcing companies like call centers do not have a strong accent.
Other offshore destinations may have low labor costs, but the employees have strong accents that make communication much harder.
Resourcefulness
Quick thinking and finding clever ways to overcome difficulties are often associated with a Filipino employee.
This is a very valuable skill that contributes to the growth of a working community. You don't need to constantly supervise and address issues yourself because they can already be resolved.
Teamwork
A Filipino working culture demands mindfulness of your co-workers' well-being. This makes the working environment more amiable. Work demands can be met more efficiently by working together.
Analysis of the BPO industry's uprising in the Philippines
The success of the Philippine BPO industry is mainly a combination of the low cost of labor, English proficiency, and government support.
English proficiency
Even with the rise of new destinations for outsourced services, the Philippines continues to stand out as a viable market. Its most appealing feature is the Filipinos' proficiency when it comes to the English language, which makes communication easier.
The Philippines is one of the most proficient non-native English-speaking countries in the world.
Just last 2017, according to Education First's English Proficiency Index, the Philippines is among the top 15 most proficient non-native English speakers. The index included 72 countries overall.
In Asia, the Philippines has been ranked third out of twenty Asian countries. Singapore and Malaysia are first and second, respectively. This bodes well for the Philippines as it means that it can keep up with the outsourcing's continuing growth.
Government support
The government also plays an active role in encouraging BPO development in the country. The Department of Trade and Industry (DTI) is encouraging BPO activities through tax incentives by the Board of Investments (BOI) and the Philippine Economic Zone Authority (PEZA).
The industry continues to develop forward with the IT-BPM Roadmap 2028. According to the report, IBPAP targets over US$59 billion in revenue and 2.5 million workforce.
One of the significant turning points in the success of the early BPO industry was Microsoft's generous donation of free Microsoft Apps Licenses to the PCPS program. This helped lessen the government's capital expenditures.
Labor force
The labor force in the Philippines, however, has become outsourcing's most enticing aspect. The Philippines covers 10 to 15 percent of the global share in the BPO Industry.
Filipinos are also naturally hardworking, patient, resourceful, and flexible. The people's general good-naturedness effectively creates an ideal working environment for a business to be successful.
The Filipino work ethic is centered on group mentality, as opposed to the Western's individualism. This makes the Filipinos more adaptable and cohesive in working with and as a group.
It sets a more efficient professional setting to reach the desired organizational goal.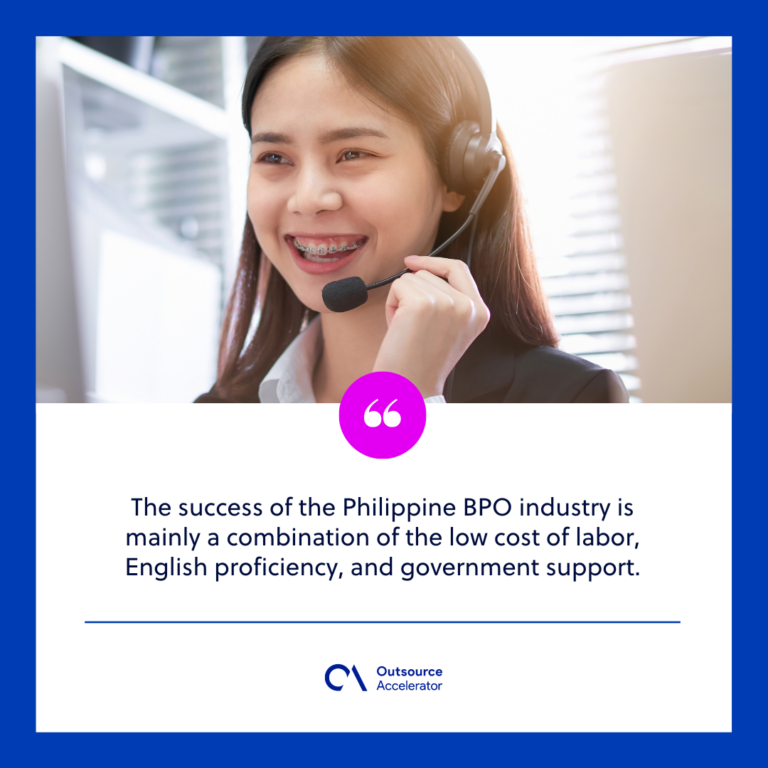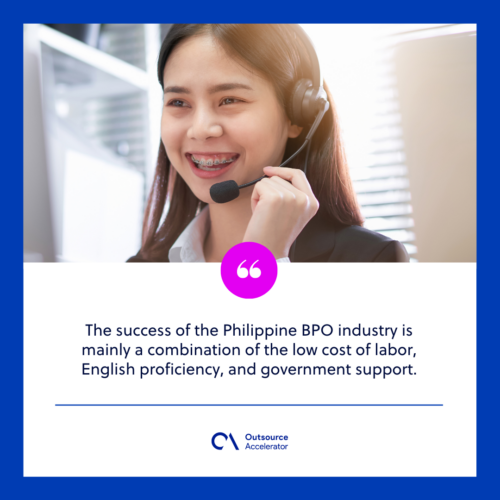 10 reasons why you need to outsource to the Philippines
Other than the unique skill sets of the Filipinos, there are also a number of reasons why it's the chosen outsourcing destination for businesses.
Here are a few reasons why you should outsource to the Philippines.
1. The Philippines is an English-speaking country
Philippine schools use English as a medium of instruction. Teachers and students commonly converse in English during discussions. Books and other educational materials are also presented in English.
The English language is deeply embedded in the Filipino culture. Regardless of educational attainment, Filipinos are, more often than not familiar with basic conversational English.
This makes Filipinos seem natural English speakers. When you listen to them speaking comfortably, rapport is easily established. A good command of the English language makes the process of outsourcing easier.
2. Labor costs are lower than in most Western countries
Labor costs are one of the most attractive reasons why companies choose to outsource to the Philippines. The basic wage of Filipinos is lower than their Western counterparts.
It's even less than other Asian countries, given that the Philippines is able to provide more qualified employees.
Labor costs are also one of the most significant expenses of your business. Cutting it down can help your company retain a chunk of its income.
When you outsource to the Philippines, you can save on labor costs without sacrificing the quality of your products and services.
This is why outsourcing companies like StaffWiz choose the Philippines as their main human resource hub – it helps their clients save up to 70% in labor costs.
3. You can hire flexible, skilled, and world-class employees
Filipinos, by nature, are very resourceful and creative. The adaptability that they display in various tasks and responsibilities saves a lot of time in unnecessary supervision.
Filipinos are hospitable by culture. When you give your demands, Filipinos will find a way to accommodate them. The same goes for work; they will do their best with their work to please you.
4. Filipinos ensure high-quality and excellent services
Since the Philippines maintains a Western standard level of education, talents are world-class. The quality of their work is accepted on a global scale.
This explains why companies outsource manufacturing in the country as well. The country's industrial talent pool has a comprehensive list of services offered. It ranges from fabricating components to selling finished products.
The manufacturing industry accounts for nearly 24 percent of the Philippines' GDP. With this, it's safe to say that the country is more than qualified to cater to manufacturing companies.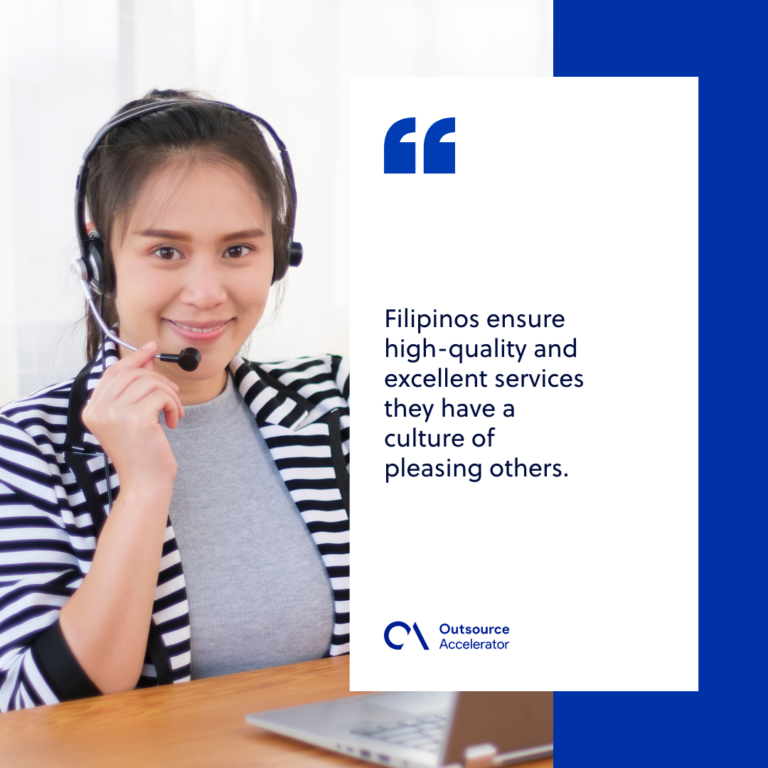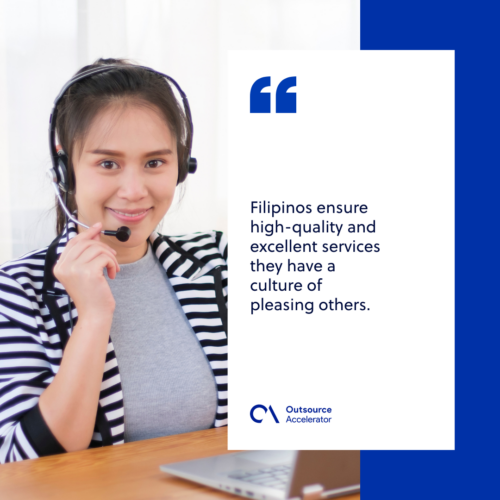 Products of outsourcing manufacturing companies include furniture and fixtures, fabricated metal products, rubber and plastic products, textiles, beverages, leather products, and non-metallic mineral products, to name a few.
The Filipino people have a culture of pleasing others. This comes in handy when you hire them professionally since they naturally strive to accommodate their employer's needs and wants.
5. Filipinos can adjust to any time zone and working schedule
Filipinos can quickly adjust to any time zone that you require. You just have to set your expectations with the working schedule that you prefer. Again, the hospitable nature of Filipinos comes in as willing to accommodate your requests.
6. You can focus on handling the core competencies of your business
Outsourcing provides an environment of delegation. You give other people tasks and responsibilities that your business cannot or no longer perform effectively.
This can save you the job of having to spend time on other small matters which can already be done by others.
Filipinos are very dedicated, hardworking, resourceful, and need only minimal supervision. When given their tasks, they can ask for help and questions only when it's necessary.
7. You can ensure that you are paying the best salary rates
When you are the employer, the best salary rates mean that you can maximize your profit at a minimal cost. In the Philippines, you can hire professionals with a more reasonable daily wage rate.
8. There is strong government support
The Philippine government is very supportive of outsourcing and offshoring businesses. The country is producing more professionals than the available local jobs available.
Since Western countries can afford to pay more than the basic pay rate, graduates are eager to seek employment in the BPO industry. Offshoring companies can also hire hundreds and thousands of employees.
9. Filipinos can multi-task efficiently
The daily operations of a business can be overwhelming. When you are simultaneously bombarded with different concerns throughout the day, it may prove to be too much for you.
When foreign companies outsource to the Philippines, the different time zones become an advantage. Things get done while you are asleep. You will not be forced to go overtime to deal with everything all at once, all in one day.
10. Infrastructure development is favorable to BPOs
Local government units (LGUs) and private property owners acknowledge the demand for BPO infrastructures. Both are converting or building facilities to accommodate outsourcing businesses.
Companies that need outsourcing won't encounter problems in finding venues for their offshore operations. Most of the structures are built in strategic locations that would not cause any difficulties to offshore employees.
Common functions to outsource to the Philippines
Considering all the reasons that were mentioned above, here is a list of the various functions that companies commonly outsource:
For inbound calls:
Banking and finance accounts
Banking and finance companies are companies that outsource IT services in the Philippines. Inquiries and complaints are dealt with immediately without disrupting the company's daily operations.
Products and services
Companies that choose to outsource in the Philippines also let the outsourcing companies handle their customer hotlines. Customer service representatives (CSRs) usually take orders from customers over the phone.
Order-taking can take time and a lot of patience. The whole interaction depends on the rapport between the CSR and the customer.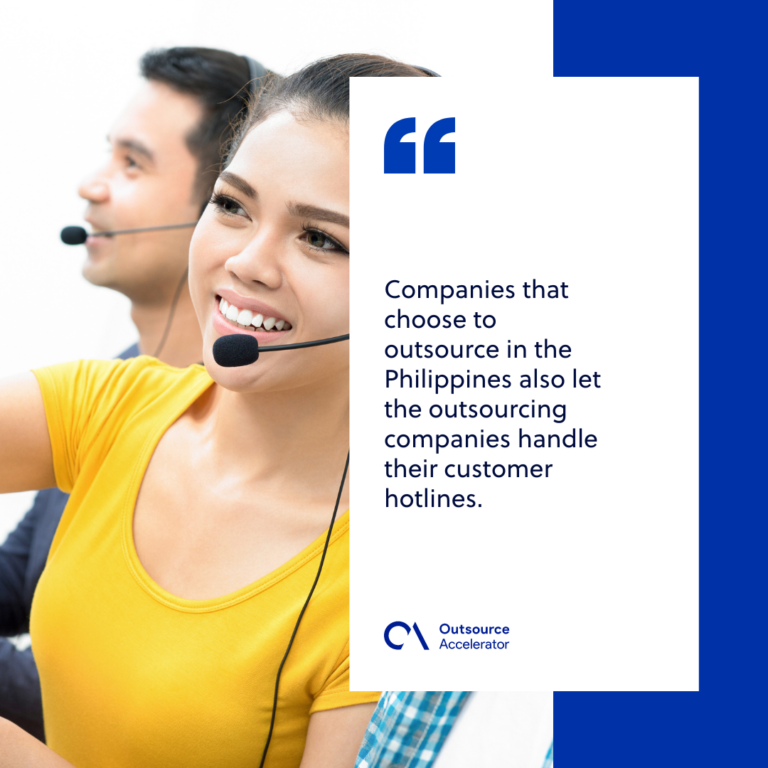 Technical support
When you are in the field of technical support, you will ask questions to identify the problem. You will also need to give instructions to resolve the issues.
Seeing that Filipinos have a good command of the English language means lesser chances of miscommunication. Most of the time, customers want help and advice regarding certain products.
This Is why technical support accounts are also one of the most commonly outsourced accounts in the Philippines.
After-sales
After-sales is the communication between the company and the customer after the initial acquisition or purchase of a product or service.
Administrative coordinator
An administrative coordinator is someone who will maintain a systematic and harmonious flow of an offshore operation.
The position will require supervisory and managerial capabilities. It also requires excellent communication skills since the position bridges the gap between the employer and employees.
For outbound calls after sales:
Lead generation
This is when you convert someone to be a prospective client. A person who is already interested in your products and services is a lead. Lead generation then is the act of finding ways to attract someone to become a lead.
Sales call
Businesses do strategic marketing to invoke excitement that will eventually lead to sales. One of these strategies is to make a sales call. This is when you set a face-to-face meeting with a prospective customer. This get-together is designed to generate sales eventually.
Chat and email support
Outsourcing of non-voice support is communicating with the customers via chat or email. Prompt response and acknowledgment of a customer's query are essential to quality customer service.
Chat and email support exist for customers who find it hard to communicate with another person or simply prefer not to.
Back office
The back office is an integral part of a company's success. It mainly consists of administrative and financial responsibilities. It makes sure that the company complies with all the requirements and observes proper procedures every day.
Organizations usually hire an offshore team to handle this function so that they can complete other tasks without needless distractions from other financially unrelated concerns.
Top BPO companies in the Philippines
So, what functions within an organization are usually outsourced to the Philippines?
Commonly, a company delegates its business needs to a third-party provider. A business process is a set of tasks which aim to accomplish organizational goals. Examples of these include finance, healthcare, and IT services.
For accounting and finance
When you are in the Philippines, you are required to take up bookkeeping before you graduate from your senior year in high school.
The country's ABM education curriculum mandates an introductory course in accounting, business, and management data analysis. Regardless of what your college course may be, you are already equipped with basic accounting.
Here are the top BPO companies that offer financial services:
In Manila, JP Morgan Chase first set up its foreign office in 2005. It is open 24 hours a day and seven days a week.
This is the pioneer BPO agency in the country. It has more than 300,000 employees operating in more than 120 countries.
Sitel has nine sites in the country and has 13,000 employees. It has also been recognized several times for its excellent service.
It is a bank holding company that specializes in savings, banking, auto loans, and credit card products. Its headquarters is in McLean, Virginia, and has been operating since 1994.
It started with credit cards, expanded to auto loans, and offers it also offers banking solutions up to the present.
For healthcare services
The Manulife brand is easily recognizable, especially to Filipinos. As a Canada-based financial firm, it has partnered with commercial banks in promoting its life insurance policies in the country.
Manulife Global Services also offers business solutions insurance, group life insurance, and health insurance. It is currently operating in 22 countries.
Teleperformance received the Frost and Sullivan Asia Pacific Contact Center Outsourcing Provider of the Year Award for two years, 2012 and 2013, due to its overall contribution to the call center industry.
Teleperformance offers different outsourcing services including medical transcriptions and data entry.
AIG is recognized as one of the pioneers of non-life insurers.
It offers insurance policies that would cover the health of employees in an organization. It originated in the United States of America and was founded by Cornelius Vander Starr in 1919.
AIG currently has dedicated teams in the Philippines. Its offerings include aviation, casualty, energy, environmental, and property.
For IT services
This business process transformation firm started operating back in 2000. Fast forward to more than two decades, it now has over 13,000 employees and nine cities all over the country.
Teletech operated its first offshore call center in the Philippine archipelago back in 2004. Since then, it has grown into one of the biggest employers in the local outsourcing scene.
Convergys (acquired by Concentrix)
Convergys may be one of the most recognizable customer experience brands in the country. It had 18 contact centers across various Philippine regions and more than 28,000 highly skilled workforce on its payroll.
In 2018, Convergys was acquired by Concentrix.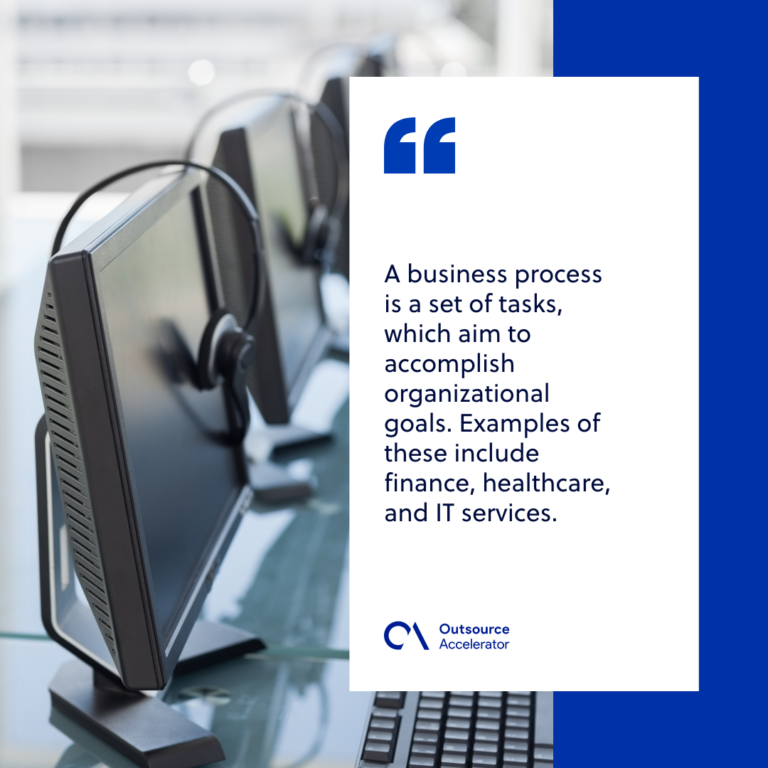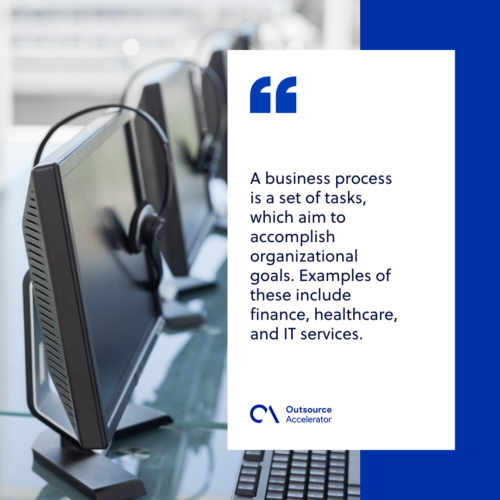 The Philippines as a top outsourcing destination
There may be different reasons for outsourcing and various reasons to offshore, but its relevance in this day and age comes down to the availability of technology.
Because of outsourcing, it is no longer impossible to connect to the other side of the world. In fact, it is much easier and cheaper business-wise.
The list of reasons why outsourcing is good is comparatively longer as opposed to why it isn't. The risks would naturally include the language barrier, culture, and time zone differences.
These risks are becoming unlikely with Filipino workers.
Western culture has always been very present in the country. The Filipino people have adapted to the Western language and culture for a long time and have become among the major reasons why foreign investors choose to enter the Philippine outsourcing industry.
The government's support of the sector is also a deal-breaker. It encourages offshore outsourcing because it has a direct positive effect on the rate of employment in the country.
The government also gives leeway and incentives to organizations that are willing to locate in the country.
The government even offers courses if you want to have a career in the BPO sector. Further, the Data Privacy Act was created to protect sensitive data from threats, while the Special Economic Zone Act introduced various tax-related benefits for interested investors in the outsourcing sector.
If you are new to outsourcing, it's best to learn the different factors that will affect your decision to go offshore. You can always make use of the Internet and read about how to hire a Filipino offshore team.
Additionally, you can learn what an outsourcing agency does for businesses and why should businesses choose to expand their business activities in the Philippines.
The Philippine government takes pride in the country's title as the top outsourcing hub in the world. It endlessly pursues ways to innovate itself and enhance the lineup of reasons why foreign leaders should choose to hire Filipino talent.
With all the outsourcing opportunities that the country is willing to offer, you might find outsourcing to the Philippines to be the smartest decision you can make for your organization.