Outsource to India: What you need to know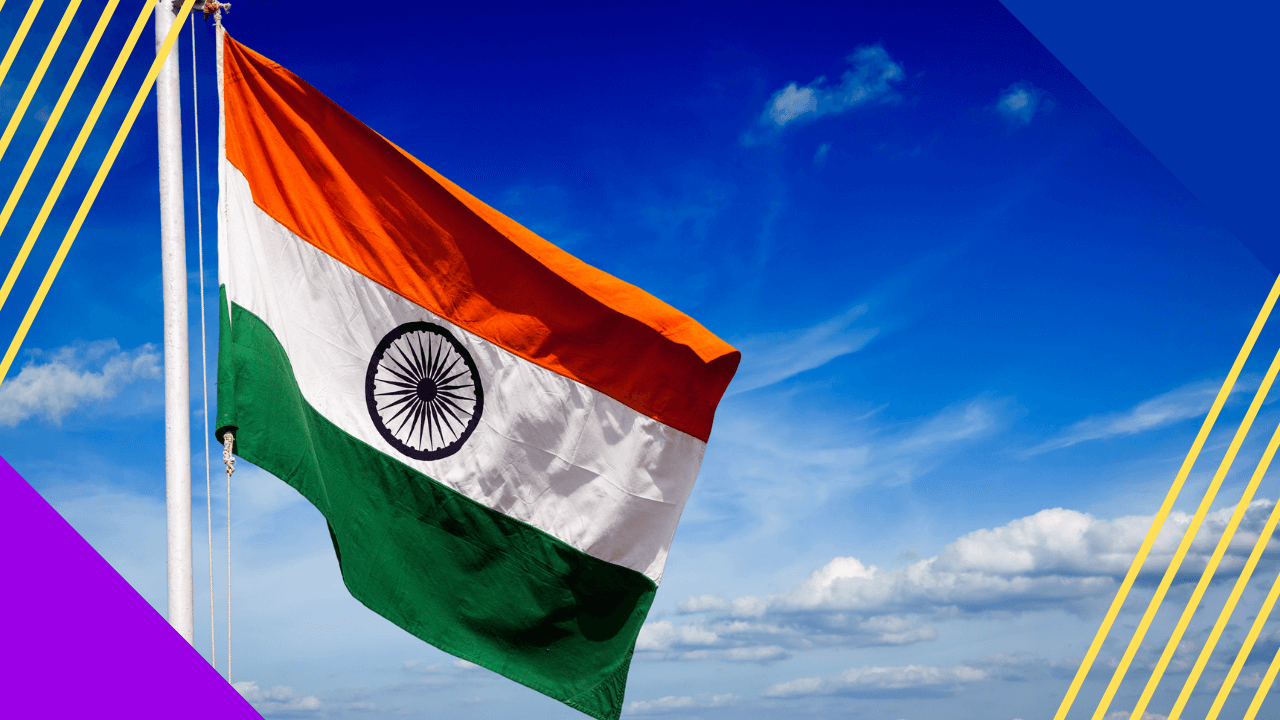 Outsourcing has proven itself to be a beneficial, win-win move for companies and their employees. Not only does it help businesses outsource their repetitive tasks to an offshore team, but it also helps employees find jobs that are perfectly suited to their skills and capabilities.
India is probably the first country people think about when it comes to outsourcing since it has built a name for itself in the outsourcing industry. Even while surrounded by other emerging outsourcing destinations, India continues to stand out.
Let's find out why outsourcing to India can be a smart choice for businesses of all sizes.
Fast facts about outsourcing to India
India is widely known around the globe as an outsourcing haven. A typical outsourcing firm offers excellent services for an affordable cost provided by a young, diverse labor pool of dedicated employees.
Here are some fast facts about outsourcing to India:
India ranked 35th out of 100 in the world in English Proficiency and fifth out of 25 countries in Asia.
According to India's outsourcing body, the National Association of Software and Services Companies (NASSCOM), the information technology (IT) and business process outsourcing (BPO) industry in India garnered $154 billion in revenue in 2019.
The Indian government is fully supportive of developing its IT and outsourcing industry.
India's outsourcing industry coverage is diverse. They have clients from manufacturing, healthcare, travel, telecommunications, retail, and media.
The most popularly outsourced services to India in 2018 and 2019 were mobile application development, customer support, data entry, BPO, and data center operations.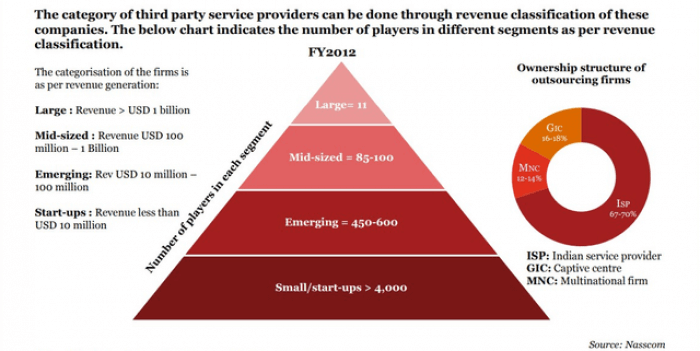 Outsourcing to India: Pros
Through the years, India has faced really tight competition within the BPO industry from the Philippines, Bangladesh, Poland, and the United States.
However, the country still manages to be recognized as one favorite outsourcing destination of multinational companies across the globe.
How do they do this? What are the advantages of outsourcing to India?
Budget-friendly services and flexible pricing options
Companies from developed nations offshore parts of their business processes to India as they are able to majorly cut costs.
For example, an in-house software developer in India can be negotiated to around $15 per hour. Outsourcing to India is very cost-effective, especially if compared to hiring in-house, where developers cost around $80 per hour.
The development cost in India is 30 to 35 percent lower compared to the US and Europe. You will also be assured of acquiring quality service as the country is among the leading outsourcing destinations in terms of the IT industry.
Indian outsourcing companies typically offer flexible pricing options. So, by outsourcing to India, you can pay by the hour, by the week, per month, or project.
The pricing flexibility allows companies more freedom and creativity in managing their budget while saving costs.
English communication is not a barrier
India claims to be the world's second-largest English-speaking country, second only to the United States. Its English-speaking population of 125 million is expected to quadruple in the next decade.
Large talent pool
Around 3.1 million fresh graduates join the Indian workforce every year. Outsourcing to India gives companies and clients access to a vast pool of young and seasoned talents.
Quality services provided by the country's skilled professionals primarily attract companies to choose India for their outsourcing needs.
Well-developed infrastructure and technology
India provides state-of-the-art technology and cellular networks in all major cities and towns. Because of this, clients are sure their outsourced employees will be using the latest and best in software technology.
The Indian government has also invested in infrastructure and technology to reflect international standards.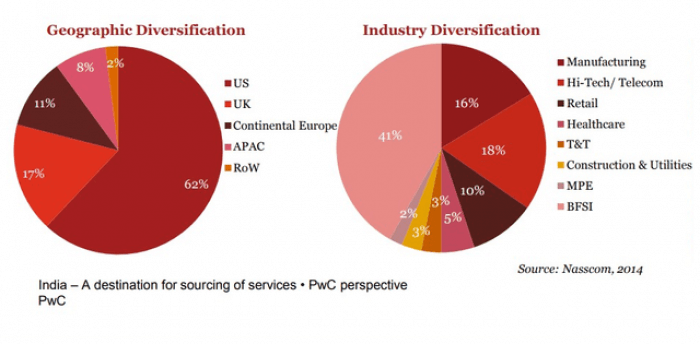 These advantages discussed above serve as the country's competitive edge against any other preferred outsourcing destination out there.
Outsourcing to India: Cons
Outsourcing to India your non-core tasks is generally a good idea as long as you have chosen the right outsourcing company to partner with.
The key is doing enough research to find the best Indian BPO company that would work well with your company.
Confidentiality issues and data security risks
When outsourcing, you might lack the assurance of how your service provider handles your data, which risks your data security.
To deal with these issues, companies should sign a non-disclosure agreement with their outsourcing service providers.
Unwanted/hidden expenses
Making the mistake of partnering with the wrong outsourcing services provider can add up to more expenses.
Cultural and communication differences
Foreign companies should always be aware that offshore outsourcing to India comes with cultural and time zone differences.
Time zones can be a problem, especially for urgent cases, as some offshore teams can sometimes take over 24 hours to fix a single issue.
Your team may also need to adjust to and accommodate social and cultural practices of the vendor. This includes native language and accents that cause communication difficulties amongst parties.
But what's good about outsourcing companies in India is that they provide remote teams that are able to speak the English language fluently.

Commonly outsourced services in India
If you are looking to farm out parts of your business operations to India, here's a list of the top outsourcing services in the country:
Software development
As we have mentioned earlier, India is globally renowned in the IT industry. Outsourcing to India software development and web development jobs allows multinational companies to fill talent gaps. More so, tap into a wide pool of IT specialists.
A recent report provided by NASSCOM showed that in 2020 alone, the country had over 4.36 million IT professionals.
To name a few of the leading outsourcing software development providers in India – Tata Consultancy Services, Hyperlink InfoSystem, and HCL Technologies.
Mobile app development
Mobile app development has become a crucial element of every organization these days. Apart from establishing a web presence, businesses with digital platforms are also required to be mobile-friendly.
Mobile app development can be costly and should be done by the right people. Outsourcing to India grants companies cost-reduction benefits without sacrificing the quality of the output.
Digital marketing
Offshore outsourcing providers in India also have digital marketing mavens that can help strengthen your brand's online presence. More so, ensure that you are able to engage effectively with your target consumers across various social media channels.
Back office services
A typical Indian outsourcing partner offers back office solutions that cater to your type of back office service needs. Examples of these services include data management, data entry, data mining, data processing, and other types of back-office support.
Customer support services
Business process outsourcing companies in India, particularly call centers also offer customer support services that can cater to the global market. Among these services include chat, email, inbound, and outbound call support services.
India's outsourcing competitors
India will always belong to the top options when it comes to the top outsourcing destinations.
However, as mentioned above, the country comes neck and neck with other developing outsourcing locations around the world.
1. The Philippines
The Tholons Globalization Index ranked Manila, the Philippine capital, as the second-best city for outsourcing in the world in 2018.
The Philippines is on its way to becoming globally recognized as the world's leading outsourcing destination due to the following:
Over 92 percent of Filipinos can speak English
The Philippine peso has a low global value
Educational reforms in the past several years
2. Poland
HackerRank has named Poland as the country with the third most skilled programmers in the world. The country's tech expertise is partnered with its employees' English fluency since fluent English is a standard for graduates.
Some companies in developed countries also opt to outsource to Poland since the time difference is acceptable. Another thing is their price is still relatively low.
3. Brazil
Brazil was dubbed as the IT outsourcing alternative to India in 2010 and has been an emerging force in IT outsourcing since then.
The country takes pride in its relatively young workforce (38.18% of its working population is under 24 years old) and its 6.18 million fluent English speakers.