Hiring a call center
Should you hire a call center for your business operations? It's a common question amongst successful, and high-growth businesses that need to scale their customer service accordingly. Call centers operate with only one focus, and that's to effectively interact with existing and potential customers for the business.
There have been huge improvements as to how call centers operate nowadays compared to the early 2000s. Before, hiring a call center would entail a huge contract and they only engage with enterprises such as major Telecom firms and Bank institutions.
This eventually evolved and hiring a call center now can cater to businesses of all sizes across various sectors.
Are call centers dying?
Some say that call centres are threatened by AI and automation. However, this may not be true. The first wave of outsourcing was brought by large enterprises, and the future's still bright for small businesses and startups. 
Millions of SMEs still look for ways to save on labour costs and resources in setting up their customer service teams. With this, they may still find using chatbots and automated answers costly and impractical.
Outsourcing can be a great option to hire and run their operation offshore. It also gives them the flexibility to scale their teams when needed.
Most call center companies now use omni-channel services such as chat and email to talk to customers. They don't have to worry about expanding their communication channels since they are trained for this.
A call center can be further classified into two types: Inbound call center & Outbound call center.
Inbound call center
An inbound call center primarily deals with incoming calls, where the agent provides customer service support that relates to an inquiry on products or services, sales, billing or general queries over the phone. Most inbound call centers provide additional support via email or live chat to better serve their customers.
Inbound call center

activities

Inbound call center

metrics

Telephone Answering
First Call Resolution (FCR)
Live Chat and Email Support
Net Promoter Score (NPS)
Claims Processing
Abandoned Call Rate (ACR)
Medical Answering
Average Speed of Answer (ASA)
Appointment Management
Average Handle Time (AHT)
Help Desk and Dispatch Services
Average Call Transfer Rate
Hotline Services
Customer Satisfaction Score (CSAT)
Virtual Receptionist
Customer Churn Rate (CCR)
Order Processing
Call Duration
Reservations & Booking
Cost Per Contact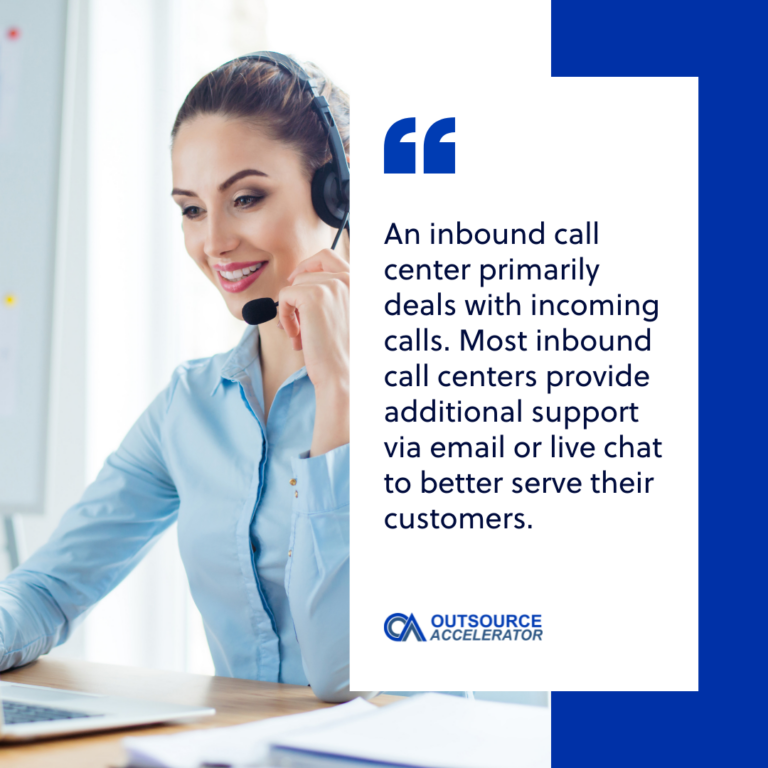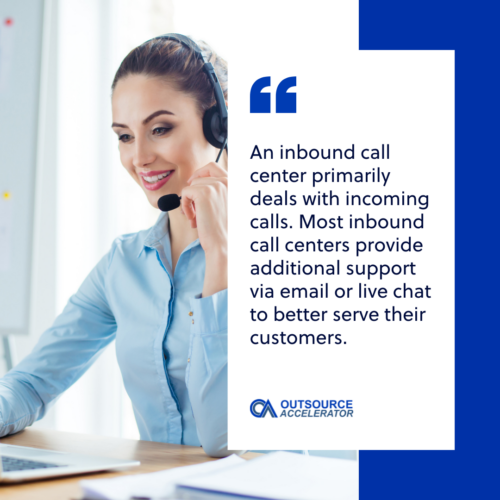 Outbound call center
An outbound call center primarily focuses on making outgoing calls, where the agent calls a list of potential or existing clients. This is commonly sales driven and popularly associated with telemarketing and lead generation. These agents typically earn more due to commissions and bonuses that are set by the company.
Outbound call center

activities

Outbound call center

metrics

Telesales
First Call Close
Lead Generation & Qualification
Conversion Rate
Appointment Setting
Calls per Agent
Cross-selling
Calls per Account
Insurance Sales
Hit Rate
Warranty & Renewals
Hold Time
Market Research
Abandoned Call Ratio
Survey Gathering
Average Call Length
Billing and Debt Collection
Revenue per Successful Call
Event Registration
Occupancy Rate
Do you need an inbound or outbound call center?
Call centers can provide a wide range of services for your customer support. To maximize them, you should be aware of the differences between hiring an inbound or outbound call center team and whether you should have your services in-house or outsourced.
Inbound call centers can help with your contact center needs. They can help your customers more when it comes to troubleshooting, navigation, and processing of their applications and requirements. 
For instance, telecommunications companies have their new and renewal line applications outsourced to help them process high volumes of applications which may be difficult in-house. 
Outbound call center services, meanwhile, can be tricky. Some services such as outbound sales should be in-house since they require a more personal touch to be able to convert more sales.
Other services, such as appointment reminders and lead generation, can be outsourced to a virtual assistant or a dedicated team to help your in-house sales team.
How to find and hire a call center
You can spend a lot of valuable time searching for, assessing, comparing and negotiating with call centers. You might not even be sure if you want to hire or work with one yet, the best way to start is by reading current information about local and offshore call centers that can support your business.
It is often a good strategy to check the reviews of these call centers in 3rd party websites, which can give you a better insight to the experiences of other clients who have used or are still using their call center services.
Other websites such as Glassdoor gives you feedback from past or current employees for a specific call center, this is another great way to assess if the company's culture aligns well with yours.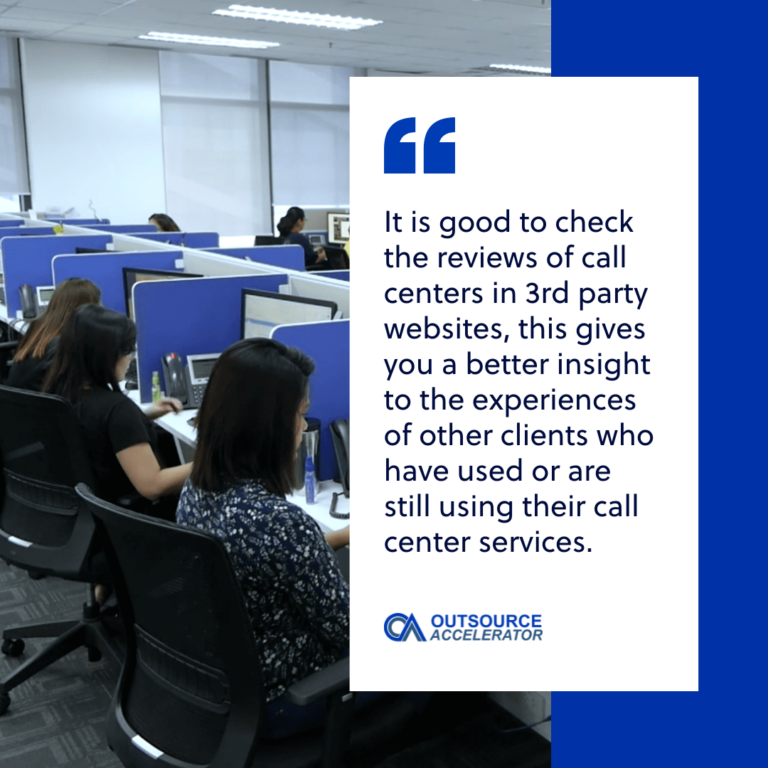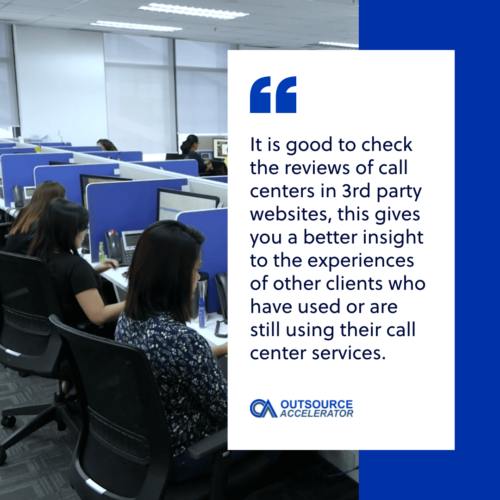 Pros and cons of hiring a call center
There are a lot of advantages and disadvantages to consider before deciding to hire a call center. It is a match-making process in the sense that you need to be able to partner with the right call center company in order to make it successful.
Price should not be the main motivator to outsource a call center, paying too cheap often results in getting unqualified agents that will only make things worse for you and your business.
Here are some of the pros and cons of outsourcing a call center. You can also check out the 10 reasons why you need to outsource your business for more insight.
Top 5

advantages

of call centers

Top 5

disadvantages

of call centers
1. Cost efficient and scalable solution
1. Reduced quality control
2. Experts and process specialists
2. Confidentiality and security
3. 24/7 customer service
3. Lack of flexibility
4. Easily manage call volume
4. Constant management
5. Increase business continuity
5. Potential hidden costs
Call center reviews and comparisons
Before hiring a call center you need to do your homework, and check reviews. The services that they offer, the terms and prices that they expect vary tremendously along with the quality and output. There are a number of websites that you can go to to get call center reviews.
Each call center has their own website that makes them sound the best and be able to accomplish anything that the client wants, wherein reality the process is often more complicated and has a lot of headaches if you went in unprepared.
You don't go to an Apple store and ask how good their iPhone is, it's better to hear reviews from other users who have been using the product longer. Which is generally the same concept before you hire a call center.
Outsourcing a call center
Engaging with an outsourcing provider to handle your call center operations enables you to save up to 70% on salary cost. This lets you focus on core business activities without having to worry about catering to various customer queries.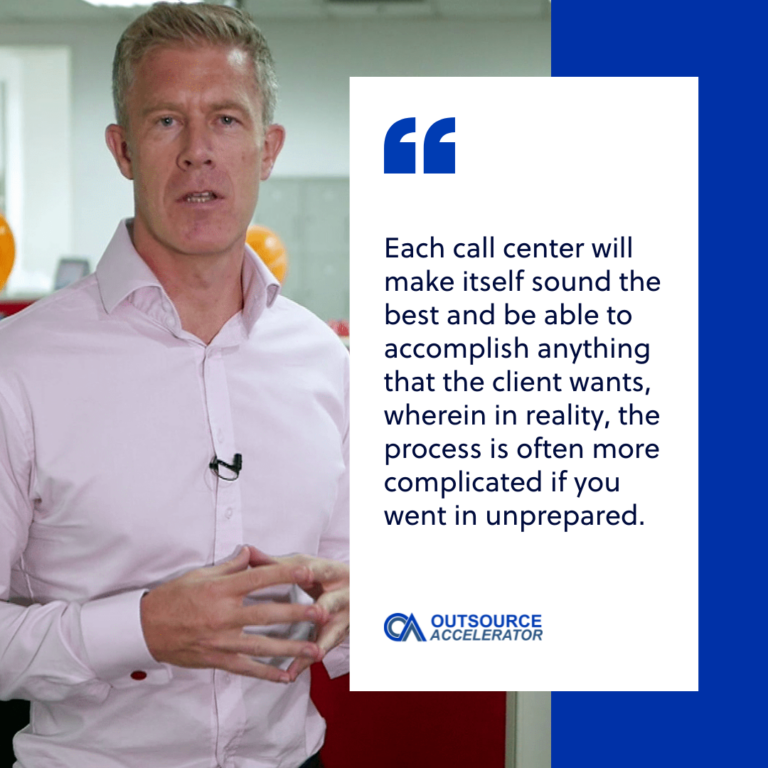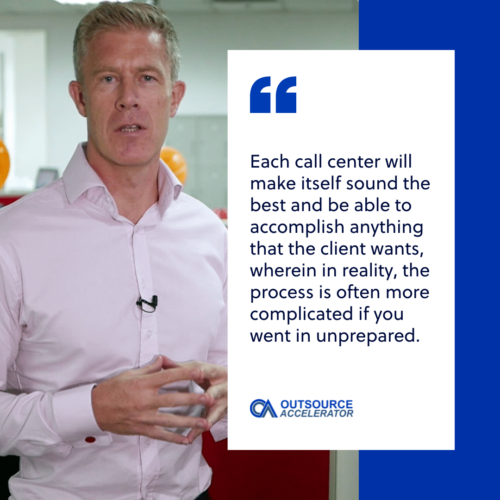 Call center pricing
Call centers have different pricing structure offerings. Some may give you a dedicated or a shared team which services are charged hourly, monthly, or per commission. However, it is still important to review their pricing and try to get the best deal for your requirement.
Pricing for call centers are as follows:
Per minute
You may avail a per-minute charge for your service if you expect a low volume or on-demand call from your customers. This also allows you to hire a shared team which handles different clients everyday aside from your account. 
For inbound services, low-cost countries such as the Philippines and India usually charge US$0.35-0.45/minute per call.
Per hour
If you expect a medium to high volume of calls and would like to monitor your operations more, you can avail a per-hour charge. A per-hour service gives you more savings and controlled costing on specific volumes of calls they handle. 
Depending on the company, they may charge you weekly or monthly based on the bulk hours you have availed. Costing may also vary per country. For inbound calls, companies charge an average of US$6-15/hour in the Philippines. For outbound, meanwhile, it may range from US$8-20/hour.
Per call
When you have a medium to high volume of calls but also want to control your team, you can hire dedicated staffing. They work exclusively for your account so they can focus more on giving the best service to your customers. 
For this, companies charge you on a per call basis, depending on their offer. Either they have a fixed monthly charge with a specific call quota or they can customise charging for your services.
Part-time 
Part-time charging is for businesses that need special services 24/7, seasonal, or after business hours. You may avail a shared or dedicated team that will fulfil your specific hours. Charging for this service can be per hour or commission-based.
Commission 
Lead generation calls, seasonal accounts, and other outbound services usually charge commissions for their service. Upon reaching a quota, you and your company can agree on a full commission. Usually, call centers need to earn an average of 10-20% per hour on top of their normal rates to achieve it.
Hourly + commission 
When you mix a call center's hourly rate and commission, you maximise their e in doing their services. This is more favourable for both inbound and outbound call centers since they can have a bigger pay for your call center team's performance, 
Call center salary
The Philippine employs over 1 million people in the BPO sector, with more than half being in the call center industry. Call center salary would vary depending on the company, staff experience and client account that would be handled.
The salary table below serves as a guide to compare the difference in salary cost between outsourcing to the Philippines versus hiring in-house. See our complete guide to salaries, for more detailed information.
| | | | | |
| --- | --- | --- | --- | --- |
| Call center role | Philippines | USA | UK | Australia |
| Agent (1-3 years exp.) | $3,337 | $29,717 | $22,137 | $35,275 |
| Agent (3-5 years exp.) | $5,175 | $33,004 | $25,014 | $39,860 |
| Team leader | $7,152 | $50,794 | $33,047 | $46,690 |
| Operations manager | $14,665 | $61,393 | $71,950 | $67,173 |
*per Annum & in USD
Outsourcing to the Philippines
Outsourcing to the Philippines can add rocket-fuel to your business. With nearly 2 decades of experience in handling call center operations, there is an abundant supply of well-experienced call center agents that you can employ for a fraction of the cost it would if you hire locally.
The Filipinos are also known for having impeccable English skills and a close familiarity with western culture and lifestyle, which makes it easier for clients to engage with the agent in resolving their issue.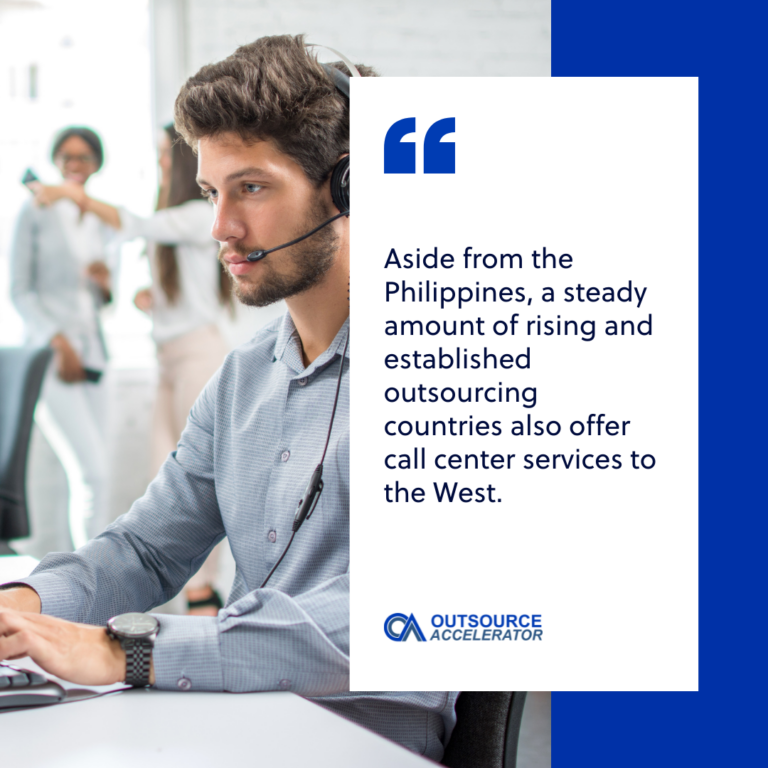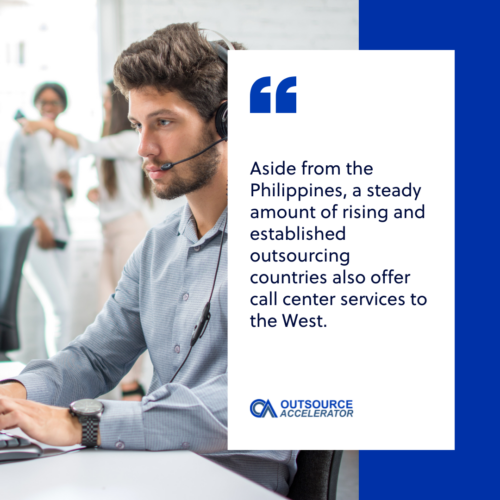 The best call centers
The very first call center was set up in the Philippines back in 1992 and in just over two decades, has grown exponentially, to become the economic lifeblood of the country. The Philippines now has over 600+ outsourcing companies, we have listed 20 notable outsourcing companies that offer call center services.
These are just some of the companies that placed their trust in the Philippines and built incredible world-class outsourcing operations as a result.  See the full list of the top 40 outsourcing suppliers here.
Top 20 call centers
If you are looking to hire a call center for your business needs, Outsource Accelerator can provide you with three free quotes or browse our BPO directory which lists 700+ outsourcing suppliers in the Philippines to get started.