Popular contact center services to consider (and why you should outsource)
Last updated: November 11, 2022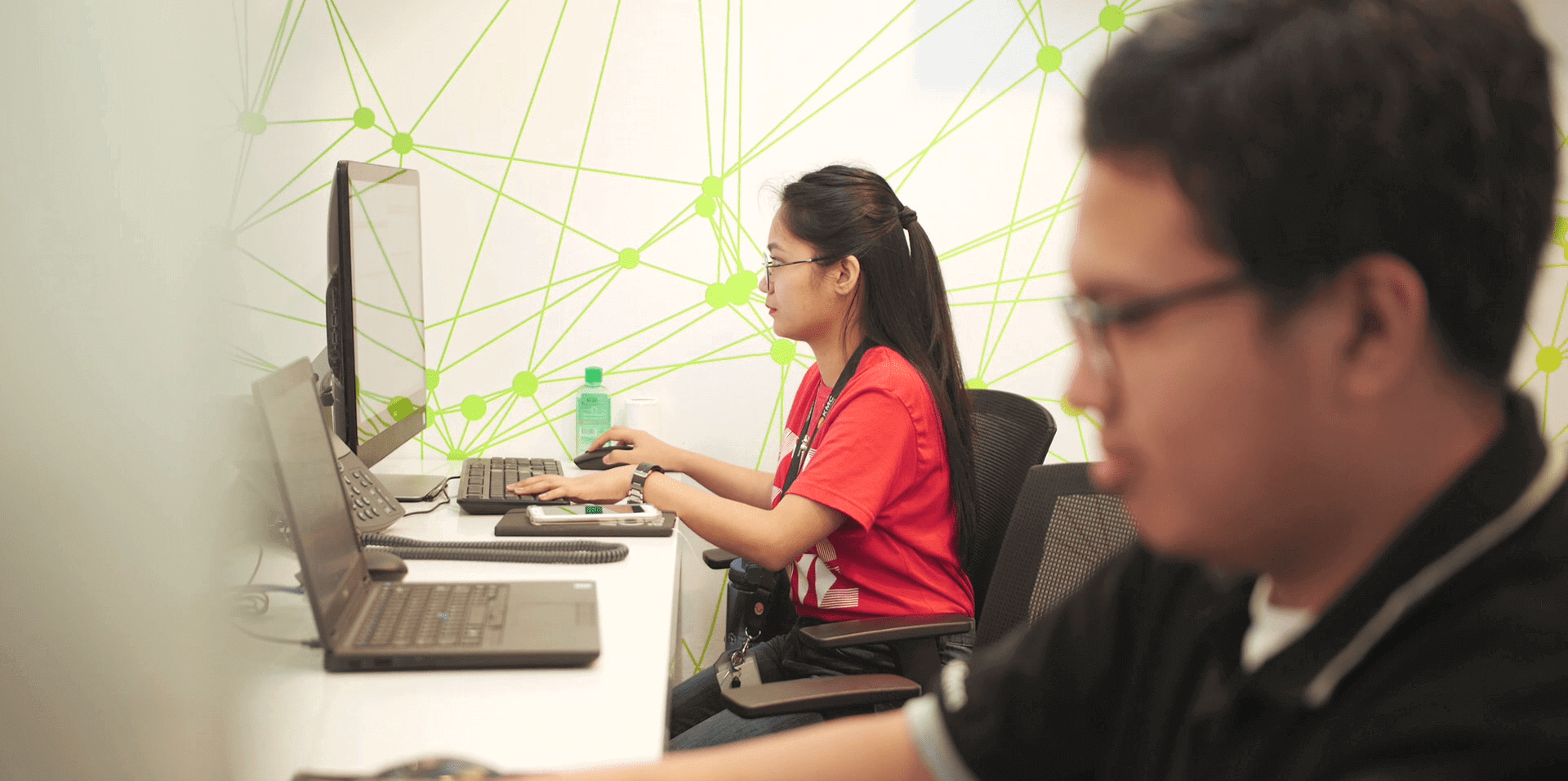 Call centers are still a great way to handle customer service. However, as different communication channels become increasingly popular, customers now look for easier ways to contact a business. They reach out through email, social media, or live chat about a product inquiry.
Some websites even use SMS to track updates and get customer feedback. All of these so they can have a great experience that they can get.
Outdated customer service can hurt a business badly, in terms of sales and customer satisfaction. According to a report from Oracle, 89% of customers leave a business due to a bad experience. And a single bad review can have a huge impact on any business.
What is a contact center
A contact center is a business division that manages customer interaction. Unlike a traditional call center, they are more flexible in handling concerns and inquiries aside from calls. They use different communication channels such as email, voice over internet phone (VoIP), live chat, etc. 
A contact center can be hired in three ways: in-house, virtual, or outsourced. An in-house contact center, aside from the usual call center equipment, need hosting infrastructures to access different communication platforms.
Virtual contact centers, meanwhile, are teams of remote workers that handle customer queries and are usually located in different locations. While this can bring great savings, managing them can be difficult.
Outsourced contact centers are hired through business process outsourcing companies. The company covers everything needed to put up a dedicated team for their clients and takes care of the employees' salaries, benefits, 13th month, and other bonuses.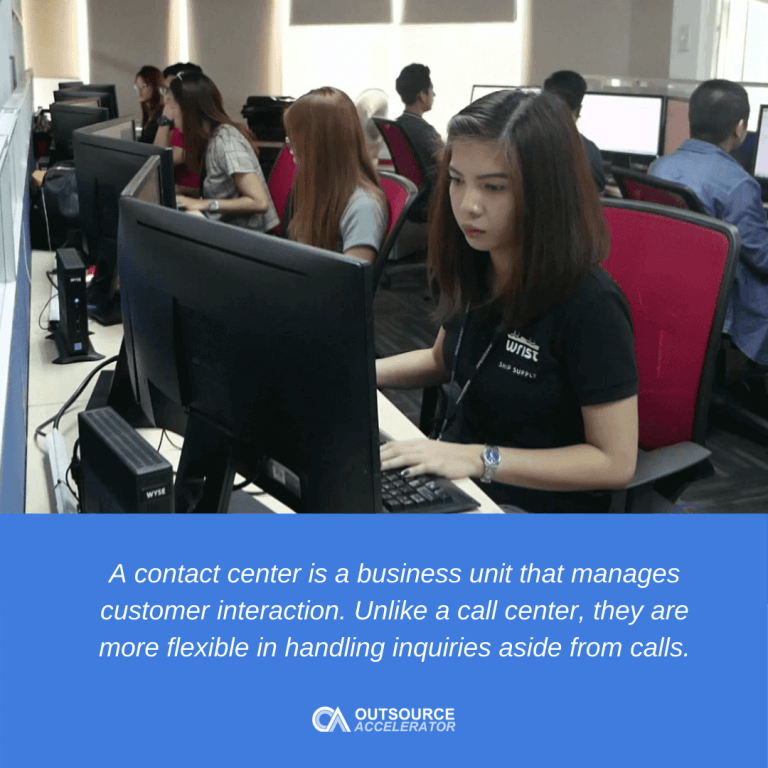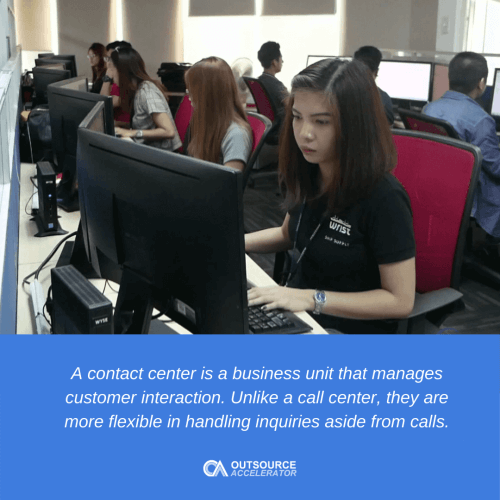 Contact center vs. call center
These terms are usually mistaken for one another. It's an understandable misconception as both usually overlap on one or two occasions. 
A contact center is a company that offers services that encompass how organizations reach out to their clients, customers, and vice-versa. They pride themselves on having an omnichannel presence. Like any other business, they offer multiple communication avenues to be more accessible.
On the other hand, a call center, as the name suggests, is a contact hub where their primary way of communication is by phone. Telemarketing, telesales, inbound, and outbound calls are usually the campaigns they have in a call center. Call center agents usually handle phone calls more than doing administrative tasks.
It doesn't come as a surprise that both contact and call centers play an important role in the customer experience sector. Without both, companies would go in blind without any feedback from their customers and user base.
Popular contact center services
As different ways of communication increase, contact centers update their channels as well. They take advantage of the increasing demand for customer service to upgrade their systems to give their clients the best service possible.
Some of their popular services include call centers, emails, and chat. 
Call center
The call center is still one of the most popular services in a contact center. They handle inbound, outbound, or mixed services depending on client needs. When hiring a call center, businesses must predict the volume of calls they handle to determine the right service for them. 
Inbound 
Inbound services refer to handling incoming calls from customers. They usually deal with 
Customer inquiries and concerns

Technical support

Helpdesk 

Website navigation
Inbound call centers aim to attend to customer concerns as quickly as possible, whether it's a simple inquiry or a product replacement. This service usually measures how quickly an agent answers a call, the number of minutes a customer is on hold, the total duration of their call, and how quickly the agent resolved an issue.
Outbound 
Outbound services, meanwhile, deals more with sales and marketing, lead generation, and billing. Their services include:
Telemarketing

Appointment confirmation

Billing reminder

Customer survey

Market research
The main purpose of outbound services is to convert leads into potential sales opportunities, remind existing customers of billing and appointment dates, measure their satisfaction with the given service, and gather information for marketing plans and strategies.
Email 
Next to calls, email is the most used communication service by customers. There are cases that it can be difficult for them to reach a company with phone calls, especially when they're overseas. With this, they resort to email for a more formal and paper trailed approach. Unlike call or live chat, email support usually takes up to a few days to be responded to. 
Email communications can also be inbound, outbound, or both. Inbound is for inquiries, concerns, troubleshooting, and feedback. Outbound service, meanwhile, is for sending newsletters, promo updates, billing, due date reminders, appointment confirmation, and customer satisfaction surveys. 
Chat 
Contact centers are the ones that handle live chat. Websites nowadays have built-in chat support to attend to customers who are currently navigating it. They manage chatbots for concerns that may or may not require pulling up customer information. 
A live agent, meanwhile, attends to most inquiries and concerns beyond the capability of a chatbot. This involves updating customer data, account activation and deactivation, and other technical concerns.
Social media
Nowadays, most customers are found on social media. This is why new and emerging small businesses bank on these platforms to reach a larger audience and improve customer experience.
With its popularity, contact centers use the platform to interact with customers. Its private messaging features allow customers to ask about delivery tracking and repair status, device troubleshooting, and inquiries on their accounts. Live web and social media chats are considered the easiest way to instantly contact a business. 
Pros and cons of a contact center
Outsourcing a contact center has a lot of benefits compared to hiring an in-house team. Though it has its disadvantages as well, businesses come up with strategies to avoid these pitfalls.
Pros 
Omnichannel or multichannel advantage. A contact

 center uses different channels aside from traditional calls. This gives advantages to businesses that want to upgrade their customer support and open more ways for customers to reach out to them.
More traffic balance.

Especially during peak seasons, contact centers can balance the traffic more in case of increased traffic in different channels. No need to hire seasonal employees to keep up with the volume and traffic changes when needed.
Save on costs.

Outsourcing contact centers help businesses cut labor and equipment costs. Third-party companies already include these expenses in their offers.
24/7 service.

Offshore contact centers offer 24/7 services to their clients. With this, they can guarantee business continuity even after office hours.
More focus on core duties.

There's no need to worry about handling customer service themselves. Outsourcing enables them to delegate these tasks to their team while they focus on the core management and strategies for business growth.
Cons 
Risks on security.

Contact centers are the front liners in customer interaction. With this, they might be exposed to sensitive data such as customer records and business information while doing a transaction.
Lack of complete control.

When a business outsources its contact center, they give the outsourcing company majority of control of the operation. With the wrong company, they might sacrifice the quality of service they give to their customers.
Slight off-branding and company disconnection.

Outsourced contact centers may have little knowledge of the branding and culture of the business they're representing. With this, customers may experience culture shock with the service of the contact center.

 

Language barriers.

Offshore teams may have a different accent than the customers which can lead to a misunderstanding.

 This can bring confusion and misunderstanding about resolving an issue from a customer.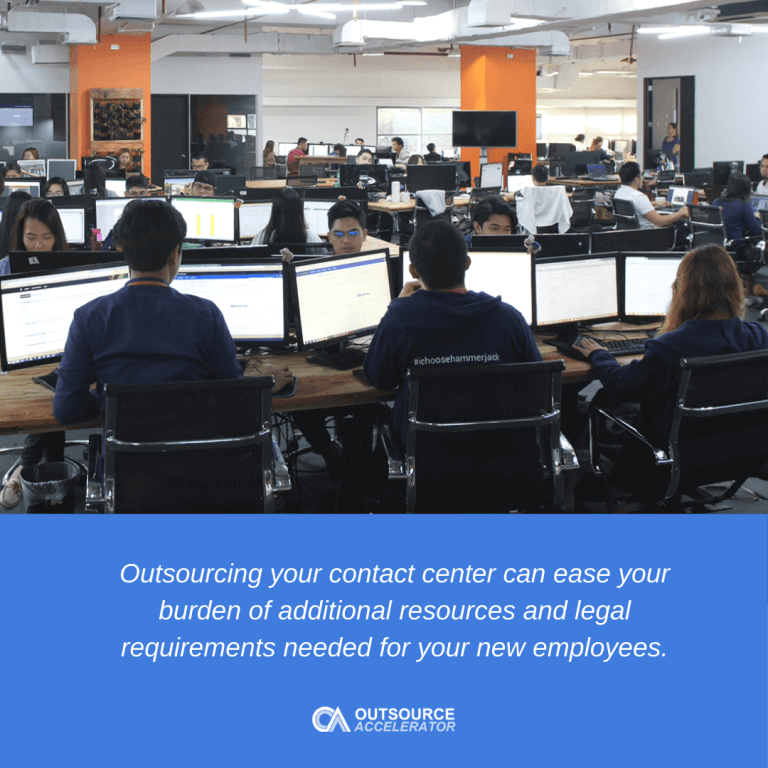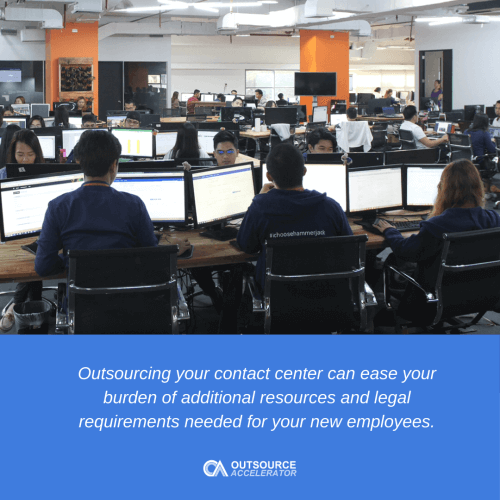 Contact center outsourcing
Instead of hiring in-house, you can outsource locally or internationally instead. Outsourcing your contact center can ease your burden of additional resources and legal requirements needed for your new employees.
Offshore companies can also help you cut labor costs by 70% while getting the best quality for your customers.
Offshoring to BPO providers like OP360 gives you a competitive edge as you will be working with a vast pool of seasoned contact center agents. With OP360, you are guaranteed to boost your customer satisfaction, while saving up on your financial resources!
Best countries to outsource your contact center
Tholons has listed the top countries to outsource business processes, including the contact center. They base their rankings on different criteria such as English proficiency, equipment used, and the population of the workforce. The two Asian countries, India and the Philippines are the current top outsourcing destinations in the world.
Below are the best countries you can choose to outsource your contact center:
India

.

It is still the leading country in the world when it comes to the outsourcing of call center and tech support services

, which most

outsourcing companies

here offer

. The country boasts its cheap labor cost, top-of-the-line equipment, high-quality service, and 24/7 support to its clients.

The Philippines.

Leading next to India, the country highlights its strong English proficiency, hospitality, and westernized culture that makes it more compatible with countries in the West. The Philippines ranks 5th in all Southeast Asian countries with

the most holidays

in a year (21 Philippine holidays). 

Poland.

A humble country in Eastern Europe, Poland gains popularity as the top country to outsource IT and IT-related services to their customers. Most of their security services have guaranteed EU compliance, one of the reasons Western countries outsource their cybersecurity services to them.

Brazil.

The amended outsourcing law of 2017 made it easier for Brazilians to work on primary services, such as office work. The country has become increasingly popular when it comes to tech support and IT-related services. 

Ukraine.

Last but not least,

Ukraine is becoming popular

when it comes to outsourcing IT services. The country boasts its cheap costs and the increasing rise of professionals enough to cater to outsourcing duties.