---
---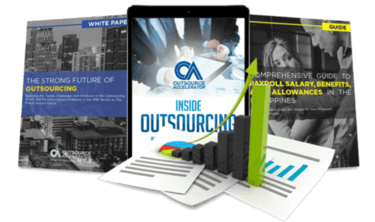 Outsource the right way, the first time
Get up to speed in outsourcing with this all-in-one tool kit
GET YOUR FREE TOOLKIT

PARTNER

PRO
About OfficePartners360
At OP360, simplicity is golden. It's always been, and will always be, about delivering for our customers. To do this well, we invest in talented, hardworking, and passionate folks all across the planet who care a whole lot about getting the job done. But we don't stop there.
We also put a lot of stock in our culture; not so that we can print it on some cheesy plaque in reception, but because it's a strategic and competitive advantage to be amongst the most dynamic, engaging and high-performing organizations in our market. A transformative culture, however, does not happen by default. Such requires work and continual iteration.
We lean heavily on our entrepreneurial DNA by recognizing resourcefulness, speed, and innovative problem solving. We are a meritocracy at heart and celebrate achievement with upside and growth for deserving team members. And while we work really hard, we have fun, too! We let loose at our legendary parties! We also enjoy our active philanthropy and paid time-off to give back to the communities where we work.
What OfficePartners360 offers its clients
Our primary focus is to help your business run more smoothly, economically and efficiently, whatever your business may be. We offer customized plans and packages that are uniquely tailored to your business. These tailored plans are created by outsourcing experts with many years of proven experience.
How OfficePartners360 outshines the competition
The global economy requires global solutions. Here's how OP360 outshines its competitors:
• Our staff are happy, loyal and motivated to deliver exceptional results for our customers. 96% said Yes to Job Satisfaction
• US-owned and managed company. It was founded by experienced business entrepreneurs
• Deep team experience: technology, HR,IT, Finance (Average tenure of 6 years BPO experience)
• Disaster Recovery Planning (DRP) & Work From Home (WFH) Capabilities
• Owners have been clients for ten years of offshore and outsourced services. As clients, they understood first-hand the benefits of outsourcing.
• We ensure that your team not only performs, but also operates as an extension of your existing teams, with shared values, training and culture
• Providing remote employees that work exclusively for you and your company
• We operate out of modern and premium facilities
OfficePartners360 company structure
OP360 is a flat organization. Employees are more empowered and operate with a greater degree of managerial independence and are expected to take on more responsibility. Open communication and collaboration are encouraged.
A few metrics about OfficePartners360
Services offered by OfficePartners360
OfficePartners360 news, podcast and articles
News
Full-service outsourcing company OfficePartners360 announced the appointment of Aaron Fischer as the company's chief customer…
The Source
What is outsourcing? Business Process Outsourcing (BPO) is the process of delegating certain business functions…
The Source
What is outsourcing? Business Process Outsourcing (BPO) is the process of delegating certain business functions…
OfficePartners360 videos & images