Harnessing the power of Legal Service Outsourcing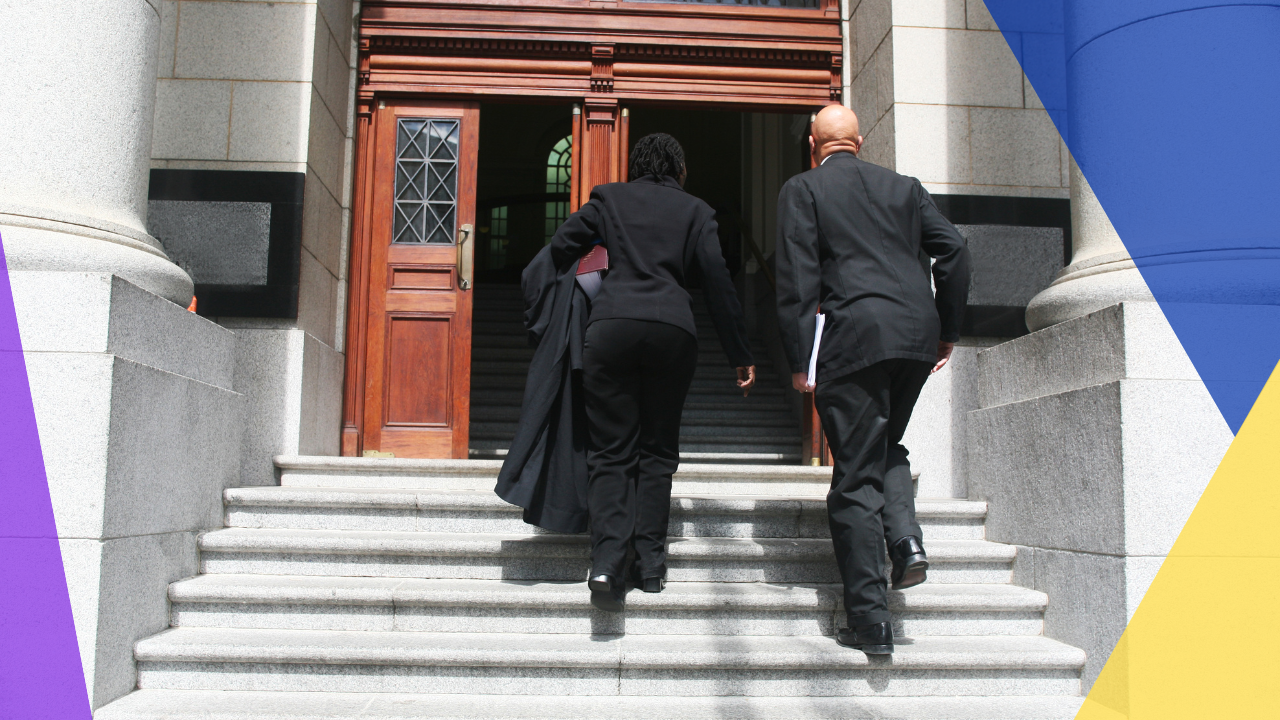 The rising cost of legal services in the West and the impact of globalization have led to the growing popularity of business process outsourcing (BPO) in the legal industry.
According to a press release by MarketWatch, the Legal Process Outsourcing (LPO) industry is projected to exceed US$40 billion and experience a growth rate of 35% by 2024.
This trend is particularly relevant for law firms, as hiring in-house lawyers entails significant expenses such as salaries, professional fees, and resources.
In this context, outsourcing becomes an effective strategy for boutique firms to meet the demand for legal professionals without incurring excessive costs.
Understanding Legal Process Outsourcing (LPO)
The legal industry is no stranger to the rapid changes brought about by globalization and advancements in technology.
As law firms strive to stay competitive in a challenging business landscape, they increasingly turn to innovative solutions to optimize their operations and deliver high-quality services to their clients.
One such solution that has gained considerable traction in recent years is Legal Process Outsourcing (LPO).
Legal Process Outsourcing (LPO), or legal services outsourcing, involves the delegation of legal tasks and processes to a third-party legal support company. This can include outsourcing services or specific aspects of a law firm's business operations to either local or offshore entities.
By leveraging the expertise and resources of these external partners, law firms can streamline their workflows, reduce costs, and enhance their overall efficiency.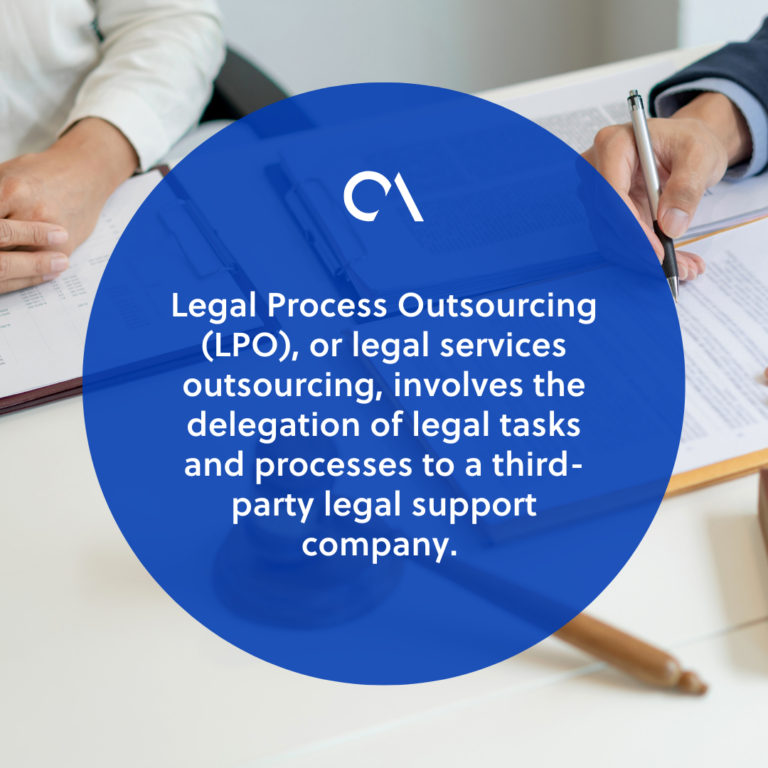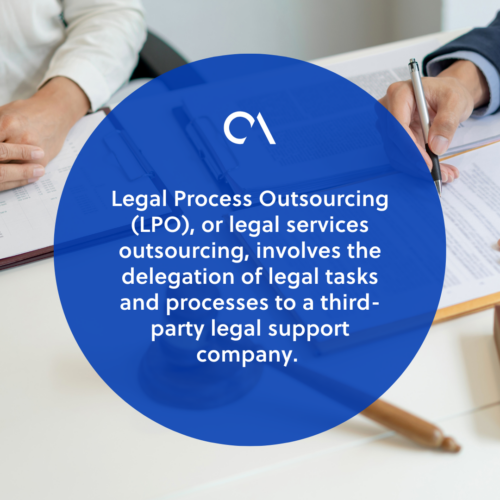 Benefits of outsourcing legal services
Law firms can reap numerous benefits from outsourcing legal services, including:
Shorter turnaround time.

By sharing projects with offshore teams, law firms can save time on larger and more critical tasks.

More flexible workforce.

Outsourcing legal processes enables law firms to maintain flexibility when dealing with on-demand projects.

Focus on legal work

. By outsourcing administrative tasks to virtual assistants, law firms and independent lawyers can allocate more time and energy to handling cases.

Wider expertise

. Through the hiring of contract lawyers and engaging offshore firms, law firms can expand their range of expertise and enhance the services they offer.
Legal services outsourcing beyond legal processes
Legal outsourcing extends beyond delegating legal processes. Law firms can also outsource various administrative and back-office tasks to ensure business continuity.
Here are some examples of tasks that you can delegate when outsourcing legal work:
Research

. Delegating client and case research to capable legal assistants can save lawyers valuable time and effort.

Appointment scheduling.

Outsourcing assistants can efficiently manage schedules, ensuring that meetings and appointments are well-organized and attended to promptly.

Bookkeeping.

Professionals can oversee the law firm's finances and tax filing, providing insights into profit and funding through the consolidation of bank accounts, business expenses, and client balances.

Virtual reception

. Virtual receptionists offer 24/7 availability, ensuring that clients are attended to even outside of office hours, thus enhancing business continuity.

Payroll.

Outsourcing payroll

to a BPO company streamlines payment processes, reduces errors, and ensures timely payments to lawyers and administrative personnel.
Professionals to hire when outsourcing legal services
Law firms can hire two types of professionals to support their operations: Legal virtual assistants and contract lawyers.
Legal Virtual Assistant
Similar to in-house legal assistants, legal virtual assistants perform various administrative roles. They can also handle tasks such as bookkeeping, graphic design, and research.
Depending on their employment arrangement, legal virtual assistants can work from home or in a controlled office environment, equipped with necessary resources like desktops, phones, and office tools.
Key skills of legal virtual assistants:
Appointment setting

Virtual reception (email, phone)

Client research

Data entry (contracts, letters, forms, etc.)

Event organizing (partner appreciation, team building, etc.)

Bookkeeping

Database management

Memo preparation
Contract lawyer
Contract lawyers, or freelance lawyers, take on specific cases on-demand. They may work independently or be affiliated with agencies that serve multiple clients.
Contract lawyers often specialize in particular areas of law and may possess licenses restricted to specific locations.
Law firms typically hire contract lawyers for short-term projects or specialized cases, such as:
Legal actions involving contracts

Litigation support

Document review

Consultancy

Labor and employment issues

Business ventures (e.g., mergers and acquisitions), and

Intellectual property

matters.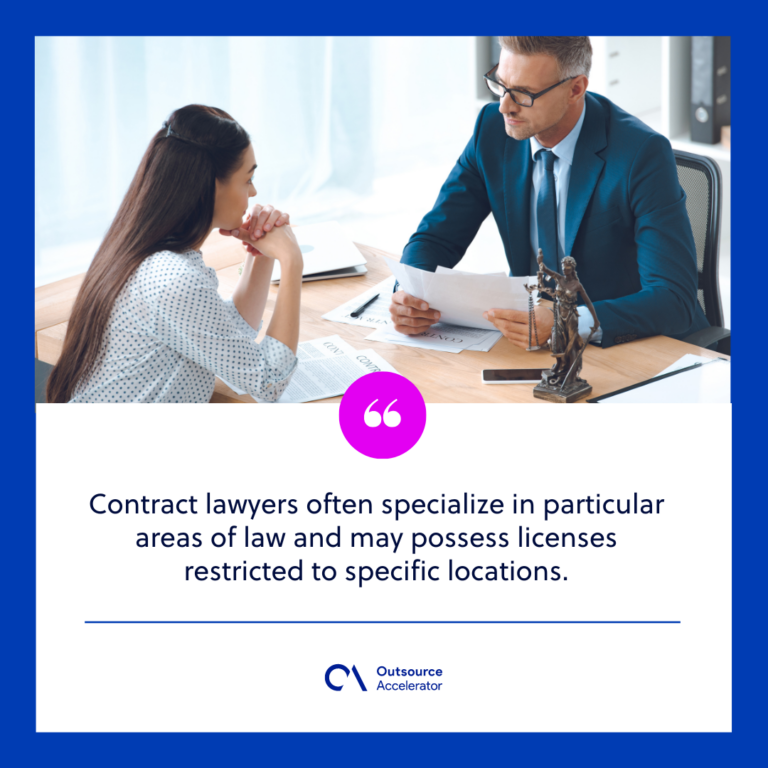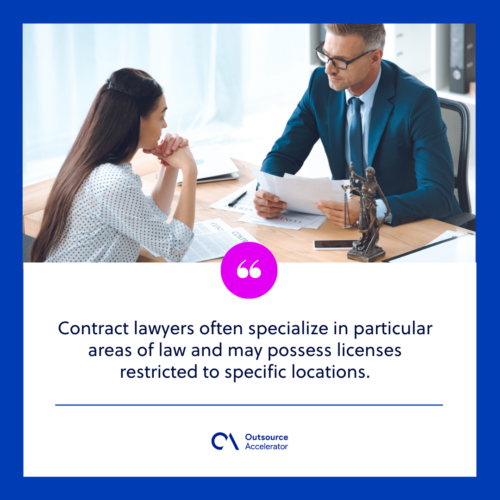 Legal Process Outsourcing companies
Law firms can choose from a variety of third-party support firms that provide legal process outsourcing services. These companies can be located either offshore or onshore.
Popular outsourcing destinations, such as India and the Philippines, are renowned for producing highly skilled professionals who offer their services at a fraction of the cost of local hiring.
These talented teams often come from esteemed educational institutions and are well-equipped to handle legal cases effectively.
In an era of rising costs and globalization, legal service outsourcing and legal process outsourcing have emerged as effective strategies for law firms to optimize their operations and enhance their competitiveness.
By outsourcing legal services and administrative tasks, law firms can save costs, benefit from external talent, improve efficiency, and focus on their core competencies.
As the legal industry continues to evolve, harnessing the power of outsourcing can be a game-changer for firms seeking sustainable growth and success.
To learn more about it, check out the Top 40 BPO companies in the Philippines guide.