Top 20 VOIP call center solutions for effortless customer service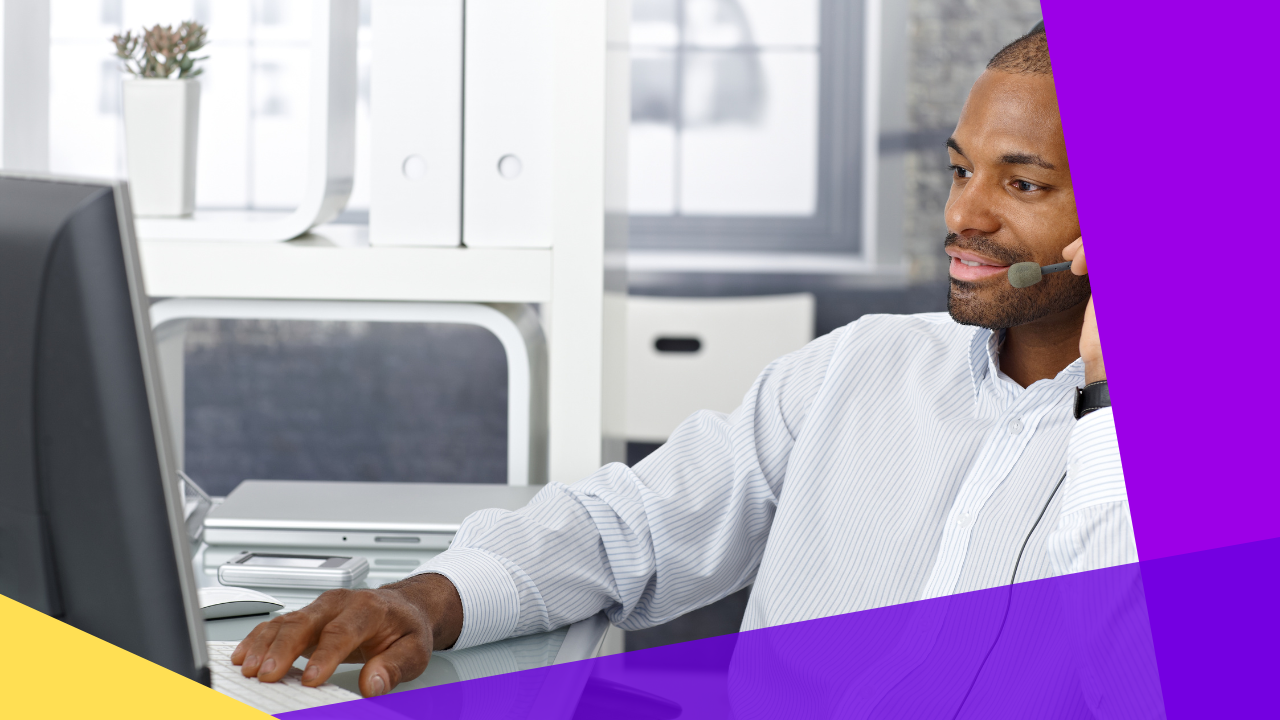 Top 20 VOIP service providers for call centers 2023
Top VOIP for call centers in 2023
Call centers are essential in performing direct interaction, engagement, and communication with customers and leads. It is crucial in providing excellent customer service experience for an organization's customer base. 
Traditionally, call center offices required different telephones hooked into different trunks and hardware. An entire IT department was also needed to keep daily operations on the floor fully functional and running smoothly. 
With today's technological advancements, setting up a fully operational call center has been made easier. By making use of Voice Over Internet Protocol (VOIP) businesses are able to establish a well-functioning call center by using the internet and an IP phone.  
In this article, we'll help you get well acquainted with the concept of VOIP. Why should you consider incorporating it into your call center? 
We've also listed 20 of the top VOIP call center solutions to help you choose which provider is best for your kind of business. 
What is VOIP?
A Voice Over Internet Protocol (VOIP) is a type of technology that enables phone calls by utilizing the internet. This is a very good and effective alternative to the traditional analog phone lines.
Here's how it works:
In VOIP, incoming or outgoing voice calls are converted into packets of data. It will then travel like any kind of data, for example, email through the internet. 
With VOIP phone, you can call a smartphone or landline phone. Calling from computer to computer is also possible.
As for landline telephones, a telephone adapter connected to a network should be used so you can make or receive calls. 
To ensure the security of your calls, your VOIP system should be used on a private IP network.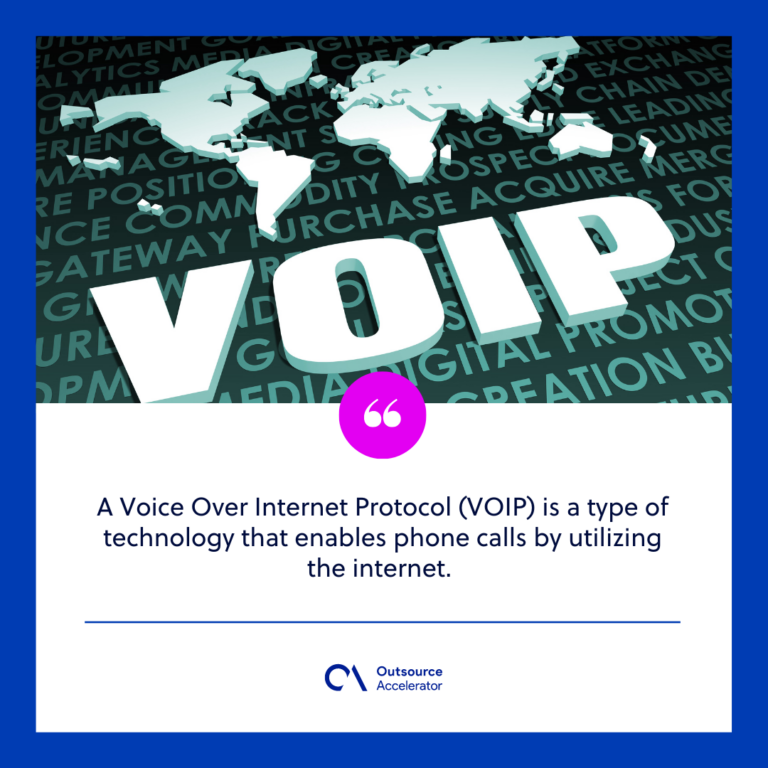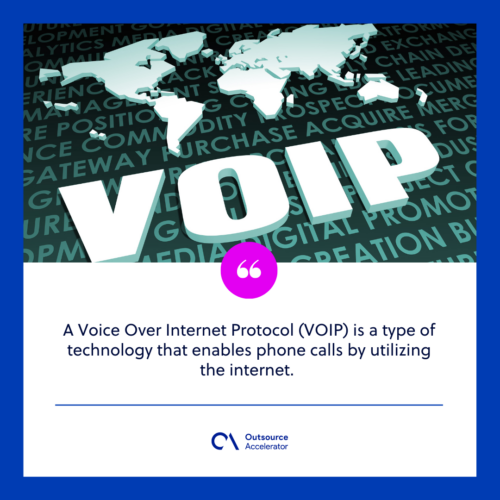 There are typically three ways you can make phone calls through a VOIP:
Softphone – It will only require a computer and a headset.

VOIP phone – Agents make calls in a VOIP phone using a specifically designed headset for VOIP services. 

VOIP adapter – A VOIP adapter is hooked up to a VOIP analog phone. 
VOIP works with the help of IP technology. Through an IP technology, business owners have two options: 
Hosted VOIP – This means that your phone system will be hosted by a third-party VOIP provider. Your vendor will be the one in charge of managing all its technical aspects. This is a preferred call center solution by many businesses. 

On-premise Private Automatic Branch Exchange (PABX) – This is more applicable for bigger-sized call centers with in-house specialists. It also requires significant investment and high-level technical expertise. 
Whether you're an owner of a startup or a small growing company, VOIP services can be implemented in all sizes and types of businesses. 
VOIP technology is also a very good option for virtual call centers. It can be accessed by remote call center agents who are working from home with the help of the internet.  
Reasons why VOIP should be used for call centers
Customer service teams that transition into VOIP technology are able to take full advantage of the following benefits: 
Lower costs
There is a huge price difference between the traditional analog phone service and the VOIP system. This is one of the primary reasons why call centers have shifted to this type of communication method for their daily operations. 
A VOIP business plan's usual starting price is $35 for each line per month for one to ten lines. It can also be as low as $25 for each line monthly for 21+ lines. 
You can also use a VOIP call center phone system for free in some cases. Take note that all you need is an internet connection, computer, microphone, and a speaker. Then you are all set, you can also most likely search and make use of a free VOIP service.  
Team collaboration
As you avail of a VOIP phone service, it usually comes with software. Your agents can also utilize this software to keep track of your customer experience and journey. This is both for your sales and customer service perspective. 
Better features
Although a VOIP phone system has varied pricing plans, it is still built with several advanced features. Some of these include click-to-call, call tracking, hold music, and virtual attendees. 
These advanced features will definitely enable you to streamline your customer service processes. Drastically improve your staff's productivity, as well as employee engagement. 
Another great feature is that you can also perform video conferencing, where you can share screens for better customer support. 
Flexibility
VOIP systems are customizable, can be easily set up and it will only take you a few clicks to add or remove a line.
As we mentioned earlier, your entire team can access your VOIP from anywhere, anytime. Especially at present, where most companies are working from home.
Can be easily setup
Setting up a VOIP commonly starts with installation and inputting some basic information. Your VOIP provider will also guide you through the whole process of setting up your phone system.
Additionally, a VOIP does not come with any added equipment. If you have to configure your device, it is most likely that you will only have to insert the cable into the jack. Then press on, and wait for the installation.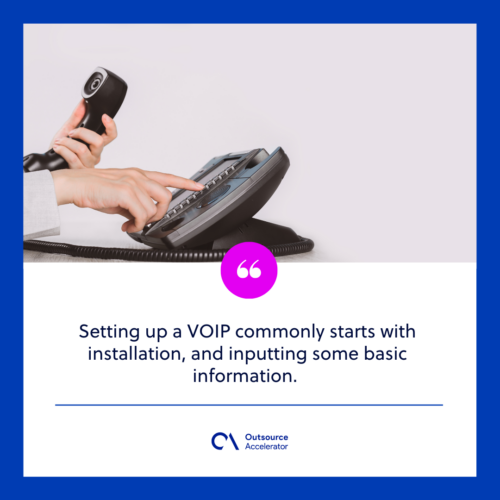 Top 20 VOIP for call centers
Do not worry about where to look for the best VOIP system provider. Here we have listed down the top 20 VOIP for call centers: 
8×8 is transforming the future of business communications as the leading software as a service provider of 8×8 XCaaS™, an integrated contact center, voice communications, video, chat, and SMS solution built on one global cloud communications platform.
8×8 empowers over 2.5 million people around the world to work together to deliver differentiated customer experiences.
2. RingCentral
RingCentral offers amazing features like instant messaging, call logs, faxing, video calling and more. Its advanced features also include Artificial Intelligence (AI), conferencing tools, and unlimited calls. 
A lot of call centers avail of its most popular plan which is at $34.99 each month. The plan involves 50 video calling, unlimited users, and 2,500 toll-free minutes. 
3. VirtualPBX
VirtualPBX offers plans that are customizable according to your type of needs and overall number of users. Its specialized features include custom-greetings, auto attend and ring groups. It also has a "real-time monitor" which enables you to identify which of your agents are available or busy at any given time. 
Another feature is the "dash" which includes faxing, 4G LTE, and hot desking. VirtualPBX's most popular plan is at $26.99 per user, monthly. The plan has two phone numbers, 2,500 toll-free minutes, one VOIP device for every user, and more. 
4. 8×8 X Series
8×8 Series is a one cloud solution for collaboration, call centers, and voice meetings. It has a global reach, in over 47 countries. Its features include ring groups, extension dialing, web conferencing, video calling, faxing and call recording. 
8×8 X Series products can be easily set up and have featured capabilities for computers, mobile phones and telephones. The X Series X4 is its most popular plan and it is $48 for every user, monthly. It has unlimited calling, analytics, video conferencing, and more. 
5. Nextiva Enterprise Cloud VoIP
Nextiva merges an organization's various communications in a single platform. It lets your marketing, sales, customer support teams stay on top of things. It has features like call management, reporting/analytics, desktop apps, and automated attendant. 
With Nextiva, you can also perform HD-video conferencing with screen sharing. A lot of call centers avail of its monthly plan that starts at $20.95.    
6. Vonage® Business Cloud
Vonage has a unified communication platform that allows you to engage with your customer through chat, text message, or voice calls. Its "VonageFlow" feature allows you to perform instant messaging, file sharing, and texting all in one platform.
Most call centers acquire the $27.99 each month, per line 5-19 lines. The plan has unlimited calling, VonageFlow for 100 people max, mobile and desktop apps, and a multi-level auto attendant. 
7. Mitel
Mitel has MiVoice Business Call Service which is a business communication platform. It regulates multi-channel communications, collaboration, mobile access within the teams, and more. This is applicable for all business sizes, with up to 65,000 users. 
Mitel also has MiContact Center Enterprise which is on the other hand, is a customer support platform. It enables several methods of interaction like social media, voice, and SMS. 
Mitel plans start at $26.59 per user, for each month. 
8. PanTerra
Panterra has significant analytics features with more than 100 metrics you can choose from. It creates graphs and charts about your data, and that can be easily understood. You also have the option to set custom reports so you can get automated analysis constantly. 
Panterra only has one call center plan which is at $64.96 per user, each month and it also offers unlimited storage data. 
9. GoToConnect
GoToConnect has the basic features you need for your call center. It has an unlimited call queue, wait time, and ring rules. More so, it can also be integrated in a CRM software. You may choose GoToConnect Support  Center or Contract Center Pro.
 You can avail it with less than $20 for each use, per month. 
10. Intermedia Unite
Intermedia has a PBX system that is available through the cloud. Whether you own a startup, small to medium type or a big corporation, Intermedia is a good choice for all business sizes. Its plan starts at $28.99 per user, for each month. 
11. AT&T Collaborate
AT&T offers a range of VOIPs, from basic phone service to advanced cloud based voice solutions. Its products and solutions include AT&T Cloud Voice for Microsoft Teams, AT&T Phone for Business, AT&T IP Toll-Free, and more. 
12. Fresh caller
Fresh caller is a softphone-centric VOIP that is perfect for a distributed call center. It can be easily set up, with a well-detailed and customizable reporting. Softphones are used in call centers and sales operations as they are built for high-volume calls. Its plan starts at $19 for each user, monthly. 
13. Microsoft 365 Business Voice
Microsoft 365 is a good choice for call centers with around 300 employees. Its SMB VOIP capability can be integrated across both desktop and mobile devices. Its calling plan however, is only limited to 50 hours for each month.
Its plan starts at $20 for every user, each month. 
14. Ooma voice
Ooma voice is one of the popular VOIPs especially for businesses in the US. It has features like virtual receptionist, enhanced call blocking and call recording. 
Its ring groups feature lets all your agents see the call whenever a customer phones in for customer support. Through this, it is most likely that your customers will be attended to quickly. 
15. Citrix Grasshopper
Citrix Grasshopper is especially created for small to medium sized businesses. Its specialized features include the basics needed for a phone system like basic call routing, faxing and voicemail. Its monthly plans start at a decent price point of $26 for every user. 
16. Line2
Line2 is a cloud business phone service that is specifically designed for small businesses. It has all basic features needed for a phone system at a very affordable price. However, Line2 only runs as a web application or as an app on a mobile device. It's plans begin at $8.30 per month, for every user.
17. Avaya Inc.
Avaya provides companies with a range of business communications solutions services. These services include VOIP and CRM applications. 
Its contact center services include two options. The Avaya Aura Contact Center which utilizes SIP to boost your connectivity and multimedia communications. Avaya Aura Call Center Elite on the other hand is the most famous contact center software around the globe. 
18. VoIP Logic
VoIP is considered as a Platform-as-a-Service (PaaS) vendor. Its primary call center product is Call Center with Call Recording PaaS. This can be integrated with all business sizes. 
Further, it has specialized features like skills based routing, priority queuing, real-time dashboard, call escalation, and overflow call routing. 
19. ALLworx
Allworx provides VOIP products for Small to Medium sized businesses (SMEs). Its Allwords Automatic Call Distribution is the most famous call center solution. It has features like round-robin call distribution, queue management system, agent monitoring and more. 
20. Jive
Jive has VOIP solutions that are specifically designed for SMEs as well. Its cloud-based contact center is built with basic phone systems features at an affordable price. These features include good call management and real-time reporting. 
Is VOIP essential to your growing business?
Yes, a VOIP system is very essential for your business growth and development. As we have mentioned earlier, it enables you to save massively on costs and it helps streamline your daily operations.
It helps enhance your call center's overall productivity and most importantly, highly improves your customer service experience.