Why outsourcing is a win-win solution: white paper
Last updated: October 4, 2021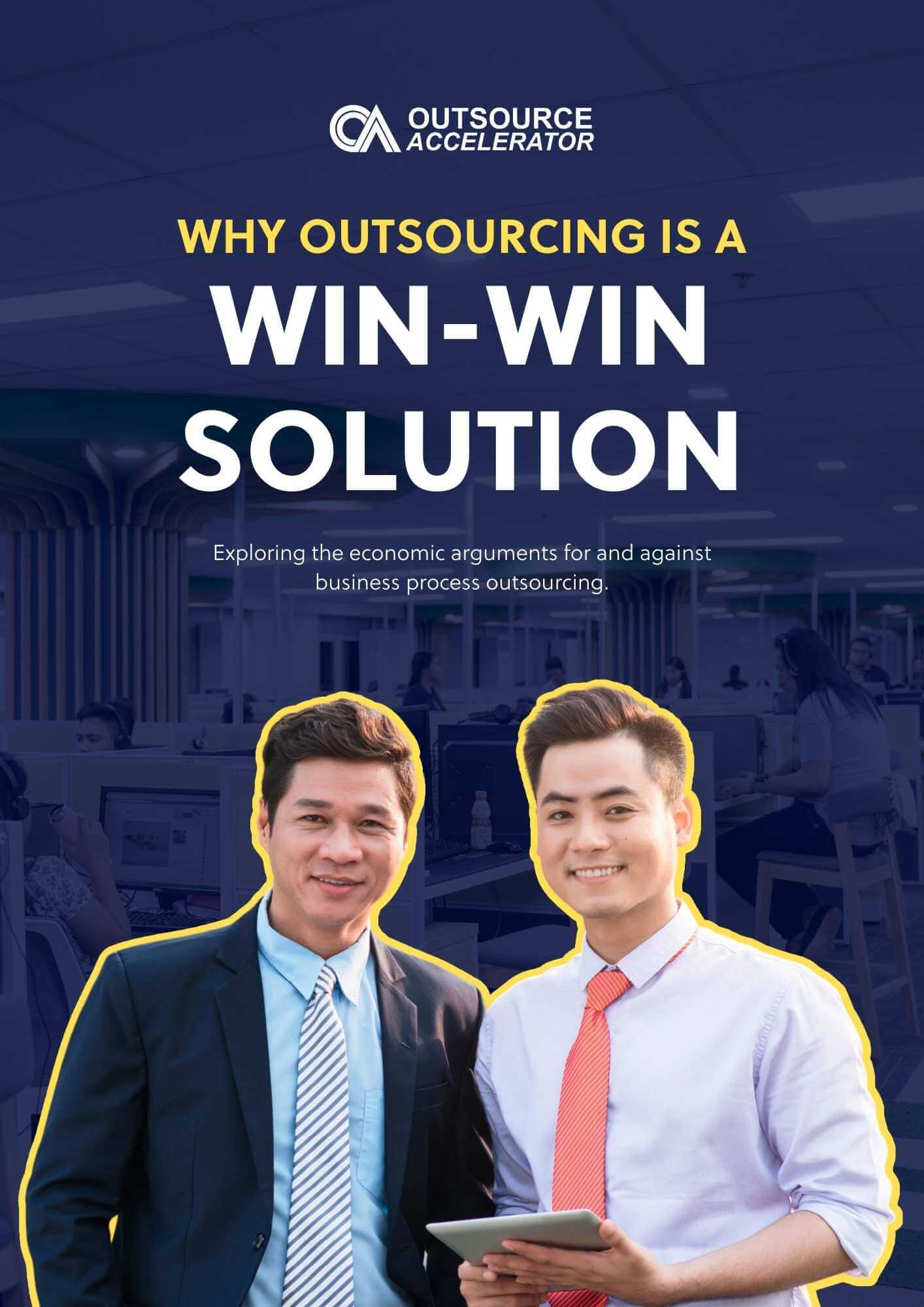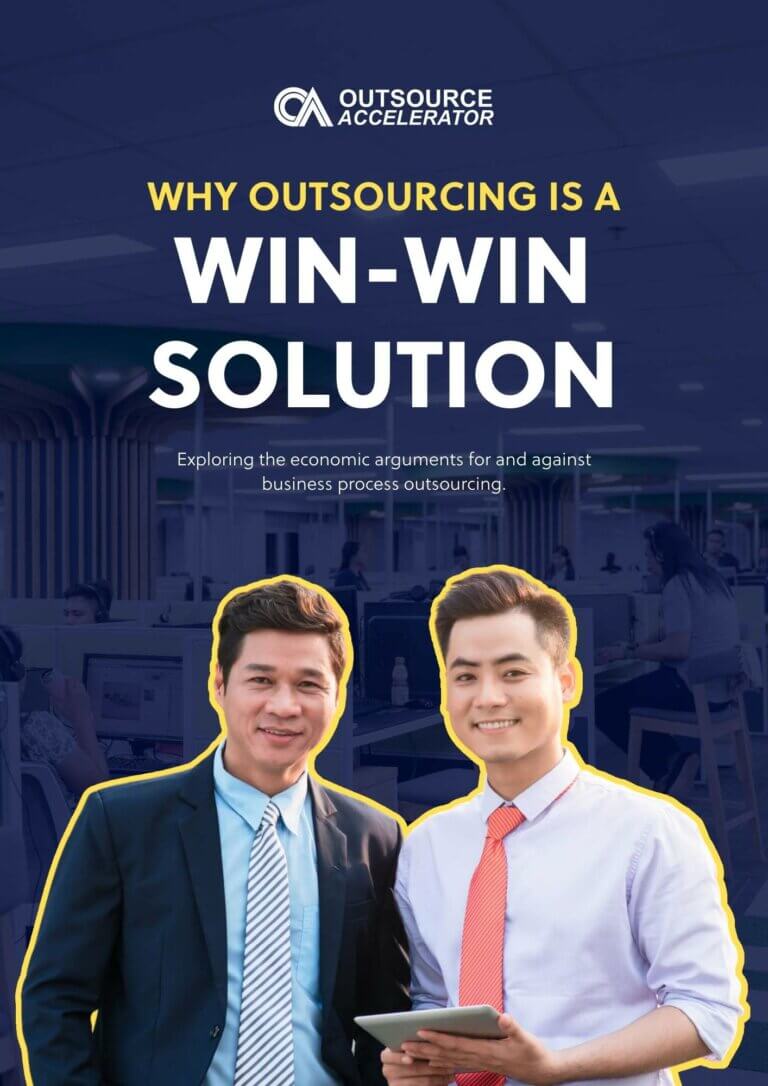 Get the easy-read PDF version to your inbox now
Why Outsourcing is a Win-Win Solution: Executive Summary
SME and large companies are going to the Philippines to obtain services at a rate that is less expensive than in their own countries.

The Philippines has been dubbed "the call center capital of the world" with well over one million Filipinos employed within the sector.

Service-based outsourcing is generally less susceptible to tolerating low standards and working conditions.

The outsourcing sector in the Philippines is raising wages throughout the country across multiple industries.

Proponents of outsourcing forecast that it will witness growth in most areas, including finance, IT, and human resources.

The Huffington Post forecasts that 80% of American businesses will be outsourcing at least some of its functions and processes by the year 2020.

Globalization is a component of economic progress and, barring certain interruptions like war, it's going to march onward.

Businesses that embrace and evolve with the times tend to be more resilient than businesses that are inflexible to change.
Exploring the economic arguments for and against outsourcing – a white paper by Outsource Accelerator
Today, many companies in North America and Western Europe continue to assess whether outsourcing is the right business solution for them. In recent years, outsourcing has come under scrutiny and has been criticized for taking jobs abroad, for derailing customer service, and even for detracting from home economies. Yet, outsourcing has weathered the criticism because, ultimately, it works for the businesses that have embraced it as a cost-saving measure as well as for the other benefits it brings to the company.
As the outsourcing industry has grown and continues to evolve, many of the criticisms it suffered in the past are fading to reveal benefits that enhance company employees, communities at home and abroad, and even major economies. Businesses can and do benefit immensely from outsourcing, so if your company is considering working with an outsourcing firm overseas in a country like the Philippines, it's vital to understand how it can be a win-win for all parties involved, and why adopting the outsourcing platform can enhance productivity and help your business to grow.
This paper is divided into sections that provide a basic definition of outsourcing, outline critical arguments against outsourcing and offshoring, beneficial aspects of outsourcing, and concluding information. The benefits section will include case study information based on current, multi-type publications. After reading this document, readers should have a comprehensive understanding of the multilateral benefits of outsourcing with real-world cases that provide evidentiary support of claims.
While some of the criticism of outsourcing has been exaggerated, some of it has been warranted. Readers can examine how this criticism has led to positive changes within outsourcing firms and Western businesses. In other words, many problems that once existed have now been greatly minimized owing to positive solutions designed by companies that support the outsourcing model. The concluding section will further address criticisms and common pitfalls of outsourcing and how companies can find effective solutions for them—an absolute necessity since globalization and outsourcing are here to stay.
Introduction to outsourcing/offshoring
Simply stated, outsourcing can be defined as contracting with an outside firm or vendor to perform various functions for the company that ranges from IT services to data entry. A company may outsource some of its processes to vendors within the country or abroad. For the purpose of this paper, the discussion will focus on offshore outsourcing; that is, contracting with firms overseas, specifically with the Philippines, for professional services that may include data entry, IT, data center operations, sales and lead generation, customer service, etc.
Today, companies large and small are turning to firms in countries like the Philippines to obtain services at a rate that is less expensive than what they currently pay to employees within their own countries. However, cost-saving is not the only reason a company may embrace offshoring to nations like the Philippines or Mexico. In some cases, the company may simply not want to invest in the expertise needed to perform some specific functionalities; they may believe that an outside firm already as the expertise and experience needed to perform the processes in question at a competitive rate.
Outsourcing as a component of globalization is not showing signs of a slowdown. In fact, research suggests that it is increasing worldwide. The economies of many nations, including the Philippines, can now demonstrate the positive effects that outsourcing is having on its country and its workers. Outsourcing provides win-win situations for the company and the company it contracts with, but then why does outsourcing still have such an image problem? By learning from this paper's key takeaways, businesses can learn why some myths about globalization prevail and how they can be conquered.
Why has outsourcing boomed in the Philippines?
The Philippines is neither the biggest nor first outsourcing nation.  India has been outsourcing for a much longer time, and its industry is about three times the size. However, the Philippines has shown great commitment to the development of this 'golden-boy' industry and has certainly created an environment that is most welcome to Western businesses. In recent years, the country has been dubbed "the call center capital of the world". Well over one million Filipinos work in the country's many call centers. According to reports like the one posted by LA Times, "The outsourcing boom has helped propel the country's economy, once a laggard of Asia, into one of the region's fastest-growing."  Whilst the Philippines isn't the biggest outsourcing nation, it can be considered the highest quality option.
At the outset of the outsourcing trend, it was India that commanded the attention of many companies from the West. However, the Philippines, even with its considerably smaller population, has created an environment that is particularly attractive to Western nations. For one, the Philippines boasts a solid command of the English language. Scoring near the top of the BEI (Business English Index) in recent years, the Philippines has rivaled nations like the Netherlands and Norway for English proficiency. In addition, employees in The Philippines have proven themselves flexible on time, working well with time varying time zones, shift changes, and on holidays.
The government of the Philippines has helped bolster the nation's outsourcing industry by developing partnerships with universities to create BPO-specific coursework and curriculums. The country has issued tax and non-tax incentives to drive investment from overseas companies and created a voucher system that helps support call center training. Many companies in the West have been impressed by the competent workforce that provides quality for what amounts to a bargain rate. Because Filipino workers train for specific careers in the outsourcing industry, they can boast highly-skilled talent that is attractive to companies in the West in search of an overseas back-end, operations, or logistics partner.
This isn't to say that the Philippines has left its competition in the dark; on the contrary, offshoring is more competitive from country to country than ever. India, Thailand, Malaysia, Brazil, China, and other nations are among the nations with the most outsourcing jobs. With the Philippines' growth rate of 46%, however, it remains one of the nations to watch closely as it appears to function as an important model for the outsourcing industry, a model that illustrates what works best in this highly competitive marketplace.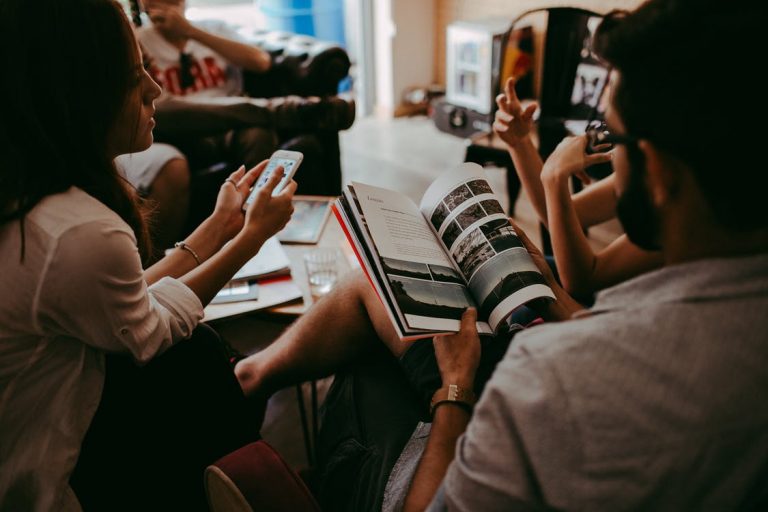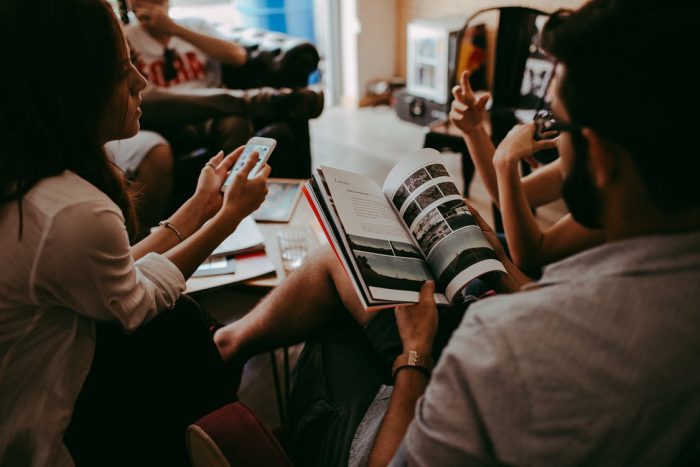 Criticism of outsourcing
In many Western countries, offshoring has become a dirty word that is nearly synonymous with job loss. This criticism is unfair and potentially unfounded as we will discuss later in this publication, but it exists nonetheless in countries like the US and UK. Its stands to reason that if a corporation outsources its customer service call center to the Philippines, its American and British customer representatives will be out of a job. Time and again, companies that offshore do layoff segments of their workforce as they hire employees overseas at decreased rates. This remains the chief criticism of the outsourcing model as it pertains to offshoring. Moreover, as outsourcing moves beyond its infancy toward middle age, its image problem may finally fade as clear evidence emerges about its positive impact on Western businesses and even Western communities.
Economic loss is also a criticism when it comes to a company's products and services. Critics suggest that outsourcing only marginally reduces the price of products and services. As an added inconvenience, they lament that decreased wages detract from their healthy economy, assuming wages are decreased, which is also an argument that does not always bear fruit in the current climate. Critics have worried that the profits made from offshoring wind up in the coffers of the wealthy and do nothing to lift the position of the middle class or the working class.
No doubt, readers may have seen criticisms that the supposed benefits of outsourcing for the home nation's workers have not been realized. There are fewer advanced and sophisticated jobs for US and UK workers. Some workers also complain that there are fewer full-time occupations and that even part-time job offerings are more difficult to come by. Whether or not this is true or the fault of offshoring will be examined later in this discussion. For now, it's important to note the criticisms of offshoring in order to eventually address them and discuss how businesses are creating new solutions to the problems associated with offshoring.
Some of these criticisms have been just and apply to many situations in the US and Western Europe. However, as the cons associated with offshoring have been illustrated and discussed for several years now, there have been numerous fixes to address these criticisms. These will be more closely examined later on in this paper.
Other problems with offshoring
Many companies have struggled with cultural and language barriers when offshoring to employees across the world. These barriers can still crucially impact the company's brand and the success of its offshoring venture. Even the seemingly simple challenge associated with time zone changes can sink a venture if not appropriately addressed.
Then, of course, there is the real challenge of service quality. A London-based company, when considering outsourcing, has to ask this question: can a native person in Mumbai provide the same level of customer care as a Londoner? There's no doubt that weaknesses—and indeed, failures—exist within the outsourcing sector, but as the sector has evolved, it has very effectively tackled this problem head on, especially in countries like the Philippines.
Some businesses dislike relinquishing hands-on control of any aspect of their business. This is understandable. However, by working with a firm that is able to integrate with the business well, it will retain all control necessary to obtain the desired outcomes. In some cases, a company simply requires a bit of time to get used to the changed paradigm. Many of today's outsourcing firms have become quite savvy and intuitive when it comes to the job at hand.
Other problems that historically plagued the young industry have included poor communication between the company and the outsourced firm, hidden costs that might include things like start-up training, and reduced adherence to rules of confidentiality. Critics have pointed to low worker morale as another con associated with outsourcing.
Does outsourcing exploit workers in undeveloped countries?
An important concern that cannot be overlooked is the one that says that overseas workers are exploited or treated as veritable slaves who earn next to nothing for the same work that would earn a Western worker a living wage. Whilst the gravest conditions and concerns are reserved mainly for the manufacturing sector, the same concerns spill over to the service outsourcing sector.  This complaint has merit as evidenced by the sweatshops that exist in undeveloped nations and the poor work conditions that many overseas workers are forced to endure. Western companies that engage in exploitive practices take a large risk. As word gets out, as it has, the brand suffers as customers choose to boycott companies that opt for profit over the support of basic human rights. In other words, engaging in unsavory offshoring practices can be a public relations nightmare for any company.
Many countries are, in fact, learning from the mistakes of those companies that pioneered outsourcing but didn't manage their course very well. One of the worst tragedies in recent memory for outsourced workers occurred in the city of Dhaka in Bangladesh. According to World Bank, a building known as Rana Plaza crashed down on thousands of workers. More than one thousand people were killed and twice as many were injured. The workers there sewed garments for many European and American retailers. According to World Bank, "a chunk of blame for the collapse and deaths was placed on retailers and brands that outsourced their work to Bangladesh, and particularly Rana Plaza."
In order for Western companies to engage global workers responsibly, they must assess working conditions by sending agents to the firms they want to contract with. It has become less acceptable for Western businesses to profit at the expense of workers in underdeveloped nations. Moreover, it has now become imperative for Western companies to vet companies to ensure that they comply with acceptable safety standards and work conditions. Many companies in North America and Europe have signed formal agreements to ensure that they will shut down any operations that do not comply with agreed-upon standards. Certainly, abuses still exist, but the improvements are undeniable.
For the sake of this white paper, it's worth noting that service-based outsourcing (i.e. providing services instead of manufacturing) is generally less susceptible to tolerating low standards and working conditions. This is primarily because these functions require a workforce that is generally more middle class and better educated. These people are generally less tolerant of low standards, and are more informed and vocal about their rights and expectations. Equally, in the Philippines, the government tends to be very protectionist towards its workforce, and is generally very pro-labor, especially within the largely foreign-led outsourcing sector.
Regardless, concerns for abuse or exploitation are by no means immaterial, and they will be addressed hereafter. Naturally, companies today must assess potential pitfalls associated with offshoring. Companies that can see past the unfounded complaints and create solutions to the obstacles that offshoring may present stand to benefit from the effort.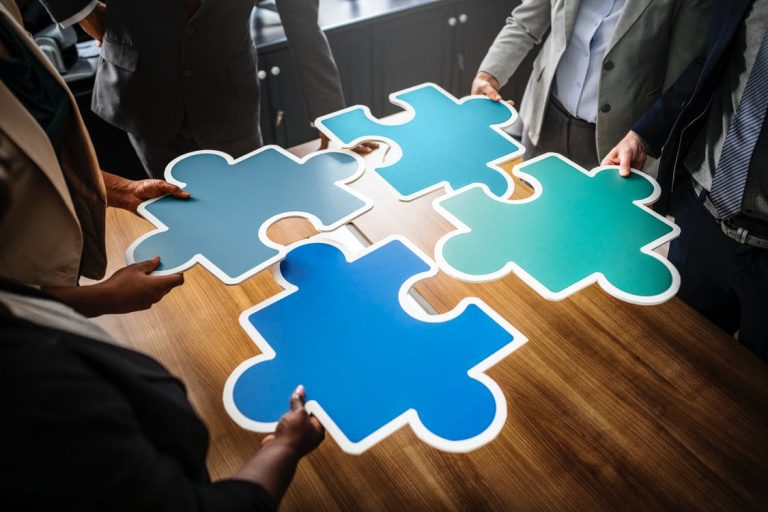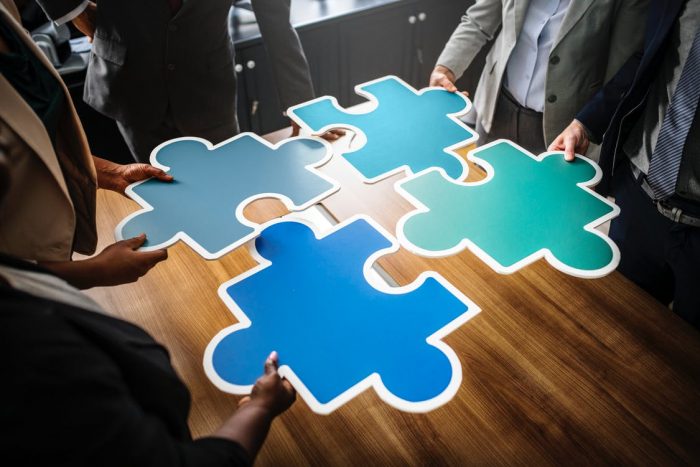 The political dynamic of offshoring / outsourcing
While a New Yorker whose job has been shipped to India or Mexico certainly has a legitimate personal gripe to make, much of the case made against outsourcing and, indeed, globalization in general, comes from political corners. Can politicians who rail against offshoring be trusted? Can these politicians actually bring jobs back to their struggling workforce?
In many ways, Western politicians have earned votes by promising to curtail offshoring by either penalizing companies that engage in the practice or by promising incentives for companies to keep all company processes within the home country. To a large degree, these politicians have made unrealistic claims. Case in point: take the current Trump administration in the US. Trump waged a campaign to bring overseas jobs back to America. His campaign pledge is "Make America Great Again." Moreover, one only has to read the recent headlines to note the US president's anti-immigrant position.
Savvy onlookers will, no doubt, have seen the articles that point out Trump's double standards. As a business leader, Trump exports beaucoup jobs to far-flung lands that are very far, indeed, from American shores and, more specifically, American workers. According to The Independent, "For Trump, highlighting US-made products is inconsistent with his practices as a businessman. For years, the Trump Organization has outsourced much of its product manufacturing, relying on a global network of factories in a dozen countries—including Bangladesh, China and Mexico—to make its clothing, home decor pieces, and other items."
The same can be said of the American president's daughter who also offshores jobs from her companies. The "Made in America" mantra of the Trump campaign is an obvious example of the liberties that politicians take when attempting to score votes. It's important to note this when trying to understand what, if any, genuine negative effects outsourcing has on Western businesses, Western economies, and Western workers.