Knowledge Process Outsourcing (KPO)
Definition
What is knowledge process outsourcing?
Knowledge process outsourcing (KPO) refers to the process of outsourcing experts and services in a particular field to fill in positions that usually require highly specialized skills.
The scope of KPO includes accounting, banking and finance, insurance market services, preparation of accounts, healthcare services, computer-aided simulation, animation, design, content creation, engineering design and development, and other functional processes.
The difference between KPO vs BPO
Business process outsourcing (BPO) deals more with delegating non-core business operations to other countries.
BPO services are comprised of both front- and back-office functions necessary to keep companies running efficiently.
Knowledge process outsourcing (KPO), meanwhile, involves hiring offshore teams that can handle more highly-specialized work. It is used to provide more in-depth expertise and analysis to its clients. Some of the common KPO services include market research and data analytics.
The only distinguishing difference between KPO and BPO is in the services they cover. However, both types of outsourced services provide high-quality teams and performance at an affordable rate.
Benefits of KPO
Businesses use KPO to hire teams for specialized fields not found in-house. At times, most knowledge-based processes are expensive to set up onshore with the logistics they require.
Small businesses would find this impractical should they want to grow their services.
Knowledge process outsourcing can provide cost-cutting measures, savings, and effective processes. Through KPO, businesses are given the luxury to launch a product and service faster.
More so, KPO helps companies get the following benefits.
Tap more markets. By outsourcing their knowledge processes, organizations can tap into and learn about new markets easier.
Gain more actionable insights. Delegating complex processes offshore helps in gaining more insights on how they can make their products and services better.
Focus on improving business strategy. Core teams can focus more on improving their business strategies since more complex tasks are outsourced to experts offshore.
KPO services
KPOs help companies in knowledge-based activities that are data-driven and encompass the method of gathering, managing, analyzing, and delivering objective insights into businesses.
A wide range of KPO solutions is crucial to meet the requirements of diverse industry segments, such as:
Financial consulting
Research and development
Technical analysis
Investments
Legal
Medical & healthcare
Data analytics and management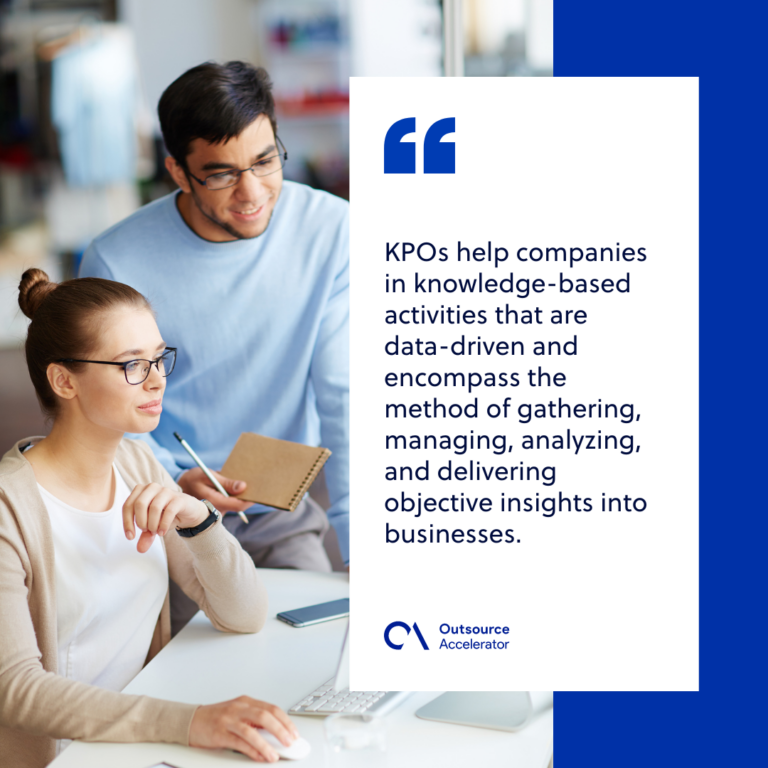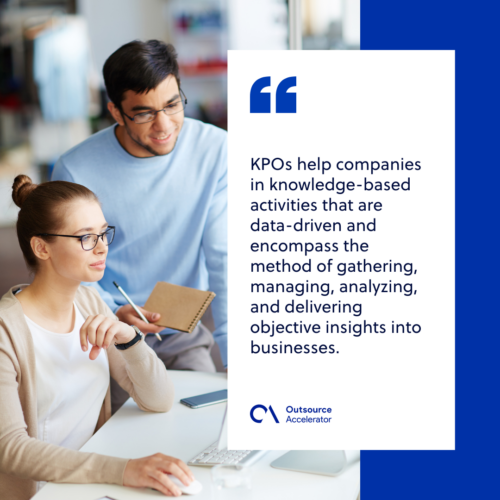 Knowledge process outsourcing in the Philippines
KPO addresses the shortage of skilled laborers and provides an increase of specialized knowledge and expertise within the organization, as well as advanced analytical and technical skills aiming for the implementation of active processes.
This then translates to higher-end service at a lower cost and benefits company revenue.
Outsource Accelerator is the most trusted source for independent information & advisory for business process outsourcing (BPO).
We have over 5,000 articles, 4,000+ podcast episodes, and a comprehensive directory with 3,000 BPOs…  all designed to make it easier for clients to learn about and engage with knowledge process outsourcing.