Inside Outsourcing book review: A must-read for those exploring outsourcing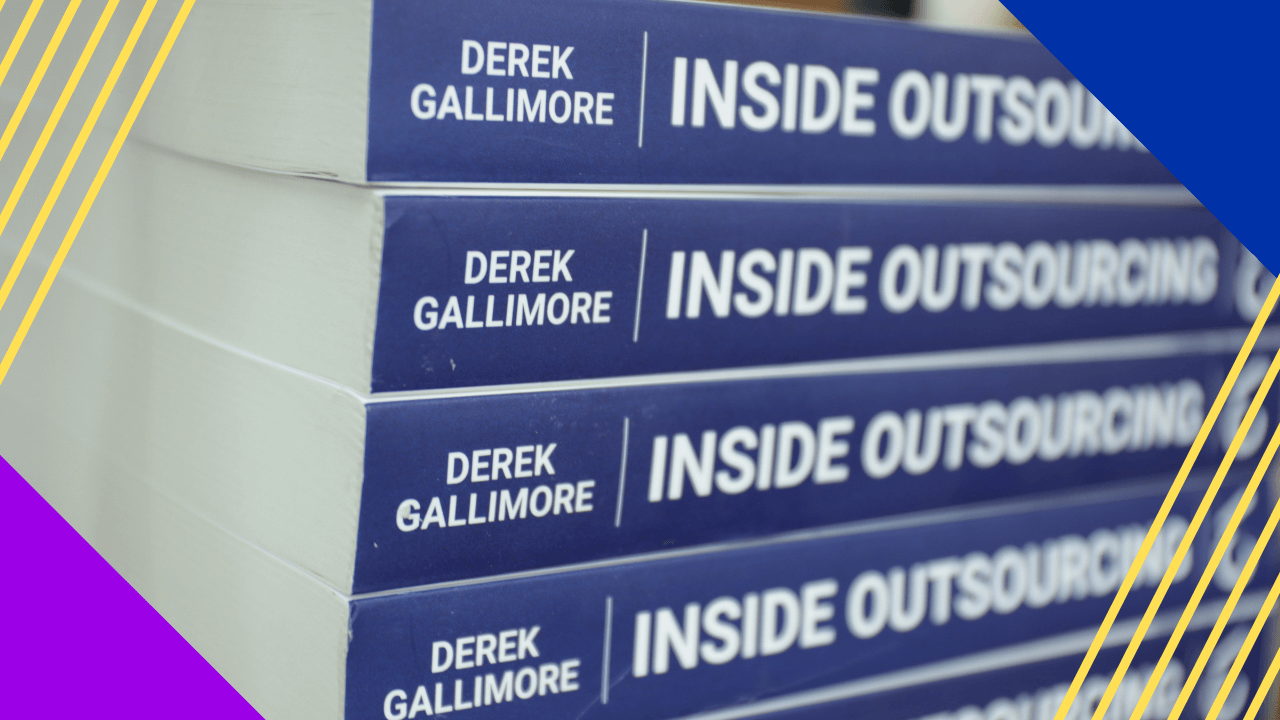 Outsourcing has been around for decades — so what else is there to know?
It has been a common practice by many of the biggest names in the global business sector, and yet — to some, outsourcing is still as novel an idea as self-driving cars. In particular, small to medium-scale businesses have been reluctant about the whole concept. 
Will one book finally break that barrier? Let's find out in this Inside Outsourcing book review.
Inside Outsourcing book review: What is it about?
Truly as it says on the tin — the newest book Inside Outsourcing takes us deep inside the world of outsourcing and offshoring, interwoven with curious storytelling, real numbers, and practical knowledge and tips.
How did outsourcing come to be? Is there a place for a small or medium-sized business in this industry? How do you even get started, and how much do you pay exactly? What is the state of the outsourcing sector in the pandemic and post-pandemic era?
No book has answered these questions as straightforward and as comprehensively as Inside Outsourcing has.
The book is divided into four meaty parts: Business – the past, present, and future; About outsourcing; Evaluating outsourcing; and Outsourcing in practice. It offers an extensive primer on business practices that gave shape to outsourcing and walks you through every step of the process so you don't have to walk blindly into a hole.
Check out the Inside Outsourcing book trailer here:
Inside Outsourcing: The bad boy of business, or a force for good?
Perhaps the most common cause for reluctance about outsourcing is the notion that it is "the bad boy of business" — it takes away jobs, it is unethical, it suffers from poor standards. So they say.
In the Inside Outsourcing book, author and outsourcing expert Derek Gallimore examines the roots of these negative presumptions and asserts the opposite by looking into the world's most successful companies.
He enumerates and discusses in detail the benefits that these companies have reaped, from the cost savings, the scalability, and the flexibility to a diverse global workforce. There is a strong case to be made for outsourcing as a powerful business tool. 
Beyond that, Gallimore tackles it from the perspective of small and medium-sized enterprises, revealing why there is such fear of outsourcing and what can be done to encourage more discussion about it. 
Inside Outsourcing book: What do experts say about outsourcing?
There is much to be said about outsourcing. Business experts and economic leaders have long recognized and commented on the advantages that outsourcing offers.
Former Singapore Prime Minister Lee Kuan Yew has said, "If you deprive yourself of outsourcing and your competitors do not, you're putting yourself out of business." One of the world's leading outsourcing hubs, especially in the field of IT, Singapore is one living testament that offshoring works. 
Billionaire businessman Azim Premji from India, another top outsourcing country, has also pointed out that global sourcing is "a very powerful tool to leverage talent, improve productivity, and reduce work cycles." 
Inside Outsourcing book author: Derek Gallimore
Derek Gallimore is the expert insider behind the book Inside Outsourcing. He is the founder of Outsource Accelerator, the world's leading outsourcing aggregator. 
Gallimore has been in entrepreneurship for over 20 years and in outsourcing for more than a decade, having worked in five countries around the world. He has made the Philippines a cradle for his offshoring ventures — just like many other companies that have flourished from the country's BPO industry. 
Derek Gallimore is a lifelong entrepreneur who has passionately penetrated every nook and cranny of the outsourcing industry, and Inside Outsourcing is the culmination of his industry experience, expertise, and learnings.
Derek also discussed the Inside Outsourcing book on the Outsource Accelerator Podcast. Listen to the full episode here.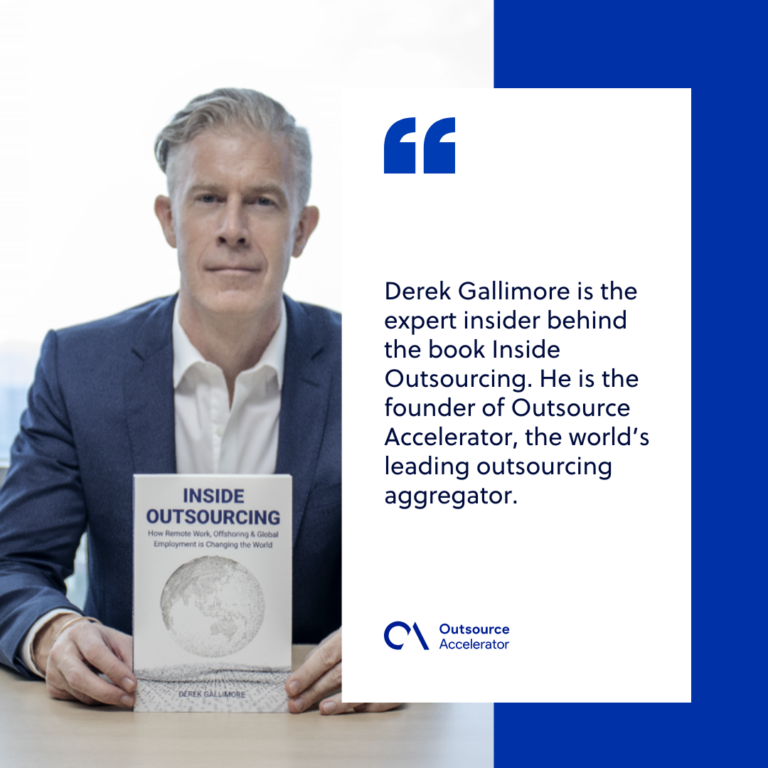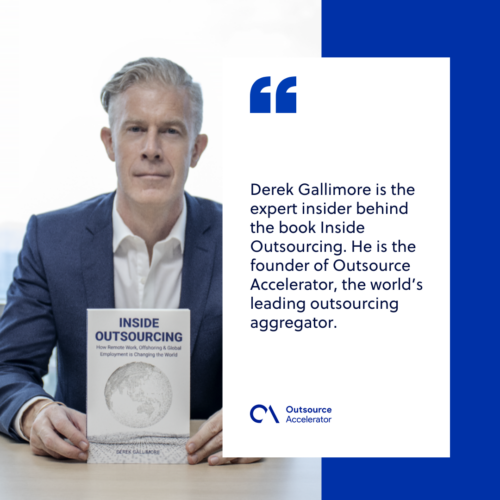 Inside Outsourcing book review and comments: The verdict
To cap off this Inside Outsourcing book review, we address one final question: is the book worth reading? 
If you are a small or medium-sized business, a startup leader, or a solo entrepreneur, Inside Outsourcing is a must-read. It is time that you break free from your fear of outsourcing and equip yourself with practical advice from an industry expert.
Likewise, if you have been in the industry as an outsourcing client, provider, or worker — the Inside Outsourcing book offers the most timely insights on outsourcing in the context of the pandemic and the post-pandemic world.
Grab your copy of the Inside Outsourcing book now!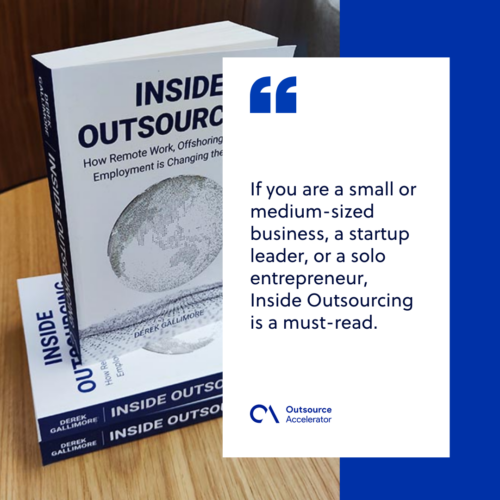 Inside Outsourcing book launch a success!
The much-anticipated Inside Outsourcing book launch was a huge success!
The event was held on 8 June (GMT+8) at the Outsource Accelerator (OA) head office in the Penthouse of One Corporate Center in Central Manila, Philippines.
The country's leading outsourcing executives as well as members of the government, and media for this esteemed event. Some of the attendees include former DICT Undersecretary Mon Ibrahim and Business Mentor Mike O'Hagan, as well as press officials from the Philippine Economic Zone Authority (PEZA) and The Manila Times.
Inside Outsourcing book author and OA Founder Derek Gallimore discussed the many advantages of remote work and global employment, noting that global employment "will dominate the world."
Check out the video highlights here: