Outsourcing
directory
The world's most complete directory of global outsourcing firms.
Virtual Latinos is the first platform focused on connecting entrepreneurs, teams and agencies from the US, Canada and the world with virtual assistants and virtual professionals from Latin America. With clients in the United States, Canada, and others across the global Virtual Latinos provides time management solutions that help clients focus on business growth. The team at Virtual Latinos is built by highly professional college graduates who are skilled in administration, sales, marketing, bookkeeping, and a variety of other services. Each client is paired with a bilingual professional prepared to deliver quality solutions.

Staff: 150

DA: 20

Type: Private

Founded: 2018

DBOS is an Australian-owned and managed, fast-growing offshore staffing company based in Manila, Philippines that provides world-class, personalised and affordable outsourcing services to businesses of any scale, specialising in assisting the SME market and a broad range of expertise across most industries. We claim a client retention rate of 94% and 95% for key team members. Guided by our core values: Excellence, Ingenuity, Integrity, and Heart, DBOS is committed to delivering outsourcing solutions by matching you with highly-skilled, qualified and reliable Filipino professionals your business needs to meet your KPIs and required ROIs at a reasonable cost without lock-in contract and long term commitment.

Staff: 51-200

DA: 6

Type: Private

Founded: 2015

Epicenter is a leading provider of Business Process Management (BPM) and IT solutions since 2001. Our delivery centers are located in Mumbai suburban, India. We work with global Fortune 500 companies across various industry sectors, helping them build agility, transform operations and drive better business outcomes. Demonstrated performance and relentless focus on customer experience over the years have positioned us as the partner of choice for contact center services across the customer lifecycle.

Staff: 1,001-5,000

DA: 46

Type: private

Founded: 2000

Launched in 2006, Open Access BPO began as a telemarketing firm before expanding its portfolio of outsourcing solutions a year later. We provide multichannel processes for businesses of any industry, size, and location. Our offices are located in Makati and Davao, Philippines; Taipei, Taiwan; Xiamen, China; and Las Vegas, Nevada in the US. We are committed to helping businesses from across industries scale their customer support, back office, and knowledge process support by delivering 24/7 solutions in over 30 languages.

Staff: 1,001-5,000

DA: 38

Type: Private

Founded: 2006

Big Outsource Support Services Inc. (or simply Big Outsource) is a Start-up Friendly Philippine-based Business Process Outsourcing Company and Digital Services Agency. Big Outsource has been working with Early and Growth Stage Startups as well as Large Corporations in providing them with cost-efficient Dedicated and Flexible staffing solutions that gives you access to high quality talent at a fraction of the cost.

Staff: 51-200

DA: 7

Type: Private

Founded: 2007

We think PANDR should be the dictionary term for where great people, processes and technology meet in the middle. Too long has outsourcing and offshoring been associated with bland and boring companies. We bring a new vision to our space. One that is progressive and reflects the conditions needed in a modern-day workforce to produce the happiest and most effective employees (our A-team players!) for our clients. That's the PANDR difference, and we will never compromise this for profits.

Staff: 500

DA:

Type: private

Founded: 2018

FGC+ is an end to end outsourcing company, headquarted in New York with operations facilities based in the Philippines. We provide a complete outsourcing solution that enables our clients to scale while reducing their overhead by approximately 50%. Our purpose is to bring out the untapped potential, creativity and success in people, partnerships and brands.

Staff: 800

DA: 8

Type: private

Founded: 2012

Remote Philippines prides itself in providing affordable remote staffing solutions to help effortlessly scale your business. Our goal is to help businesses successfully reduce cost, increase profit margins and grow sustainably through connecting you with highly qualified remote staff in the Philippines.

Staff: 100

DA:

Type: private

Founded: 01/09/2019

Remote CoWorker understands the value of time. It is the one commodity that you can never get back after it is gone, which means you need to make the most of it now. Our services can help companies of any size take their business to the next level. Our roots in Filipino culture deliver unique perspectives that add diversity and insight to your circumstances. Authenticity is what helps a business grow today, and that is rare to find when outsourcing. The only way to provide authentic services under your umbrella is to develop relationships. You'll find that we care about clients, deliver successful consultation strategies, and offer competitive pricing. We also provide easy transitions and onboarding for new clients. When you work with our virtual professionals, you receive services from individuals with the knowledge and skill set necessary for your job. Some companies work hard. Others try to work smart. Remote CoWorker simplifies the equation by working for you.

Staff: 1,001-5,000

DA: 4.1

Type: Partnership

Founded: 2013

USource is a digital outsourcing company delivering back office services and digital staff, at scale and speed, for digital services, operations and digital platforms. A digital world needs digital staff. Let us take your businesses from thinking digital to being digital. We've delivered results for hundreds of businesses, both large and small, across a global marketplace – Australia, United States, Canada, United Kingdom and other English speaking countries.

Staff: 100

DA: 18

Type: private

Founded: 16/01/2016

EastWest BPO is an established Call Center and BPO company the primarily caters to SMEs. We customize programs specifically for the client and are flexible. We work for your needs.

Staff: 500-1000

DA: 9

Type: Private

Founded: 2005

Get a free independent quote from verified outsourcing suppliers

700+ BPO suppliers. Just 2 minutes to complete

1840 & Company is a global remote teams and business process outsourcing company. We help ambitious companies quickly scale and solve their significant staffing and skills shortfalls within a global competency model. We offer client-led freelance solutions and our own fully-managed outsourced solutions, both with the ability to scale up or down, on demand. Operating in scale from 7+ countries with the ability to hire in 150 different countries, we act as a seamless extension of your company's HR department. We are headquartered in Overland Park, Kansas, USA.

Staff: Unlimited

DA: 27

Type: private

Founded: 2014

We're not just a BPO. DOXA is your x-factor in leveraging borderless talent. We believe there are no boundaries to finding a highly-skilled, engaged workforce that creates a competitive advantage. Founded by business leaders that strive to make a difference and have a positive impact on the world as a whole, DOXA is where People and Trust come together. We collaborate with you to understand your business objectives, values and culture to connect you with the right talent you can depend on.

Staff: 1200

DA: 10

Type: Private

Founded: 2021

MVP Asia Pacific is a leading offshore company among BPOs based in the Philippines. With over 500 remote staff located in central Clark, our team caters to almost every business need. We've proven to help our clients grow by providing top-of-the-line staff for a variety of areas, rich and long-lasting partnerships with your MVP employees and the primary benefit being, on average, MVP Asia Pacific can save your company 75% on overhead costs. MVP can scale your organisation quickly & cost-effectively with a dedicated remote staff member. Connect with us today to learn more about our offers!

Staff: 201-500

DA: 12

Type: Private

Founded: 2017

Firstsource Solutions Limited is a global leading provider of Business process outsourcing services. Firstsource achieves results by transforming the clients business exponentially and delivering excellent customer experience. The company has a staff of over 26,000 globally. Firstsource Solutions Limited offers its services in the following areas: • Banking and financial services • Retail • ECommerce • Healthcare • Publishing • Insurance • Mortgages • Telecommunication and media In order to improve the efficiency of the client's business, Firstsource offers a roadmap for robotic process automation. The company also uses these tools to further enhance the business of the client. • Analytics • Commercial Finance outsourcing • firstChat • firstCustomer Intelligence These tools are considered game changers as the clients that avail these tools are able to perform well in the highly competitive global market. The company is customer-centric and the staff of Firstsource are experts in the BPO industry and are trained to understand the needs of the customer and provide solutions that satisfy the short-term and long-term benefits of the customer. Firstsource retains its position as a global provider by following these values: • Agility • Collaboration • Excellence • Innovation • Integrity • People-centric Firstsource gives its clients the extra edge by improving customer experience, maximizing the revenue, transforming the business, optimizing the cost of operations and collections.

Staff: 28000

DA: 54

Type: public

Founded:

Started in 2013, Booth & Partners is an American-owned business that provides outsourcing services from all around the world with their own full-time, first-rate offshore team in the Philippines. B&P's smart tailored outsourcing and HR solutions deliver high-quality results with reduced operating costs for companies of all sizes across a wide range of industries. Booth & Partners help small and large businesses achieve their goals by improving productivity and corporate focus through sourcing top-notch talent who can keep pace with the performance of an in-house team for a significantly lower cost.

Staff: 500-1000

DA: 30

Type: Private

Founded: 2013

Xceed is a global provider of quality, multi-lingual Business Process Outsourcing (BPO) services. Since its inauguration in 2001, Xceed has been at the forefront of the country's BPO sector by offering innovative world class outsourcing services, as a competitive alternative, guaranteed to cut costs and improve quality. Xceed innovative solutions are based on evaluating clients existing business models and enhancing them to achieve the goals of realizing client satisfaction and long-term profitability. Reaching more than 25,000 employees. Xceed now is one of the leading multilingual Business Process Outsourcing (BPO) Service provider in the EMEA region with a capacity of more than 10,000 web enabled multi-channels workstations serving numerous industries across Europe, North America, Middle East & Africa. Xceed is currently present in three (3) countries, with seven (7) sites in Egypt, one (1) site in Morocco, in addition to a new site in Mauritius to comply with Xceed strategy and to complement its presence in Africa and to meet expectations for French Canadian and multinationals need of Bilingual customer base.

Staff: 10,000 - 12,000

DA: 24

Type: Private

Founded: 2001

Wing Assistant is a product-driven managed B2B marketplace matching entrepreneurs and business teams with top-notch remote talent to make delegating recurring work efficient, easy, and secure. Wing Assistant is a managed platform connecting executives with vetted remote talent, freeing up their time for strategic, high-level work. Their assistants take over necessary yet tedious tasks in e-commerce, marketing, sales, real estate, and more. This eliminates a number of employer pain points like paying overhead and hiring for vacancies. You can even automate entire business workflows, without any coding, and with real humans to do the work!

Staff: 1000

DA: 28

Type: Private

Founded: 23/01/2018

CONNECT is a leading CX outsourcing provider nearshore for fast-growing companies. We are seasoned operators from some of the largest BPOs globally with offices distributed across Florida, New York, Honduras, and Mexico. We have a diverse team made up of BPO veterans with experience of working with companies as large as Amazon, Virgin Group, and T-Mobile to small to medium size fast-growing companies. Our founders come from the BPO world, venture capital, and consumer companies. We're based in Altia Smart City in Honduras, which is rated the worlds best infrastructure for BPOs (see the video link below!). Feel free to reach out and let's collaborate to build an extension of your company.

Staff: 500 - 1,000

DA: 10

Type:

Founded: 2021

We help you build your full-time, dedicated team in the Philippines, taking care of everything on the ground, while you retain full control of your team, including KPIs, quality, workflow and productivity. So not only do you enjoy significant cost savings (up to 70%), but you still get employees who work just for you, in your business, working towards your business-specific goals.

Staff: 250

DA: 3

Type: private

Founded: 7/14/2018

Virtual Worker Now is the world's fastest growing Outsourcing organization. With 10 different categories of specialization, we are a one-stop shop for any remote work needs. Virtual Assistants, Customer Service, Sales, Social Media, Video, Writing, Design, and more. We make 3 promises about our employees, who are primarily based in Egypt. 1) They are highly educated and have impeccable English. 2) They communicate effectively and reliably. 3) They understand the bottom line, no matter their role. Each Specialist of ours receives weeks of training dedicated to positive work culture and an understanding of core business principles. You won't just be adding an employee, you'll be adding a trusted collaborator and world-class contributor.

Staff:

DA: 10

Type: Private

Founded: 6/19/2019

Formed in 2005, Six Eleven Global Teleservices is a pioneer in the BPO industry, proudly considered as one of the first Filipino-owned solution-oriented contact center designed to provide quality services in sales, marketing, and customer support.  With over 3000 competent employees, all strategically placed within the well-developed techno hubs in the Southern Philippines, Davao City, and General Santos City, we are a BPO company built ready to handle dynamic clients around the globe. Six Eleven delivers excellent inbound and outbound services and takes pride in the ability to achieve focused scalability, house an elite team of specialists attaining expert management on all scales, and flexible staff to provide tailor-fit operations for your business, without hurting your budget while maximizing efficiency. We make sure your vision is done right. Six Eleven provides quality service the first time, every time.

Staff: 3500

DA: 5

Type: public

Founded: 2006

From Switzerland to the Philippines. Arcanys is a Swiss software development outsourcing firm in the Philippines. Founded in Cebu City in 2010 by a team of serial entrepreneurs, and benefiting from the extraordinary skills of Filipino tech professionals, our company focuses on bringing businesses closer to users. Arcanys helps technology teams to start, experiment, evolve and scale by hiring and training the best software developers in the Philippines. Arcanys specializes in developing high-quality software for startups and established businesses, with a keen focus on innovation. Evolving into a startup incubator and established-business accelerator. We have a passion for enabling business creation for people with fresh ideas. Over the years, Arcanys has grown from a classic software outsourcing company into an engine for launching new ventures and business ideas, propelling many startups off the ground, and accelerating SMEs with their development needs. Through our investment initiative Arcanys Labs, we help startups be on the market as fast as possible and grab a strong competitive advantage, attracting bigger investments and generating revenue earlier. Technology: a longstanding entrepreneurial love affair. Born and raised in Switzerland, both Alan and Fred fell in love with technology long before the Internet became mainstream and have spent their entire career in mostly e-commerce and software projects. Leaving the comfort of Switzerland for Spain in 2001, Alan co-founded and ran an online video game startup, which later expanded to Hong Kong in 2003. It grew to have 350 customer service and software development staff, one million customers in a year, $90 million in revenue, and which received over $80 million of VC investments. In 2009, Fred joined Alan on his second venture in Hong Kong after having spent many years working in merger, acquisition and reorganization projects for top financial organization in Switzerland. Before then, he also monitored outsourcing suppliers as a corporate buyer and became the youngest IT board member of a listed company at age 25. Alan and Fred moved their second venture to the Philippines. And in 2010, the perfect marriage of entrepreneurial experience and passion for tech led to the creation of Arcanys.

Staff: 201-500

DA: 29

Type: Private

Founded: 2010

Staffwiz Global Outsourcing is a team of experts who work in a consultative and collaborative partnership with organizations globally offering customized BPO-Staffing solutions to meet each client's specific needs, regardless of how big or how small the business size of the client is. Our experts work as strategic partners with organizations globally to design customized service delivery models that increase labor and processing efficiency, increase employee engagement, stabilize work results, alleviate risks, while keeping the cost low. StaffWiz is ready with a team of experts and solutions allowing the client to focus on achieving the company business goals. Our mission is to help you grow your business with reliable, flexible offshoring solutions in the Philippines. We value integrity, clarity, professionalism, social responsibility, and family. Our workers carry these values with them in every job they do. The "work from home" model has proven very successful lately, and as a result, outsourcing has been introduced to many companies as a viable option. Outsourcing has been in practice for years, yet many companies glossed over it until recently. Companies have found out that outsourcing can cut costs and add flexibility to their workers. If you want quality recruitment as we do then join our offshore team in the Philippines. Our Offshore workers are the heartbeat of our business and will always be motivated and passionate about our process to hire overseas employees. Our unique way of hiring remote employees in the Philippines has been our constant process to our staffing success. Hire An Offshore Staffing Company Today!

Staff: 201-500

DA: 10

Type: Private

Founded: 11/9/2020

Enshored is an outsourcing firm that provides next-level solutions for scaling disruptive companies, assuring to deliver high-quality results in the rapidly changing market. Some of their services include customer service, sales and marketing, content moderation, and back-office support. Currently, they cater to businesses ranging from e-commerce and startups to large technology enterprises.  The company has won several awards including the Top B2B Company for 2019 (Clutch) and one of Inc's 5000 Fastest-Growing Private Companies. Enshored office Enshored has two offices in the Philippines. One is at JMT Building along ADB Avenue and another along F. Ortigas Jr. Road (also known as Emerald Avenue), both in Ortigas Center. JMT Building is a class B 23-storey building right in front of The Podium mall and beside Anson's. Raffles Corporate Center, meanwhile,  is a 35-storey building that sits beside Strata 2000 and is near Ortigas Park, an open area in the Center. Enshored address Long Beach, California 3350 East 7th Street, Suite 432 Long Beach, California 90804 Manila, Philippines 16th Floor, JMT Building, ADB Avenue, Ortigas Center, Pasig City 1605, Metro Manila 27th Floor, Raffles Corporate Center, F. Ortigas Jr. Road, Ortigas Center, Pasig City 1605, Metro Manila

Staff: 2500

DA: 32

Type: Private

Founded: 2014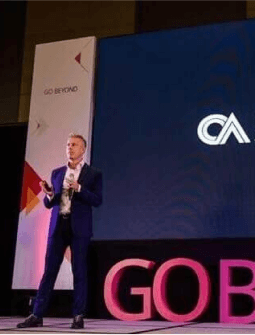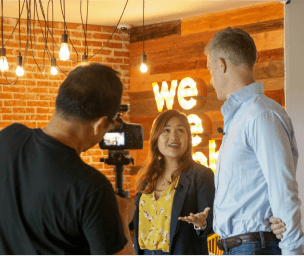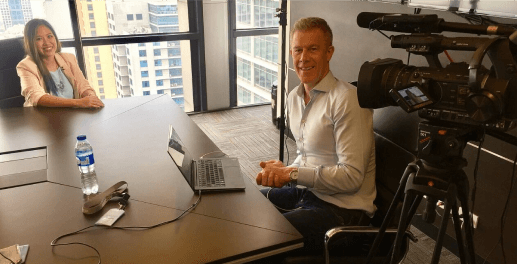 About OA
Outsource Accelerator is the trusted source of independent information, advisory and expert implementation of Business Process Outsourcing (BPO).
The #1 outsourcing authority
Outsource Accelerator offers the world's leading aggregator marketplace for outsourcing. It specifically provides the conduit between world-leading outsourcing suppliers and the businesses – clients – across the globe.
The Outsource Accelerator website has over 5,000 articles, 350+ podcast episodes, and a comprehensive directory with 3,000+ BPO companies… all designed to make it easier for clients to learn about – and engage with – outsourcing.
About Derek Gallimore
Derek Gallimore has been in business for 20 years, outsourcing for over eight years, and has been living in Manila (the heart of global outsourcing) since 2014. Derek is the founder and CEO of Outsource Accelerator, and is regarded as a leading expert on all things outsourcing.