Outsourcing Digital Marketing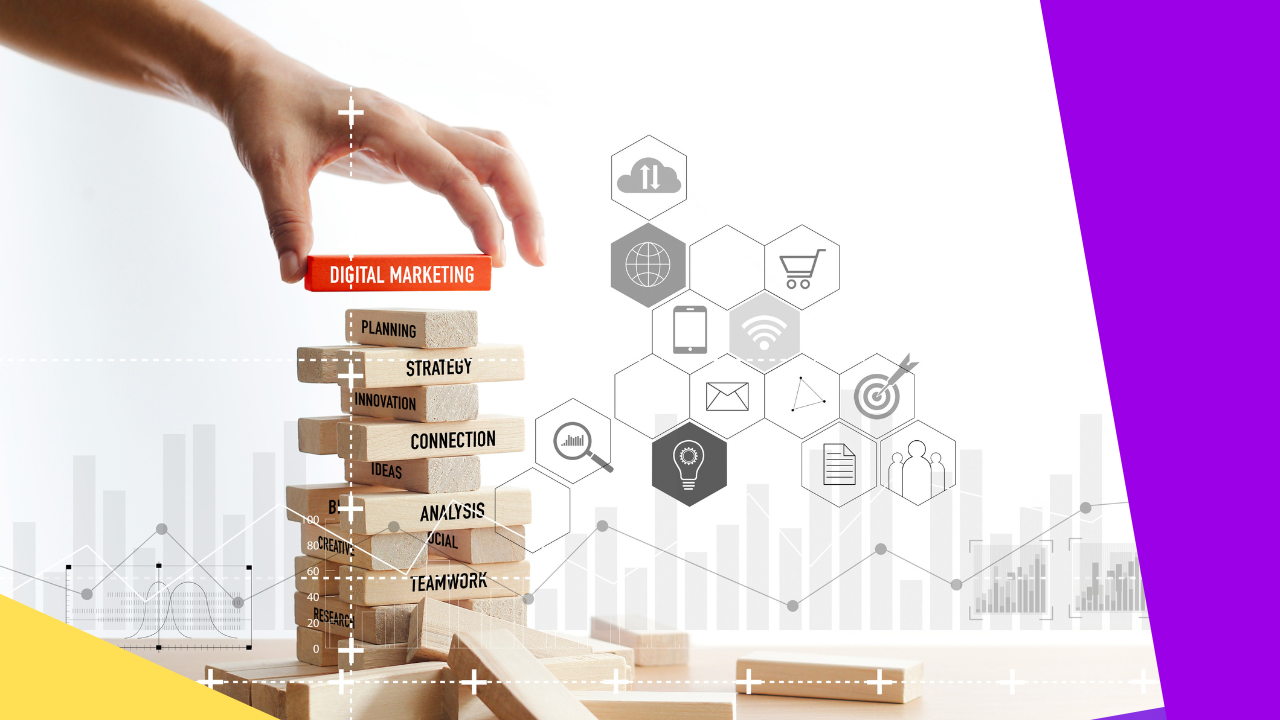 Digital marketing enables a business to be discovered. Customers trust an establishment more if they have a distinct digital identity. However, building a reputation online can be difficult. To be successful in marketing a business, one should be knowledgeable in copywriting, SEO, social media management, web design, and content writing. However, these tasks cannot be done by a single person. This is why most companies hire digital marketing agencies or build their own team instead.
Digital marketing for small businesses
Startups and solopreneurs tend to handle digital marketing on their own. Unfortunately, these can pile up with other tasks they need to be done. They tend to leave their content outdated, lessen customer interactions, and leave inquiries and complaints unresolved. As a result, they experience slow to zero business growth and a decrease in sales.
A digital marketing team can be a solution to this dilemma. However, hiring them in-house is not an easy option. Small businesses have limited cash flow that restricts them to hire new employees. Good thing is, they have another way of hiring their digital marketing teams without breaking the bank: business process outsourcing.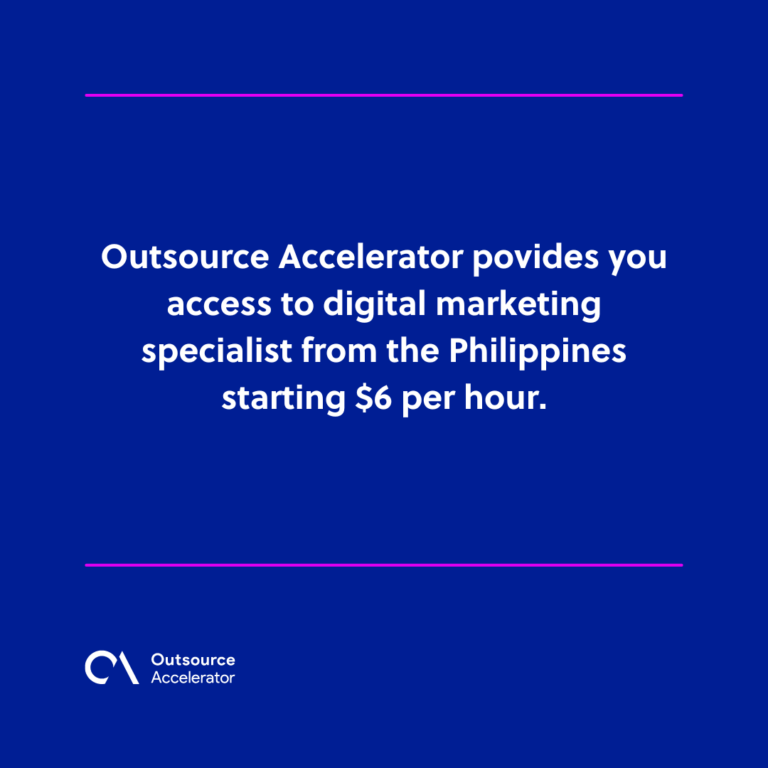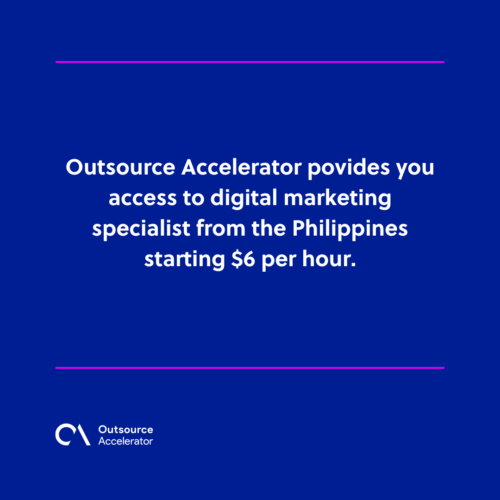 Pros and cons of outsourcing digital marketing
Outsourcing digital marketing services has its advantages and disadvantages. However, every disadvantage can be worked out to ensure the successful operation of outsourced digital marketing teams.
| | |
| --- | --- |
| Pros | Cons |
| Services handled by experts | Exposed sensitive data |
| Having a different insight on business | Lack of control in creatives |
| More understanding of the competition | Longer lockdown in a marketing campaign |
| Access on industry trends | Lack of focus on customers |
| More focus on the core activities | Potential Hidden charges |
Digital marketing services
Marketing agencies and BPO companies offer different services for their clients. They can be tasked with the creatives, campaigns, site moderation, and content creation depending on what their client needs. Digital marketers are the ones who monitor the overall marketing duties of a business.
These include gathering reports of customer behavior, website traffic, and user engagement on a specific period. They also monitor the latest trends in the industry and how it can help in improving its services. Most importantly, they monitor the effectivity of running campaigns and advertisements.
SEO specialists.

Primarily researching relevant keywords focus and handling on-page and off-page SEO. They also study how different competitors perform and how to outrank them. 

Social media experts.

They create, post, and monitor content for these sites to know if it successfully reaches its target demographic. They also interact with users daily through their comments and inquiries. 

Content writers.

Writers have different expertise to offer for a website. They can either form a tag team with SEO experts or they do these tasks themselves. 

However, not all writers have single specializations.
Digital marketing companies
Businesses can hire digital marketing teams in three ways: through marketing agencies, freelance platforms, and BPO companies. 
Digital marketing agencies 
Marketing agencies have different specializations. Some deal with campaigns, advertisements, and content creation. Others with marketing strategies and behavior. There are also generalist marketing agencies that can be well-rounded in marketing strategies. 
Clutch.co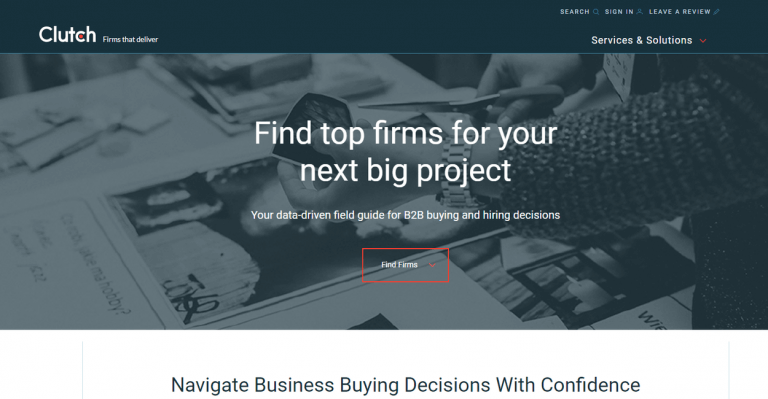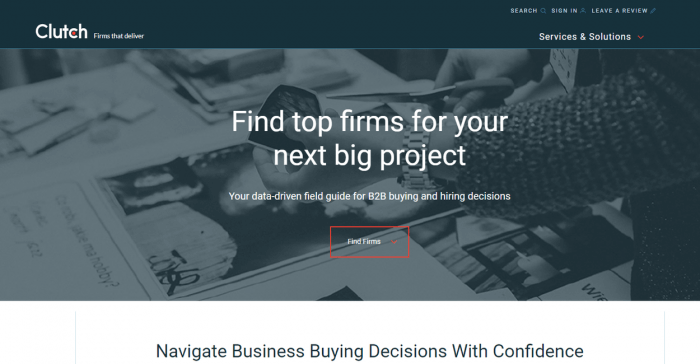 Clutch.co is an independent B2B research site that lists different companies and gathers reviews from its clients. It has a directory of top digital marketing agencies in terms of their offerings, budget-friendly deals, and the quality of service they offer.
Upwork Agency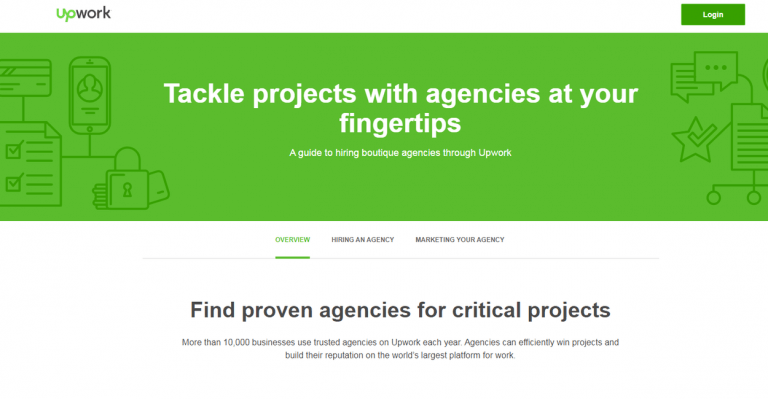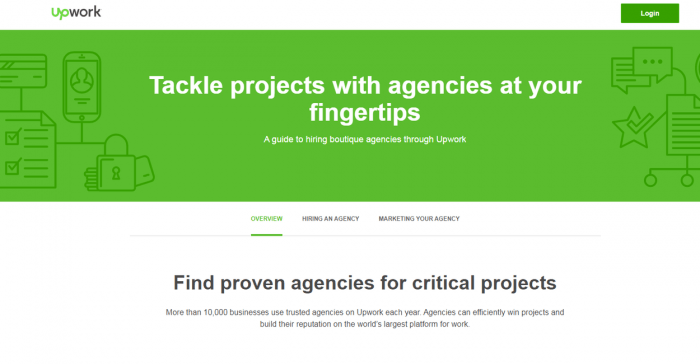 Upwork not only caters to freelance services available. They also offer agency services perfect for larger projects of a company. Agencies on these platforms usually charge on an hourly basis for a minimum of $5 for digital marketing and consultancy services through the platform. 
Digital Agency Network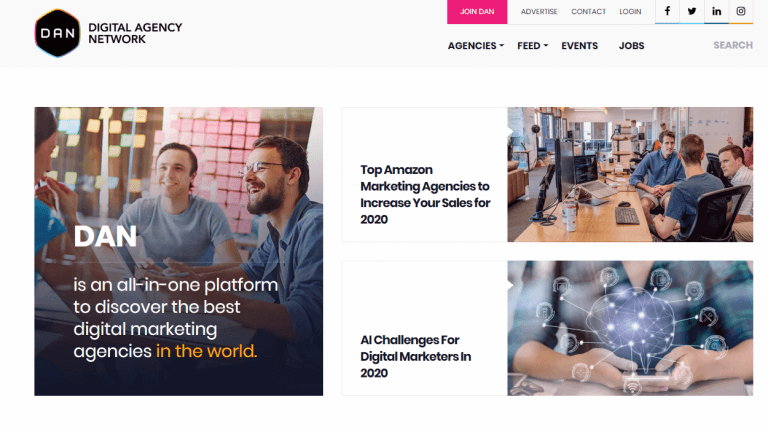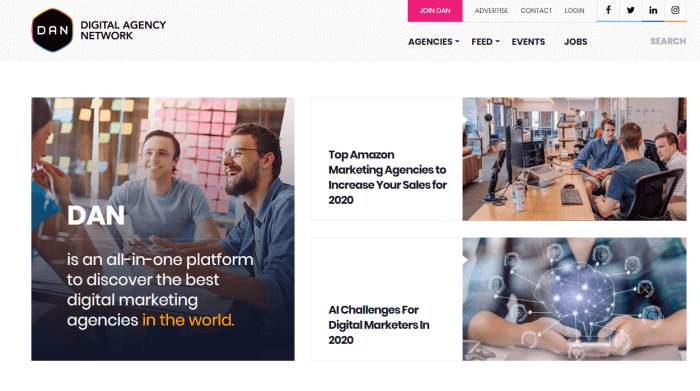 Digital Agency Network is an all-in-one network platform of digital marketing agencies. They have more than 500 independent agencies in different countries that offer a wide range of marketing services. Businesses can narrow down their search according to their preferred city or country where the agency is located.
Agency Spotter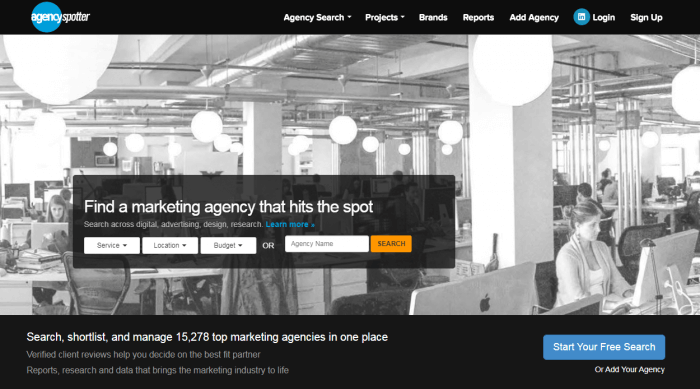 Agency Spotter is a platform used to research marketing service providers. It lists over 15,000 marketing agencies on their site. They also offer expert agency solutions to help their clients look for the service provider that is suitable for their requirements
Freelance platforms
Through freelance platforms, businesses can hire their employees directly and communicate with them through different messaging services. A virtual assistant with a digital marketing background is the best suited to hire through this method.
Upwork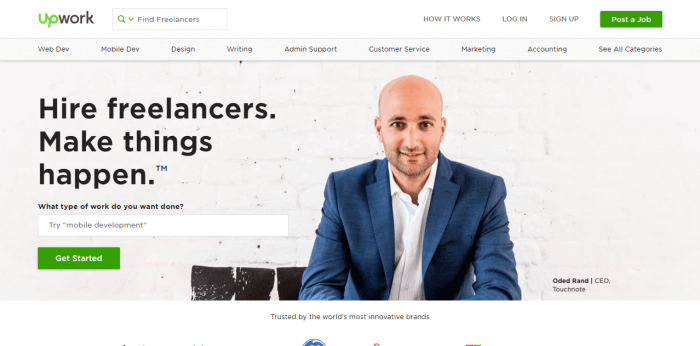 Upwork operates like other freelance platforms in the market. Employers post jobs online, then they will hire their freelancers directly through the platform. It is designed so that work collaboration, performance monitoring, and payment processing will be done directly through the platform to ensure security.
Fiverr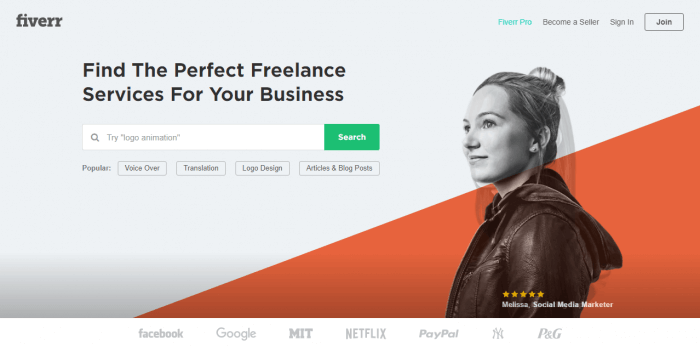 Hiring freelancers through buying their services makes Fiverr different from other platforms. Employers can contact the freelancer upon purchase of their service, which starts from $5 up to $30.
Freelancer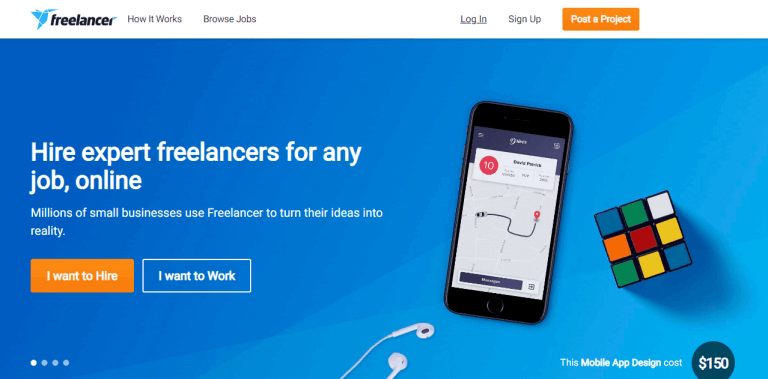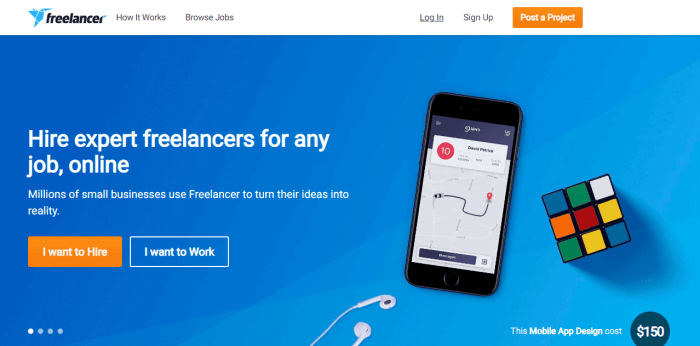 The oldest platform for freelance work, Freelancer works the same as UpWork. Employers can post jobs or search for freelance profiles available. They will then contact and hire the freelancer, monitor their work, and process their payments through the platform.
FreeeUp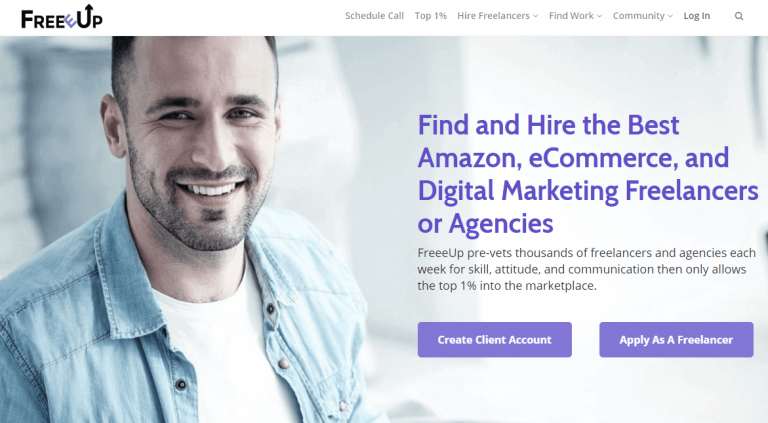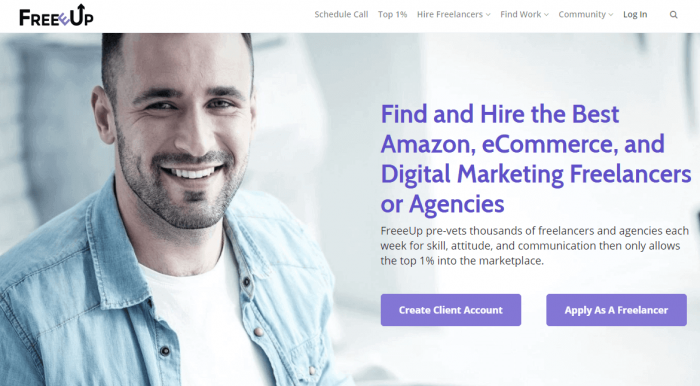 FreeeUp doesn't let their clients alone browse the website for freelancers. Instead, they will fill up a request form for their preferred freelancer. Then, the platform will match them to a qualified applicant who they can work with for a long term contract.
Outsourcing companies
The Philippines is one of the most popular outsourcing destinations in the world. Its westernized culture, strong English proficiency, and cheap labor costs are among the few reasons most countries in the West choose to outsource here. 
Outsource Accelerator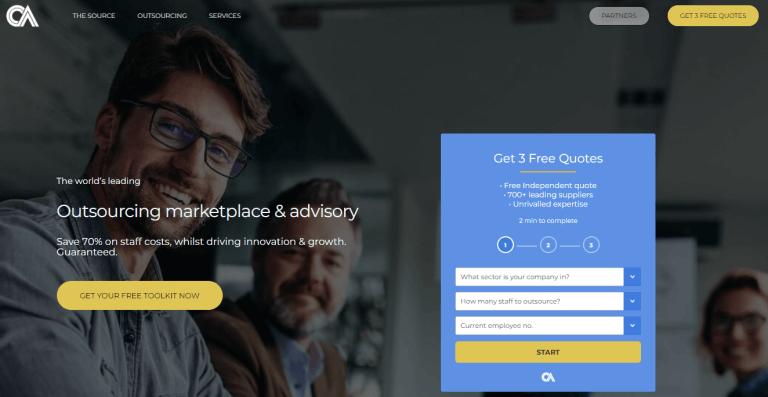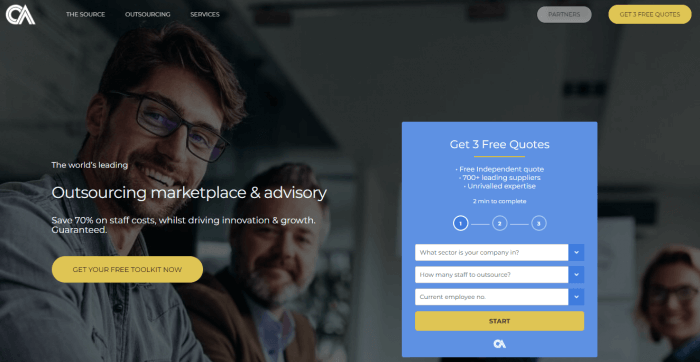 Outsource Accelerator is the leading global marketplace for the BPO industry. We list over 700 companies in our directory and offer solutions from brokerage, implementation, to co-managed services, designed to build your outsourced digital marketing team in the Philippines. 
BPO companies in the Philippines cater to different sectors and offer the best digital marketing services. To learn more about this, check out the list of Top 40 outsourcing companies in the country.