Business Process Outsourcing (BPO)
Definition
What is Business Process Outsourcing BPO?
Business Process Outsourcing (BPO) is the engagement of services from a third-party provider. BPO uses various technology-enabled services to hasten the delivery of services. The business activities could be back-office such as, but not limited to, payroll, accounting, human resources, or front office jobs like customer service, sales, and marketing, etc. In the case of content providers, these business activities could mean hiring writers, remote editors, or virtual assistants.
BPO speeds up processes and enhances efficiency. Companies that outsource some of their business activities use their time on core services and competencies. With this shift in focus, companies improve their current processes that may result in improved customer satisfaction. BPO helps companies divert their resources to more critical business strategies. Often, companies find it impractical to hire a full-time position in-house because of the cost associated with doing so.
How does Business Process Outsourcing work?
When a business engages an external specialist to manage and operate some of its internal processes, it's referred to as business process outsourcing. Such 'processes' include customer service, accounting and finance, or sales. It is different from hiring an agency to do specific tasks, as the outsourcing provider (BPO) is more concerned with the ongoing production of labour-intensive tasks, instead of the higher-level strategy and guidance.
Now, business process outsourcing has broadened and is more akin to staff augmentation, or staff leasing.
What are the benefits of business process outsourcing?
There are many benefits to outsourcing, as well as some downsides and risks. The common benefits include:
Cost savings: significant savings of up to 70%, leveraging the lower global salaries
Global market: access to a bigger employment pool of talent
Global presence: having operational across the globe increases trade opportunities
Flexible workforce: reduces internal local labour and employment compliance obligations
Leverage skill: leveraging the skills of other specialist companies
Focus: enables the client company to focus on their core functions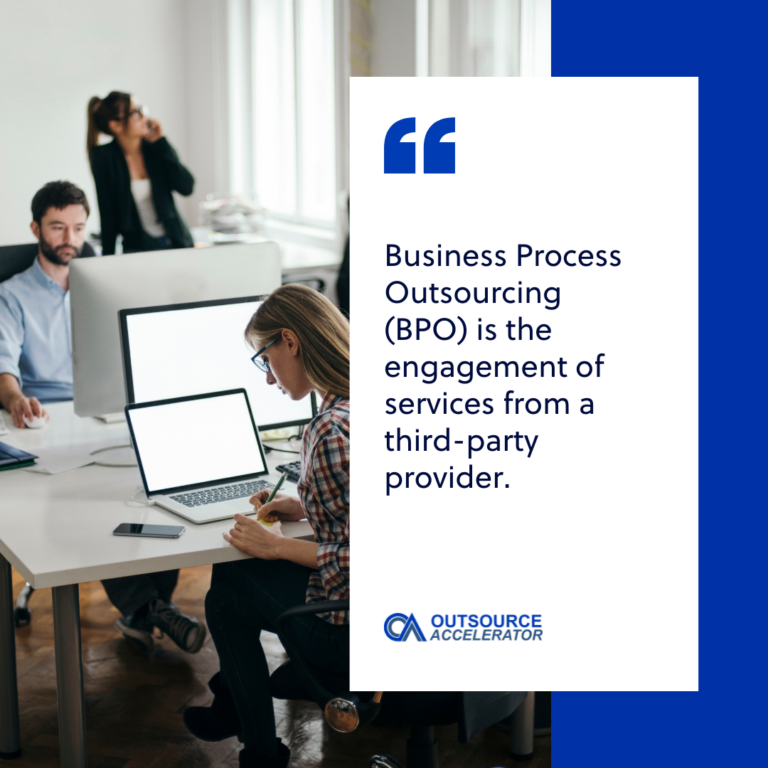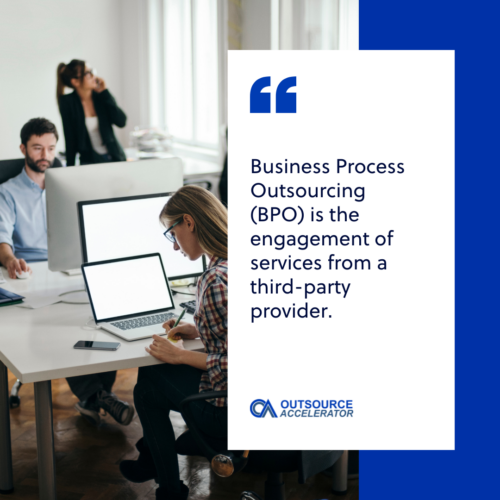 Business process outsourcing examples
The business process outsourcing sector is a vast industry, generating over $200bn annually, and employing many millions of people worldwide. Some examples include:
Big enterprise
Facebook and Uber outsource many of their operational functions, including content moderation for Facebook, and customer service for Uber
Medium-size businesses
A medium business with 50-500 staff might outsource the labour-intensive accounting and finance functions to a team in the Philippines.
Small business and entrepreneur
It is common for small business owners to have a Virtual Assistant (VA) working for hem full time, remotely from the Philippines.
What are the different types of BPO?
The type of business process outsourcing can be characterised by their specialisation, location, and size.
Generalist or specialist BPOs
Business process outsourcing is in the human resources and professional services sector. However, their services extend across all industries. The majority of BPOs are generalist, in that they offer a full range of professional services, although some specialise in certain verticals (ie accounting, or animation).
Location
Business process outsourcing typically operates form developing nations such as the Philippines, India, and Colombia. They typically have cheaper cost-of-living and bigger populations. Different locations offer different advantages.
Size of BPO
The bigger BPOs employ more than 250,000 people. They are huge, global operations. Medium-sized BPOs range from 500-5,000 staff and offer a full range of services. The smaller BPOs might have 1-500 people.
Functions of business process outsourcing
Collectively, business process outsourcing provides any kind of staffing solution. Common functions of BPO include:
Finance and accounting: operational, technical and specialist functions
Healthcare: various functions of the backend of the healthcare and health-insurance industries
Creative and content: everything from post-production of Hollywood movies to newspaper and website content
Tech, IT and development: network management, web and app development and maintenance
Sales & customer support: ongoing sales and customer operational support and delivery
Marketing: ongoing marketing, communication and branding activities
Talent and HR: externalising the management of company HR, recruitment and compliance
Administration: general business administration and operational activities
Top BPO companies in the world's top outsourcing hubs
A wide range of BPO companies in different parts of the world provide utmost services to their Western and local clients. Many of them have even earned awards and recognitions by award-giving bodies due to their performance on both the roles they take and on their way of taking care of the employees.
Check out the top BPO companies in several outsourcing destinations below:
Business Process Outsourcing (BPO) services
Outsource Accelerator is the most trusted source for independent information & advisory for Business Process Outsourcing (BPO). We have over 4,000 articles, 200+ podcast episodes, and a comprehensive directory with 700+ BPOs… all designed to make it easier for clients to learn about, and engage with, business process outsourcing.