Inside Outsourcing The Book: An overview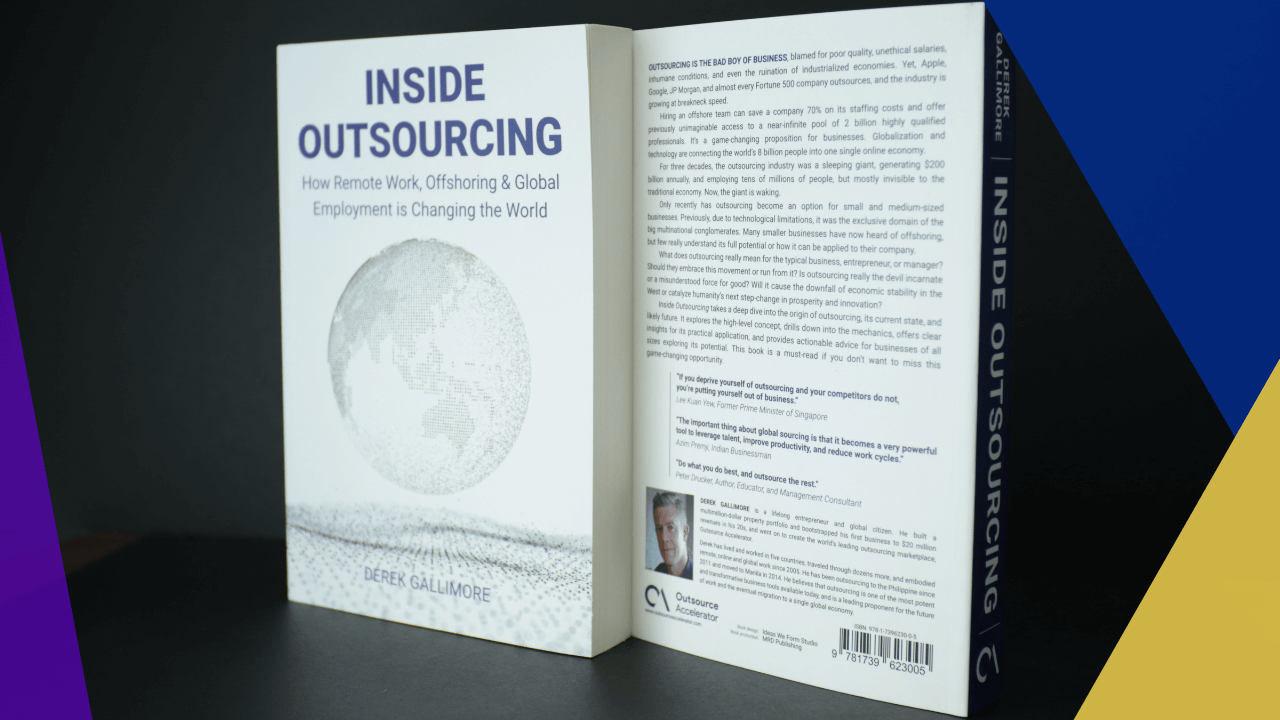 While many businesses are aware of the concept of outsourcing, not all have a full grasp of what it can bring to their tables. 
And yes, outsourcing has undoubtedly been beneficial to companies of all sizes and across industries. It has, however, been regarded as the bad boy of the business sector as it had been riddled with controversies over the years. Even more when it comes to the offshoring practice. 
But having said those, how exactly has outsourcing gone from being considered unethical to providing global empowerment? How are remote work, outsourcing, and global employment revolutionizing today's businesses? 
These are the keynotes that Derek Gallimore, CEO of the leading outsourcing authority in the Philippines, Outsource Accelerator, has touched upon in his book – Inside Outsourcing. 
Check out the Inside Outsourcing book trailer here:
About Inside Outsourcing, the book
The Inside Outsourcing book gives you a closer look into the infinite potential of outsourcing, especially when tapping into the global workforce. As more and more people all over the world gain access to the internet, it paved the way for a new way of employing workers to support businesses' growth. 
A new working era is on the horizon as offshore staffing, online gig workers, virtual assistants, and freelancers have been increasingly on-demand. Businesses were able to adapt to the new normal brought about by the COVID pandemic as they turned to a distributed workforce for survival. 
The global outsourcing market is indeed among the leading and vastly growing sectors in this present time. 
In the Inside Outsourcing book, Derek Gallimore also shared well-rounded and insightful information on how businesses can leverage outsourcing to its full potential, thus, how SMEs or even multinational corporations can save up to 70% on their overhead costs through offshoring. 
The Inside Outsourcing book also tackles how globalized employment will be a catalyst for the future of the global economy. This is mainly because industries continue to embrace outsourcing and remote work now and in the foreseeable future.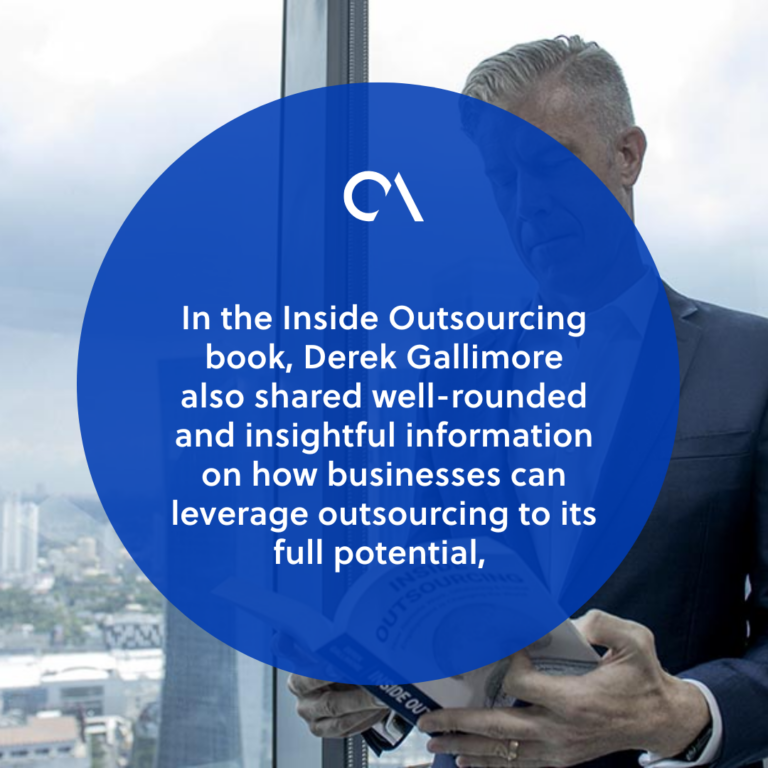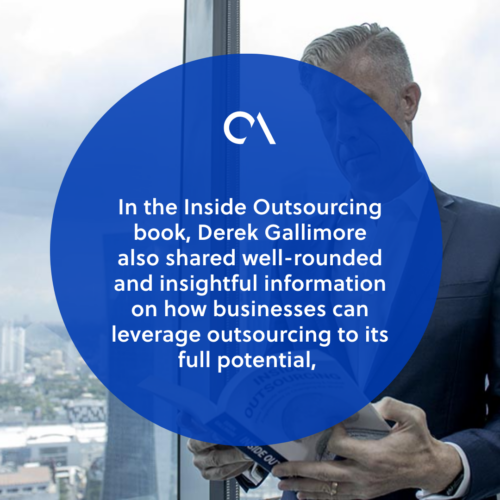 A quick review of the Inside Outsourcing book
The Inside Outsourcing book is broken down into four parts: 
Inside Outsourcing book: Part 1 
Business – Past, Present, and Future. In the first part, Derek delves into how business practices developed over decades. More so, globalization of services is and will continuously evolve and shape business landscapes from the present and the time ahead. 
Inside Outsourcing book: Part 2
About outsourcing. Part two of the Inside Outsourcing book gives you a brief discussion of the outsourcing practice. Debunking the outsourcing myth about how it is not just solely for big companies, but also for small to medium scale companies. 
Part two also explains the manner in which outsourcing firms provide their services to their clients. As well as, how much you should expect to pay when outsourcing various roles. 
Inside Outsourcing book: Part 3
Evaluating outsourcing. In part three, Derek explores the upsides and downsides of outsourcing in general. Particularly how criticisms about outsourcing were properly addressed over time. 
Inside Outsourcing book: Part 4
Outsourcing in practice. In the last part of the Inside Outsourcing book, Derek delivers his expert advice on achieving successful outsourcing. Choosing the right outsourcing provider that suits your business. Including tips to effectively manage your offshore team, specifically the Filipino workforce. 
Inside Outsourcing Book: About the author 
Derek Gallimore is the founder of Outsource Accelerator – the world's leading outsourcing marketplace. He is certain that outsourcing is among the most powerful business tools today that is driving the future of every business workforce. 
Derek has been residing in Manila since 2014, he has also worked and lived in five countries, and jetted around the world. Concurrently, he has also incorporated remote and online work since 2005. 
Besides being the CEO of Outsource Accelerator, and author of the Inside Outsourcing book, Derek Gallimore established his lifelong achievements at a young age. During his 20s, he was able to put together a multi-million dollar property portfolio and booted up his first-ever business to $20 million in revenues. 
Derek has also discussed the book on the Outsource Accelerator Podcast. Listen to the full episode here.
Grab your own copy of Inside Outsourcing today!
Inside Outsourcing is available from wherever you buy your books.  Available in Kindle, eBook, paperback, and Audible.
Inside Outsourcing book launch a success!
The much-anticipated Inside Outsourcing book launch was a huge success!
The event was held on 8 June (GMT+8) at the Outsource Accelerator (OA) head office in the Penthouse of One Corporate Center in Central Manila, Philippines.
The country's leading outsourcing executives as well as members of the government, and media for this esteemed event. Some of the attendees include former DICT Undersecretary Mon Ibrahim and Business Mentor Mike O'Hagan, as well as press officials from the Philippine Economic Zone Authority (PEZA) and The Manila Times.
Inside Outsourcing book author and OA Founder Derek Gallimore discussed the many advantages of remote work and global employment, noting that global employment "will dominate the world."
Check out the video highlights here: