10 Ways to get the best out of your Filipino workforce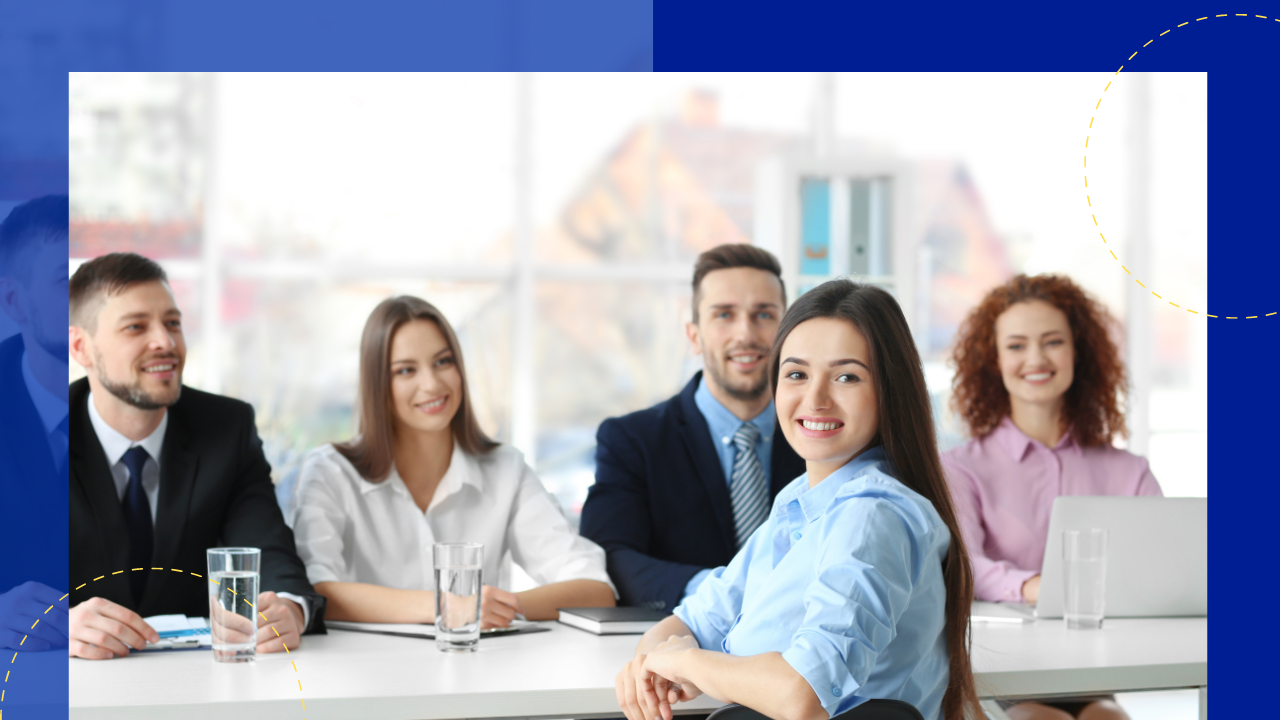 Being a top offshoring destination, the Philippines is home to quality employees and services. It is also home to many well-established BPO firms like StaffWiz.
Outsourcing non-core processes to the country allows businesses to stay within their budget while having a hardworking, efficient, and English-fluent workforce.
Despite the cultural similarities and adaptability in the workplace, you still need help interacting with your Filipino workforce regarding workplace ethics and adjustments to your business practices.
This, in turn, prevents you from communicating correctly with your Filipino team and making the most of their skills and talents and, of course, your investments.
Luckily, there are still ways you can employ to get the best out of your Filipino workforce.
What you should know about the Filipino workforce
Many businesses are keen to collaborate with a Filipino workforce due to their loyal and hardworking nature. Aside from their skillsets and English proficiency, companies hire them since they can get work done efficiently and quickly.
There are other things you should know about the Filipino workforce, including the following.
Filipino workers foster a strong sense of family 
One of the most known and enduring Filipino traits is their strong sense of family.
In the Philippines, the family unit is not just a support network in times of need or simply a group of relatives to meet up with during reunions. It is something that members need to cultivate, protect, and actively engage with.
This strong familial bond does not constrain itself to just blood relatives. It extends to all individuals that a Filipino worker may come into contact with daily.
For instance, friends and coworkers are often invited to family gatherings and significant life events. It's also common for Filipinos to bring food from these family events to the office and share it with their coworkers.
Filipinos value upskilling
A Filipino worker's primary motivation for working is providing for their family unit. As such, you can expect them to do their job without fail or complaint, as working and earning a stable salary is in their best interests.
However, it shouldn't stop there.
For them to reach their full potential, they need to do more than just passable work. They must be motivated to improve their skills and talents, invest in their career, and expand their horizons.
Filipino employees still recognize workplace hierarchy
A part of Filipino culture in the workplace involves recognizing hierarchy.
Filipino teams recognize their peers' positions, expertise, and experience in the workplace. They know how to interact with each of their peers accordingly.
However, this can limit their ability to speak up their minds and contribute to a certain project or activity. This is because they can be shy or afraid they might step over their boundaries with their higher-ups.
How to get the best out of your Filipino workforce
Here are some of the steps you can take to help you get past the challenges in building a healthy company culture and fostering a conducive environment for your Filipino employees:
A.

Build a sense of family in

the workplace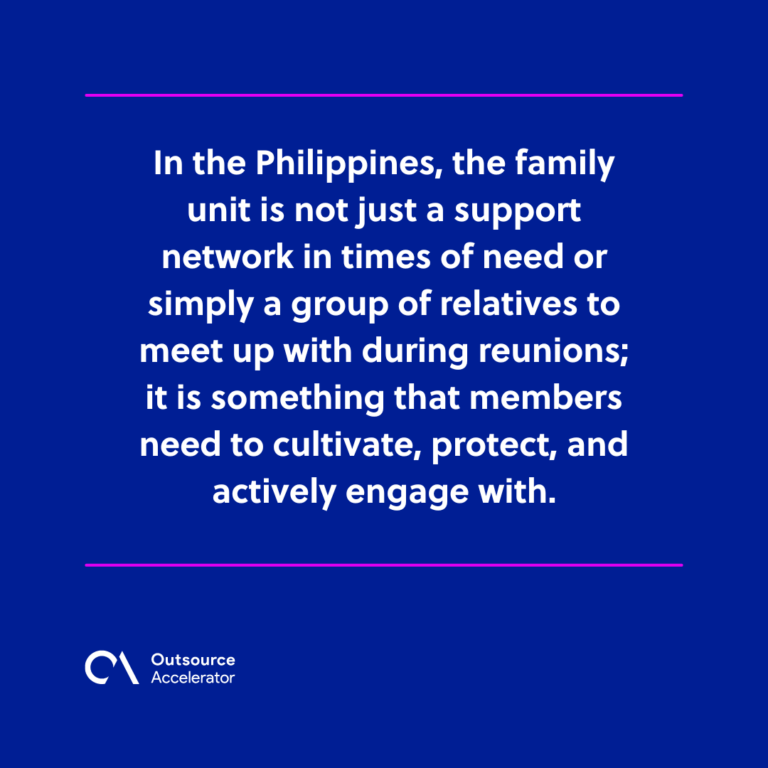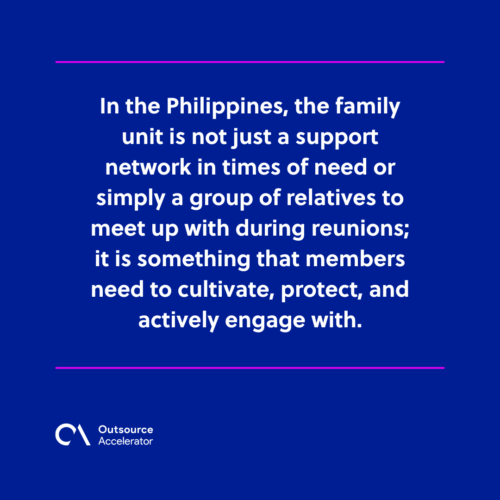 As an employer, it's best to take advantage of this sense of family by fostering the same atmosphere in your dealings with Filipino colleagues.
You don't have to overextend in this regard. It can be as simple as asking them about their families before interviews or meetings or taking a genuine interest in how their children or siblings are doing.
You can also share some things about your family life as an opener if things are initially cold or awkward.
Here are some suggestions to consider if you want to take things further.
1. Be sensitive to the challenges

they face
Sometimes, an employee may be absent or late, which could affect deadlines or requirements.
While it's not suggested that you become lax in this regard, it's a good practice to remember that employees are beset with many obstacles on their way to work, such as the daily traffic, inclement weather, and poor home conditions.
By being sympathetic to their plight rather than being critical, you not only foster a sense of camaraderie between you and your employees, but you also ensure that they will be working twice as hard to pick up the slack.
2. Arrange

team-building activities
Filipinos are warm and social, and group activities are the norm, even in the workplace.
Organizing team-building activities allows them to foster a deeper bond between you and your workforce. This enables you to clearly communicate your business expectations and directions clearly while inspiring them to work much more efficiently.
At least once a month, fly to the country to visit and meet them personally. Hold an informal meeting about work over food or drinks, or join them in their holiday celebrations.
Even just holding a monthly video conference call can do wonders – just make sure that you're actually visible in the call so that your workforce can connect your face to your voice.
3. Encourage inclusion
One downside of your Filipino workforce's social nature includes the creation of cliques or smaller circles.
While it might not seem harmful at first, having exclusive cliques in your workplace can lead to alienation or isolation from other team members, often turning into a negative environment for everyone.
Encourage inclusion in your team by organizing activities to get them to interact with other peers. You can also schedule one-on-one catchups and team huddles to stimulate their interaction.
Promoting workplace collaboration is a good way to boost your employee morale and encourage inclusion in a Filipino workplace.
B.

Boost Filipino employee engagement and career growth
As their employer, you should foster a better sense of employee engagement as well as boost their career growth opportunities. Here are some of the ways you can do just that.
4. Offer job stability and security
Make your workforce feel they can look forward to a long and fruitful professional relationship with you.
One way of doing so is by providing additional perks on top of their salaries, such as healthcare benefits or performance-based bonuses. They will fully appreciate additional raises and incentives on their pay to further motivate them at their work.
At the same time, present a future timeline where your company and the outsourced workforce are working hand in hand in the foreseeable future. You can give them big projects to handle as a sample of your long-term partnership.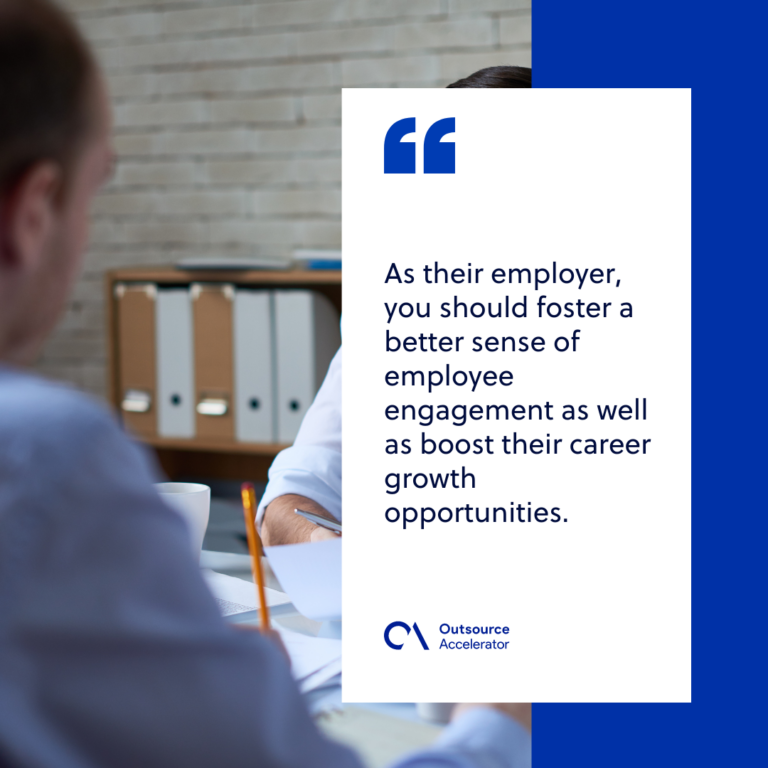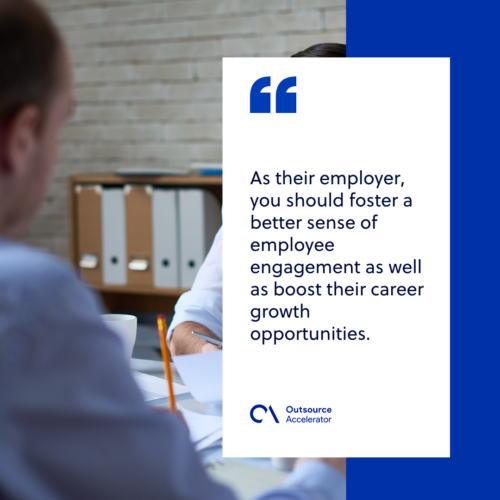 5. Provide personal guidance and coaching
There's a good chance that one or two outsourced employees may lag in performance or work output. Don't be too quick to discipline or criticize them in front of their colleagues, but rather take a personal hand in training or coaching them to do better.
Doing so will help you get your points across easier and motivate them to perform better. Always ensure you're available to answer any questions they may have. You'll be able to avoid misunderstandings and miscommunications in this way.
6. Remove their fixed limiting beliefs
Filipinos greatly respect office hierarchy and seniority, devoting all their thoughts and energy to their own jobs and work roles.
While you can expect them to deliver honest feedback when asked, they rarely give ideas or suggestions to coworkers in other teams or departments.
This makes it difficult for you to realize when a suggestion could dramatically improve a work process or make things easier.
Make it clear to your workforce that you are always willing to hear their suggestions, feedback, or ideas, regardless of their position or team. Your managers and team leaders should also be instructed to be more open to receiving such communication as well.
C.

Create a work-friendly office environment
It is only logical for your team to treat their office as a second home. This can bring both advantages and disadvantages for you as an employer.
Employees may get comfortable with their office to the point that they don't mind spending long hours working inside it, but at the same time, the lax attitude in the workplace can have a detrimental effect on deadlines and schedules.
Solve this by taking the necessary steps to foster a more work-oriented office that still has room for some rest and relaxation.
7. Enforce strict rules about punctuality
Clearly define when employees should report to work and what counts as "being late" or "absent." Filipinos are punctual when it comes to work, but they are known to be tardy when it comes to informal meetups.
By being strict regarding schedules, you are letting them arrange their day more accurately. This will make them more efficient with their time.
8. Ensure that business procedures, standards, and structures are clear
As much as possible, make everything about your company, particularly the tasks assigned to the outsourced staff, as clear as possible.
You don't need to be completely transparent if you don't want to, but make sure that everything they need to understand is laid out completely and in full detail.
If they have a point of contact from your in-house workforce, then make sure they know POC's name, contact details, and times they'll be available. If you want them to report to work in business casual, clearly say it.
Formalize everything into manuals and paperwork for easy reference. Avoid vagueness at all costs.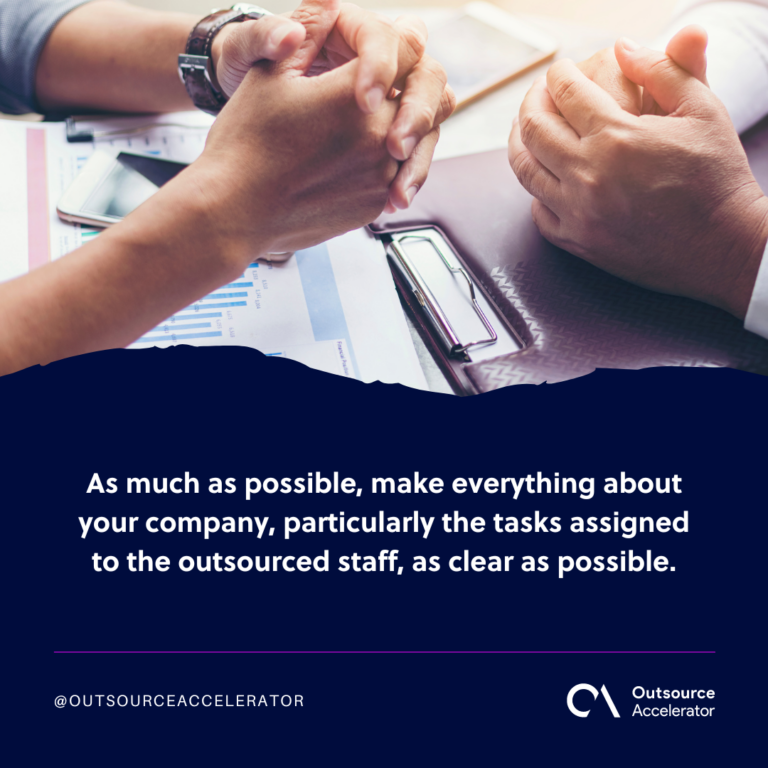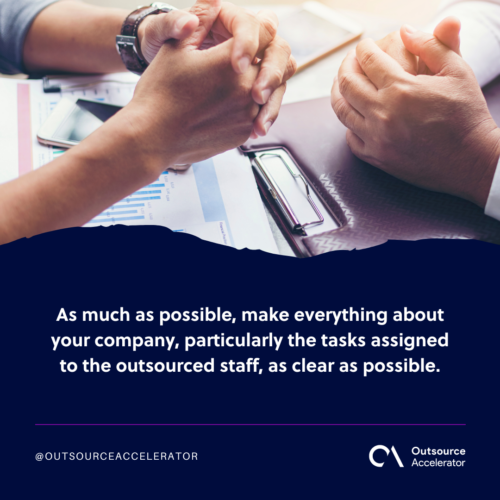 9. Avoid public shaming
If a specific team or member of your Filipino workforce needs to be confronted with issues regarding their work performance, behavior, or anything else, be sure to do it constructively and behind closed doors.
Publicly criticizing or shaming a staff in front of their coworkers is taboo in Philippine society. It will cause overt distress and embarrassment to whoever is on the receiving end. After all, you've essentially made them lose face in front of their coworkers.
10. Celebrate Filipino holidays with them
The Philippines celebrates many religious and secular holidays as a tradition and as mandated by the government.
You don't necessarily have to make a trip to the country to celebrate every holiday with the Filipino team; you only need to know that you acknowledge and respect these holidays—that's enough to endear you to your employees.
For instance, hosting an office Christmas party may cost a bit at first, but it can boost employee motivation and workforce morale.
Hiring a Filipino workforce through outsourcing
Outsourcing to the Philippines is a cost-effective measure that can significantly enhance and streamline your business operations.
The low labor cost in the country, cultural compatibility with their clients, and the skills of the Filipino workforce make the Philippines a solid choice when it comes to outsourcing destinations.
However, employers and business owners like you must take certain steps to foster a more work-friendly environment.
This not only ensures that you're getting what you paid for and more, but you're also motivating your Filipino employees to go even further.