Is offshore outsourcing cheap labor?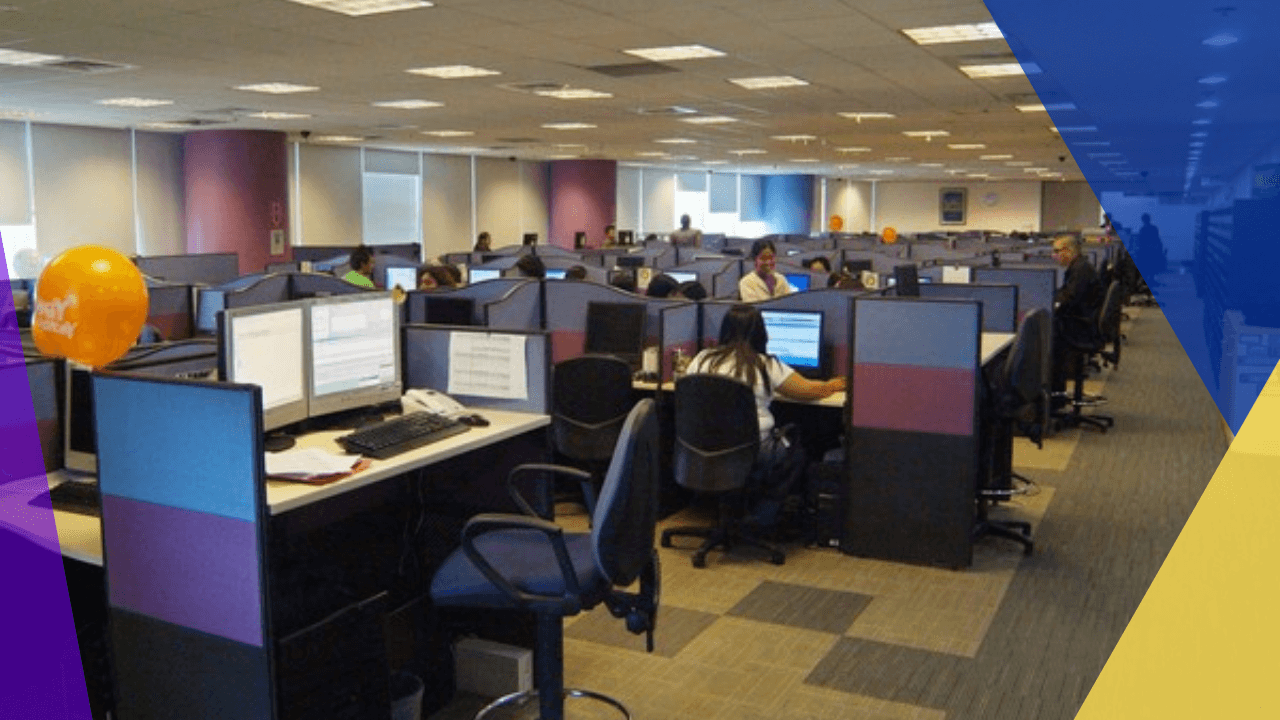 Originally, outsourcing was brought about to aid businesses in the manufacturing field. Over the years, it has evolved as a strategic method for every developing company in various industries. Now, it is a vital part of an organization's business model.
As technological innovations continuously transform the entire market landscape, so does the outsourcing practice. Today a lot of companies have recognized the significance of offshore outsourcing. 
And while the demand for offshoring services is unfailing, it has been a topic of controversy for quite some time. One reason for this stems from the perception regarding offshore outsourcing as cheap labor. 
Does cheap labor imply that organizations are risking the quality of work done by paying less? Or does it mean that foreign companies take advantage of the global workforce by offshoring? 
Further, is offshoring an ideal practice given such constraints as cultural differences, language barriers, time zone gaps, and more?
Offshoring vs cheap labor
Offshoring refers to the practice of contracting out work to outsourcing providers that are in another country. Unlike nearshoring, these third parties are located in a faraway country, several time zones away from the client's country of origin. 
In terms of services, companies of all types and sizes have various options to choose from according to their needs. The business process outsourcing (BPO) market has a broad range of outsourcing solutions offered by tons of multinational outsourcing companies.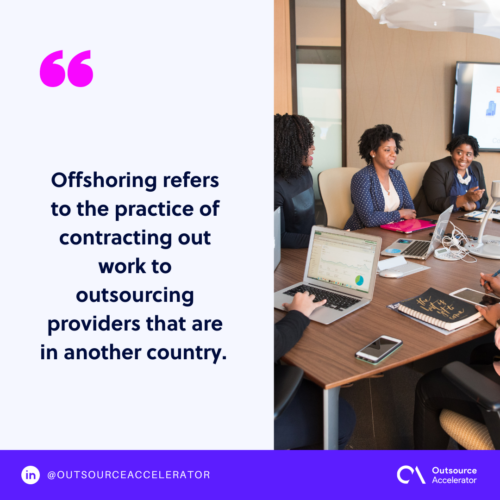 From IT-related roles, customer service, digital marketing, finance, and accounting to back-office and legal services — organizations can farm out portions of their work to support their daily operations. Companies mainly delegate their tasks to outsourcing firms such as MVP Asia Pacific to leverage its cost advantages and acquire access to highly-skilled talents.
In contrast, cheap labor originated decades back during the industrial revolution. Historically, the US, Germany, and Britain are three countries that began utilizing cheap labor for industrial production purposes. 
This practice is common in factories wherein employees perform laborious work for a small salary. In most cases, companies resort to cheap labor to save on costs. 
Apart from low wages, employees are usually exposed to unsafe working environments. Laborers are also often not given employee benefits or any labor protection for their own welfare. 
Cheap labor is still present in developing countries like China, Vietnam, India, and Bangladesh. However, governments around the globe have already enforced labor laws to protect the rights of all types of workers.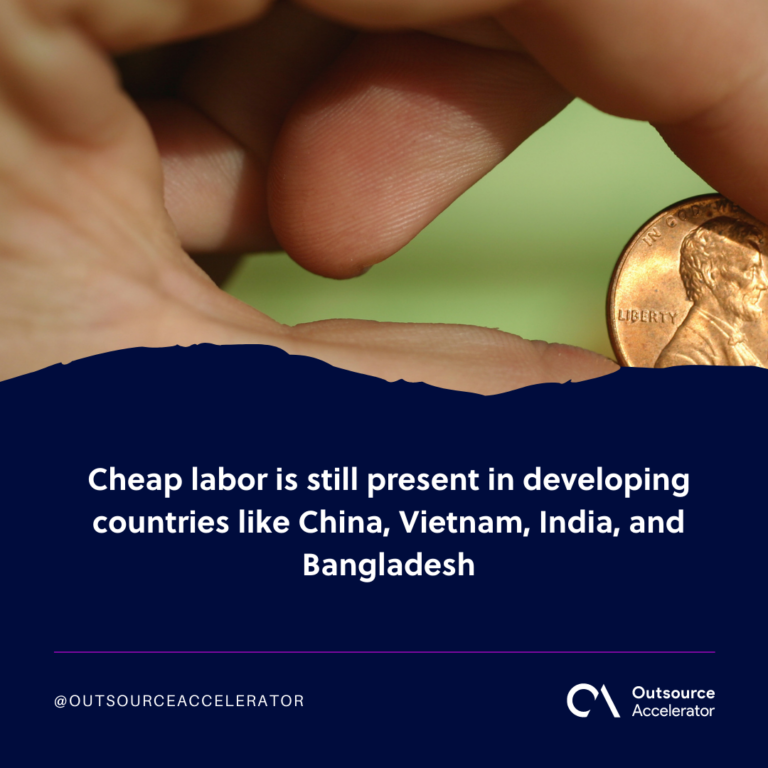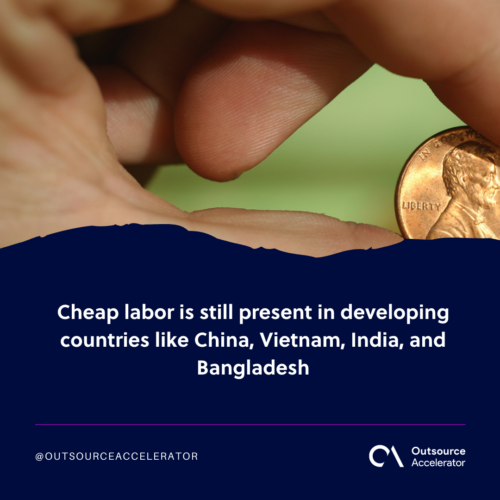 Why is offshoring considered cheap labor?
The offshore outsourcing practice has long then been tied to cheap labor. Many people have viewed offshoring as foreign companies exploiting skilled talents in third-world countries. 
It is true that foreign companies mainly offshore to save on costs. However, in reality, organizations that offshore are not the only ones to gain all the advantages. 
Let's say a company in the US offshores its entire call center to the Philippines. Yes, there is a huge salary difference between hiring in-house call center agents and offshore Filipino agents. 
However, in the Philippines, call center jobs are among the highest-paying professions in the country. Moreover, the country comparatively has a lower cost of living than the US. This is due to the Philippines being a developing country.  
Now, that does not necessarily mean these foreign companies are taking advantage of Filipino talents. In fact, the BPO sector in the Philippines has been a significant contributor to its economic growth for several years now. More so, offshoring has created a lot of job opportunities for the working population in the country. 
What can offshoring offer businesses?
In 2019, the global BPO market size was valued at 92.5 billion US dollars. Further, the demand for BPO services has skyrocketed since the COVID-19 outbreak. 
Offshore outsourcing may be considered cheap labor in some ways, but it offers the following benefits: 
Flexibility
Time-zone differences increase businesses' flexibility in terms of working hours. Through offshoring, foreign companies can perform their daily operations over extended periods. In some cases, they can function up to 24 hours, even during holidays or weekends. 
Global talent pool
Offshoring enables organizations to tap into a seasoned global talent pool. More so, it also helps them to fill in skill gaps and talent shortages within their country. 
For example, foreign companies in the UK are offshoring IT specialists in India as the country is brimming with IT professionals. 
Enhanced productivity
Offshoring does not just allow organizations to save costs; it also helps free up more of their valuable time. Both in-house workers and the management are able to focus on other essential tasks. It gives more room to concentrate on improving their core competencies. 
Offshore outsourcing is not cheap labor
Is offshore outsourcing cheap labor? It is not. Yes, offshoring to developing countries is way cheaper compared to hiring in-house. However, it is a win-win situation for both the offshorer and the service provider.