What is nearshoring: Defining the future of nearshore outsourcing
Last updated: October 22, 2021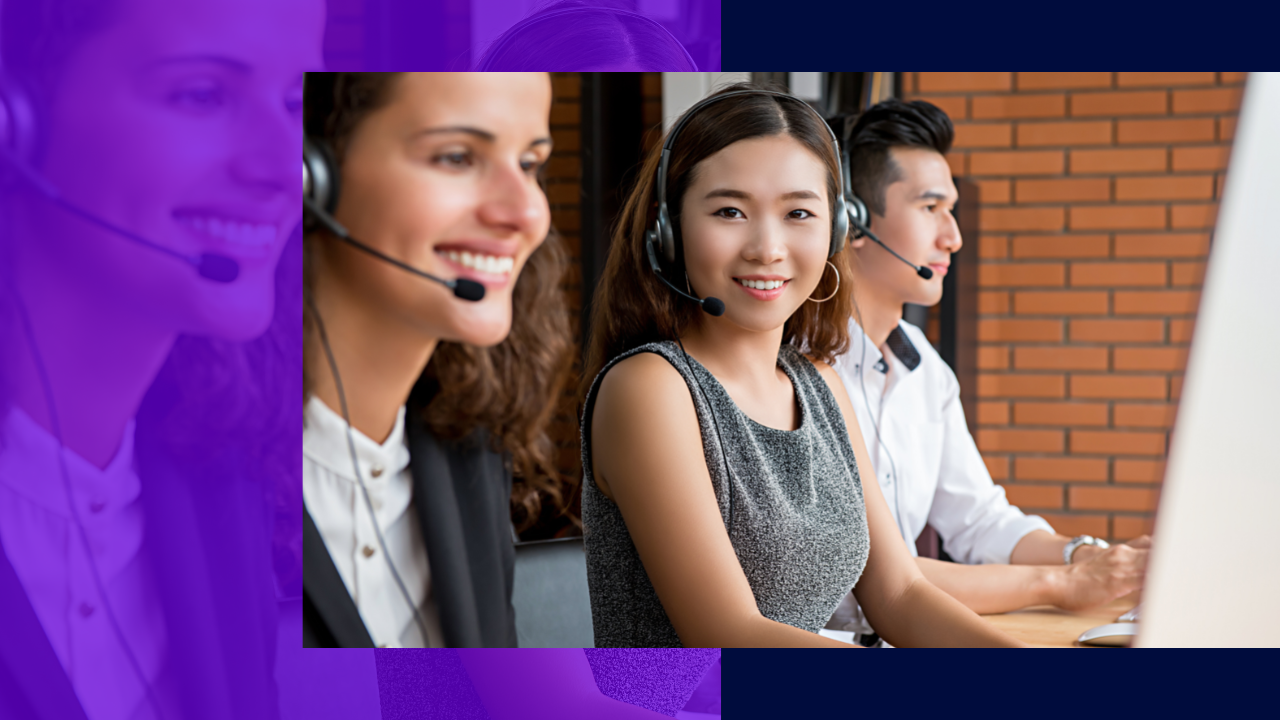 Nearshoring is the process of offloading responsibilities and jobs to countries near your geographic location.
Rather than hiring workers in other faraway countries, nearshore outsourcing allows companies to outsource their workload to neighboring countries. This strategy also allows for more flexibility and stability for the businesses involved. 
Companies choose to negotiate with nearshoring companies if offshoring or traditional outsourcing is not on their radar. 
While nearshore outsourcing overlaps with those business models, there are certain benefits and advantages that outsourcing and offshoring can't provide.
Advantages of nearshore outsourcing
There are very specific advantages that only nearshore outsourcing can provide to clients and partners.
Generally, nearshoring will give clients the same benefits they'll get from outsourcing and offshoring. This includes inexpensive labor from professionals, expert opinions, fast turnaround times, and more.
Keep in mind that these business models are cultivated to save resources without letting the quality of services and products suffer.
Access to a neighboring country's talents
In the USA, companies often nearshore their employees—both salaried and hourly—to neighboring countries in South and Latin America. Countries like Mexico, Cuba, Colombia, and Peru are hotspots for American employers looking for experts for varying sectors.
On the other hand, European countries rarely go out of their continent to outsource. Western countries nearshore jobs and responsibilities to their eastern counterparts.
There's no doubt that the close proximity of the service provider and their clients influence how they both grow in terms of revenue and development.
Lower labor costs
In Mexico, a day of work amounts anywhere from 7.16 USD to 10.78 USD. 
While this minimum wage may look too low for seasoned professionals, keep in mind that Mexico is a developing country. This means that their living expenses are much less expensive than that of a developed country.
For some American and Canadian companies, nearshoring to Mexico is better than offshoring to India or the Philippines. The time zone differences aren't that drastic. In addition, if the company wants to visit their nearshore team, the travel to and from isn't that time-consuming.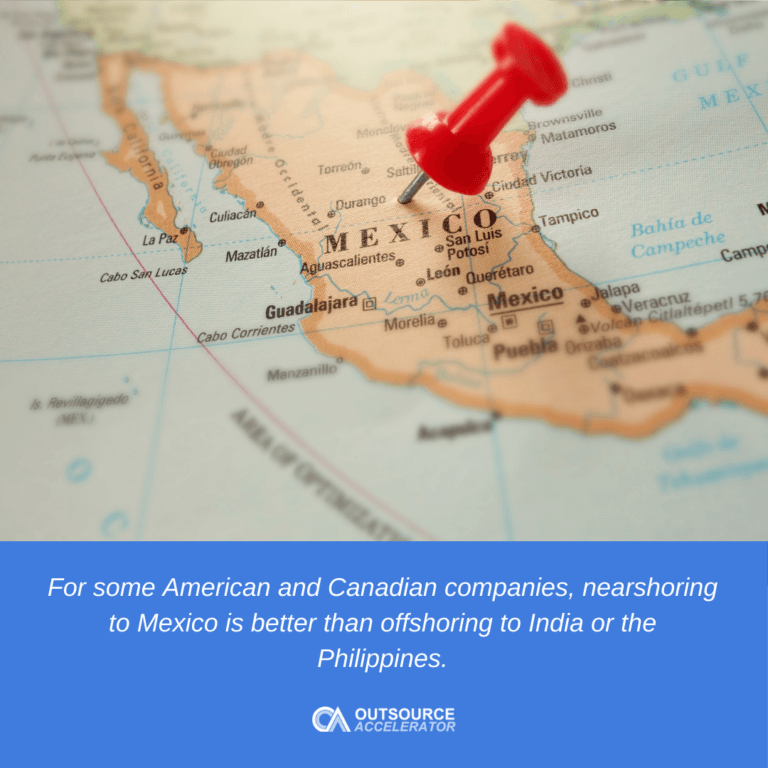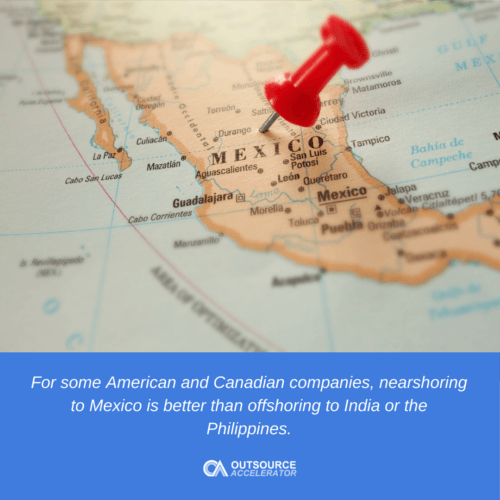 Less cultural shock and fewer language barriers
There's no doubt that neighboring countries would already be familiar with the local customs and culture.
Countries with close proximity to predominantly English-speaking territories are more likely to be as fluent as native speakers. For instance, they require Mexican university students to take English classes to finish their degrees.
Most, if not all, multinational companies and businesses need English-speaking candidates and employees; especially if they would be conversing with clients and customers.
Overlapping time zones
Time zones are one of the main reasons why most third-party business process outsourcing companies catering to the Americas and Europe assign graveyard shifts.
When nearshoring, the workforce management and team leaders can eliminate the need to give out overnight shifts to their employees.
Overlapping work hours with the parent company is important, as all businesses are conducted within their day. It gives both parties the opportunity to synchronize their most productive hours throughout the day.
How to fail-proof nearshoring ventures
Thinking about nearshoring? Have you done your research yet?
Fail-proofing and making backup plans from B to Z aren't easy—especially if you'd rather spend your time and effort running a business. However, these business models aren't a one-stop solution for all issues.
Nearshore outsourcing is a venture that involves effort and time on all fronts. Making sure that you're making the right decisions is part of your job as a decision-maker and a leader.
Aligning mission, vision, and core values
It's important to align these factors with your chosen external service provider. Preserving the company's culture while moving forward is important.
Aligning the company culture gives the impression that the company, while in the process of change, is still capable of taking care of its values throughout the entire process.
They put these values into place so employees and bosses alike can operate and work on the same spectrum. Abandoning these will be deeply problematic and may cause a sudden dip in productivity, or worse, a loss in trusted employees.
Identifying competencies
Make sure that your service provider is competent in whatever niche or field of work you're in. You don't want to partner with a nearshoring company that can't deliver the work you're expecting.
Look for certifications, qualifications, and ask for requirements. This is the best time to examine the firm and research further into what they are best in.
Compromising for differences
This can be a double-edged sword, so tread carefully.
If the nearshore outsourcing company passes 90% of the requirements you've asked them for, make sure to consider the other 10%. 
Can they make up for the 10%? Is the rest of it important and will it affect your company?
Sometimes, the 10% isn't that bad: maybe their headquarters aren't in the same time zone you'd hope for. But sometimes, that 10% is a major issue: maybe they cut corners to meet deadlines.
Managing a nearshore outsourcing team
To manage a nearshoring team is to practice patience and perseverance as a leader.
If you're not used to talking to a team or governing a project, maybe it's time for you to learn and pick up a couple more skills.
While for others, leadership—no matter how scattered the team is—comes naturally. Natural-born leaders still need to hone their skills and adapt to any changing environment.
Remember that there's no harm in learning new things.
Keeping in touch
With all the communication tools right on the tip of our fingers, it's not that hard to send a message anymore.
Keeping in touch with a nearshore team is easier than you think, especially if the time zones overlap and they are operating within the same hours as you. There should be zero to minimal delays in replying, except if it's the weekend, a holiday, or after working hours.
But this doesn't mean that you should reserve messages for work purposes. Make it a habit to ask everyone on the team about their lives outside of work. 
Humanizing the workplace leads to a better and more empowered workforce.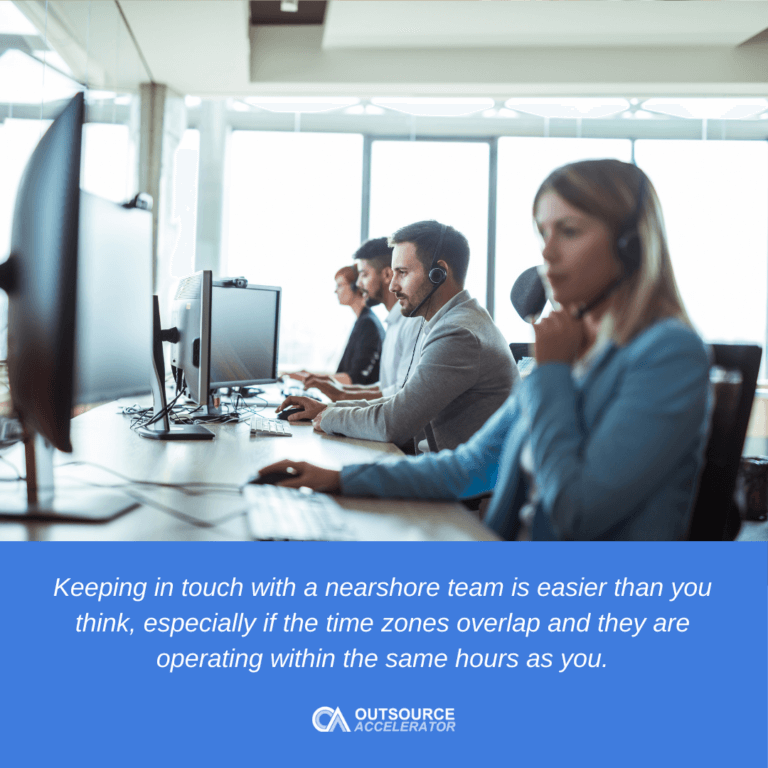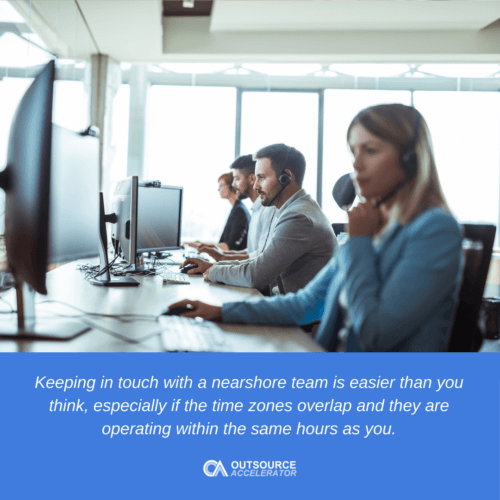 Open communication
Communication is a two-way street, but that doesn't mean that miscommunication can't be avoided.
What we can do, as professionals, is to practice empathy and vocalize our concerns and questions early on. There's no harm in asking questions, especially when almost everyone is distributed into neighboring countries.
Managing a nearshoring team is just like handling an in-house group. The only difference is most of the meetings and communication are done online rather than in person.
Reinforcing accountability in the workplace
There are a lot of project management tools and accountability apps out in the market right now. Use these to sync with your team, making projects and deadlines easier to handle and manage.
Most departments use tools like Asana and Trello in companies that handle major projects and tight deadlines. 
Allowing everyone to see stats and contribute updates and outputs is a surefire way to reinforce accountability within the department.
Cooldowns
Weekly cooldowns that have nothing to do with work are one way to bond with the team. 
If you're running along with a blended department—a mix of in-house employees and nearshore workers—cooldown sessions are a great time to catch up with everyone. By doing so, everyone will feel valued and included, thus creating camaraderie within the group.
Time and time again, happy employees make up a successful company.
Nearshore outsourcing countries
The countries listed below are the top three territories that are known to nearshore with each other. In fact, there is a Free Trade Agreement between Mexico, Canada, and the US that is renewable every 16 years. 
However, keep in mind that their practice isn't the "benchmark" for nearshore outsourcing. Other countries (such as those in Europe and Asia) can nearshore and still surpass the growth and development that these three have.
The US and Canada
One benefit of nearshoring in Canada is that they have tax incentives for Canadian companies that hire foreigners. Another one would be the proximity of some Canadian provinces to American states.
Cross-border trades and labor are encouraged by both of these countries' governing officials.
The US and Mexico
As mentioned earlier, the wages in Mexico are much lower than in the US. Their living expenses are lower as well, somewhat balancing out the salary Mexican employees get.
Mexico-based nearshoring companies often operate and overlap with the US-based companies to ensure minimal delays in production and communication. This way, employees are still connected to the clients within their preferred hours.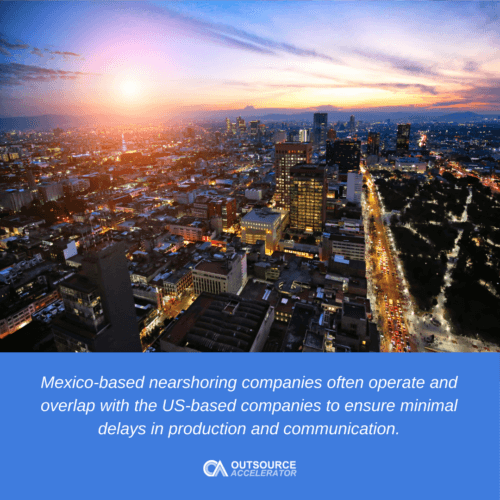 Eastern, Northern, and Western Europe
Western Europe, along with its northern counterpart, is considered a powerhouse for the biggest names in the European market.
Eastern Europe is known for its booming tech industry, where many experts and professionals in tech are practicing and living in the cities of Ukraine and Poland.
Together, these sectors of Europe work together to nearshore jobs and roles within the same continent.
How nearshoring helps the economy
Nearshoring helps countries to produce quality products and services without ever going over the pond. There are incentives that governments can put in place just to keep businesses onshore or nearshore. 
Economies of these countries are studied and researched, as companies are prioritizing reshoring and nearshoring rather than their counterparts.
This practice minimizes the cultural and language barriers, overcoming time zones and geographical gaps. Nearshore outsourcing can be the future of international trade.