Why outsource to Mexico: Advantages, legislation, and restrictions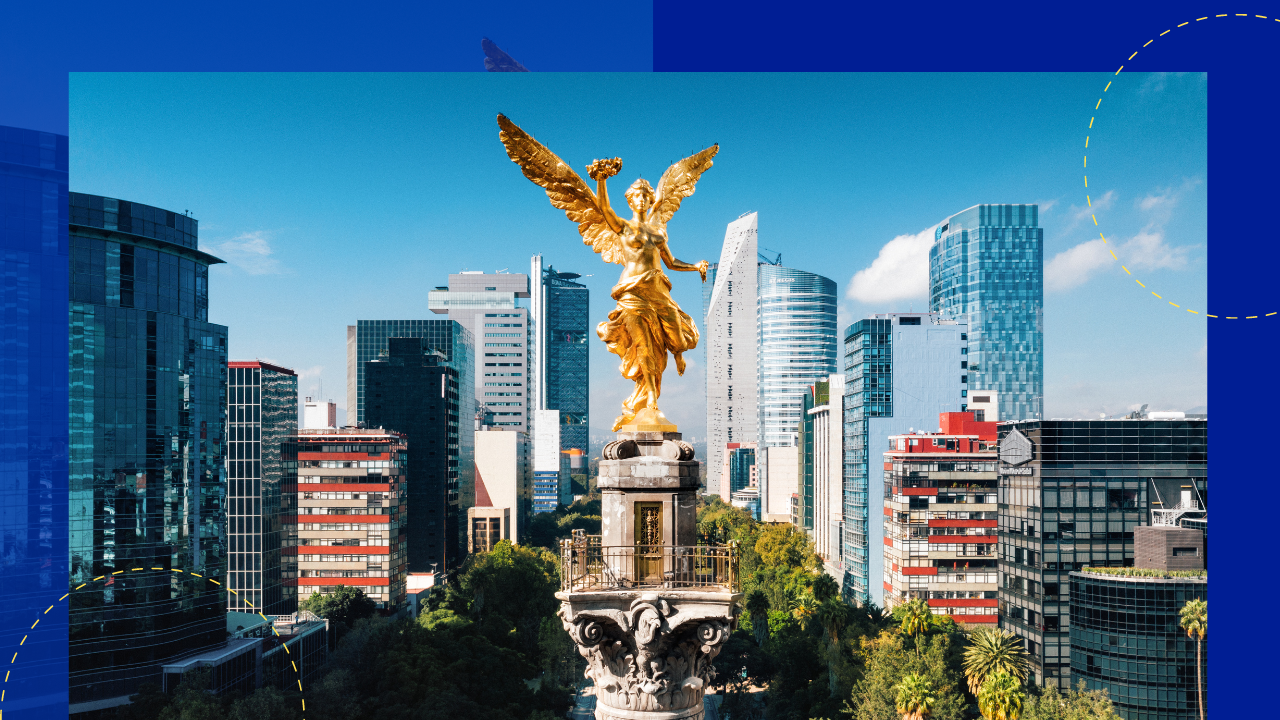 In recent years, Mexico has become an attractive destination for companies looking to outsource their business operations.
The country's favorable location, competitive labor costs, and skilled workforce make it an appealing option for businesses seeking to reduce costs and increase efficiency.
However, outsourcing to the country comes with its unique challenges in terms of navigating complex legislation and restrictions. Particularly, the regulations on outsourcing services affect the most aspects in terms of hiring workers in the country.
Outsourcing companies continue to flock to the country for specialized services despite this. 
Let's explore the aspects to be aware of when firms outsource to Mexico.
History of outsourcing in Mexico
Manufacturing in Mexico developed with the conclusion of the U.S. farm labor agreement known as the Bracero program in late 1960. 
The U.S. and Mexican governments resorted to the Border Industrialization Program, allowing U.S. businesses to build products in Mexico with reduced duties using raw materials and components from the U.S.
Over the years, simple assembly operations in Mexico have evolved into complicated manufacturing operations, including televisions, vehicles, industrial, and personal products. 
While commodity manufacturing has flocked to China, Mexico is attracting US businesses looking for low-cost alternatives close to home for higher-value end products and just-in-time components.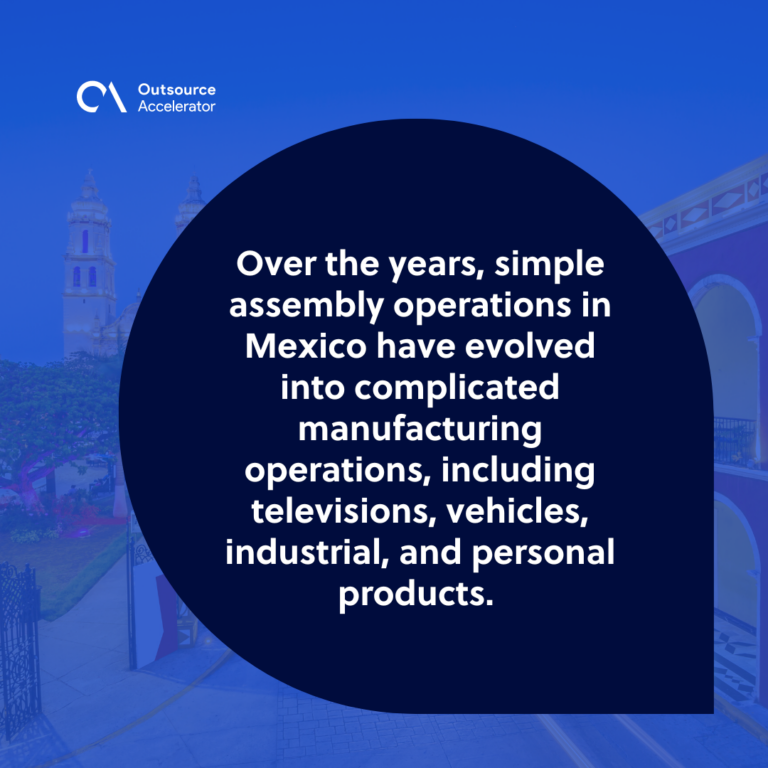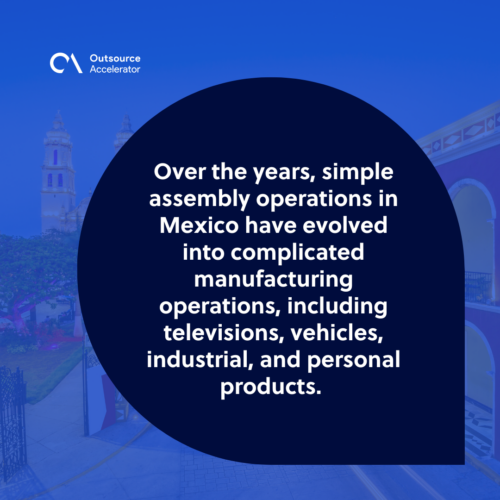 Why outsource to Mexico?
Different reasons impact why companies choose to outsource in Mexico.
Outsourcing to Mexico enables companies to do tasks at a lesser cost and, in some cases, with higher-quality service providers. 

Manufacturing in Mexico has become the favored option compared to other destinations for its close proximity. 

Mexico's competitive advantages, such as lower salaries, stable labor relations, lower landed transportation costs, advantageous currency exchange rates, and reasonable tariff prices, are increasingly appreciated by businesses.
The pros of outsourcing to Mexico
The cost of goods is unquestionably the most compelling reason to outsource labor and production. Doing business in Mexico can significantly boost a company's profitability over time.
Aside from being cost-effective, here are the other benefits when companies outsource to Mexico. 
Convenient time zones
Mexico is an excellent alternative when hiring staff in a nearshore region because it has a similar time zone as to the US.
Mexico has four time zones, mirroring that of the US. As a result, scheduling conference calls is more convenient. In addition, you can prevent further breaches and issues to your software product by resolving bugs and app or website failures in real time.
Improved scalability
As of 2023, the average annual salary in Mexico is MXN 325,338.47 (US$18,174.00). With this amount, US companies can easily reallocate the savings they get – including scaling their operations.
Instead of overinvesting in equipment and resources for unpredictable large volumes, the customer can request more or less output from the contract manufacturer based on demand or estimates.
Focused core competencies
Outsourcing allows organizations to rely on already-trained employees who can handle the additional volume of work.
By adopting contract manufacturing, the hiring business can refocus time, labor, and resources on revenue-generating operations like marketing and sales.
Well-educated and bilingual employees 
Improving customer service is one of the other benefits of outsourcing to Mexico for contact centers. 
While most people think Spanish is Mexico's national language, it is only one of the most-used languages in the country. This, on the other hand, is a huge plus with US companies outsourcing customer support in the country. 
Mexican companies that provide multilingual services are in a better position to meet the needs of their consumers because Spanish is the second most widely spoken language in the United States.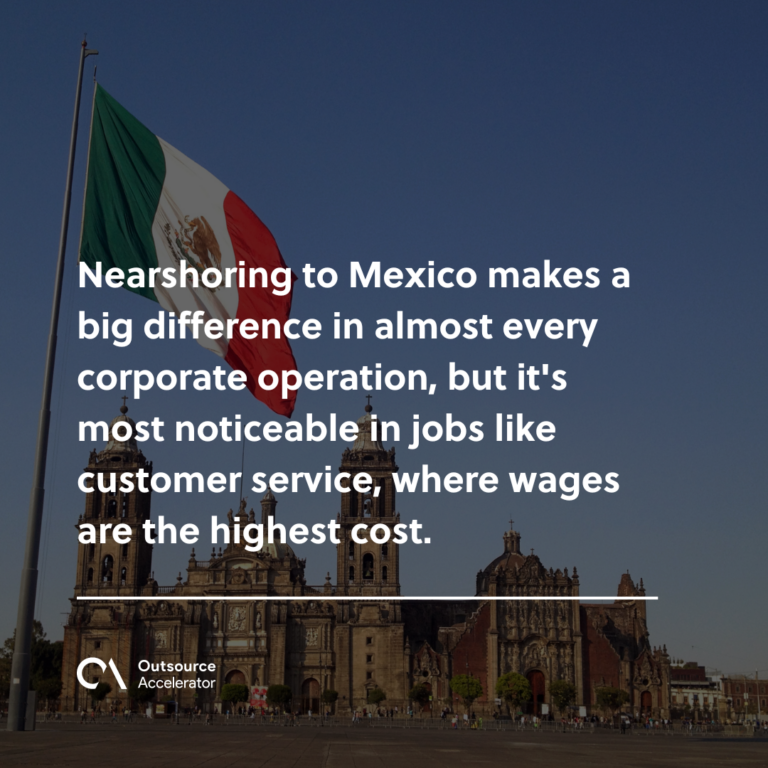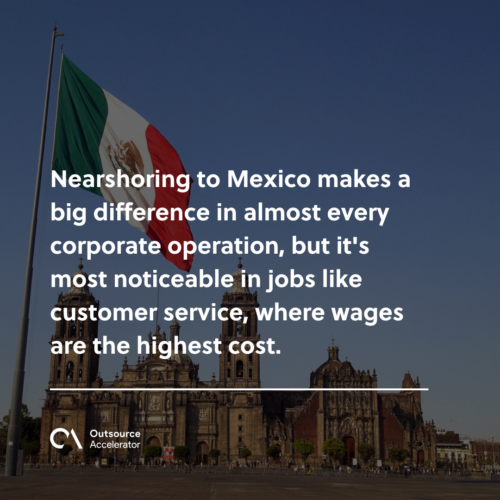 Services you can outsource to Mexico
Given the uncertainty and adjustments in outsourcing restrictions, Mexico's growing outsourcing industries will likely continue to thrive. Some services you can outsource in Mexico are listed below:
Manufacturing
The automobile, aviation and aerospace, medical device, garment and textile, and consumer products industries are Mexico's most well-known manufacturing businesses.
There are several reasons why relocating your production to Mexico is a wise decision. The country and its manufacturing sector provide a variety of advantages, including proximity.
Items made in Mexico are imported into the United States over land. With this, shipping may be completed swiftly and efficiently, thereby reducing the cost of outsourcing.
Accounting and bookkeeping
Outsourced accounting is a service that offers small businesses comprehensive accounting services. Outsourced accounting firms have an entire staff of accountants, allowing them to supply a small team of accountants at a lesser cost than employing.
Accounting and bookkeeping outsourcing comes in if your in-house team cannot handle your company's financial affairs. Your hired personnel takes over all obligations related to your books and manages them for the agreed-upon period.
Accounting and bookkeeping outsourcing is available in many countries, including Mexico. A bilingual Mexican accounting team will manage your personal and commercial accounting duties in Mexico. Easy accounting for foreigners in Mexico.
Software development
It is said that Mexico's developers increase yearly at a faster rate than the US. With this, software development outsourcing has become increasingly in demand in the country.
Most firms subscribe to software development outsourcing in Mexico due to its talent abundance and flexibility. Specialized service providers offer reliable teams to create and maintain systems as needed by their clients.
Back-office
The act of outsourcing back-office assists businesses in lowering the expense of purchasing more office space and the cost of attracting and retaining personnel.
Recruitment
Companies looking for a cost-effective solution to maximize their recruiting efforts and personnel growth look to Mexico as a competitive edge.
In addition, small to medium-sized companies in the United States can profit from Mexico's skilled labor pool and proximity.
The following are examples of back-office outsourcing services:
Searching for talent

Screening and hiring of candidates

Salary and employee benefits

Management of Human Resources

Distribution of paychecks

Assistance with the onboarding process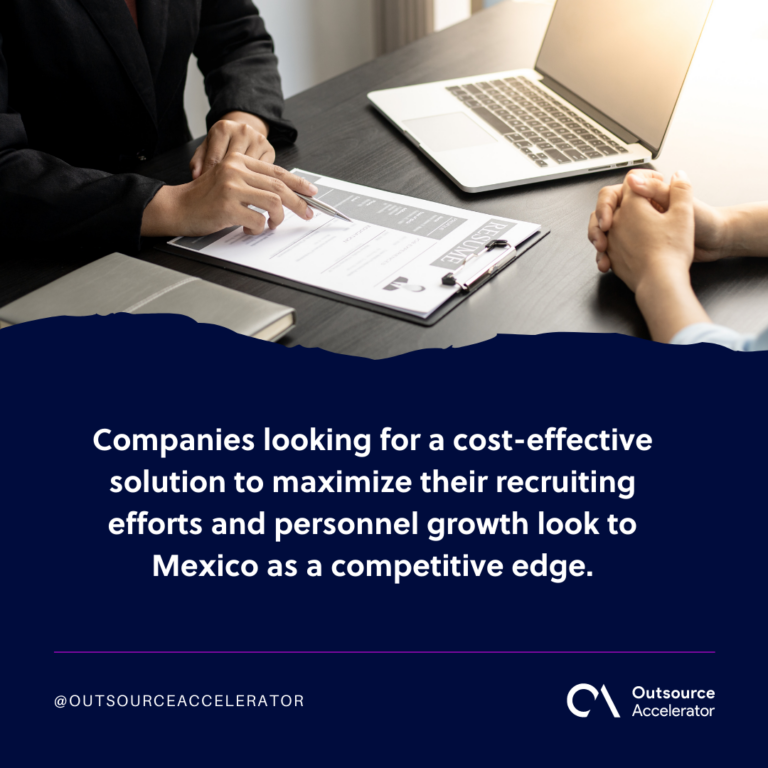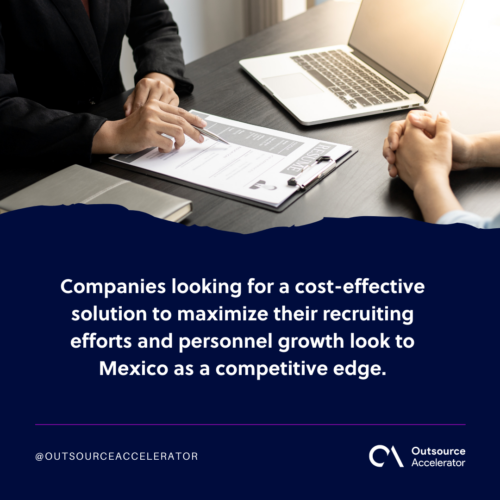 US companies that outsource to Mexico
Many US manufacturers are considering outsourcing some or all of their manufacturing activities. When done correctly, this can save expenses without sacrificing quality, flexibility, or inventory.
As a result, several American industries have chosen to nearshore in Mexico. Here are some of them:
Ford

Volkswagen

Sabritas

Nestle

Medtronic

Molex

General Motors

Curtiss-Wright

Honeywell
Mexico's outsourcing ban
In November 2020, the Mexican government prohibited outsourcing. President Andrés Manuel López Obrador proposed measures to abolish most subcontracting and job outsourcing by private enterprises effectively.
The Amendments intend to prevent outsourcing, a process by which a beneficiary hires its required people through a third party to avoid or lessen the employer's liabilities and obligations under Mexican law.
General highlights of Mexico's restrictions on the use of outsourced labor:
Specialized services and contractors use
Employers would still be able to hire contractors to deliver specialized services unrelated to the company's primary operations. 
Profit-sharing participation in the company
Employees who had previously worked for service firms or third-party suppliers would have to be included in profit-sharing plans.
Different laws are aligned and modified
The reforms would necessitate changes to related laws affected by it. This includes the following:
Federal labor law

Social security law

The law governing the Institute of the National Housing Fund for Workers

The Federal fiscal code

Income tax law

Value-added tax law
Employment Service Providers
According to the change, employment agencies or intermediaries are now only allowed to assist in recruiting, selecting, and training candidates. According to the change, the company that receives the services must also be the one that hires.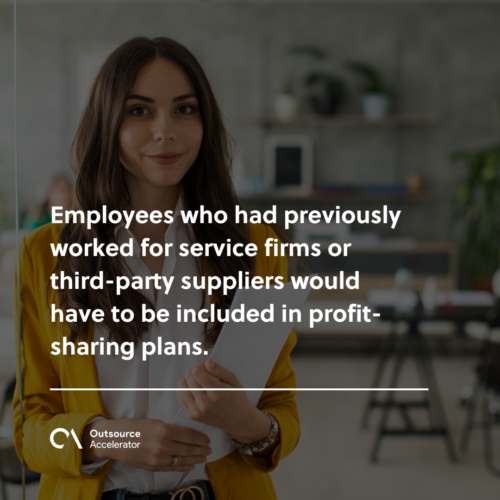 Outsourcing in Mexico: Answering your FAQs
Because of the current modifications in Mexico, many potential clients have many concerns answered before embarking on nearshore cooperation.
Here are the common questions about manufacturing in Mexico, as well as the information you'll need to get started.
What is the purpose of the legislation?
The primary purpose of amendments is to incentivize businesses that benefit from hiring employees directly under labor agreements. That reflects market conditions and triggers the tax and social security contributions required by applicable law.
Does Mexico Outsource?
Mexico declares that outsourcing will be strictly limited. According to the government, the practice is helpful to avoid paying employees the benefits they are entitled to under the law.
Outsourcing companies will be required to register with the government and pay all applicable taxes and benefits.
Further, companies would be required to provide better accounting for mandated profit-sharing plans, which the Labor Department estimates will increase payments by 156%.
What are the common legal structures used in outsourcing?
Subcontracting personnel or human resource outsourcing is the most prevalent use of outsourcing. Establishing a service agreement between any firm and the provider not to hire employees directly limits contingencies and liabilities.
Is it better to do business in Mexico with a small or large company?
Both have had great success and have also had significant failures. Things are how you do it that matters, not the size.
What you know and who you work with are both critical factors. It typically comes down to finding the correct people and firm to work with—people who will make the effort to learn about your company and become true partners with you.