The average salary in Mexico's outsourcing industry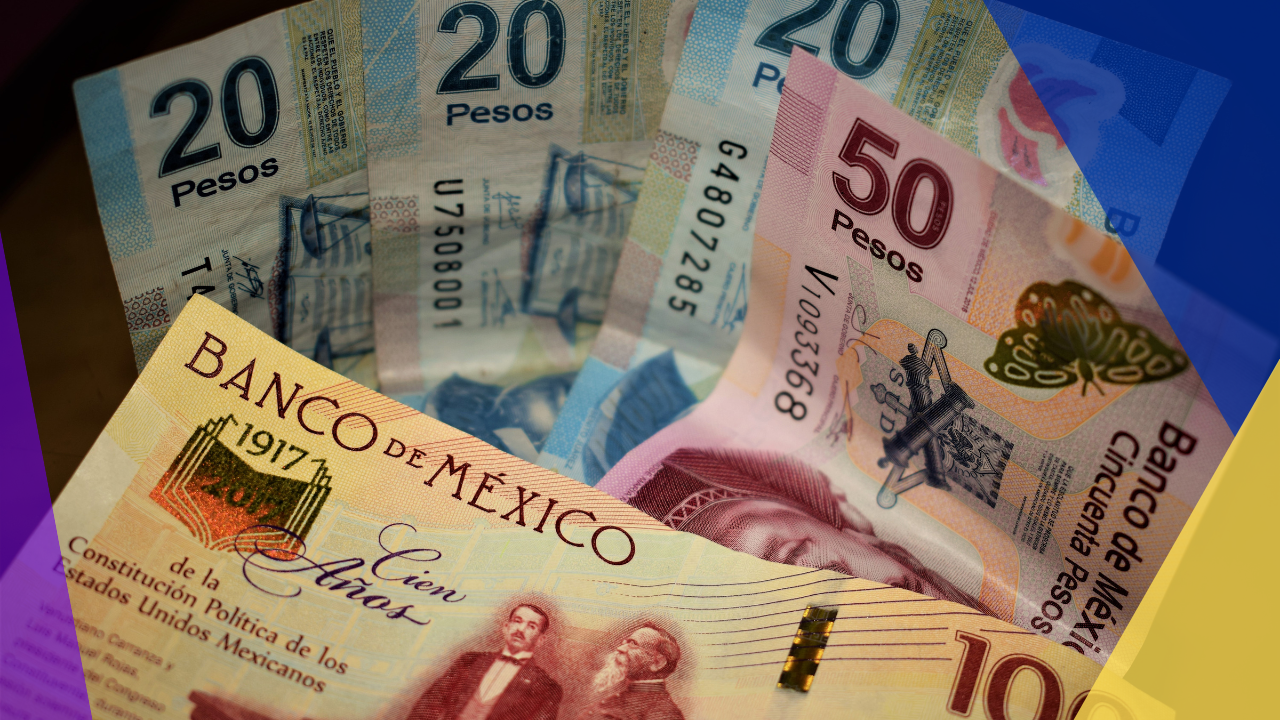 Many countries in the world have started making their names in terms of the outsourcing sector. Mexico is among the emerging countries where many multinational companies opt for outsourcing services. 
For businesses that are looking to contract out services in the country, in this article, we'll give you an overview of the average salary in Mexico. 
Outsourcing to Mexico 
Outsourcing to Mexico, more commonly referred to as nearshoring, has flourished in recent years. While previously China was looked at as the place for low-cost contracting of outside work, Mexico has since risen as a top country of choice.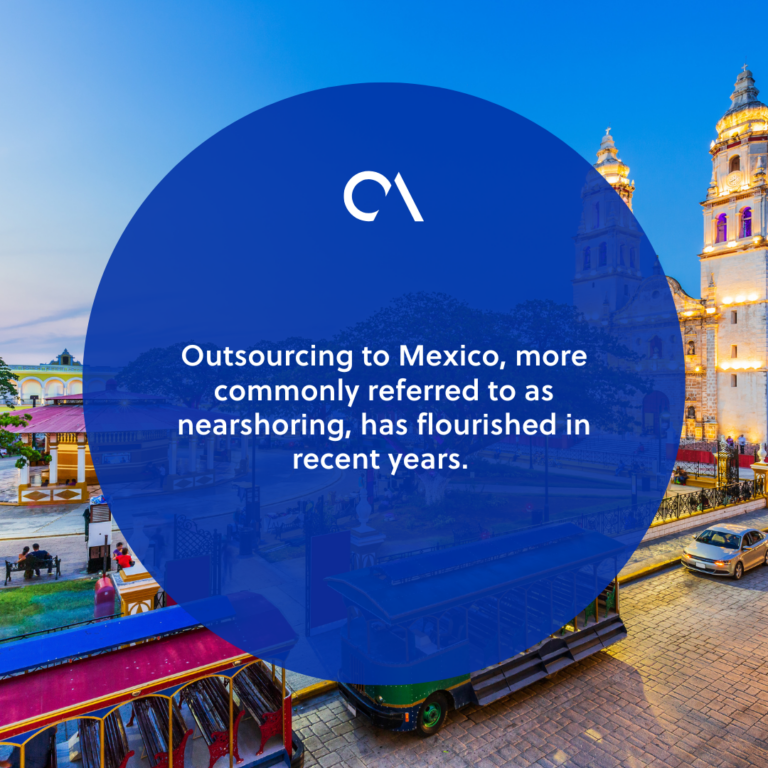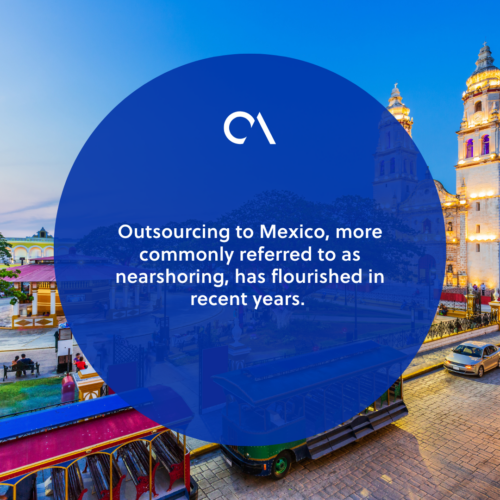 Common outsourced industries in Mexico 
There are four top outsourced industries in Mexico. 
1. Manufacturing and Production 
Mexico isn't far behind in the market when it comes to outsourcing manufacturing. 
By being closer to the US than Asia, Mexico manufacturing is more beneficial when one considers productivity and transportation costs. 
For companies, this means fewer items are held in finished form, less are committed to inventory, and there is more flexibility in what raw materials are converted into. 
2. Customer Service
For 60 years, top companies have been doing good business in Mexico's call center enterprise. The entire business process outsourcing (BPO) industry is valued at approximately $2.4 billion. 
One of the biggest strengths of the country is its nearly 130 million-strong population of bilingual speakers, the largest in Latin America. 
Similar time zones and many shared aspects of culture also create a connection between Mexican call agents and their US customers. 
Excellent results are offered at a reduced rate. Compared to the rates in the US, overhead expenses and agents' wages may be as low as 50% lower. 
3. Software Development and IT
Mexico is known for having an inventive startup community and a large, well-educated developer pool, ranking second worldwide in skills tests. In 2022, the software industry is estimated to reach a revenue of $3.6 billion. 
Much of this status can be accredited to the government putting Science, Technology, Engineering, and Mathematics (STEM) subjects at the forefront of its education. This allows the promotion of jobs in technical departments and a spot in its growing technical infrastructure. 
The shortage of technical talent in the US has also raised the price of software development, making Mexico the more attractive choice when considering costs.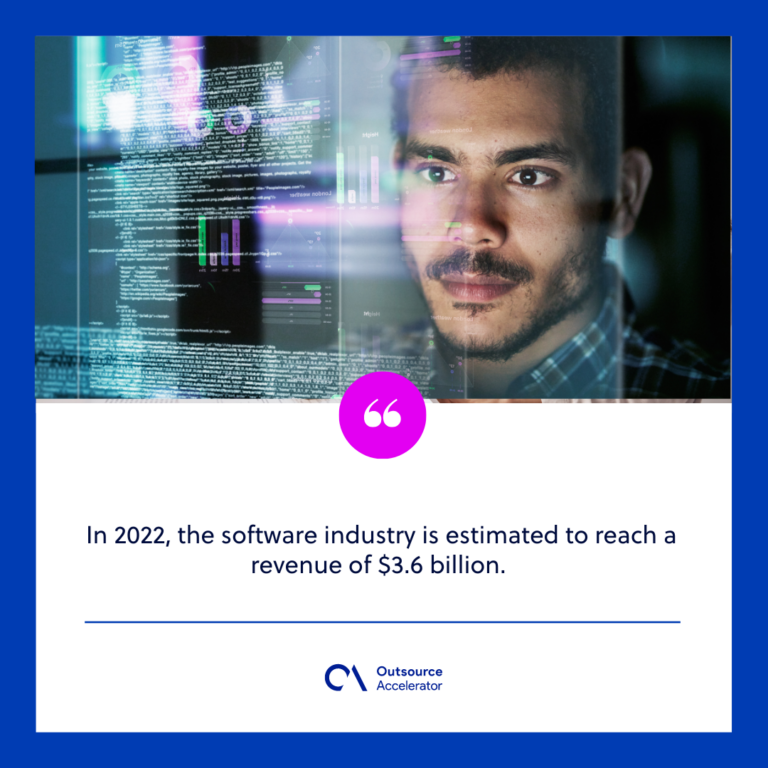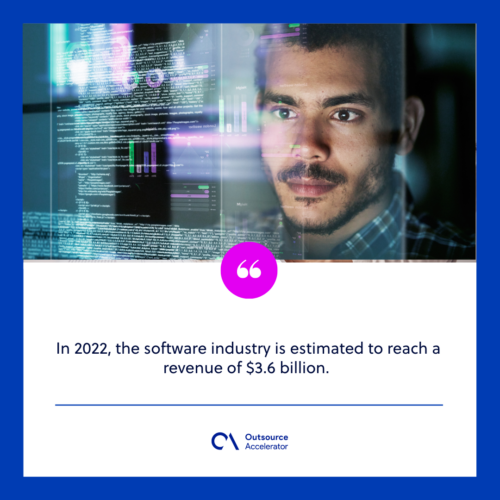 4. Human Resource Services
Federal Labor Law regulates the process of HR outsourcing in Mexico. 
Here, a professional employer organization (PEO) establishes a commercial relationship with the expanding company. They then act as the third-party delegated for recruitment and payroll. 
 With a PEO, the company is able to reduce costs, time, and administrative burdens in its hiring process. The PEO, being a local company, possesses an in-depth knowledge of local recruitment processes and the expectations of foreign employers.   
Although there are a few restrictions to outsourcing to Mexico as the country has strict labor and employment laws regarding severance. Government benefits and social security are costly, and tax-filing compliance requirements present obstacles for companies.
Despite that, Mexico has attracted companies wishing to decrease operational costs, gain qualified and educated employees, and expand into overseas markets. Large international corporations can quickly establish their businesses in Mexico.
Average salary in Mexico: The current average annual salary in the country
According to Statista, Mexico reached an average annual wage of 325,338.47 MXN in 2020, after having reached its highest level the previous year with 336,183.08 MXN. 
For fixed salaries, the average Mexican worker receives 398,000 MXN per year. The average salary ranges from 8,410 MXN to 14,800 MXN per month. 
The average base salary, however, differs drastically when looking at different sectors. Factors like education level, years of experience, and work type are also components when computing salary range. 
Salary distribution in Mexico 
The salary distribution in the country include: 
Salary range
In Mexico, salaries range from 101,000 MXN per year (minimum salary) to 1,780,000 MXN per year (maximum average salary, the actual maximum may be higher).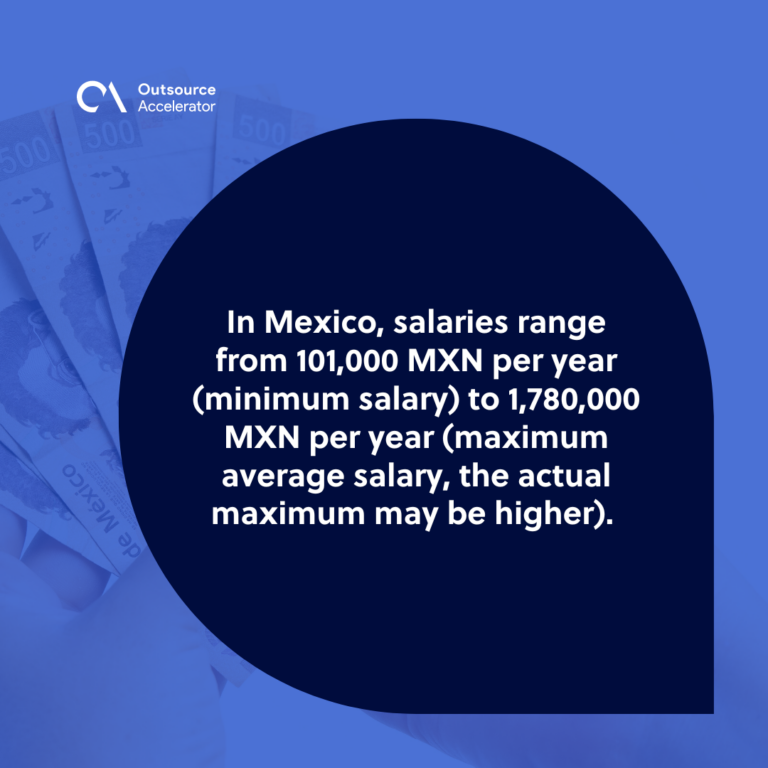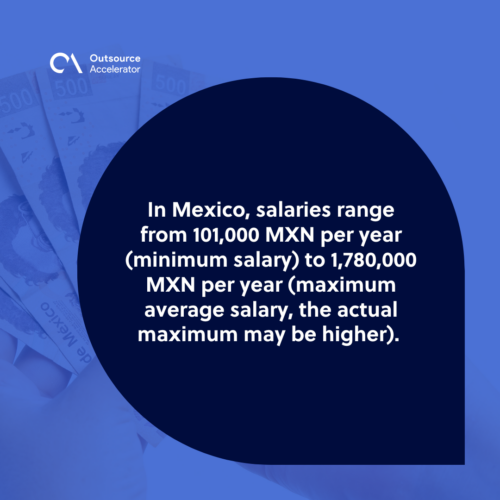 Median salary
Mexico's median salary is 391,000 MXN per year, meaning half the working population earns below that line, and the other half earns above it. 
Percentiles
Aside from the median salary (which is 50%, or the 50th percentile), the 25th and 75th percentiles are also examined. 
For Mexico, those below the 25th percentile (25% of the working population) earn less than 221,000 MXN per year, while those above the 25th percentile (the remaining 75%) earn more than 221,000 MXN per year. 
For the 75th percentile, 75% of the working population earn less than 1,060,000 MXN per year, while the upper 25% earn more than 1,060,000 MXN per year.  
Salary comparison by experience in Mexico
Experience is the most important factor when determining salary. Generally, employees with two to five years of experience earn 32% more than freshers. Those with more than five years of experience earn 36% more. 
Those that reach the ten-year mark earn a salary increase of 21%, and then an additional 15% as the 15-year mark is reached. 
Salary comparison by education in Mexico
Typically, higher education leads to a higher average income. 
Workers that completed university earn up to 17% higher than those who only completed high school studies. Among the former, a Bachelor's degree earns 24% more than a certificate or diploma. 
Professionals with a Master's degree earn 29% more than Bachelor's degrees. Finally, Ph.D. holders earn 23% more than Master's degree holders. 
Salary comparison by sex in Mexico
The reality in Mexico is that men receive a higher salary than women. Across all sectors, men earn 14% more than their women counterparts. 
Average salary in Mexico: Highest paid careers in Mexico 
It is estimated that 61% of those aged between 15 and 64 years in Mexico have a paid job. Chances of getting a higher-paying job increase if one has a university degree. 
Graduates are determined to have 14-17% higher wages than their peers who only carry a high school diploma. This is a difference that can grow to up to 78% as their professional career progresses. 
Here we have the highest paid professions in the country: 
Doctors/ Surgeons 
Careers in Medicine still produce the highest salaries today. Professional profiles for the health sector lead in ranking lists for the best salary level. 
Within the profession itself, top surgeons are the highest paid. Surgeons direct the surgery control programs of a medical organization. They manage all the activities of surgical departments, spanning supervisory, professional, and support personnel. 
General practitioner doctors are normally paid an average of 1,280,000 MXN per year, with the top medical surgeons paid an average of 1,720,000 MXN per year.   
Judges 
Careers in legal service then follow. Salary level increases depending on the higher education one has received and the amount of experience one has. 
Generally, judges advise, arbitrate, and administer justice in a court of law. Their responsibilities include determining the liability of the defendant in civil cases, and sentencing defendants in criminal cases, following government statutes. 
Among the top positions are Administrative Law Judges, who are paid an average of 1,110,000 MXN per year. Those judges who also serve as magistrates receive higher, with an average of 1,210,000 MXN per year. 
Civil Engineers
Careers in Civil Engineering rank the highest in salary among engineering industries. Salaries within the specialty may vary drastically depending on one's skills and experience level. 
Civil engineers design and construct large-scale projects for use by the local population of a town, city, or state. These can include bridges or buildings like sporting stadiums. They may work in many sectors such as the environment and transportation. 
Civil engineers are generally paid an average of 378,000 MXN. The highest levels may reach up to an average of 405,000 MXN. 
Chief Executive Officers
As with many places, CEOs earn among the highest salaries. 
CEOs are the people in charge of organizations, and they normally make the vast majority of business-related decisions. They must be effective leaders and are responsible for shouldering the bulk of accountability when it comes to the success or failure of the company. 
CEOs in Mexico are paid an average of 901,000 MXN per year. 
Architects 
Almost as if they are the more creative mirror of the civil engineers, architects also handle construction projects but are more focused on the pre-construction phase and design. 
Architects more closely consult with clients, editing draft designs and monitoring progress throughout construction. A career in architecture requires knowledge of design, construction procedures, zoning and building codes, and materials. 
Architects in Mexico earn an average of 482,000 MXN per year. 
For those looking into outsourcing to Mexico, the average salary is only one factor to consider, though it is a major one.