Can you really save costs by outsourcing?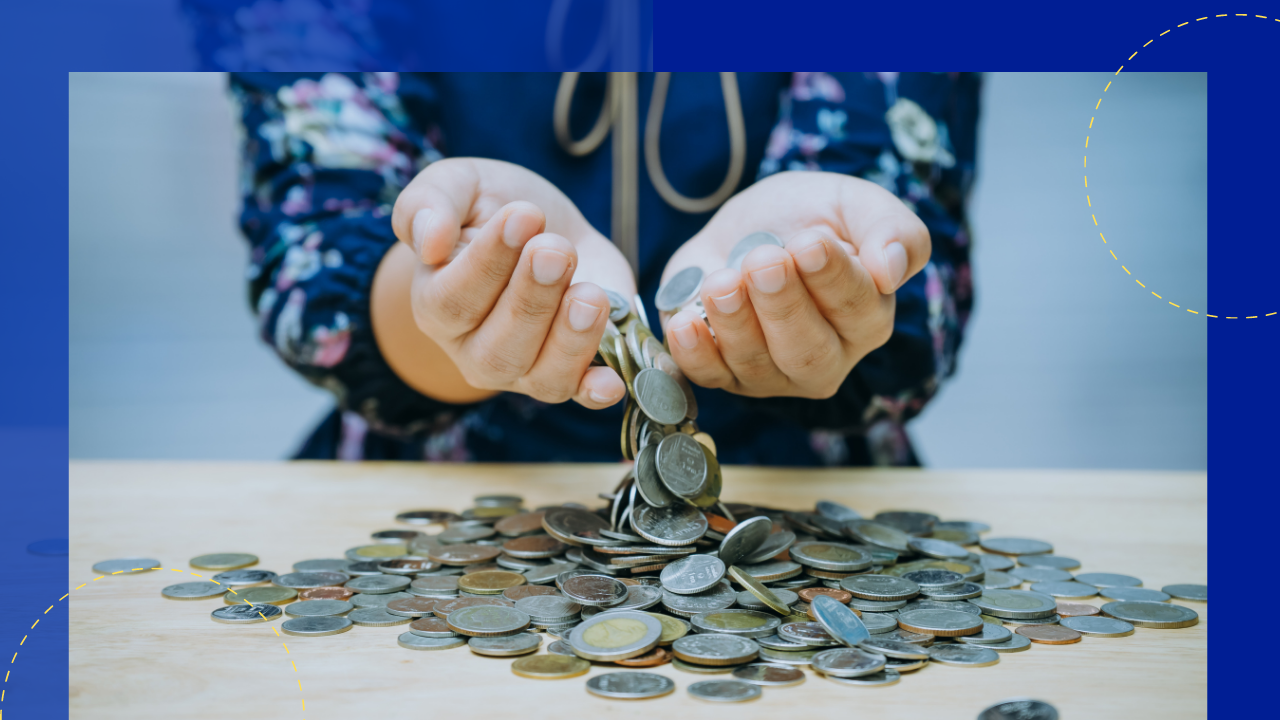 Cost savings is one of the main reasons why businesses outsource. But how can it help you reduce costs?
If you're feeling skeptical about outsourcing, here's a detailed explanation of how it can help you save time and money.
We also discuss the hidden charges you must be wary of and the factors to consider when calculating your outsourcing cost savings.
Understanding business expenses
Poor cash flow management leads to 82% of business failures. And when the pandemic happened, research revealed that the median business with over $10,000 in monthly expenses could roughly last two weeks.
To pinpoint how outsourcing reduces costs, let's find out first where your business expenses come from.
When you're doing the accounting of your business, you must categorize your fixed costs and variable costs.
Fixed costs
Your fixed costs are your expenses that remain the same for a specific period. It includes your rent, employee salaries, insurance, phone and internet bills, and other overhead expenses.
During the COVID-19 restrictions, these are the bills you still need to pay despite the slow or halted business activity.
Variable costs
Meanwhile, your variable costs change based on your business operations and the economic events in your country. You can compute it by measuring your business performance and the volume of services you generate over a specified time.
Some examples are taxes, operational expenses, and commissions. Unlike fixed costs, it's more difficult to monitor and manage.
As a business owner, it's important to know the difference between the two, especially when developing your overall business strategy. It lets you know not only where you need to allot more resources but also where to cut costs.
For example, fixed costs make up 90% of monthly expenses and 10% for variable costs but for others, it can be different. If you think you're allocating a huge chunk of your budget to fixed costs, you can consider reducing it.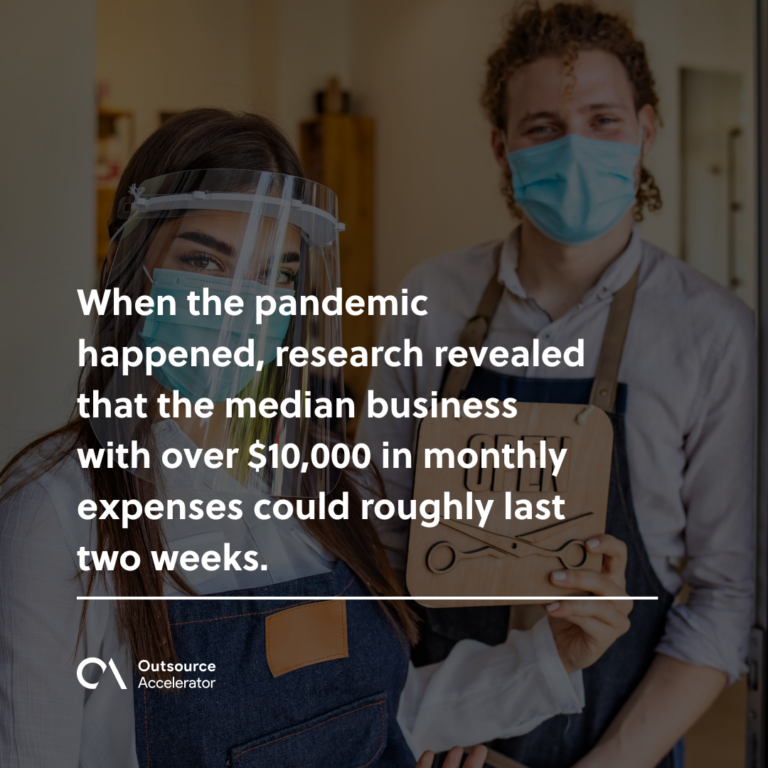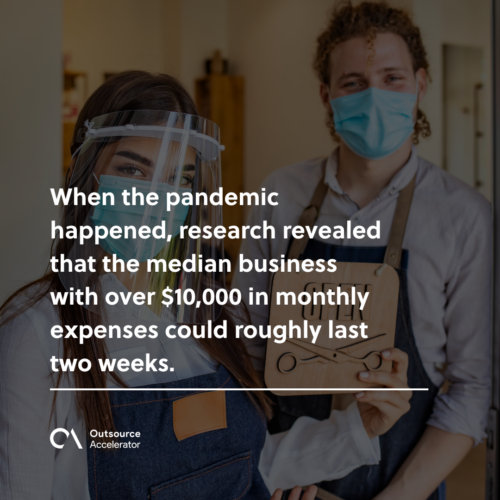 Cost cutting during the COVID-19 economic crisis
79%

of companies cut costs in response to the global economic crisis

Only

53%

of executives think it helped their companies face the crisis
Due to the pandemic, many businesses have opted to furlough employees to reduce costs. Based on our discussion earlier, we can classify employee salaries as fixed costs. Because fixed costs continue to come in even if your cash flow is in the red, you probably have no other choice but to lay off employees. 
However, you must understand that it's only a temporary solution.
As economies reopen, you also need extra help to rebuild your business. 
Effects of COVID-19 on employment in 2020
53% of employers didn't hire new staff

38% reduced employee work hours

31% furloughed workers

19% reduced employee pay rates

15% cut headcount with no plans to re-hire
Outsourcing, or the business activity of working with another company to handle tasks you can't handle, is a cost-effective solution to fill in the gaps in your workforce.
It helps you find suitable candidates for a cheaper price compared to hiring new ones in-house.
But how does it exactly help you reduce costs?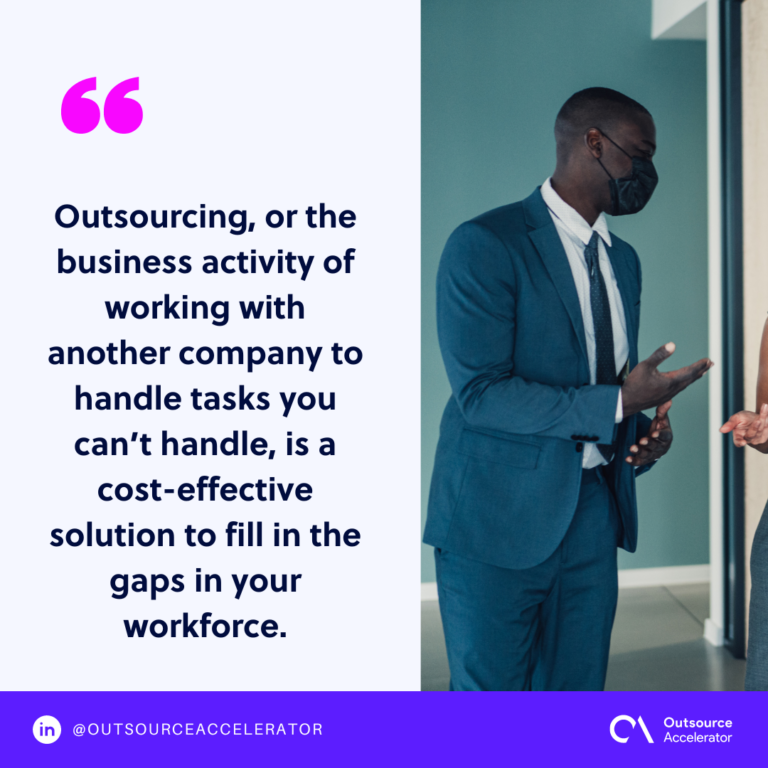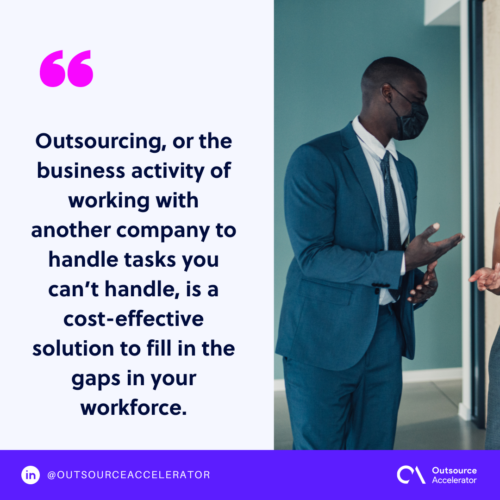 How can outsourcing reduce costs?
Over one-third of small businesses outsource at least some of their operations, the government agency U.S. Small Business Administration stated.
Easy-to-outsource job functions
Accounting

Marketing

Sales

IT Management

Administrative Tasks

Customer Service

Manufacturing

Shipping and Logistics

Research

Human Resources
The good thing about this business activity is it can help you save more without compromising the quality of service you receive. To be specific, it reduces the amount you need to spend on recruitment, payroll, training, and technology.  Here's how:
More than a third of small businesses currently outsource at least some of their operations.
1. Cover recruitment costs
Hiring an employee is expensive. According to a majority of recruiters, the average cost-per-hire for all positions is $3,000 or less.
Aside from this, you're also entering a competitive market. If you want to attract top talents, you'll need to compete with bigger companies with higher salary offers and better perks.
To top it off, recruitment is a long process. It takes more than 3 weeks before recruiters fill an open role on average.
When you outsource, you no longer have to worry about the money and time you need to spend in finding the right talent. Your chosen service provider will do the recruitment tasks for you — from sourcing to onboarding.
All you need to do is to provide specific details about your ideal staff. This information will help recruiters from your chosen outsourcing company match you with the right job applicant.
2. The payroll is lower
Payroll costs — which include employee salary, benefits, taxes, and paid leaves — are lower when you outsource to an offshore location. The labor market rate in top outsourcing countries is cheaper than their Western counterparts.
To give you an example, we compare the differences in median weekly and monthly earnings between full-time American workers and Filipino employees.
Even if you're planning to hire someone with higher-level skills, you can still save more when you outsource to an offshore location due to the differences in labor market rate.
3. Outsourcing eliminates training costs
Outsourcing companies conduct regular training for their employees. Even before onboarding, new hires undergo a series of training to ensure they can deliver quality service to clients.
Because your service provider does the training for you, you can save up to $1,075 per staff in a year.
Does training matter? Yes, of course. This generation's workforce is always on the lookout for career development opportunities.
They see growth as a necessity. Staying in one position is not an option for them. If you don't give them avenues to grow as professionals, you can expect higher attrition rates in your company.
You must take advantage of the training your outsourced team can receive. To seize this opportunity, you must exert an effort to provide all materials your team may need.
Make sure to coordinate with the training manager what you expect to see from your team. Be candor about the key performance indicators (KPIs) you're setting.
This will help the training instructors determine the areas they must focus on, and assess the qualities and skills of your team.
Remember, outsourcing is a two-way street. To make it work, you should also do your part. 
4. You no longer need to invest in new technology
Specialized outsourcing companies have the right technological tools and equipment in place to accept projects. For example, call center companies have built-in software to start receiving and making calls to clients.
Everything your team will use has already been set up. 
Now, compare it to starting an in-house customer service or technical support team. If you're going to start from scratch, you'll need to look for good quality call center software with the best deal, spend time setting it up, learn how to use it, and teach your staff about it.
It's an inefficient use of time and money.
5. You can focus on your core business
Time means money when you're running a business. When you or your in-house employees no longer have to deal with repetitive and time-consuming tasks, you'll have more time to focus on your income-generating activities. 
Unlike the first four items we've discussed, this is a more indirect way of how outsourcing can help you save costs. Nevertheless, it's an important factor you should consider to maximize the productivity of your in-house employees.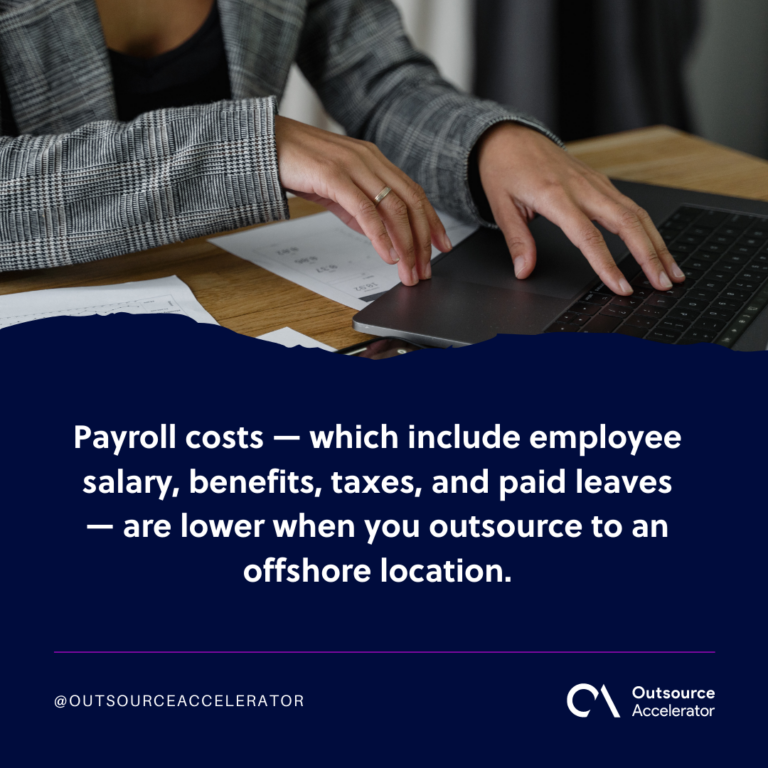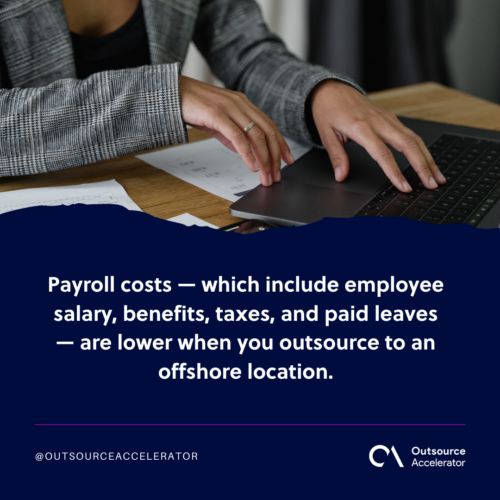 How About the Hidden Costs?
Hidden costs, or those sneaky costs that add to your invoice, is one thing you should avoid. It defeats the purpose of outsourcing. Instead of saving more, it may cost you more.
MIT Sloan Management Review, a research-based magazine, had identified where hidden costs come from:
1. Process of identifying and evaluating outsourcing vendors – Like recruitment, looking for a suitable vendor also takes time and money.
To streamline your search, see if you can ask for recommendations from other business leaders who have tried outsourcing.
You can also check out aggregator websites that can help you connect with potential vendors.

2. Transition costs – Transitioning tasks to your service provider can also cost you money. Transition costs are the amount incurred from possible disruptions such as the vendor's inability to react well at the beginning of the contract.
To reduce this cost, you must be aware of what you want to achieve from outsourcing. This means that you must communicate your needs to your service provider to enable a smooth and fast transition.

3. Vendor management – This includes the following efforts:
 a. Monitoring if your service provider fulfills their obligations
b. Bargaining with them
c. Negotiating any required contract changes
Just like managing your in-house employees, maintaining open communication and cultivating trust are the best ways to reduce your vendor management costs.
To sum it up, you must be transparent about your needs right from the start. Ask critical questions to your preferred vendors before signing a contract to uncover the extra costs you may need to pay.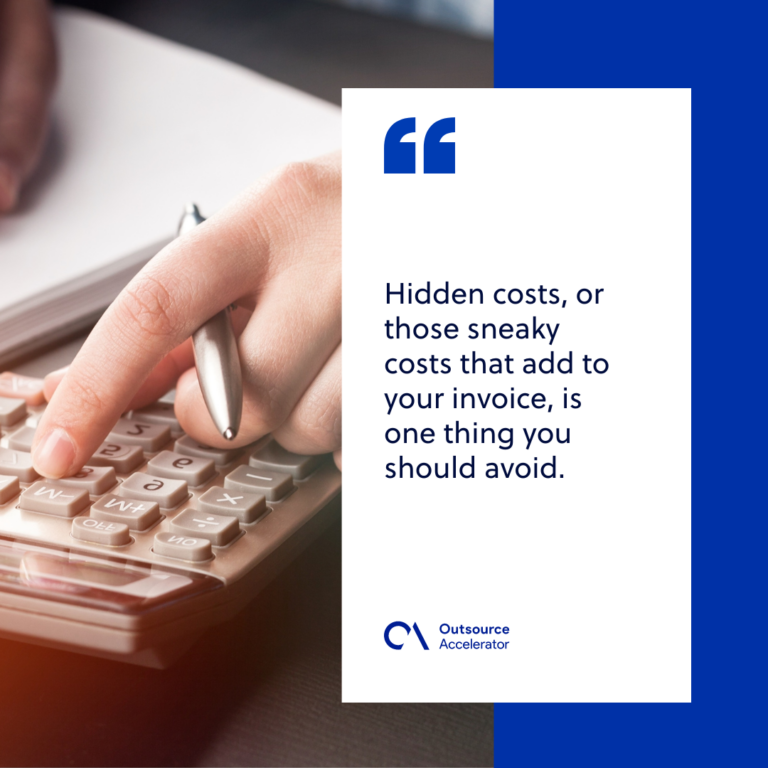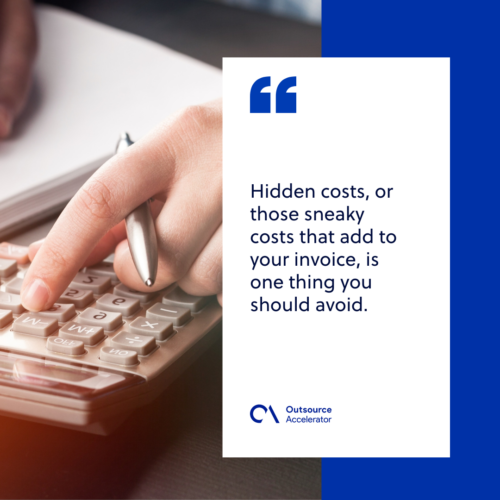 How to calculate your outsourcing cost savings
These are the factors that you must consider when calculating your outsourcing cost savings:
The labor market rate in the country where you plan to outsource

Job title and skill level of the outsourced staff

Required hours of work

Size of the team

Service fees
You can also ask for a quotation from your shortlisted service providers to know how much it will cost you to outsource.
Heads up: We're also releasing a savings calculator soon. This will help you estimate the amount of cost savings you can get when you outsource to Booth & Partners.
If you want to get an estimate of the possible cost of the service you plan to outsource, enter your details in this savings calculator.
Value-for-Money Outsourcing Services
Booth & Partners offers outsourcing solutions that you can customize according to your needs and budget. If you want to know more about outsourcing, contact us.
Feel free to ask any questions so you can better understand the cost structure of the service you plan to outsource.