A guide to outsourced accounting: All you need to know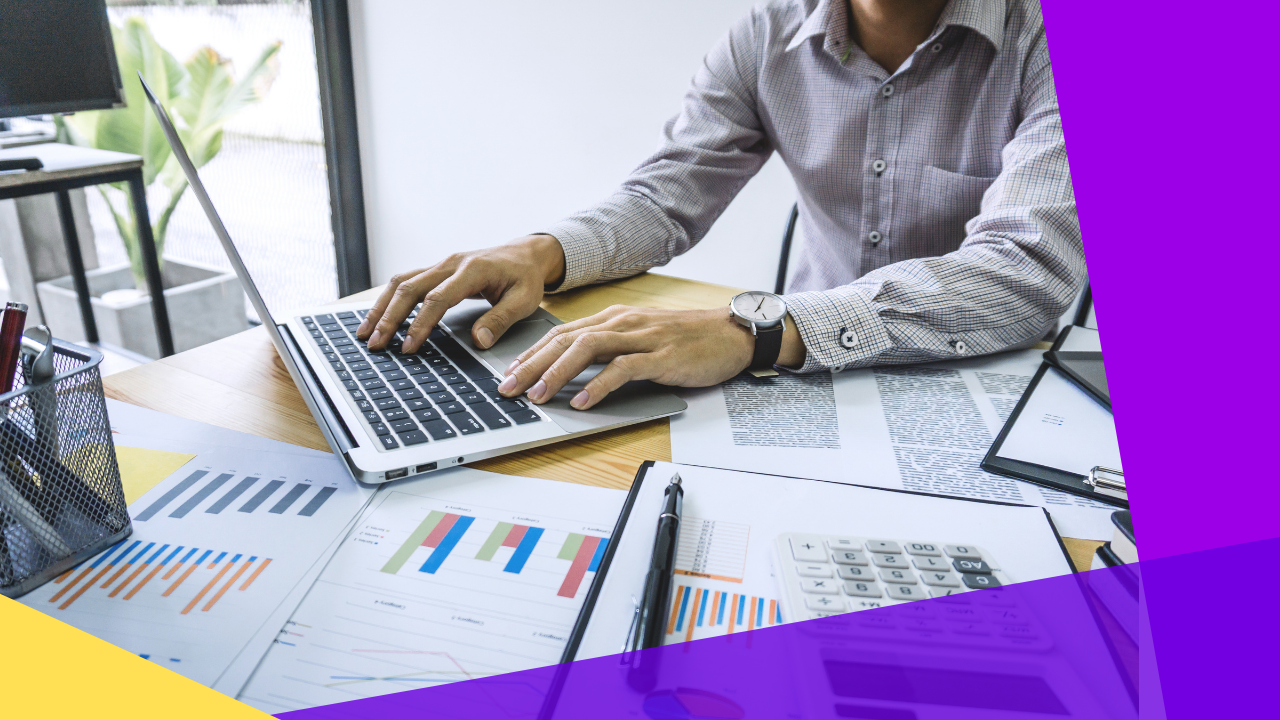 Hiring an accountant can be a daunting task for several small businesses and startups. No matter the size of your company, you want the best set of hands to handle your financial records. No wonder businesses prefer to get outsourced accounting services. 
You might say that areas of accounting and bookkeeping must be done internally due to the job's sensitivity. But with outsourced accounting, your financial statements and compliance tasks are all safe and secure, as providers are equipped to handle sensitive data and maintain work quality.
Apart from enhanced security and access to experts, businesses have significantly benefited from outsourced accounting. To elaborate on how it helps organizations, this guide takes a look at what outsourced accounting is and its top benefits.
What is outsourced accounting?
Outsourced accounting refers to all the accounting services from an external service provider hired by a business.
This includes outsourced accountant services, bookkeeping, payroll, financial reports, tax filing and management, accounts payable, accounts receivable, and other accounts-related services.
Several businesses are outsourcing accounting services to fill their company's needs with the best knowledge and qualifications. But what type of organization needs outsourcing? Read on to find out.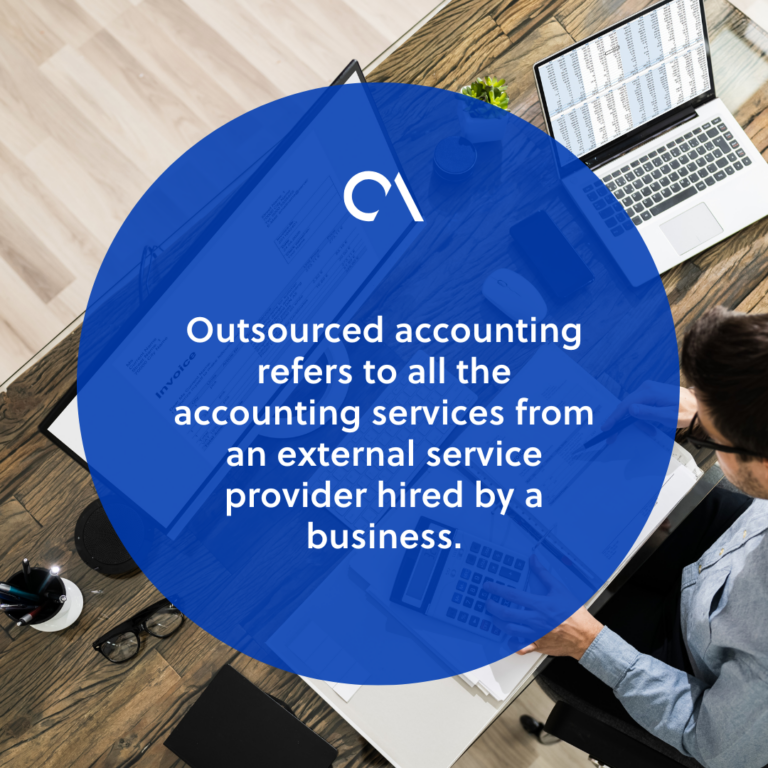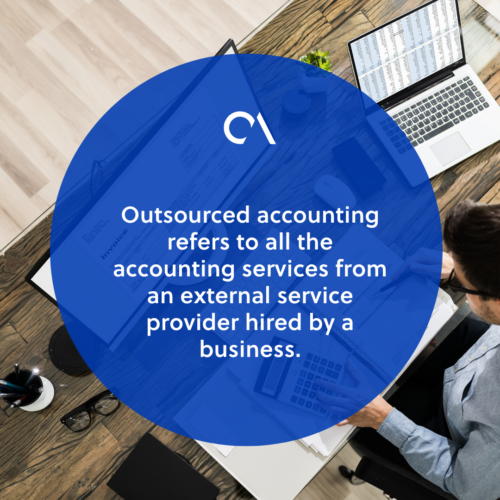 Who needs outsourced accounting?
Companies outsource to achieve cost savings and focus on core business functions. Top-notch organizations opt to outsource to drive transformational business results.
What exactly are the kind of organizations that benefit from outsourced accounting? Here they are.
Small to medium-sized businesses
Accounting is a very demanding task for small to medium-sized businesses. 
Since several companies are transitioning to a more hybrid or remote work model, outsourced accountants are much needed in smaller businesses and organizations.
Small businesses and entrepreneurs can hire remote accountants to help them operate whenever they are. It can also address the shortage of accounting skills in the in-house team.
Struggling startups
A company of any size can find accounting a challenging task. What more if your company is a startup with other core tasks to prioritize?
It will cost you a fortune to hire the most suitable and full-time accountants. You'll have to process and spend resources for their recruitment, training, and onboarding.  
Not only is this costly, but it's also tedious for your management. Outsourcing can go a long way for your company to help you develop the areas you're just starting to grow.
Non-profit organizations
Managing non-profit financial statements is very crucial for the operations of non-profit or non-government organizations.
These organizations work with several different companies and individuals, requiring liquidation and proper documentation for law compliance.
Keen attention to detail and robust knowledge for managing donations, funding, auditing, and financial reporting obligations are crucial. And these are traits that an outsourced accountant already possesses.
Advantages of outsourced accounting
If you belong to one of the organizations listed above, it's time for you to consider outsourced accounting services. Here are the advantages you can gain from doing so:
Reduces fraud
Fraud is a sensitive aspect that should be taken seriously, especially in the financial sector. If neglected, results will put businesses at risk. That's why accountants should know how to detect if records have been manipulated or faked. 
Outsourced accounting providers can spot the warning signs indicating fraud and find out which financial pressures need to be worked on. 
With outsourced accounting services, you'll have meticulous eyes that can process financial data while ruling out fraud simultaneously.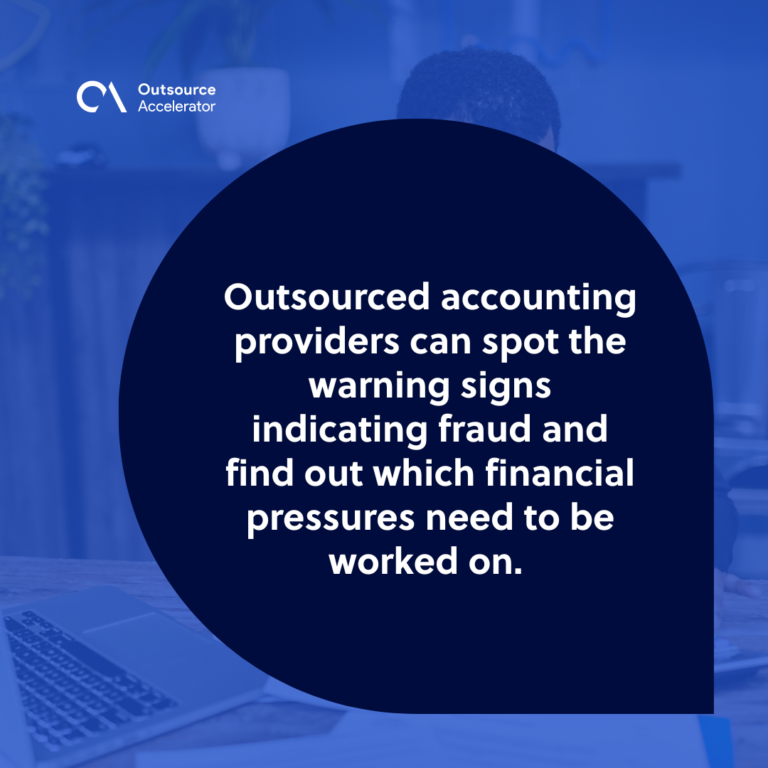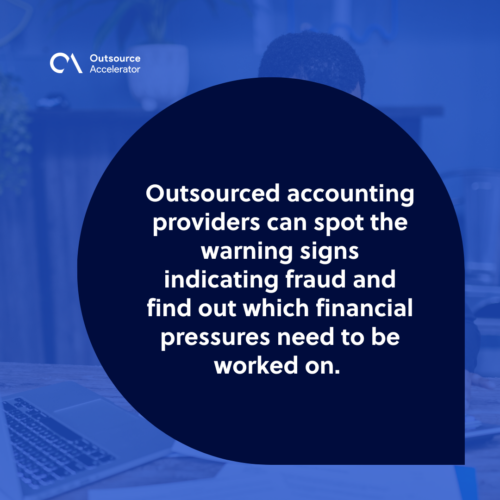 Saves time
With outsourced accounting, your in-house team will not only be freed from the time spent overseeing financial functions. Your outsourcing provider can also help assess the best time to outsource your accounting services.
You'll have a dedicated team solely for managing your financial statements. This gives you more time to focus on your vision and purpose, enabling you to fulfill your core duties better. 
As your company faces a high level of regulation, you can sit back and let your outsourced accounting professionals adhere to compliance requirements with the various regulatory bodies.
Uses automated technologies
One of the best advantages of working with an outsourced accounting team is that you'll get access to the most up-to-date accounting software.
These software systems streamline processes and automate accounting tasks, saving you time and money on inventory while reducing your filing and storage.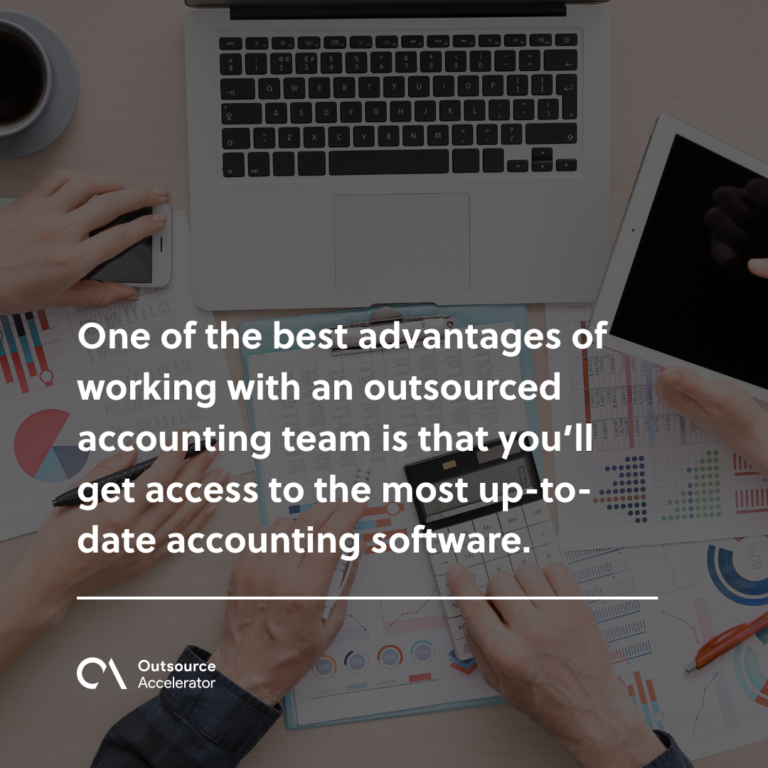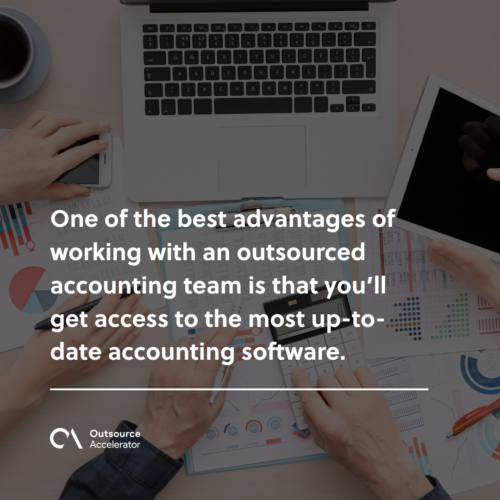 Outsourcing accounting services
Outsourced accounting services have become a more common and practical solution for various businesses today. Be it startups, small to medium-sized businesses, or non-profit organizations, outsourcing offers major advantages.
The advantages we've mentioned above can make a lot of difference in your accounting department and overall financial performance. All it takes is a reputable external provider that can give you the best out of your outsourcing journey.