Types of outsourced finance and accounting services for your business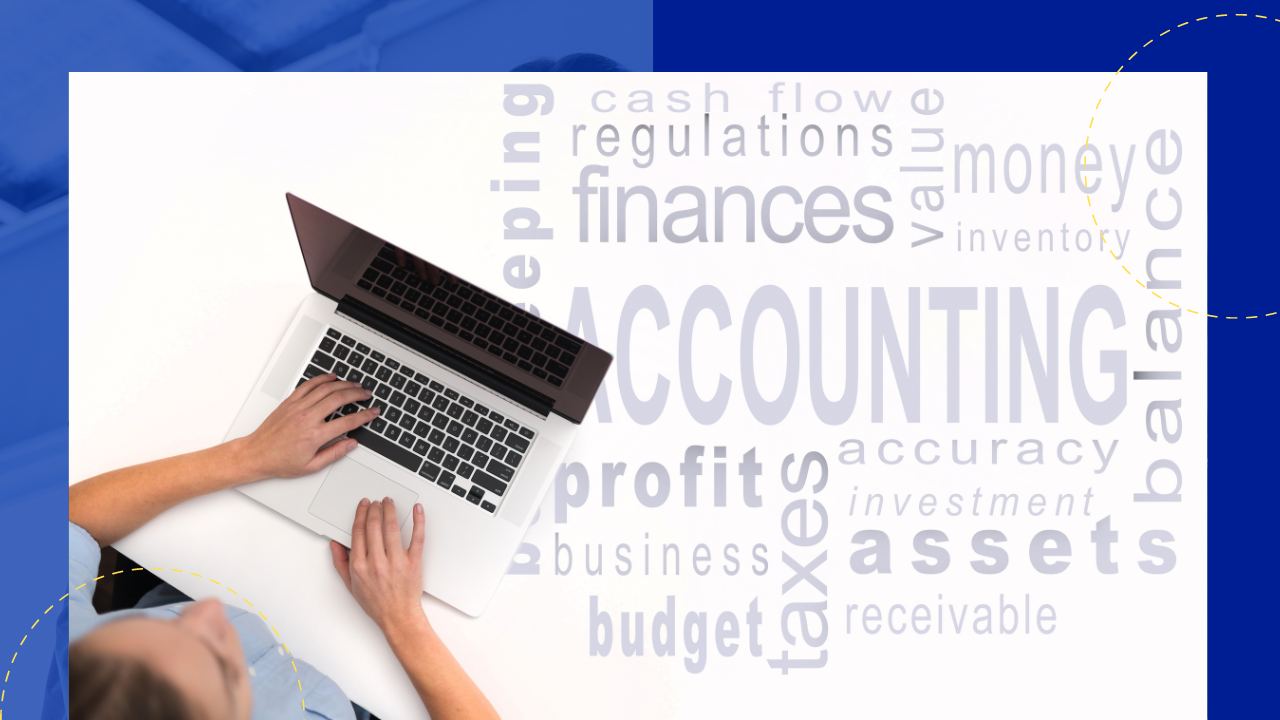 Types of outsourced finance and accounting services
Finance is a booming subsector of the outsourcing industry right now. From freelance accountants to tax specialists, finance outsourcing is always in need of an extra set of hands.
As the industry grows at a fast rate, there is also an increasing need to outsource different financial tasks.
Types of outsourced finance and accounting services for your business
Below are finance and accounting services that you can outsource to a trusted external provider:
Bookkeeping
Bookkeeping is a cornerstone process in which a company's total earnings and expenses are tallied. Bookkeeping reflects a company's true financial situation in terms of its earnings. 
Needless to say, your provider will handle this data and help you project-wise and practicable business decisions based on these.
Management accounting
Management accounting entails the management of business assets; internal business operations of clients; reports on profit and loss based on the company budget; reports on the fulfillment of key performance indicators or performance metrics that are uniquely adapted by the company; cash forecasts; and revenue projection, among others.
In managing this data, your provider must assume an eagle-eye approach with regard to how your company's leadership realistically fulfills all its financial goals.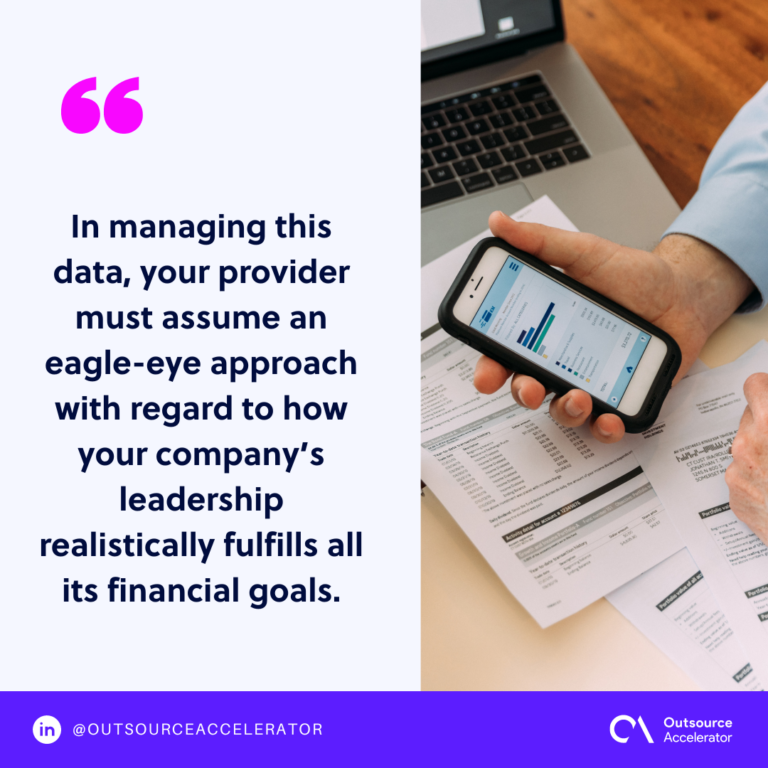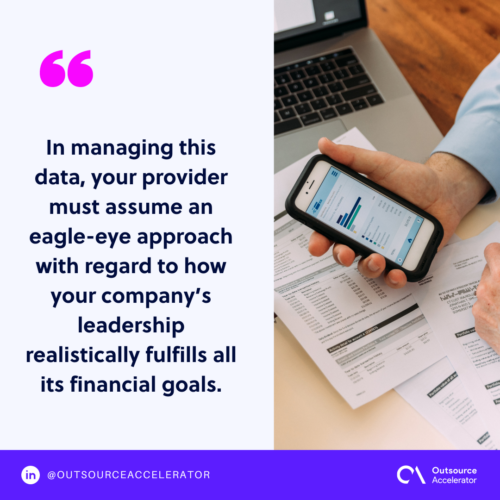 Tax accounting
Tax accounting entails data with regard to tax income returns and necessary tax payments for your industry type and according to your area's bylaws.
Your provider will keep track of all your company's tax payments, study tax laws, and flag you on any unnecessary tax payments.
Accounting audit
Under the umbrella of accounting audit is the management of company receipts, financial records, and statements.
Auditing is necessary to uphold transparency within the company, as regards sound business practices and compliance with the law.
Your provider will keep abreast of financial data in a way that will eliminate fraud, malpractice, or corruption within your company, no matter how big or how small.
Forensic accounting
By extension, outsourced providers can also supply the service of forensic accounting. Forensic accountants will survey any gaps in the company's financial records that might indicate tax evasion or fraud.
If anything, this service will serve as the key to law enforcement in any case of foul play.
Financial controller services
These services cover coordination with bookkeepers and business owners in the completion of monthly management reports.
In the fulfillment of these services, your provider will handle financial data that is crucial to hiring, dealing with clients, and the like—an assessment of how healthy your business is at any given time.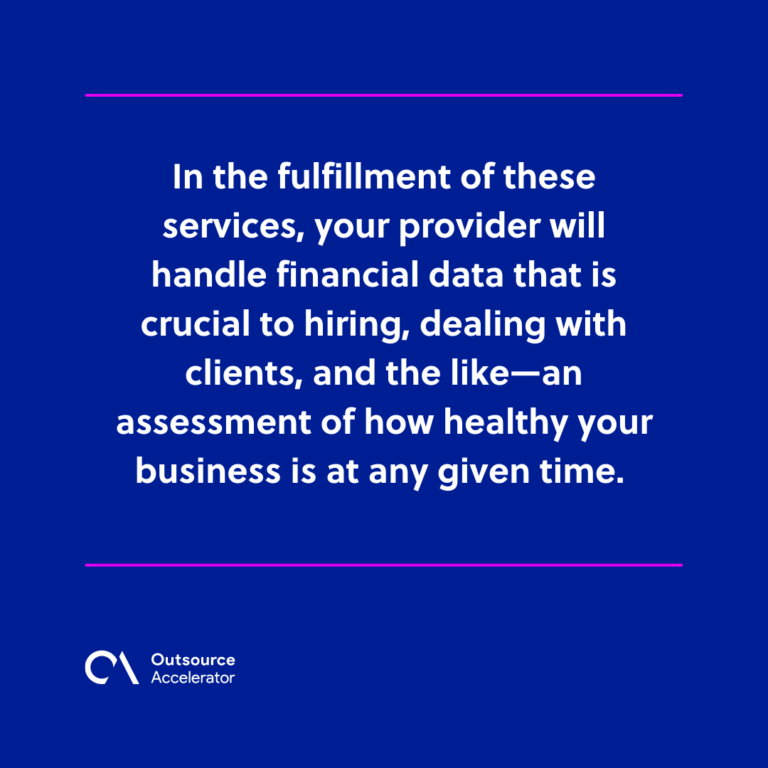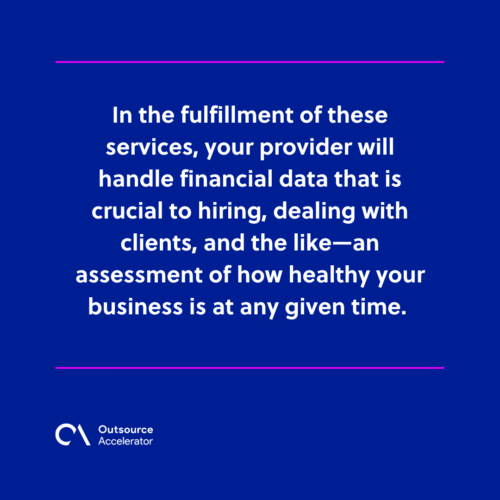 Financial analysis
Financial analysis services typically cover data that pertain to product cost calculation; profitability; reviewing of credits and rebills; and reviewing company sales contracts to determine impact on accounting policies.
For this, your external provider will use your company's financial statements as basis.
Payroll services
Another service that is available via most external providers is the management of your company's payroll.
Payroll services include the tallying of your company's pay cycle, and the accounting of on-demand services, end-of-month services, and end-of-year services.
Your provider is obligated to learn the payroll management norms of your company, and what the just and timely standards are for your employees' compensation.
Statutory reporting and compliance
This type of service ensure the fulfillment of all local and international accounting standards to be met by your company, such as any and all tax reports, payroll processing compliance, consolidations, adherence to GAAP or IFRS, and the like.
Your provider will keep such a crucial range of data about your company's stability, and enhance its appeal to any potential investors.
Reasons to outsource finance
If you're still looking for a reason to start outsourcing finance activities, then look no further.
The list below may shed some light on why businesses outsource their internal activities and services, including finance.
Better workload delegation
When partnering up with outsourcing vendors, you may notice a decline in workload—but in a positive way. 
By delegating workload across in-house employees and outsourced teams, the department will be as efficient and proactive as ever. There would be no need for employees to push for overtime. Projects and deadlines would be met ahead of time.
Lower labor costs
Business process outsourcing (BPO) companies often take roots in countries with young yet flourishing economies. 
Developing countries such as the Philippines, Mexico, and India are a hotspot for BPO agencies.
This is because they have lower labor costs compared to developed countries. Despite this, their workforce can deliver just as well as their first-world counterparts.
There are different factors to why the labor cost is lower in developing countries, but that doesn't mean that the outsourced teams have lower standards of living.
Faster delivery of outcomes
With more hands on deck, outcomes get delivered on time.
A hybrid team of in-house employees and a distributed workforce of outsourced staff can finish projects ahead of schedule. It would lessen the pressure on the in-house team and enhance the overall efficiency of the business —  all for a fraction of the cost.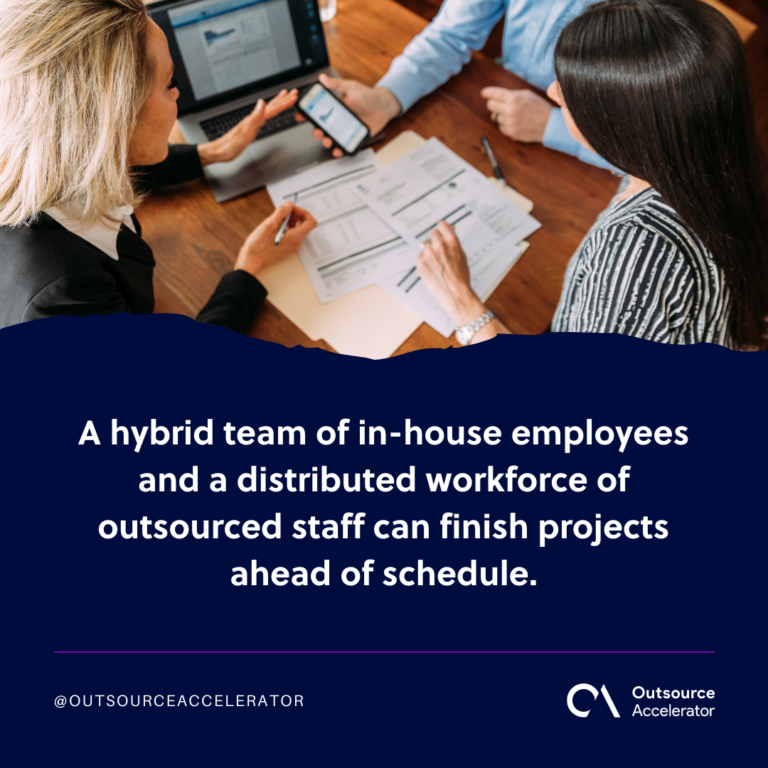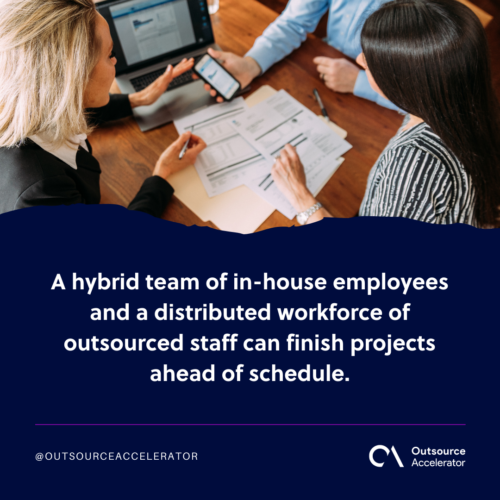 Lower overhead expenses
You might be thinking that with more heads on a team, there would be more facilities to pay for—more desks, more computers, more chairs, and so on.
But with outsourcing companies, you get the opportunity to expand departments without physically expanding your office. This means fewer overhead expenses for you.
While these kinds of ventures aren't exactly inexpensive, they will all be worth it in the long run.
Guarantee regular monitoring of accounting rules and their implementation
Finance and accounting require regular tracking to keep up with the changes, especially in accounting rules. This takes a lot of time, resources, and effort. Outsourcing this business function ensures constant monitoring of necessary accounting functions.
Allow strategic redeployment of staff
Manpower constraints can burden the accounting team as they must handle tons of data.
Outsourcing can help them relieve redundant and laborious tasks, giving them more time to focus on core finance and accounting functions.
Get experts in accounting and finance to do the job
Especially for small businesses and start-ups, it can be expensive to hire a complete in-house accounting team. Outsourcing helps you gain access to the best heads in the industry.
Reduce burden on companies during difficult economic situations
Keeping up whenever the economic situation changes can be challenging as well as resource intensive for a business.
Outsourcing finance and accounting services can significantly help reduce the burden of such changes in the company.
Gain flexibility and scalability by hiring specialists in finance and accounting
Flexibility and scalability are one of the biggest advantages when outsourcing finance and accounting.
You can benefit from the customization that a service provider can offer based on your requirements.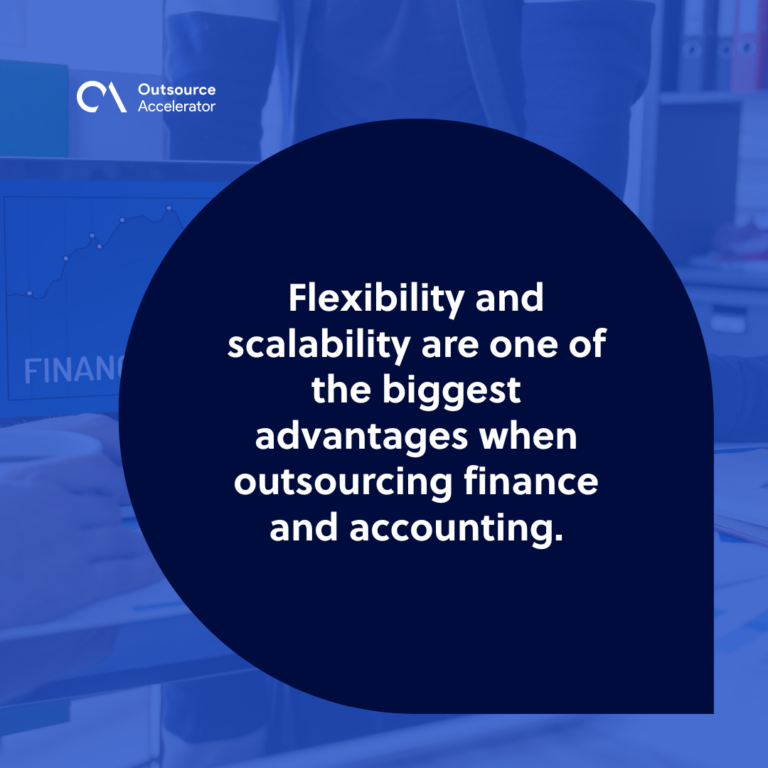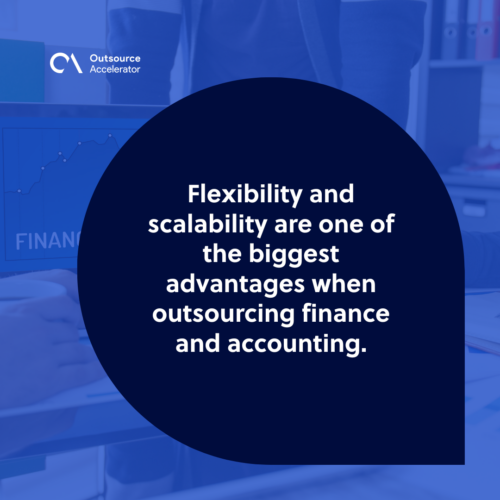 Guarantee that finance and accounting data are handled and stored properly
High-quality finance and accounting service providerss follow such strict standards and have their own functions to make sure that your data are stored securely.
Get a 24/7 external service provider.
Outsourcing finance and accounting functions from an external service firm can give you a time zone advantage as they can offer 24/7 operations.
It gives you a guarantee that accounting tasks and schedules will be met.