Compelling reasons to outsource finance and accounting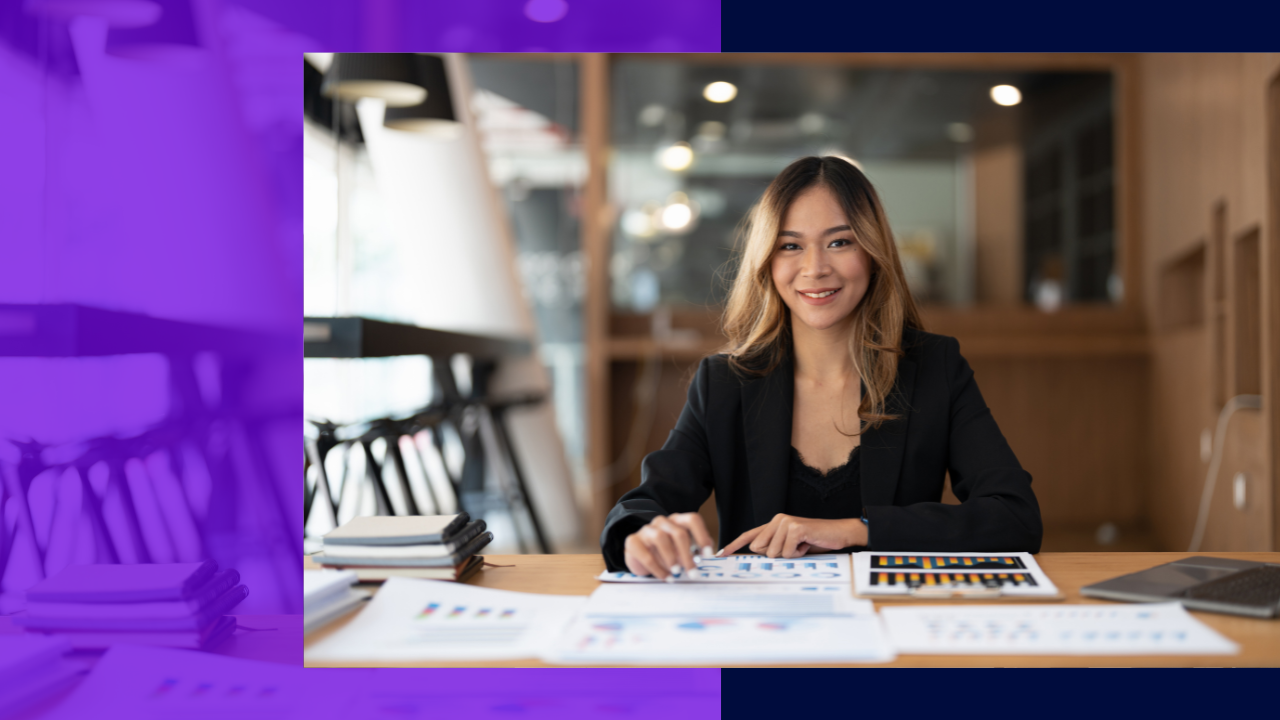 Foremost among the reasons outsourcing has grown in popularity is because businesses—particularly SMEs—have a high demand for quality services, but are bogged down with high costs, hours of extended time dedicated to upkeep, and loads of red tape to deal with in person.
An outsourced model for finance and accounting typically employs the services of experts who will work on a remote basis most of the time, but who can also meet on-site for the few times that the occasion calls for it. Business is also done through accounting software programs; that means that your provider will be able to access your company's data and manage your books with reliable systems, even with minimal personal interaction.
Here are some specific benefits to be had from this model:
Reduced costs and maximum efficiency for your company
The most immediate benefit of getting an external provider is 24/7 availability, and a level of productivity across different time zones. In addition, your business will only need to pay its outsourced provider for actual work tendered, without additional employment costs such as payroll, taxes, and infrastructure (hardware, office space, paper and collaterals, and the like). This is ideal especially if your company is just starting out, is based in a small storefront, or depends on limited manpower.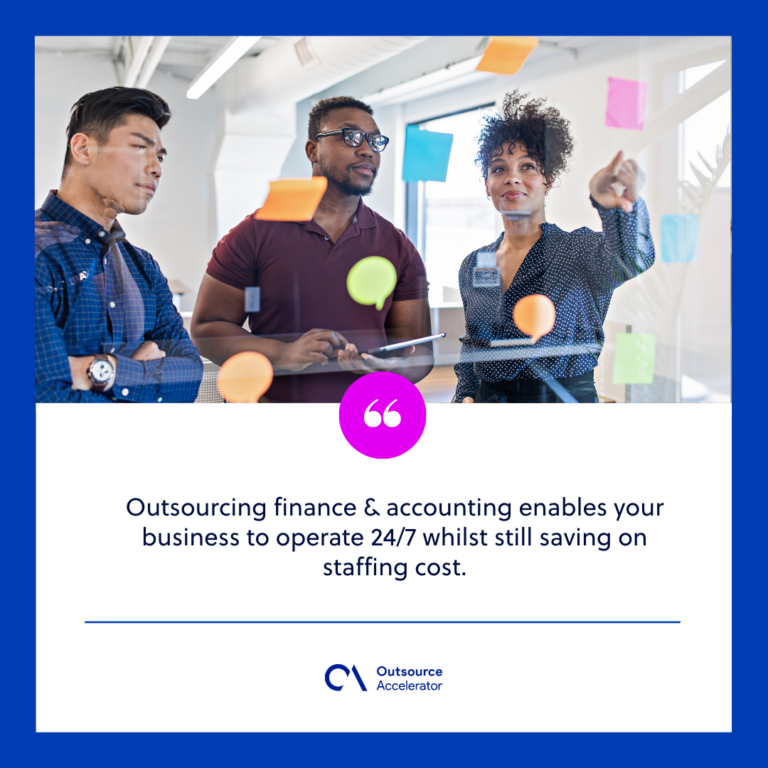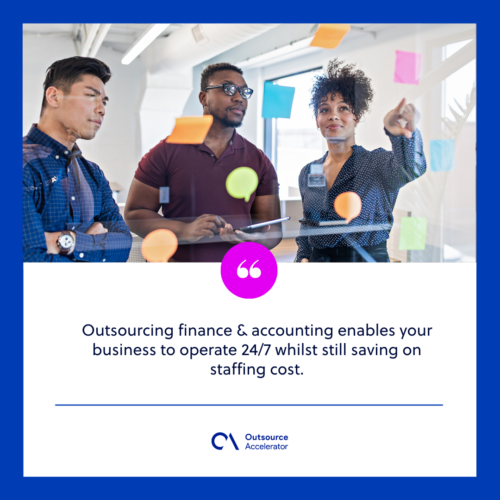 Efficient redeployment of staff
On that note, outsourcing your finance and accounting services will enable a more focused and efficient distribution of tasks, even among a limited number of staff members. You can depend on your providers to handle your financial data; conversely, you can direct your staff toward tasks that have more business value, such as addressing customers.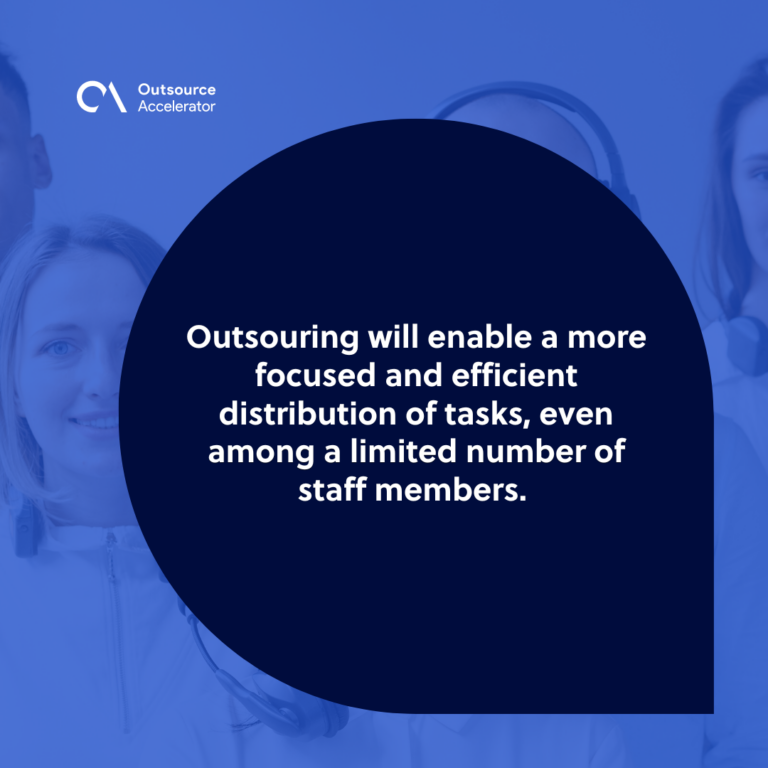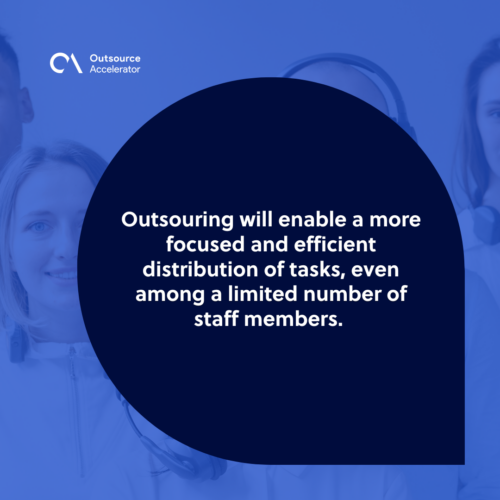 Services from a provider with a specialty and core competency
Think of finance and accounting as a core competency for these companies. Their business licenses, years of expertise, and expanded network of professionals are for naught if they do not live up to their specialty. Trust that the best companies will tap seasoned professionals to do bookkeeping and financial management that implements global standards, such as the Generally Accepted Accounting Principles (GAAP) and International Financing and Reporting Standards (IFRS) guidelines. This extends, of course, to security and confidentiality, and a strictness in protecting client information and accounting data.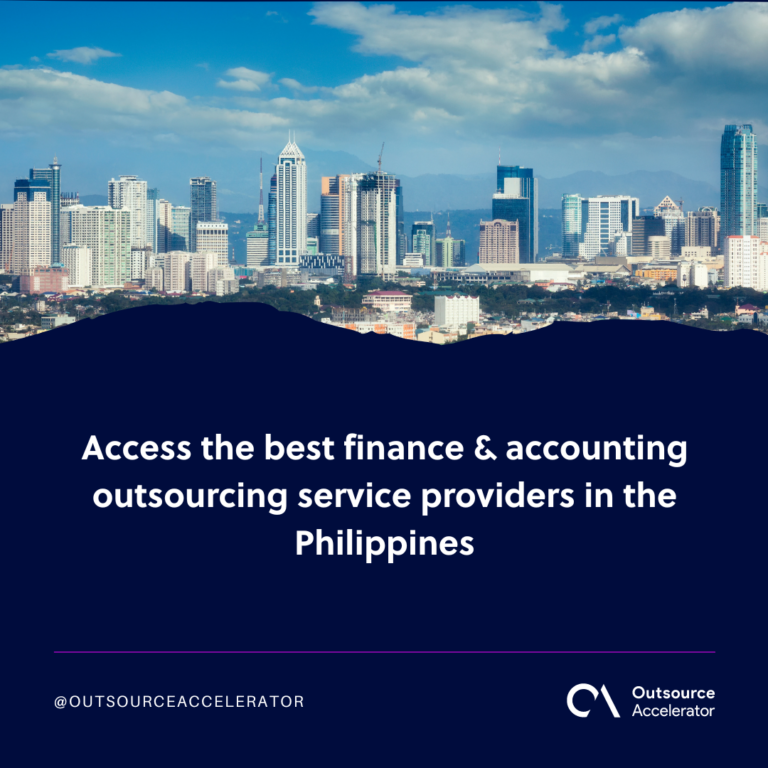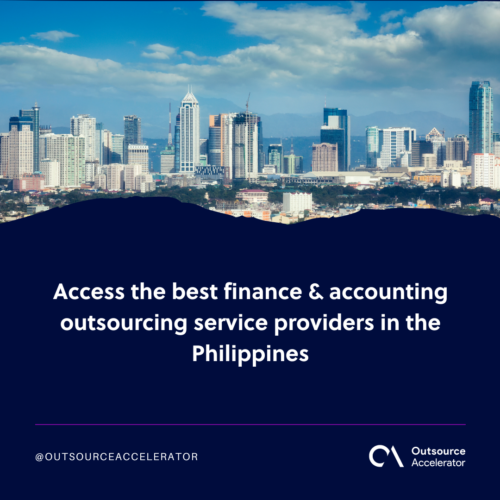 A global talent pool
The people adhering to the financial market regulators are from a wide and ever-developing talent pool—the financial minds that drive a resilient and dynamic global financial industry. Filipinos, in particular, have excelled in the fields of finance and information technology (IT) since the BPO industry boomed in the 2000s—almost 3,000 examinees passed the 2018 Certified Public Accountant (CPA) board exams, and the hardworking passers hail from many parts of the Philippine archipelago.
Globalized and easily accessible technology
As detailed, the outsourcing model showcases 2 great things on a global level: people and technology. Outsourced providers are readily equipped not only with competent staff of their own, but with a wide variety of tools. Because providers specialize in servicing clients across different levels of commercial growth, you can rest assured that you will benefit from the cutting-edge financial technology that they have at their disposal, without you having to spend for the applications independently.
Flexible, scalable, and resilient business operations
Outsourcing your finance and accounting operations, among other things, will keep your company from falling into several traps. For smaller companies, one of these traps is employing financial management services at a bare minimum-level—with maintenance, and not growth, in mind. A reputable external provider can be on board not only for bare-minimum financial services. They will work along a mindset of keeping books, auditing, and monitoring compliance so that your business can grow at its own pace, integrate commercial trends, and tap bigger markets with ease.