Distributed workforce: The future of work arrangements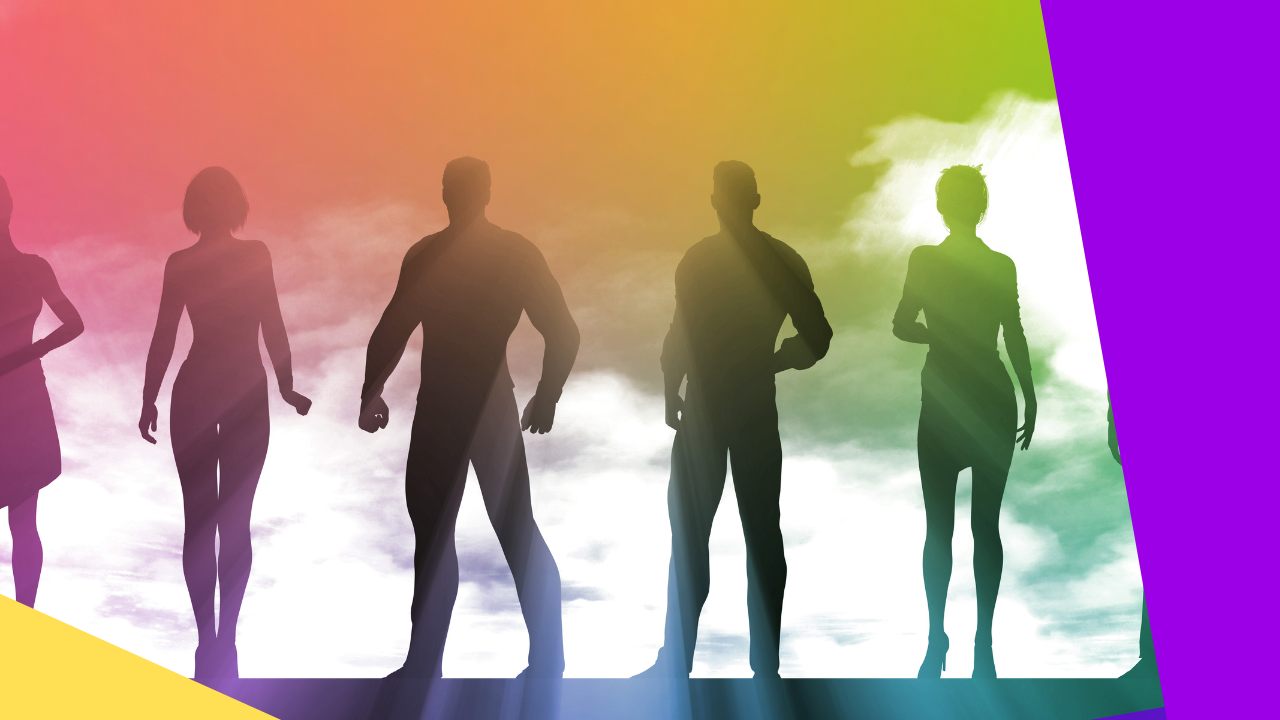 Distributed workforce The future of work arrangements
Times have indeed changed—companies nowadays are creating sustainable workplaces for their employees. A distributed workforce is a business model that allows employees to work from different locations.
This type of work setup inspires trust and accountability for employees to work of their own volition. It also encourages camaraderie in the workforce, even when they hardly see each other in person.
Much like its traditional counterpart, a distributed workforce needs to have a culture based on connections, communication, and professionalism.
Teams won't thrive unless people work together. To cultivate a positive workforce is to encourage both interpersonal and intrapersonal growth.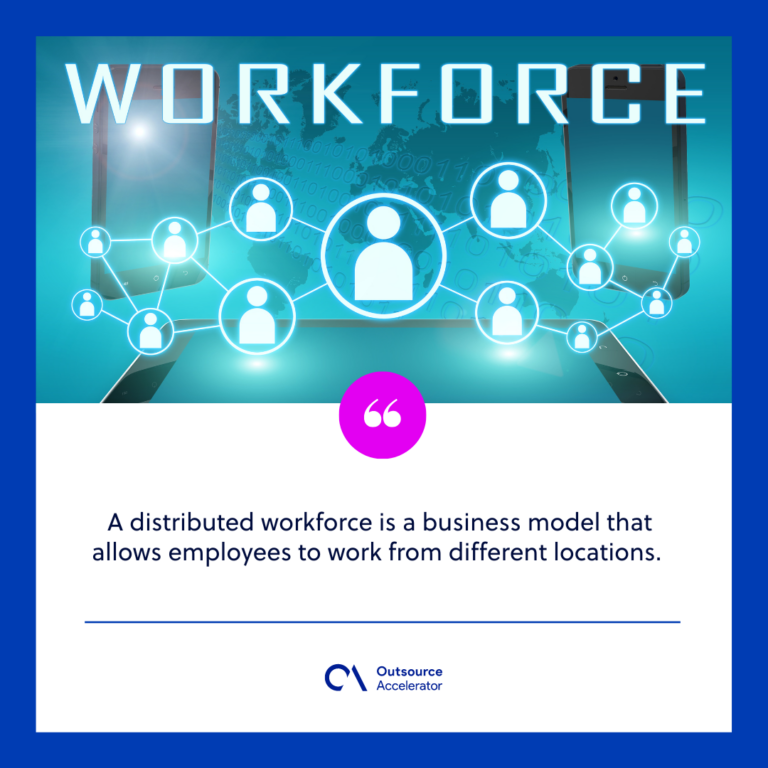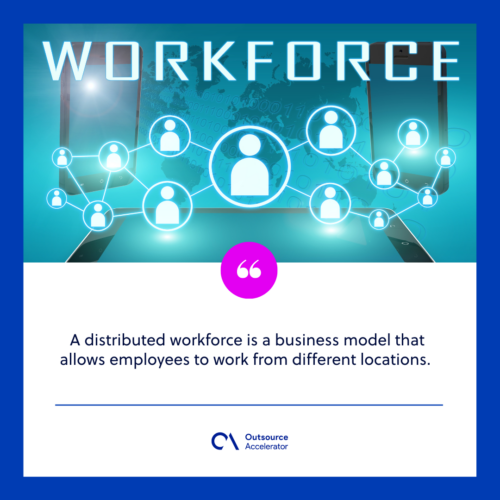 What does distributed workforce mean?
A distributed workforce refers to a workplace model that offers flexibility for its employees. This labor force may be composed of fully remote workers, a hybrid team that works remotely and in the office, or a group of people who travel from location to location.
Most tech and Software-as-a-Service (SaaS) companies take advantage of this setup. Case in point, audio streaming and media services provider, Spotify, announced its Work From Anywhere initiative this year.
By setting up remote work arrangements for their employees, Spotify's management team firmly believes that this will make everyone more comfortable and productive when working.
The difference between distributed workforce and remote teams
Although very similar in the structure, a distributed workforce and remote teams are very different.
Simply put, remote working is a way of working, while a distributed workforce is a way of managing an entire organization. And while remote teams are unheard of until recently, a distributed workforce certainly has a long way to go.
Companies such as Automattic, Zapier, and Buffer reinforced their workforce distribution throughout the globe. Each of these organizations carried on despite the challenges of the setup. They operate with trust, perseverance, and a stronger sense of company culture.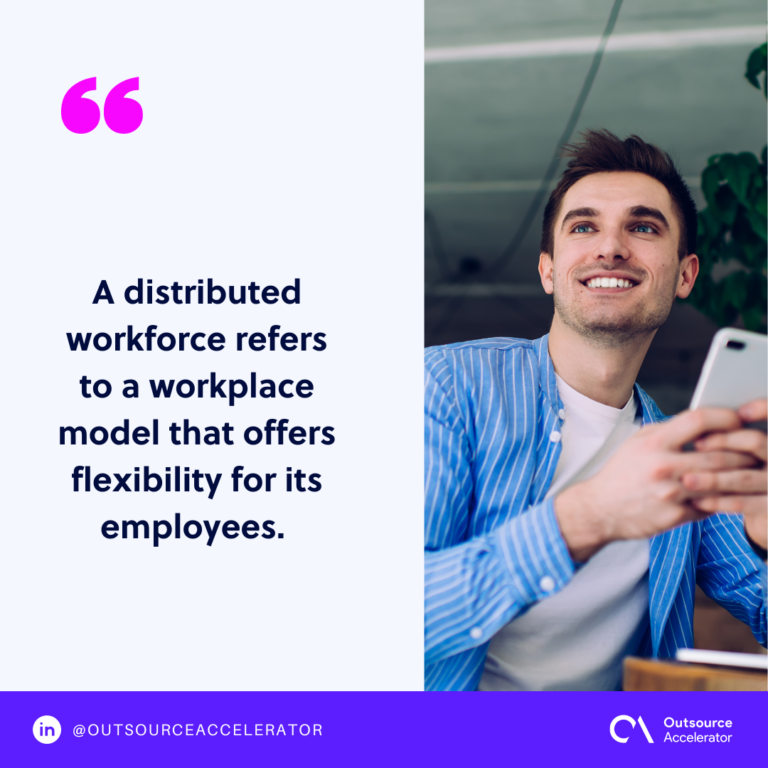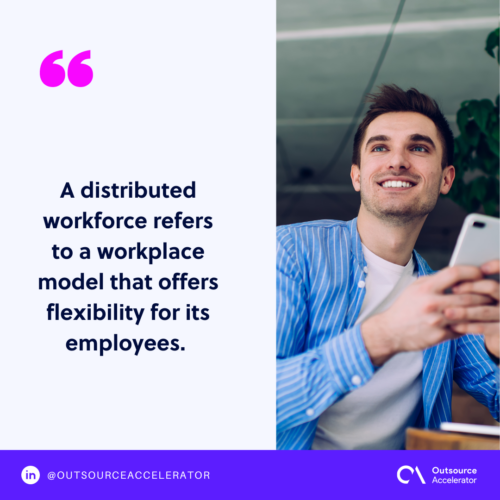 How the distributed workforce is surviving the pandemic
The distributed workforce persisted on its path while most of the global labor force scampered around trying to navigate remote working for the first time.
Teams of a distributed workforce hardly felt the shift in the paradigm. They are almost virtually impossible to shake.
Despite changes and challenges, the distributed workforce remained steady. They were ready for remote working, telecommuting, and the lack of in-person interactions. They were well-equipped with tools, applications, and software to achieve productivity despite lockdowns, health restrictions, and workplace reconfigurations.
Keeping in touch with your distributed team
Communication is one of the most vital facets of running an organization. 
Keeping in touch ensures that your team is working together to complete projects, meet deadlines and that everyone behind these tasks is doing well.
There are a lot of ways to stay in touch with a distributed team. There are online chatting apps, instant messaging, video conferencing, high-speed and real-time voice calls, and many more.
Open communication
Communication is a critical factor in handling a distributed workforce. Keep in mind that communication lines are open both ways. Otherwise, it won't be as effective.
It's better to over-communicate rather than sitting silently and waiting for the "perfect" opportunity to talk. Sometimes you have to create that opportunity yourself. 
Even a message as simple as a midday greeting can open up meaningful conversations for your team and its members.
Weekly catch-ups
A company's success starts with its employees. But it doesn't mean that conversations have to be all about business.
Weekly catch-ups aren't real meetings in the sense that they don't have a set purpose or have to be formal at all! 
These catch-ups can be a casual 10-minute chat about personal goals and other things. Just as its name suggests: catching up.
However, leaders and managers can also turn these sessions into one-on-one training and development sessions for those who think they can still improve. 
Happy employees are always on the lookout for constructive feedback.
Constructive feedbacks
As a manager, make sure you are giving your team time to internalize the feedback they receive. It's a surefire way to know that they're doing their best to improve.
However, when giving constructive feedback, make sure to offer solid compliments too. Recognize their hard work and effort, especially when they're working on extensive projects.
Giving constructive feedback is a two-way street, too. Be open to receiving comments from your team and supervisors as well.
Challenges of a distributed workforce
The distributed workforce is not immune to the challenges of organizational management. From workplace communication to productivity dips, distributed teams also face and must overcome obstacles.
Working from home (or anywhere but the office) may take its toll on employees. So it's crucial to recognize and address these challenges early on. With early detection of workplace issues and problems, solutions can be set up to fix them immediately and avoid them in the future.
Time zones
One of the major hindrances of working with a distributed and remote team is the time zone difference.
Working with people from different time zones may come as a challenge for others—emails coming in after work, meetings are held in the middle of the night, deadlines that can be confusing to follow.
Some workplaces require their employees to render at least three hours of work overlap, and then they can work on their own time. It's a good setup compared to traditional office hours.
Productivity issues
The lack of physical leadership presence is ripe for some employees and workers to take advantage of this setup.
For instance, if a team is working on a project and one member is not actively contributing, it may lead to setbacks and delays. This will cause substantial stress on team leaders and managers, as well as for the other team members.
To neutralize this risk, distributed workforce and remote teams use project management apps and communication tools to their full potential.
Distractions
When working outside the office, things will seem a hundred times more urgent and interesting rather than the project you're supposed to be working on.
The bait is easily set within reach. With a quick search and a click, you can read entertaining articles rather than doing research. And with just a couple of keystrokes and swipes, you can find yourself browsing through your YouTube or Netflix feed.
There are productivity apps that you can use to effectively block all distracting non-work-related sites and programs from your workday.
Lack of in-person interaction
Humans are social creatures. Virtual communication might work for now, but face-to-face interaction is still necessary. You can't avoid it even with lockdowns in place.
To be socially, meantally, and emotionally healthy, we have to talk to people and communicate well. Talk to your friends and colleagues or chat with your bosses and acquaintances. They are very essential parts of daily life.
It's good to take advantage of all the communication tools you have at the tips of your fingers.
Advantages of a distributed workforce
There are many obvious benefits to working in a distributed workforce—some of them may be more obvious than others.
People operate uniquely in different setups and environments. When given a chance and the proper tools and channels, you can thrive within any work arrangement.
Some are more productive working in the office. Some may be more comfortable and efficient working remotely. Ultimately, it's all a matter of preference and responsibility.
Flexible hours
Even full-time employees have responsibilities waiting for them after work hours.
Most companies that have a distributed workforce have adapted flexible working hours. Their employees can work any time of the day, as long as they finish their workload within their deadlines.
More and more employees are happily juggling their personal responsibilities and jobs through this setup.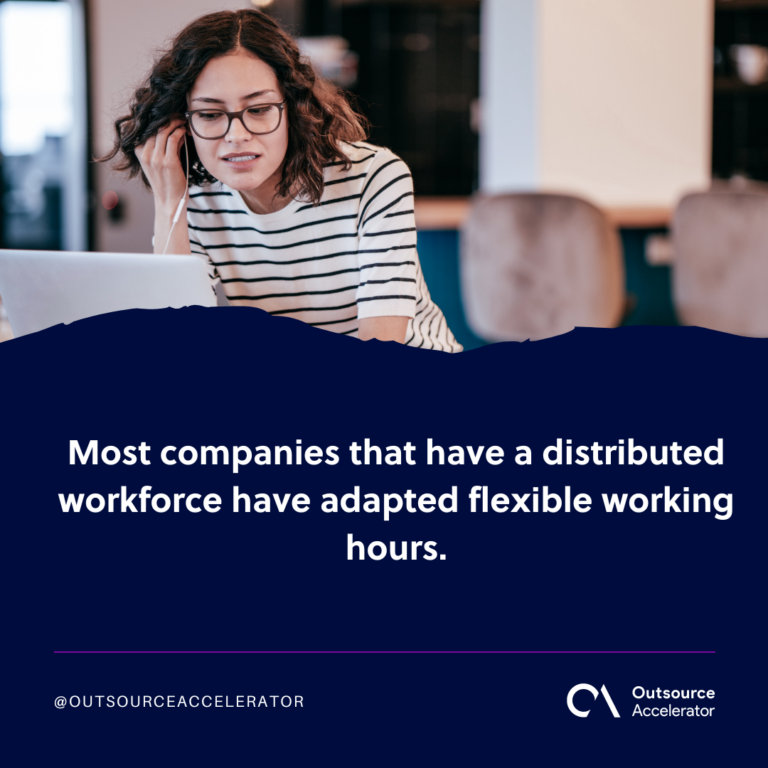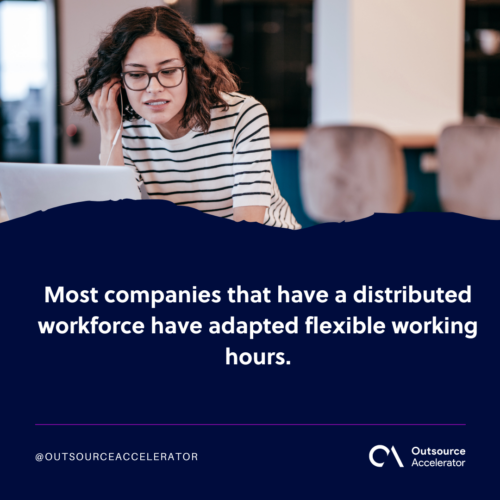 Reduced carbon footprint
Since almost everyone works from home, the need to commute to and back from work is diminished. There is also less need to print out paperwork, since everything can be done digitally.
Hypothetically, when people work from home, there would be fewer takeouts, fewer single-use coffee cups, and plastic utensils. People have more time for home-cooked meals with their families even when working full time.
Access to the global talent pool
When geographical locations and time zones are not issues, employers can choose from the bottomless talent pool from various countries.
A diverse and well-cultured company often has strong connections and an even stronger culture. Any organization that has cultural diversity is a good place to work.
It's normal for a distributed workforce to have professionals and experts hailing from South Africa, Japan, Mexico, the UK, and the Philippines.
Higher productivity
Healthy workplaces are built on mutual trust. When managers and team members trust each other to get their work done with minimal supervision, they are empowered to accomplish more.
Despite the potential distractions, employees work hard to catch up on their responsibilities. With the team working at their own pace and comfortability level, production will be at an all-time high.
Managing a distributed workforce
It is not easy to manage people thousands of miles away from you. When managing a distributed workforce, you will need patience, a positive attitude, and the flexibility to adapt to any minor and major changes.
With their help, cooperation, and support, your team—and company—will see exponential growth.