The best and most popular distributed workforce companies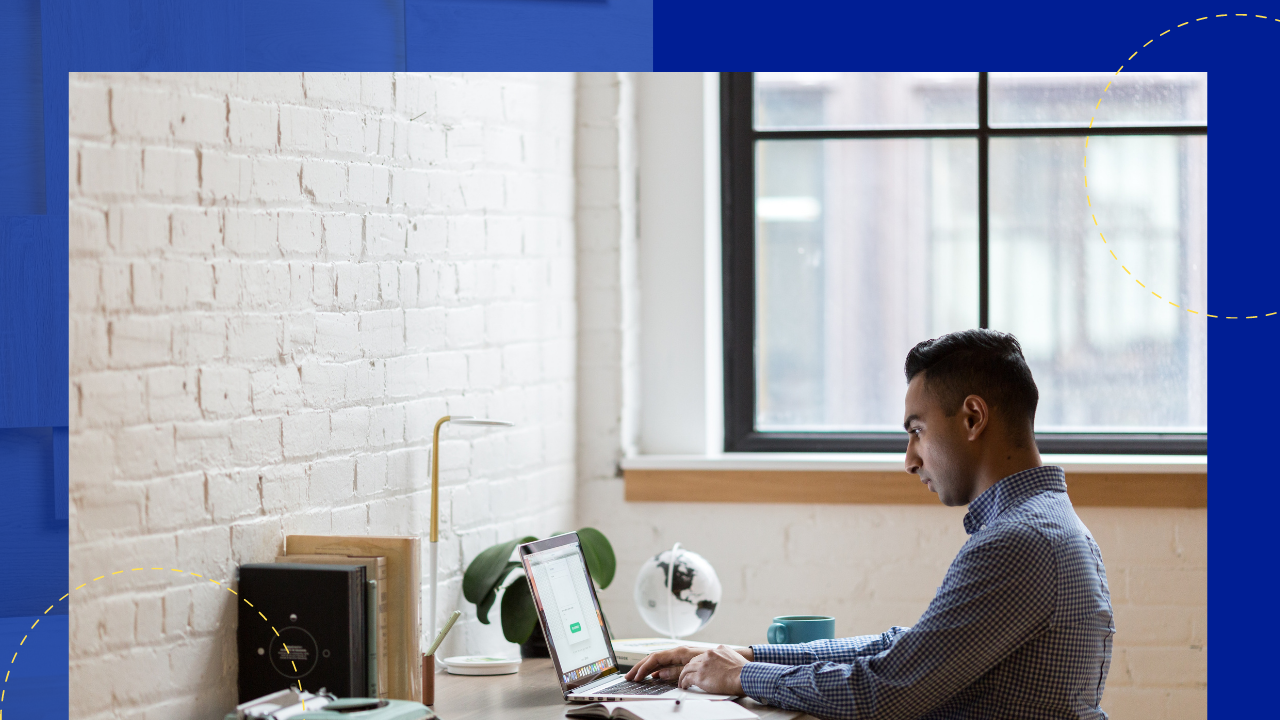 Many businesses are still skeptical about the idea of employees working remotely. Like in business process outsourcing, they might have not known its concept at first or they heard nightmare stories about freelancers or remote employees.
However, with the rise of online tools and software, hiring and managing remote and distributed employees have become easier.
Enterprises started adopting a distributed workforce model even before it became popular. Though, not all succeeded at first in managing them. Now, the number of small businesses using remote employees increases along with modern entrepreneurs dominating the job market.
With this, remote work proves that it is here to stay.
What is a distributed workforce?
A distributed workforce is a type of framework where a company has teams working outside the office and in multiple locations. They have either an in-house core team that manages their remote employees or a fully-remote operation.
Despite different locations, workers in distributed workforces are still connected in a single network. Although they do not work in a physical office, they use the right tools for collaboration and communication.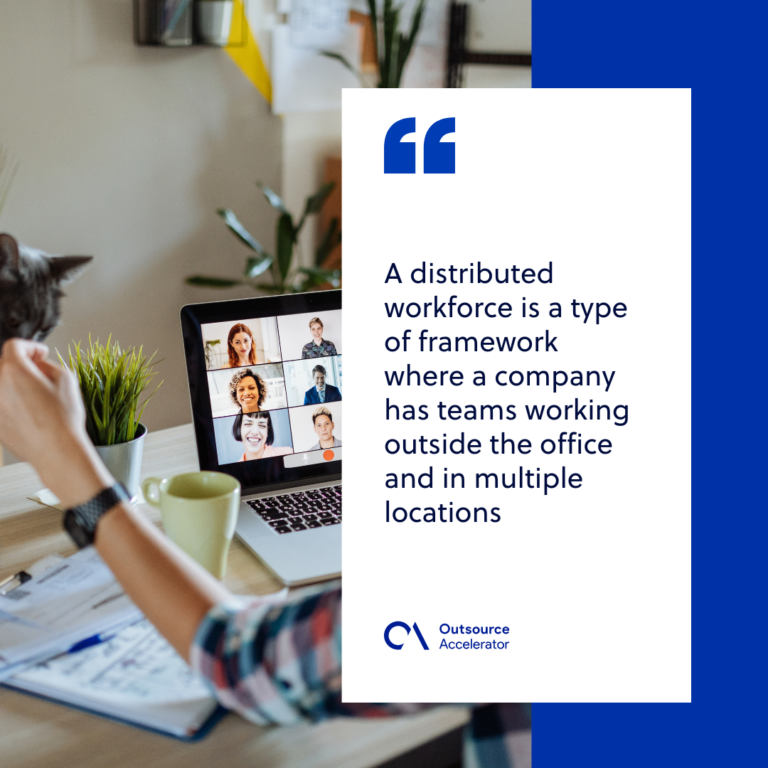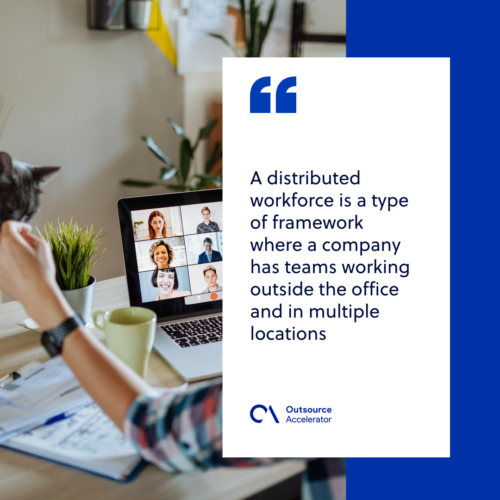 Reasons to set up a distributed workforce
For decades, big companies have practiced having distributed teams, letting their employees work from home or anywhere they want.
IBM premiered this practice before they brought their workers back to the office in 2017. Nowadays, with software as a service (SaaS) solutions, startups and tech companies have found it easier to manage their remote workforce.
There are different reasons why companies opt to embrace remote work.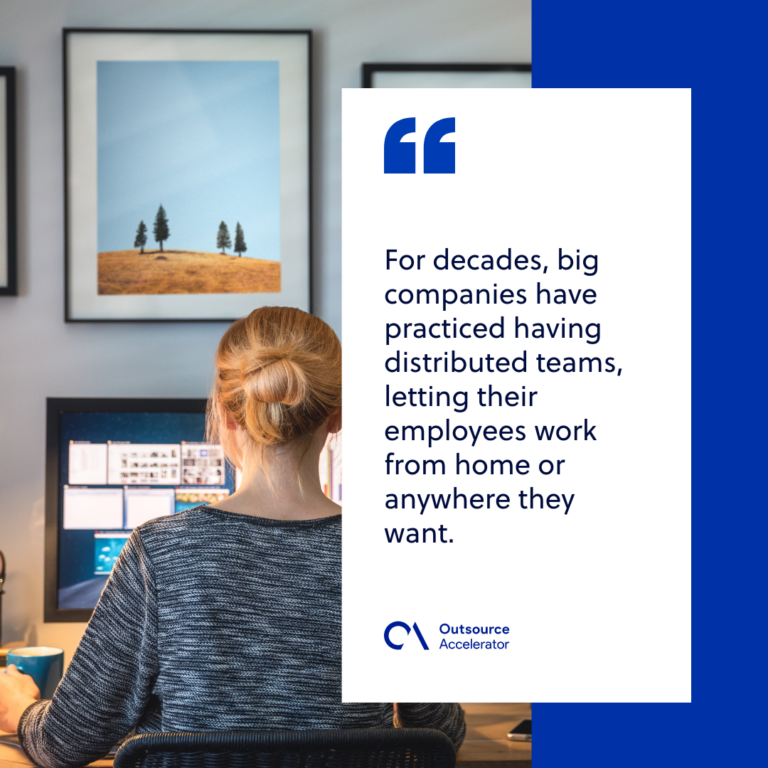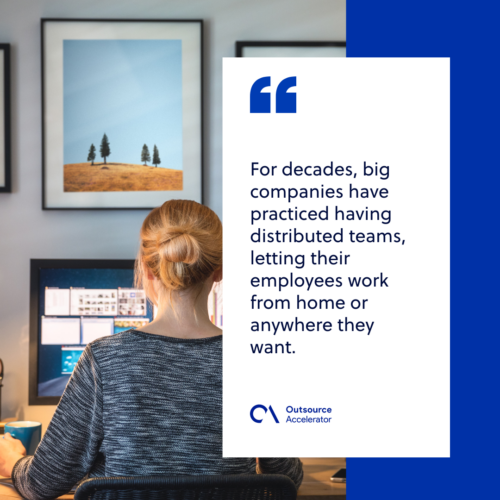 Cut costs on resources. 
Before, IBM thought it might be better for them to sell their office buildings and have their employees work remotely as a means of cutting costs.
This is now the case with small businesses and startups. Since they work on a limited budget, their top priority often involves saving on resources. This includes office space and workspaces for their employees. This is why they hire remote teams for their operation.
Hire better talents. 
In 2013, Diebold, a financial solutions company in the US, found it difficult to hire talents near their office in Canton, Ohio. With this, Andy Mattes, its former CEO, decided to hire remote workers because he thought the company was "fishing in a small pond."
This is still true nowadays. Acquiring distributed workers allows businesses to tap into a global talent pool by hiring the brightest talents from different locations.
Make employees highly productive.
A Stanford professor conducted a two-year study in cooperation with Ctrip, the largest travel agency in China, on the effects of working from home on an employee's productivity.
As a result, they have seen a great productivity boost in the employees, working on a real full-day shift with shorter breaks, fewer sick days, and less time off.
The research shows that turning to a distributed workforce boosts employees' productivity and satisfaction and increases retention.
Promote a more diverse and inclusive workforce.
A study from McKinsey states that diversity plays a role in the growth and profitability of a company.
Remote work, meanwhile, focuses on a result-based process. It focuses on "what" an employee delivers, regardless of gender, physical location, etc.
Having a distributed team allows the company to have an unbiased outlook on its employees. Thus, a distributed work model creates a better work environment for all.
Companies with remote workers
Times have changed, and so does employee management. More companies, particularly different startups and SaaS companies, have become successful in having a partial or fully-remote company. Some of these companies include:
Automattic 
Automattic, the parent company of WordPress and Tumblr, operates as a 100% remote company.
Matt Mullenweg, its CEO, shared on a TED episode that a distributed work environment was their choice since the beginning. He thought a distributed workforce is the most effective way to build a business because he believes that "talent and intelligence are distributed equally throughout the world."
How do they do it?
Since the company started in 2005, they've been using technologies like collaboration and communication tools to engage and always be in the loop.
Currently, they use Slack, a business chat app,  and P2, a WordPress theme that works the same as a Twitter timeline.
Automatic provides allowances for its employees to consume either in their home offices, coworking space, or their preferred coffee shop as long as it has a wifi connection.
Zapier
Zapier, an automation tool, also operates on 100% distributed teams. Wade Foster, its CEO and co-founder, believes that remote work allows them to hire smart people in different parts of the world. It also gives them a proper work-life balance, allowing them to spend more time with friends and family.
Currently, Zapier has 80 team members in 13 countries, with different time zones.
How do they do it?
Zapier employees enjoy benefits such as flexible hours, profit sharing, retirement match, and health coverage.
They also keep track of each other's work through apps such as Trello for project management, Slack for employee engagement, and virtual collaboration. They also do an internal blog as a replacement for email communication.
Buffer 
Another 100% distributed organization is Buffer, a social media management tool. They have more than 80 employees who work remotely in different countries.
With remote working, per Courtney Seiter, they foster trust and promote inclusivity and equality within the company.
How do they do it?
The company experimented with different ways to improve its work environment, company culture, and operation. This includes a face-to-face setup with office workers and hybrid and remote work.
They also experiment with their benefits to see what fits their employees. Currently, Buffer offers huge benefits, including three weeks off per year, huge health benefits, free stress therapy for them and their families, and paid retreats.
GitLab

An application for Development Operations (DevOps), GitLab parades its all-remote company and its multiple employees from 65 countries.
It justifies its values as an open core company and shares development information on its website. The company believes that everyone's contribution is valuable in developing the rate of human progress.
How do they do it?
True to its open core venture, GitLab manages a conventional workforce that is not bound by a set of official rules.
As indicated in their remote manifesto, their remote employees have flexible work hours, contribute their insights through documents open for editing by everyone, and have access to open information.
Time Doctor
As a SaaS company that provides solutions for remote team monitoring, it won't be surprising that Time Doctor also manages fully-remote team members.
They have more than 85 people in 31 countries, all working from home or anywhere. As the founders Liam Martin and Rob Rawson state it, they encourage people to work productively wherever they are.
How do they do it?
The company works in real-time, sharing their insights and catching up on their daily tasks, and other projects.
When they onboard a new employee, the company gives them a project due in three weeks to test if they enjoy working with the company, their insight on the task, and how they handle working remotely.
Though their teams work anywhere, they encourage their employees to not isolate themselves at home. The company sets up an annual meet-up where the founders can meet their employees in the Americas and the East.
DuckDuckGo
A search engine that lets its users search privately, DuckDuckGo aims to set a new standard when it comes to secure searches. This is one of the purposes of their fully-remote teams.
They encourage diversity of insights in their work and look for passionate talents to contribute to their company. Currently, they have 81 employees in different countries and counting.
How do they do it?
The company hires talents that can communicate with their internal team and get the job done.
Instead of interviews, they prepare a set of small paid projects that applicants can finish on flexible hours and a timeline based on their availability.
Within the test projects, the applicants may determine if working remotely fits them. The company offers either part-time projects or full-time work for its employees with generous benefits and charitable contribution matching.
Doist 
Doist, the maker of Todoist and Twist, also operates on a fully-distributed workforce. Having zero funding at first, Doist has come a long way with more than 5 million 8users worldwide using their products. Currently, they have almost 70 employees in 25 different countries and time zones.
How do they do it?
Being international is already rooted in the company since Amir Salihefendic, its CEO, started it in Chile.
He hired his first employees through forums such as GitHub and Reddit. They rely on the diversity of their talents which also allows them to see different perspectives in doing a single project.
This strategy is also reflected in their products, social media, and customer support. To date, the app translates into 20 different languages and its customer support in 6 different languages.
Stack Overflow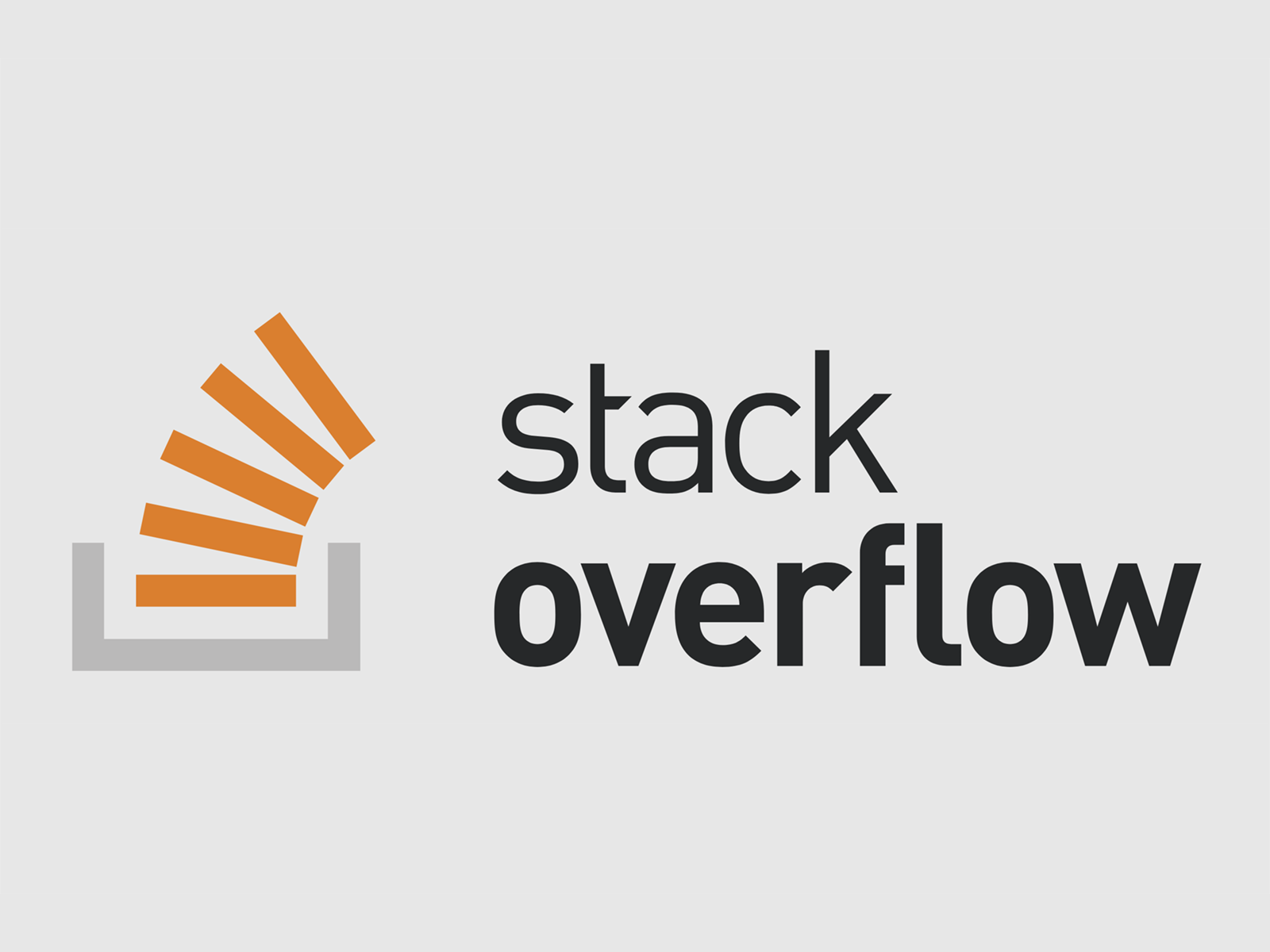 Last but not least, Stack Overflow is the largest community for tech talents and startups. The company values the benefits of remote work.
No wonder they also imply it in their distributed workforce. Aside from hiring the best talents, they promote diversity in their work and are open to improving both for their employees
How do they do it?
Stack Overflow implies a "remote-first" policy, which gives its employees the flexibility of having a home office provided by the company. They also reimburse home office expenses such as internet connection and the cost of supplies used.
When collaborating, they use Google Docs for open editing, Slack and Hangouts for communication, and Trello for project management.
They also initiate their meetings through screen sharing via Hangouts.
Top websites to hire remote employees
Before these companies became successful in establishing a remote setup, they had to consider and organize a lot of things first. This includes their processes, the tools they use, and the positions they need to consider in hiring their teams.
Those who want to try having a remote team or hire their first online workers resort to popular freelance websites.
However, there are specialized websites that can help them more in hiring their workers. These are:
FlexJobs
In FlexJobs, employers have the option to hire partial or fully remote employees. This is to give them the option to work with their employees physically for a specific period.
They can also choose to hire local and offshore applicants, depending on their preference. Employers can either post five current jobs for free or be a member for $299 per month.
We Work Remotely
We Work Remotely is one of the largest platforms for finding and hiring remote workers. They post thousands of jobs on their website and have millions of visitors around the world.
Posting on their website starts at $299 per month and can be upgraded to get featured on their search page.
Remotive
Another leading remote work website, Remotive lets employers post jobs starting at $299 per month. Membership in the website includes features at Google Jobs and weekly newsletters. They also offer discounts for non-profit organizations and companies with three or more job postings.
Working Nomads
Working Nomads lists remote jobs mostly in software development, marketing, creatives, and administrative roles. They help remote workers and employers connect through the platform.
Posting a single ad costs $149, complete with 30-day visibility, Twitter posting, and weekly newsletter inclusion.
Wellfound (formerly AngelList Talent)
Compared to other websites, posting a remote job on Wellfound is free. Employers only need to create a free account to do this.
The website aims to create a network of startups and remote employees and help them build their brands. They also have optional membership fees for employers looking for more features.
More than a job board, Remote.co also houses resources about remote work, hiring, and managing a distributed workforce. They offer a wide range of roles to post including accounting, bookkeeping, and virtual assistant jobs. The platform charges $299 to post an ad that is visible for 30 days.
RemoteOK
Aside from job postings, RemoteOK also partners with other websites for additional benefits in remote work. Employees can learn how to become a digital nomad via Nomad List.
Employers, meanwhile, can provide benefits for their remote teams with Safety Wing. Posting a single job ad costs $299 with available add-ons for more leads starting at $99.
Toptal
Toptal only filters the top 3% of remote workers specializing in web and software development, project management, and finance. The platform guarantees that employers can hire high-caliber employees in days.
To hire employees, they give employers a set of questions and match them to qualified applicants within hours.