7 Best online worker websites to outsource jobs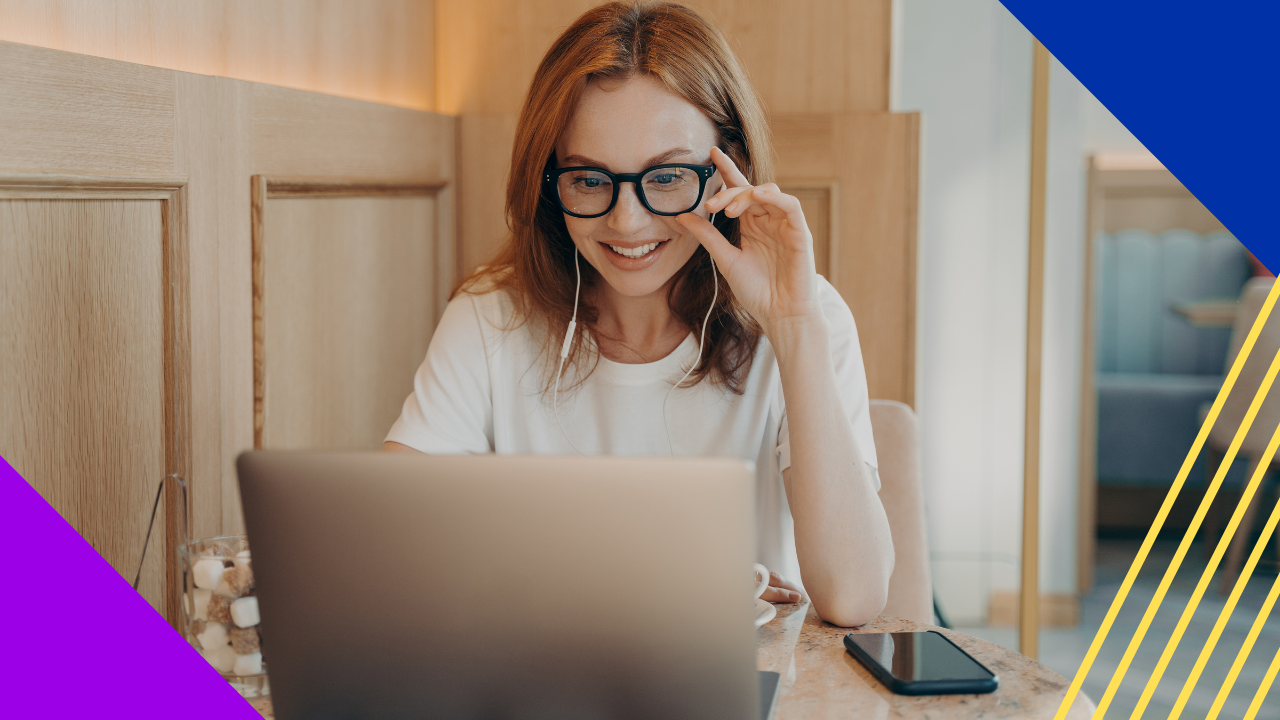 A report from GetApp stated that the number of online workers rose by up to 400% in the past decade. In the US alone, an increase of 159% has been recorded from 2005 to 2017, according to Global Workplace Analytics.
While many employers shifts to online work, research suggests that most people now choose to work from home beyond necessity.
Businesses now outsource jobs online since it's  cheaper than hiring an office worker. It also allows the online worker to be part of the clients' team despite being thousands of miles away.
What is an online worker?
An online worker is a remote employee that specializes in a particular role. They may be hired directly through a third-party company wherein they have the same workload as in-house employees but are located in a different city or country.
The work varies depending on the role and skill they specialize in. It can range from being a virtual assistant, bookkeeper, graphic designer, or copywriter, to name a few.
Since online workers come from different locations, they also use payment platforms to receive their payments easily.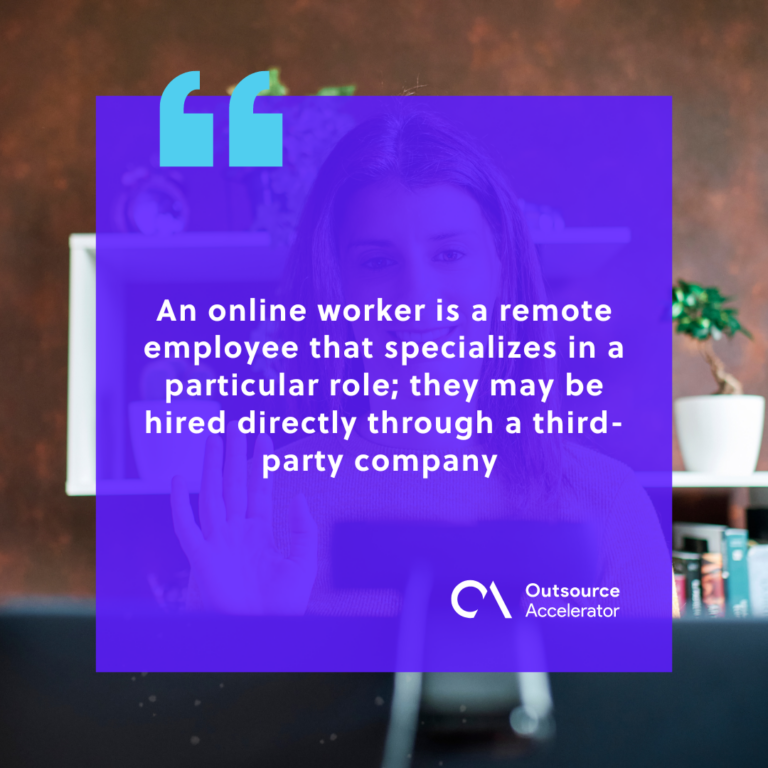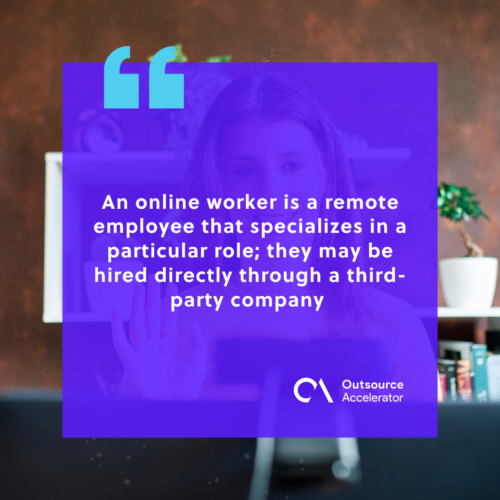 Why should you outsource jobs online?
Online workers add an impact on different aspects of a business, from its basic operation to more complex and professional ones.
When businesses outsource jobs online, it helps them save the resources needed to hire an in-house employee. Usually, the best available talents are found in different locations. Outsourced online jobs provide this for businesses.
With diverse talents, clients can have different perspectives on a task or a project.
Different outputs from online workers can help businesses improve their processes and tasks.
Best ways you can outsource online jobs
Online workers can be hired in different ways: through freelance platforms, agencies, and business process outsourcing companies. 
Learn how you can utilize these platforms as you outsource online jobs. 
Freelance platforms
These platforms let employers hire a freelancer directly when they need to. They can post jobs, contact them, monitor their performance, and process their payments through these platforms.
Freelance sites are designed to be like a one-stop-shop to protect both the employers and employees from suspicious activities by both parties outside these sites.
Agencies
Different agencies can also refer online jobs to their clients, most commonly virtual assistants. Employers contact an agency online for its manpower needs, then the agency will match them to the most qualified applicants for the position.
Clients have the option to hire a single worker or a team for their business. Salaries of each employee plus benefits come directly from their employers.
Outsourcing companies
Outsourcing companies are third-party companies contracted to set up an individual or team for the client. The company covers the workspace, tools, and equipment to be used by the team.
Employees' salaries, benefits, and bonuses including holiday pay and leave are also managed by the outsourcing company.
However, employers still need to provide training materials and systems to familiarize their employees with the company processes and operating procedures.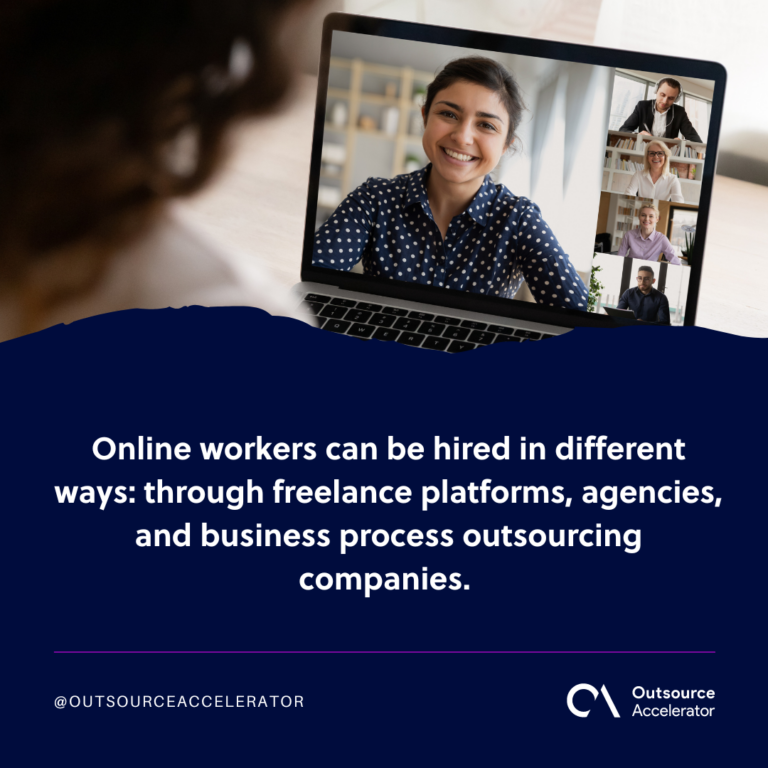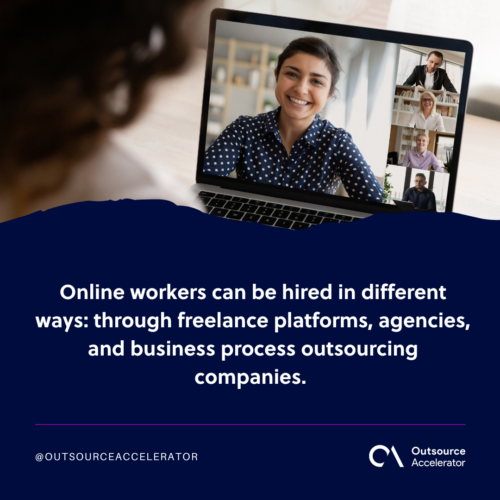 Online worker salary
Payoneer released the latest income report for online workers, stating the average salary of the most popular roles in remote working. Some of the notable changes in the report are the shift in the most in-demand fields and the average rates in each field.

Over time, average salaries in each role have changed due to demand. Businesses and workers can use this as a guide in setting hourly rates to avoid discrepancies in salary.
| | |
| --- | --- |
| Field | Hourly rate |
| Finance | $41.00/hour |
| Marketing | $34.00/hour |
| Multimedia production | $33.00/hour |
| Content writing | $24.00/hour |
| Web and graphic design | $21.00/hour |
| Project management | $28.00/hour |
The best
online worker websites
to outsource
jobs

Outsource Accelerator is the leading marketplace for business process outsourcing. The company offers advisory and consultancy services as well as access to online workers for fully-managed outsourcing solutions.
OA lists over 700 outsourcing companies in the Philippines and has an extensive list of articles, whitepapers, outsourcing videos, and podcasts fit for people that are keen to start outsourcing.
Benefits of partnering with Outsource Accelerator
A more competent talent pool

. Most online workers are from the Philippines, the outsourcing destination of the world. The country produces a wide range of talents with guaranteed expertise from different fields such

as customer service

.

Strong English proficiency

. Online workers in outsourcing companies have strong English proficiency and have clearer accents. This way, they can communicate with their clients more effectively and understand their concerns better.

Safe and secure

. Hiring online workers through outsourcing is safer since a verified

third-party

company handles it for their clients. They screen each employee before hiring and train them to make sure they give the best service a business deserves.


A merger of Elance and oDesk, UpWork is one of the most popular websites to outsource online jobs.

The platform is tagged as the biggest marketplace for employers and job seekers online. It is also used by big enterprises such as Airbnb and Microsoft.

Employers usually post jobs where they need people to hire. Freelancers will then have a chance to bid to these postings, then get contacted when they qualify for the job.

Employers can then collaborate with freelancers, track their performance, and process their payment within the platform itself.

Benefits of Upwork
All-in-one platform

. UpWork is more than a storage of profiles of potential hires and agencies available in the market. It also has work collaboration, time tracking, and payment processing feature that enables both parties to do everything inside the site. 

Efficient profile search

. Instead of browsing profiles manually,

its algorithm

suggests the best potential applicants for the position. It arranges profiles according to their ratings and qualifications to help employers get the best workers as easily as possible. 

Safe payments

. The platform uses a secure payment method where employers can connect their bank accounts, credit cards, or third-party processors to add funds to their accounts. It allows them to pay their employees immediately after reviewing their work.
One of the notable highlights in FreeUp is its refined way of vetting online workers. They only accept 1% of freelance applicants that qualify for their tests then suggest them to an employer if they have the required skills.
The site is most known for hiring virtual assistants with different specializations. Freelance rates in the platform range from $5 to $75 per hour depending on their skills and expertise.
Benefits of FreeUp:
Selection of quality applicants

. The platform only chooses the top 1% of applicants that qualify for their tests. All the employer needs to do is sign up a request

form then

its algorithm will do

the matching

. They can also conduct a 15-20 minute interview with their applicants so they can choose workers that are most fit for the position.

Remote work management

. Employers can easily manage their online workers through the platform. They can collaborate, delegate tasks, and monitor their performance easily with its all-in-one features. 

Secured weekly billing

. Employers are billed every Thursday. They can add funds to their accounts through different payment methods and immediately pay their workers according to the hours of work they have rendered.


Fiverr is deemed as an online marketplace for freelance services. Founded in 2010, it has over 14 million users worldwide and is perfect for outsourcing one-off jobs and services. 
Instead of employers posting a job, freelancers themselves offer their services to their clients. They post a project and rate it for a minimum of $5.
Employers then search for their postings then buy their services. They can get to know their workers through the platform before proceeding to hire them, then they can communicate and start their work afterward.
However, Fiverr gets mixed reactions from different businesses and freelancers, so hiring employees through the platform must be taken with precaution.
Benefits of Fiverr
When properly used, Fiverr has a lot of benefits that can be given to their clients. These include:
Freelance profile transparency

. Employers browsing for freelancers can check their skills, portfolio, and cancellation rate transparently. Their search also comes in three levels, depending on their expertise and satisfaction rate.

Categorized services

. Freelance services are organized into 12 different categories, mostly related to graphic design and creative work.  Employers can either check the preferred categories or type keywords for their search.

Private communications and protected payment

. Once the employer

has

purchased a freelancer's service, they can communicate with

the worker

privately. Payments, meanwhile, can be directed through credit cards and third-party

payment processors

.


The second oldest platform in the market, Freelancer is one of the popular marketplaces for freelancers and employers. It acquired the websites Get A Freelancer, EUFreelance, and Scriptlance.
This platform works the same as UpWork. Employers post specific projects for applicants to bid on then interview and hire through the platform. It offers a wide variety of services such as web design, digital marketing, data entry, and more.
Like other websites, the entire work is done through the platform from hiring, collaborating and communicating, time tracking, to payment processing.
Benefits of Freelancer.com
Freelancer offers a lot of benefits to employers.
Wide range of talents worldwide

. Employers have access to a wide range of skills and talent from different countries. They can hire an expert in the field or a beginner with a good portfolio that they can train and nurture.

Refined employee search

. The platform has a Preferred Freelancer Program where employees can be tagged as an elite level depending on their expertise and satisfaction rate. Employers have access to applicants in the program to ensure getting the finest workers for their team.

Milestone payments

. Freelancer offers Milestone payments agreed upon by the worker and the employer. They can pay their employees on a per-phase basis until the worker finishes the project

and as long as they are satisfied with the output

.


PeoplePerHour is one of the reliable freelance sites in the market. Like FreeeUp, they don't easily accept applicants to build their profile. Each freelancer in the platform has undergone tests to determine if they are fit for the needs of their clients.
To look for talents, employers have to submit detailed information about their projects. The applicants will then submit their tailored proposals for review and approval. Once approved, employers will be asked to pay for a deposit then their work will start.
Benefits of PeoplePerHour:
Wide range of worldwide talents

. PeoplePerHour has a wide range of talents from different countries. Employers can choose their preferred workers according to their location, whether local or overseas, so they can work with people they are more comfortable with.

Project done quickly

. Aside from their qualifications, the platform selects freelancers that can work on their project right away. With this, employers can ensure that their online workers deliver their work right away with accuracy.

Fast and secure paymen

t. Deposits are made through Escrow to secure initial payment for their online workers. They can send their full payment instantly through the platform after the project is done.


Unlike other platforms, Toptal is a more specialized freelance site. They have freelancers with expertise in web and software development, design, and finance consultancy. Employers go to their site to hire more specialized employees that belong to the top 3% in their field.
The platform matches an industry expert to coordinate with employers and talk about their needs and objectives in hiring.
After 24 hours, they will then be matched to a qualified worker for their project. They can work with their workers on a trial basis to see if they fit for the project.
Benefits of Toptal
Remote and on-site option

. Employers have different options in working with their online workers. They can either find a remote worker locally or internationally. These workers can also be asked to relocate to do office work, whichever the employer prefers.

Employment without risks

.

Toptal opens the trial period until two weeks after they've matched with their workers. Employers will only pay them once they're satisfied with their work, while the platform covers their payment if not.

English proficiency

. The platform ensures that their talents have strong English proficiency. This is so that employers and their workers have no problem when it comes to communicating for a smooth and efficient workflow.


Guru.com is one of the oldest freelance platforms founded in 1998 as eMoonlighter.com. It is a marketplace for freelancers with different skills and expertise, mostly in programming, writing, and design.
The platform works as other online worker websites in the market: employers post a project where freelancers will send a proposal. However, they offer premium services called Featured jobs where their posting will be featured every time a freelancer searches for a posting.
With this, they can get more proposals, especially from high-quality applicants. They can even hire the perfect applicant for their posting.
Benefits of Guru.com
Featured jobs

. Featured projects stay on top of searches for 30 days. This allows employers to attract more qualified workers and get their postings more exposed to the platform.

More methods of payment

. Aside from credit and debit cards, Guru.com allows payments through checks, e-check, wire transfers, and in-website cash funds. This is to allow employers to have more convenient ways of paying their workers.

Long-term employment

. Employers can hire workers they have hired before doing another project for them. With this, they can already assure quality output from their workers and save time browsing another freelance profile on the site.