UPDATE: Coronavirus (COVID-19) is forcing a lot of companies to review their traditional staffing, offshore, and Work-From-Home (WFH) options.  Outsourcing enables businesses to slash costs whilst at the same time maintain and rebuild their companies. Read our dedicated COVID-19 articles here: COVID-19 Business Recovery Action Plan
Several websites allow you to outsource one-off jobs to freelancers. The number of such sites is increasing, spurred by an uptick in online worker and abundant specializations.  What was once a long, tedious line at the bank and excessive wire transfer fees have now become cheap and hassle-free through these platforms, which you can also integrate with Upwork, Fiverr, etc.
Elance, the oldest of these sites, started in 1999. The website took its name from a Harvard Business Review article, The Dawn of the E-Lance Economy. Originally built as a platform for outsourcing IT work, it soon evolved to include other sectors as well. In 2013, it merged with a competitor, oDesk, and re-branded as Upwork.
Freelancer is another website that came about in 2009. Back then, Elance only allowed payments in USD, putting freelancers outside the United States at a disadvantage. At the time, many countries have limits on the amount of foreign currency that can be received and converted to local currency. This limited the capability of freelancers on Elance to bid on projects. Freelancer resolved the problem by allowing payments to be made in local currencies.
Another big player in the industry Fiverr was established in 2010. Setting itself apart from its 2 biggest competitors, Fiverr aimed to provide high-quality work at low prices. The starting rate for the projects posted on the site was USD 5, which was a boon for many cash-strapped individuals and companies alike.
A changing workforce: why freelancing is the way to go
Outsourcing work to freelancers has several advantages. Companies continue to choose freelancers and source some work through online platforms because:
1. It is cheaper compared to hiring a full-time employee
Competition is fierce in the freelancing world, be it in terms of quality or rates. Freelancers can charge what it costs to hire a full-time employee, but to encourage clients to outsource work instead of hiring new in-house staff, they refrain from quoting high rates.
Freelancers charge their clients depending on the work that needs to be done, and the price they demand can be quite inexpensive compared to the cost of hiring and training new employees and providing them with full benefits.
Aside from saving on expenses, companies that work with freelancers save time. Freelancers tend to have a much shorter turnaround time compared to full-time employees, which can help clients cut costs when it comes to spending on man-hours.
If you choose to outsource your work to freelancers in the Philippines, you stand to save even more. The Economist rates Filipinos as among the best speakers of business English in the world. This allows them to communicate clearly with their clients and reduce instances of misunderstanding, especially when bidding for or discussing the specifics of the project.
At the same time, the Philippines ranks among the bottom 3 worldwide when it comes to wages, so clients are more likely to make the most of their budget if they choose to outsource to freelancers based in the country.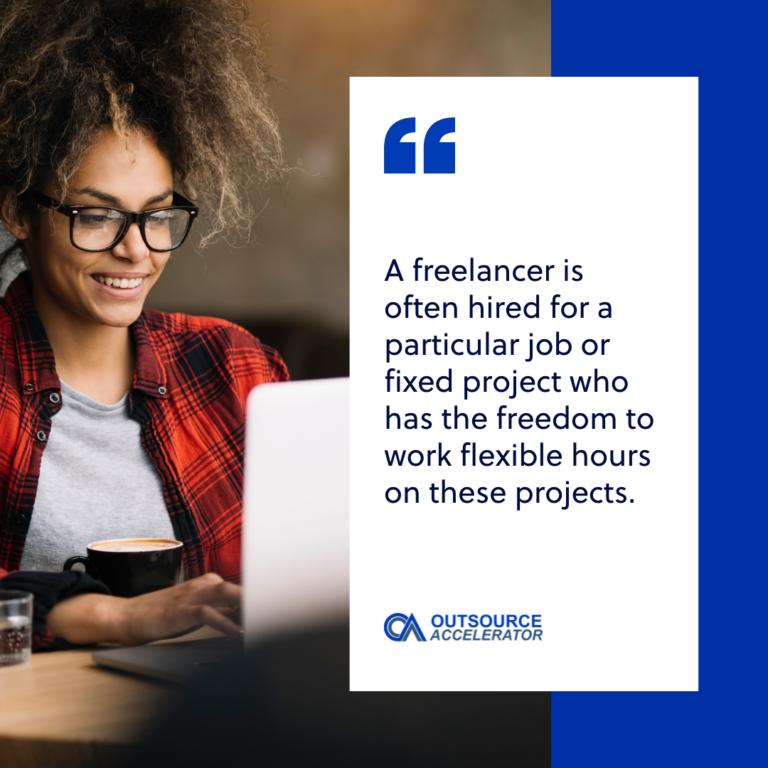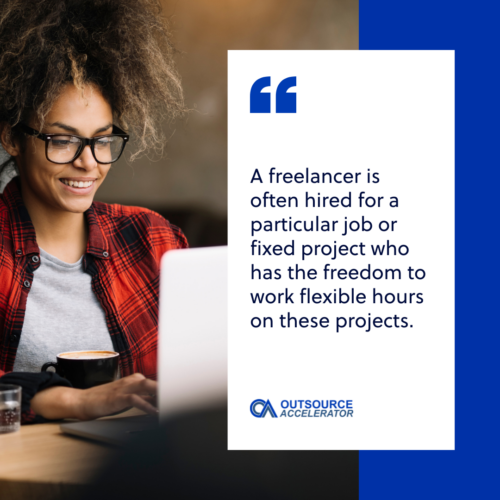 2. It results in consistent and high-quality work
Freelancers often specialize in the specific kind of work that they do. They invest time and effort in improving a particular skillset, which they then market on freelancing websites.
To build their portfolio, they bid on assignments that are matched to their talents and skills, a practice that helps them gain more experience and improve the way they manage and execute their projects. Also, to retain their clients and justify their rates, many freelancers make the effort to maintain a consistent quality of work.
3. It allows clients to get more work done
Unlike full-time employees, freelancers are not bound by regular work hours. While many freelancers take projects on a per-hour basis, many also opt to be paid by the volume or the specific demands of the project. As such, clients can assign the project to freelancers in the evening and come back to a completed output the next day.
Freelancers can work during off-peak hours, weekends, and holidays. Clients that combine the use of full-time employees and freelancers with flexible hours or part-time employees can ensure 24/7 business continuity.
Deciding between freelancing and outsourcing
There is another differentiator between freelancing and outsourcing that people should also consider.  Freelancing is typically more project-based, and non-supervised. Whereas outsourcing is typically used for ongoing roles and is usually done from within a supervised professionalised environment. It's really important to explore both options when considering getting work done. Below are some key differentiating factors of outsourcing to freelancing:
Ongoing roles (not project jobs), typically requiring a minimum of one full-time ongoing position
Supported and managed environments (HR, training, etc.)
Accountability hierarchy and account management
Established high-quality offices offering superior infrastructure, internet connectivity, security and hardware, etc.
Allows for greater scalability of roles, teams, and space, providing enhanced institutional growth prospects
Producing far more reliable and professionalised results
Allowance for paid holidays (there are a lot of Philippine holidays) and sick leave and other welfare considerations
We have written an article about deciding between outsourcing and freelancing here, and this article discusses freelance vs full time [in-house] vs contractor [outsourced].
The 3 most popular freelancing sites
Upwork, Freelancer, and Fiverr are the three most active and popular freelancing websites worldwide. Upwork has over 12 million freelancers registered with it, as well as 5 million clients. Some 3 million jobs are posted every year, with USD 1 billion changing hands. It is the largest freelancing site in the world.
Freelancer has 21 million users across the world. It won the Best Employment Website award for two consecutive years (2015 and 2016). 
Fiverr has 3 million services listed on their website. Unlike other freelancing sites where clients post their projects and freelancers bid on them, on Fiverr, freelancers list their services and rate them between USD 5 and USD 500. Clients with projects can then approach the freelancers and directly negotiate for their services.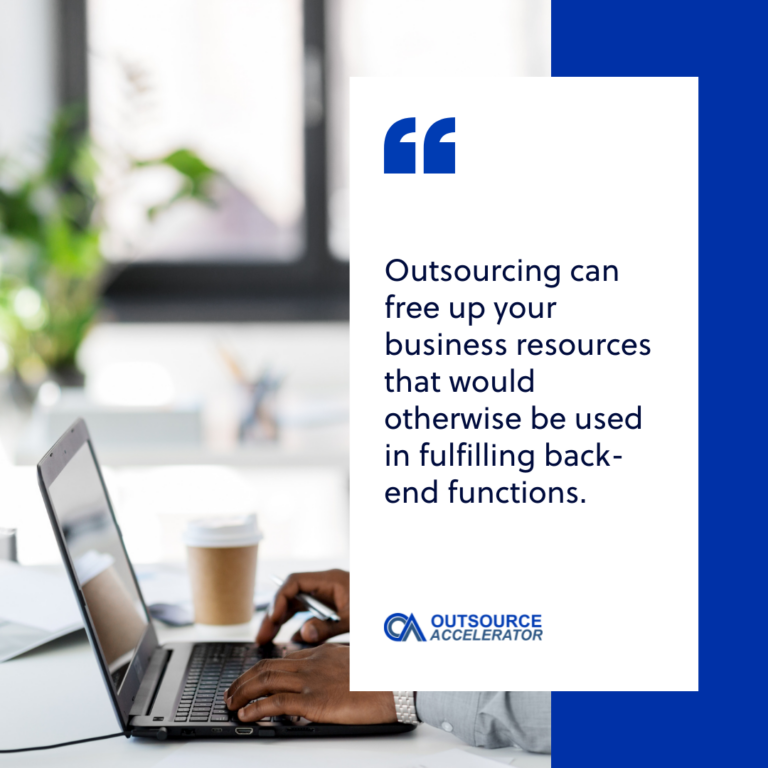 Freelancer review
How Freelancer works
Clients post their projects and jobs on Freelancer for free. From here, they have 2 options: invite freelancers to bid on the project, or look at freelancer profiles themselves and make an offer to the ones that meet their requirements.
Those who choose to go through with the bidding process are free to select the best 'technical' bid, meaning they don't have to choose the freelancer with the lowest rate, but the one with the 'best' quote for the job. This may mean going with a freelancer who has higher rates and skills that are a much better fit for a particular project.
The website's users respond in real-time, and projects usually get bidders in a matter of minutes. Once the client awards the project to a freelancer, the 2 of them can communicate constantly through the website to discuss the particulars of the project and to set each other's expectations. Freelancer allows users to chat, share files, and collaborate while on the go.
Clients don't need to pay upfront on Freelancer; they only need to pay once the project is done and completed to their requirements. If the project is a complex one and if the freelancer is unwilling to risk hours on the promise of getting paid in the end, they can talk about breaking it down into several smaller projects.
The client can arrange to pay the freelancers based on the milestones and goals they achieve. All payments are made through a highly secured and encrypted state-of-the-art system. Should any user encounter any problem, they can contact Freelancer support round the clock.
Is Freelancer worth it?
Some of the clients who tried using Freelancer say that they had to part with their money first before engaging with a freelancer. Others say that the website has a lot to improve on when it comes to technical problems.
Some people encounter a few issues with billing, like a client who found that he was billed twice for creating a duplicate milestone. While the client disputed the charge, they were not able to outsource anymore work or leave a rating to the freelancer, who the client said did an excellent job on the project.
Freelancers who use the site also face similar problems. Some complain about missing milestones and money. Some say that the website is not very helpful in resolving these discrepancies. Just like clients, freelancers can leave reviews on the profile of those who hired them. Some take advantage of this system by leaving a bad rating, telling the other person that the rating will be edited as soon as they leave a stellar rating on the original rater's profile.
Fiverr review
How Fiverr works
Fiverr offers a very simple system of finding freelancers. Instead of inviting clients to post projects and freelancers to bid, it serves as a kind of directory for freelancers, or what the website calls 'sellers.' The website has a number of categories and subcategories, and most of these feature specialists in the creative industry. The sellers under each subcategory are listed in order of their star ratings and the number of reviews their previous clients left on their profile. The seller's profile also includes the list of services or specializations they offer.
Is Fiverr worth it?
Going through Fiverr is a good decision if the project needs creative people for short-term or one-off engagements. However, one should note that the website offers limited categories: graphics and design, digital marketing, writing and translation, video and animation, music and audio, programming and tech, business, and fun and lifestyle.
Some freelancers stay away from Fiverr because the website allows buyers to cancel the project and get their money back even after the work has been completed. Some buyers or clients also say that a few sellers post their best work on the website but deliver low quality work in reality. This seems to be one of the reasons why only a few sellers have 5-star ratings and excellent feedback from buyers.
Upwork review
How Upwork works
Just like Freelancer, Upwork allows clients to post their projects on the website. The platform then matches the project with a list of freelancers that specialize in that particular field of work. This makes it easier for clients to search for available people; if they have to do it manually, they'd have to sift through the millions of freelancers registered on the website.
To help clients choose the right people, Upwork indicates the skills and percentage of projects completed on the freelancer's profile, and sometimes even the amount of money they earned through the website. The client can review and compare the profiles sent to them, and even interview the freelancer personally before making their choice.
The website allows file sharing and various forms of communication. The website is used to prepare invoice and process payments, and it offers clients Upwork Protection, which guarantees that clients won't have to pay for assignments they did not commission or authorize. Clients with a premium Upwork account receive hand-picked freelancer profiles as well as the service of a dedicated account manager.
Is Upwork worth it?
There are a lot of freelancers on the website, so some clients comment that only a certain percent of the people there are experts in what they do. Clients who choose poorly might end up hiring people who don't have the right set of skills for their project. But there are many freelancers and clients on the website; as long as people keep on their toes when searching, they can always find another person or project that fits their bill.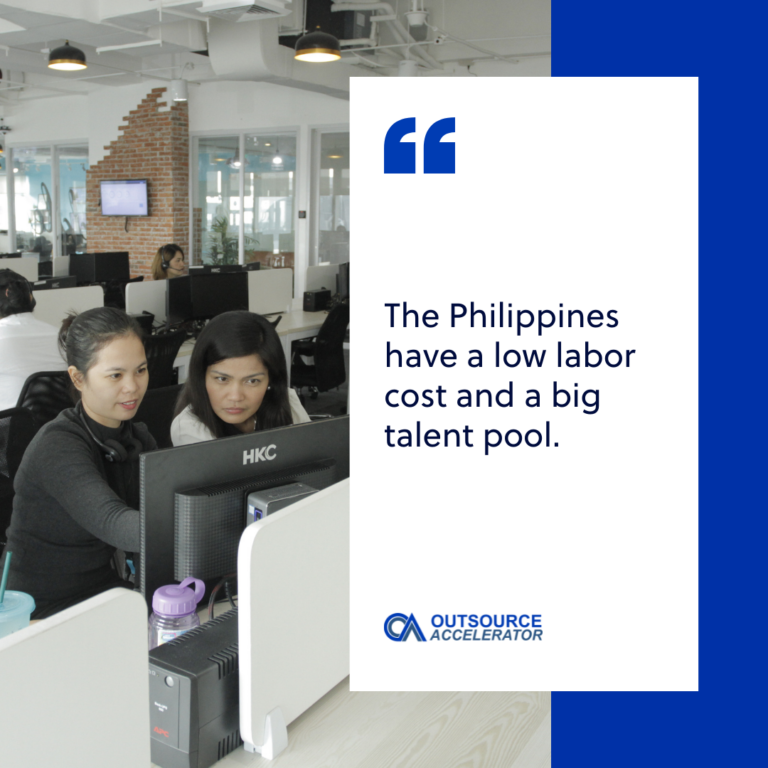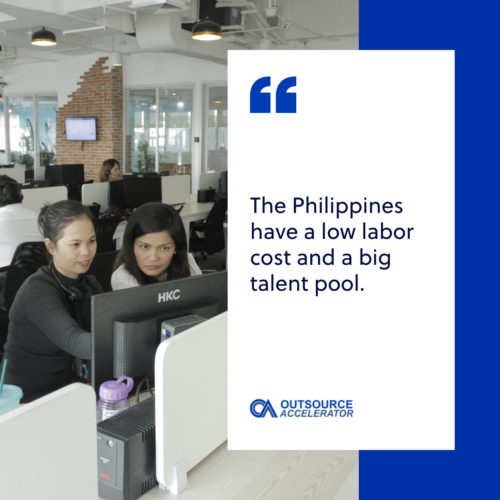 Should clients and freelancers use any of these services?
Freelancer's website should be ironed out to minimize the technical issues that both clients and freelancers complain about. The site also enforces a limit on bids, and freelancers are only allowed up to 10 bids at the same time. This discourages some freelancers from using the website.
Upwork and Fiverr offer freelancers and clients with plenty of options. Fiverr has many options for clients who are looking for creative professionals. Upwork, on the other hand, has a more diverse category of talents and projects and offers free membership. However, freelancers need to know that they have to pay a minimal amount whenever they bid on a project.
Alternatives to Upwork, Freelancer and Fiverr
There are now endless alternatives to these three freelancing platforms.  There are now dozens of freelancing platforms, covering almost every specialised vertical there is.  Some platforms are a generalist – like Upwork, and others are very specialist – like Toptal. The aggregation of these platforms employ millions of people, from dozens of countries across the globe.
Some platforms are very basic, and almost function like an agency, whereas others have sophisticated interfaces that connect the workers, clients and the workflow directly to each other.  Here, we have compiled a list fo some fo the world's biggest, and best known freelancing sites.
The Top 25 freelancing platforms, agencies, and websites
Freelancer
See above for our coverage of this site.   Go to their site…
Upwork
See above for our summary of Upwork. Go to their site…
Fiverr
See above for our overview of Fiverr. Go to their site…
Toptal
Toptal is a specialised freelancer platform.  They initially specialised in software developers, but have now branched out into finance and accounting. Go to their site.
People Per Hour
It offers a big platform to find any kind of freelancer you need. Go to their site…
Crowd Content
This site specialises in providing qualified content writers, within a curated and managed delivery platform. Go to their site…
Get Craft
Higher-end content and writer resources. Go to their site…
Simply Hired
Simply Hired is a job search tool that helps you zoom in on that freelancer that you need. Go to their site…
iFreelance
iFreelance enables you to search for and hire a freelancer without the middleman. Go to their site…
College Recruiter
This site helps you find and recruit college students and recent graduates. Go to their site…
Aquent
Aquent specialises in solving digital marketing staffing problems. Go to their site…
Robert Half
Robert Half offers sophisticated matching technology and a personalized approach for freelancers. Go to their site…
FlexJobs
FlexJobs is a platform that connects people wanting access to flexible jobs, to prospective employers. Go to their site…
CrowdSource
Crowdsource is a platform that allows you to develop managed crowdsourcing solutions at scale. Go to their site…
Guru
Guru is a specialised higher-end consulting and freelancing platform.  It lists over 3,000,000 professionals. Go to their site…
Freelance Writing Gigs
A specialised content platform helping connect you to freelancing writers. Go to their site…
Krop
Krop is a modern interactive freelancer platform specialising in the creative industries. Go to their site…
99 Designs
99 Designs allows you to post a job and get a range of designers pitch for the work. Go to their site…
Craigslist
Craigslist is one of the biggest classifieds listings site on the planet. They have a number of freelancers looking for work, as well as people looking to allocate work. Go to their site…
Linked In Profinder
Linked In profinder is an offshoot of Linked In.  It allows you to search and connect with freelancing professionals. Go to their site…
Design Hill
Design Hill is the world's number 1 website platform for design. Go to their site…
Local Solo
Local Solo allows you to find some of the best freelancers in your own local area or town. Go to their site…
Patreon
Patreon is a freelance site that allows creators to create membership-style businesses around their fan base. Go to their site…
CoWorks
Coworks is the easiest way to find and hire top freelancers and is the number 1 freelance work platform for brands and agencies. Go to their site…
Service Scape
This site is nearly 20 years old… and is a global marketplace for freelancers with a range of skills and experience.  They specialise in graphic design, writing, editing, and translating. Go to their site…
Paying Remote Employees
Part of the function of these platforms is that they help connect the 'buyer' with the 'seller' in a safe and easy environment. Previously, making small payments to people overseas was overly complex, and also presented security risks. These platforms have simplified the process somewhat, and now offer a range of payment options. As for the payment terms, the platforms all usually offer to pay for entire projects, or use milestone payment conditions to protect you from the contractor's suspicious activities. You don't need to worry about depositing directly, you can connect different payment platforms for an additional layer of protection.
Payoneer is a cheap, fast and safe global payment solution where you can transfer payments in different currencies hassle-free. This can also ease your burden of paying excessive fees through bank wire transfers.
Choosing between Freelancer, Fiverr, Upwork and others
To choose the right platform for their work and projects, freelancers and clients should examine the safety procedures implemented on each website. Can they protect themselves if a client refuses to pay for a job that has been completed to their instructions or if a freelancer sends an invoice for a job they didn't do or complete? How responsive is the website's customer support service, and can they help users effectively resolve issues and get what they're due?
Hiring freelancers offers a lot of practical benefits to clients, but finding the right freelancer for the job can be a gruelling process. To make sure both clients and freelancers are on the same page, they need to clearly communicate the requirements of the project and the capabilities, limitations, and expectations of each party.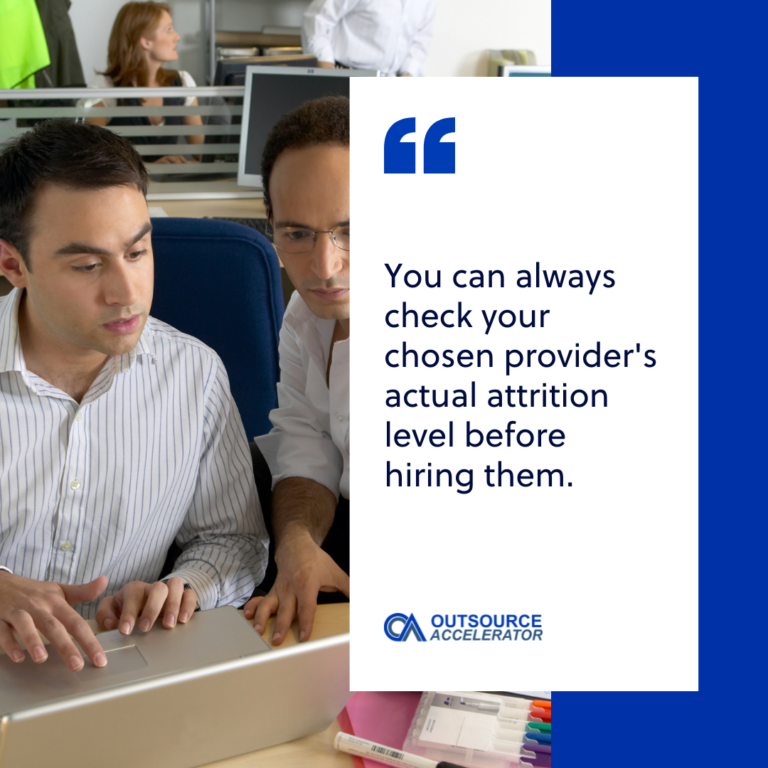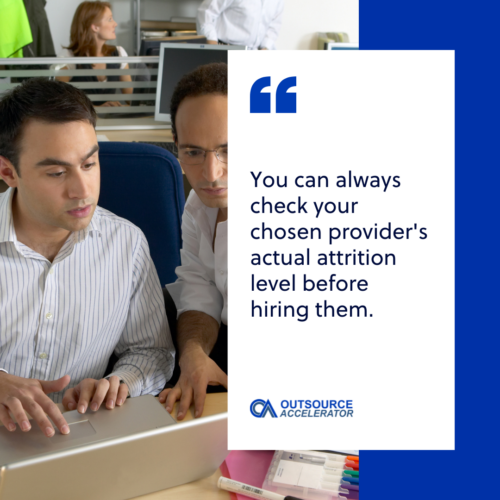 Clients must take every effort to get to know the freelancer they plan to hire by checking their credentials and interviewing them properly. While seeing 5 stars on a freelancer's profile is a good sign, clients still need to be reasonably cautious and check in on the project's progress from time to time.
Finally, it is worth noting that hiring freelancers is a great option for one-off jobs and short contracts. If you want to ensure long-term business continuity, then you should look into outsourcing instead. Coupled with the right strategies and resources, setting your sights on a highly dependable virtual workforce is key to sustainably enhancing your company's productivity while slashing the cost of running and expanding the business.
Considering outsourcing?
If you want to know more about outsourcing, you've come to the right place.  Download our Ultimate Guide to Outsourcing now, or get started with a free independent quote.