Definition
What is a distributed workforce
A distributed workforce refers to a company's framework where employees have different options and means of working. A company might have a small in-house core team, several remote teams, and some that can render in-house and remote work. Some companies also have mobile employees that go to different locations for their tasks.
Communication is an important aspect of a distributed workforce. They should be able to communicate with each other and collaborate with the use of different tools and software for file sharing, work chat, and screen monitoring.  
Collaboration tools help distributed workforce closer together digitally. By using collaborative tools like Slack, ClickUp, or Trello distributed teams are able to work together real-time.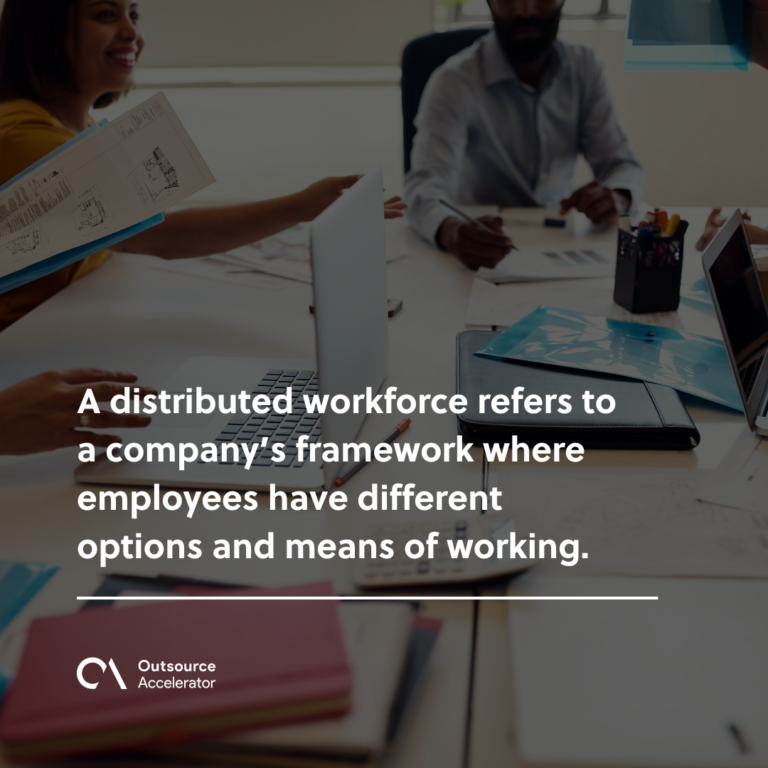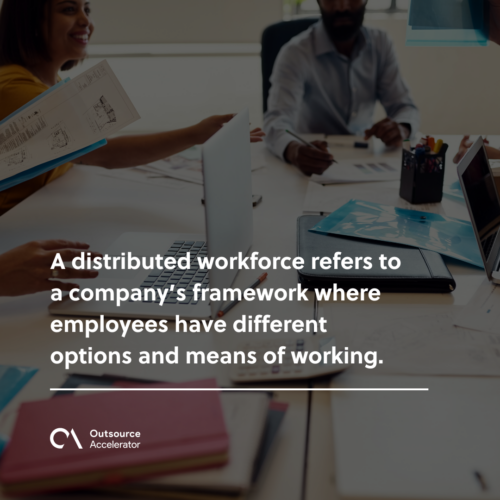 Distributed workforce vs remote workforce 
Distributed workforce and remote workforce are two terms that are commonly used interchangeably. 
With a distributed workforce, an organization's in-house staff is dispersed in different locations, usually away from cities, where there is a limited talent pool. This way they are able to hire skilled workers at a low price.
 A distributed workforce often work on remote offices, on the field, or headquarter offices. In most cases, this kind of work model is used by companies to achieve specific goals. 
Whereas remote work refers to how individuals work. Remote workers do not have to be in one specific location for them to be able to complete their tasks effectively. 
Generally, distributed workforce involves discipline on how the entire organization could get things done through collaborative work. Remote work on the other hand involves discipline that is solely focused on individual work. 
Distributed workforce companies
Some companies operate in a distributed workforce. Most of them are Software as a Service (SaaS) companies such as Automattic, which operates 100% remotely.
Whereas, some companies have specific remote positions offered, mostly in engineering and software development.
Here we have three examples of distributed workforce companies: 
Buffer
Buffer is a fully distributed workforce, with over 85 employees spread across 15 countries around the globe. The company offers social media tools that allows brands to manage their social media channels effectively. 
Time Doctor
Time Doctor is one example of a SaaS company with a distributed workforce. The company currently has 100 staff working in 31 countries. Its co-founders Rob Rawson and Liam Martin believe in the concept that employees should be empowered to work productively no matter where their locations are. 
GitLab
GitLab is a Development Operations (DevOps) platform with over 2,500 contributors spread all over 65 countries. It is known as an open core company that believes in transparency and that everyone's contribution is important to the success of the company. 
A lot of businesses have executed a distributed workforce even before it became popular. This type of work model has been proven to be more cost-effective, and it speeds up the productivity, growth, and development of a company.