Online collaboration made easy: Top 40 picks for online tools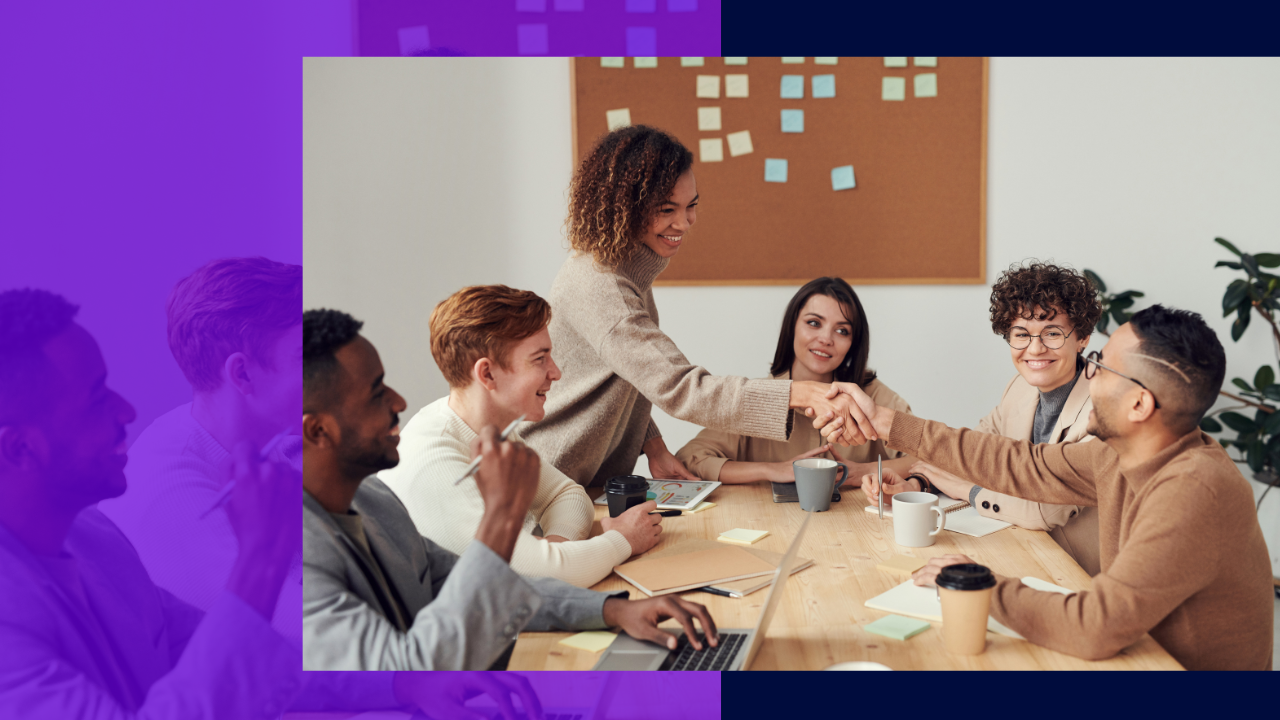 The COVID-19 pandemic affected the way businesses operate nowadays. With the ongoing lockdowns around the world, businesses are forced to either halt operations or undergo work-from-home arrangements. 
Those who have experienced difficulties in these times look for a way to cut costs on labour and resources to continue operations and try to get back on their feet. Luckily, having a remote team is one option they can consider.
Business process outsourcing companies in the Philippines and India have put their employees into remote work arrangements to assure continuity of operations to their clients. Some companies who have been practising these in the past have an advantage in doing business as usual. But how about the ones that don't? 
Good thing there are remote tools that can help them in handling their operations more easily and flexibly.
Remote teams as a strategy
Having a distributed workforce gives a business an advantage when it comes to the global market. It provides them with the leverage of global talents, the possibility of having a 24/7 support, and the scalability for on-demand projects. Outsourced teams are some of the offshore employees included in this. 
More than this, having remote teams can also be a strategic way in different situations such as:
Scarcity of local talent

. Western countries find it difficult to hire local talents due to their high demand and rate.

Business rebuilding.

Some businesses hit by recession or are bouncing back hire remote employees to keep their operation at a low cost.

Force majeure conditions.

Local businesses may close due to calamities, making it unable for them to operate an in-house team.
Those who are first-timers in handling one may have difficulties with how they will work with and monitor their employees properly. Luckily, different collaboration tools have been developed in the market for their work. 
The following are some of the best tools they can use, from communication and documentation to project management and monitoring.
Communication
Slack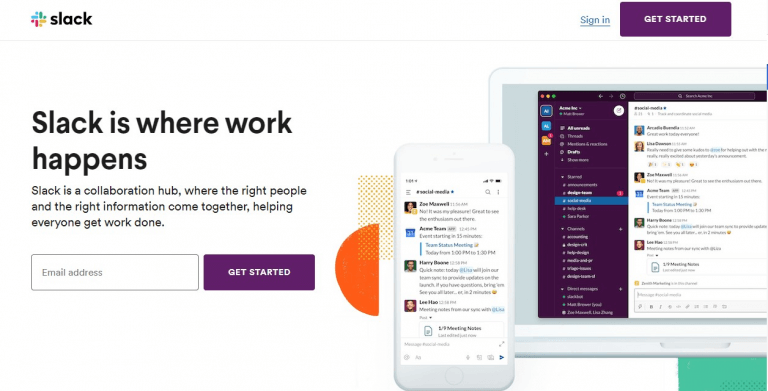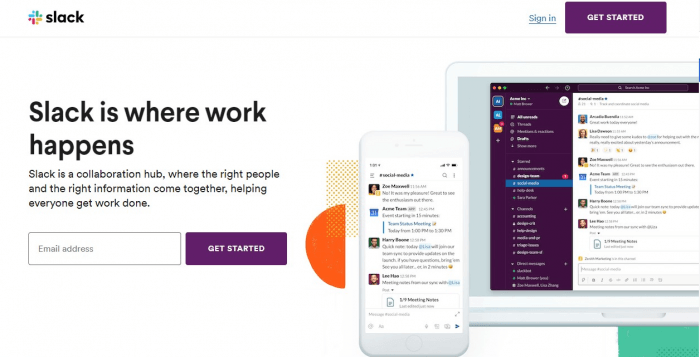 Slack is the leading business communication for internal teams. It streamlines conversations through channels. Users can customise their chats in the form of hashtags so they won't have to browse too many communications when they need to. 
The platform is free for up to 10,000 most recent messages, 10 app integrations, and one-on-one video calls between teammates.
Zoom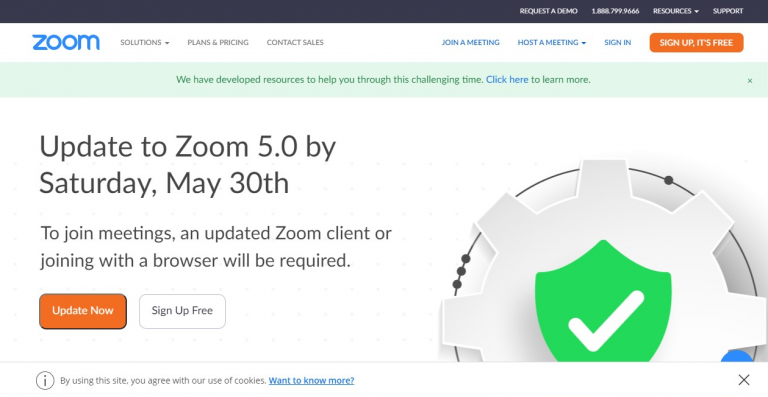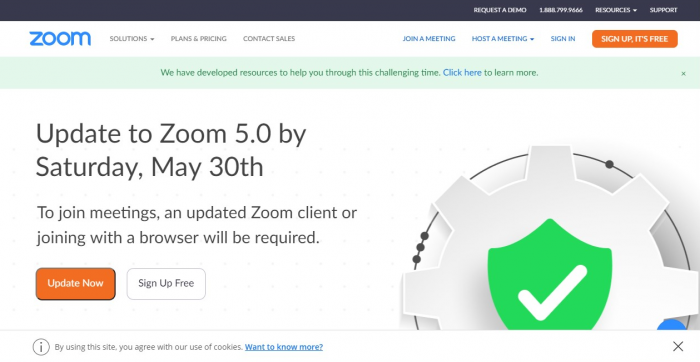 Zoom is the leading platform for online meetings, video conferences, and webinars. It lets its users organise audio and video meetings, share screens, and chat with each other. During the pandemic, its mobile app has gained traction for remote teams.
In the free version, users can invite up to 100 participants, hold events up to 45 minutes, and record the entire session.
Skype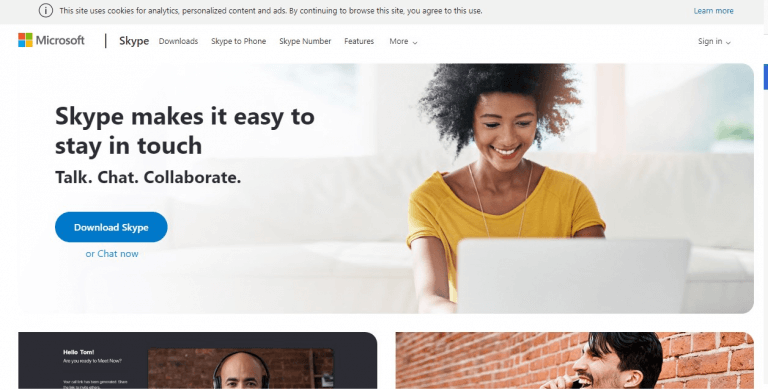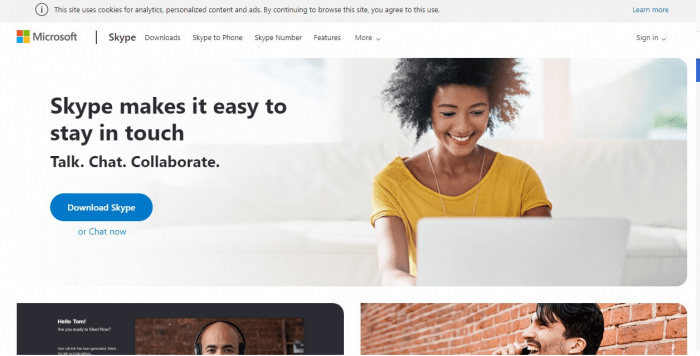 Skype provides a more flexible way of communicating with colleagues remotely. Aside from usual voice and video calls, screen sharing, and call recording, users can also create international calls through landlines and mobile phones in different countries.
The platform is free for all users, unlocking full features including free Skype to Skype calls. For additional features, they can either get Skype credits or avail an Office 365 subscription for international calls.
Hangouts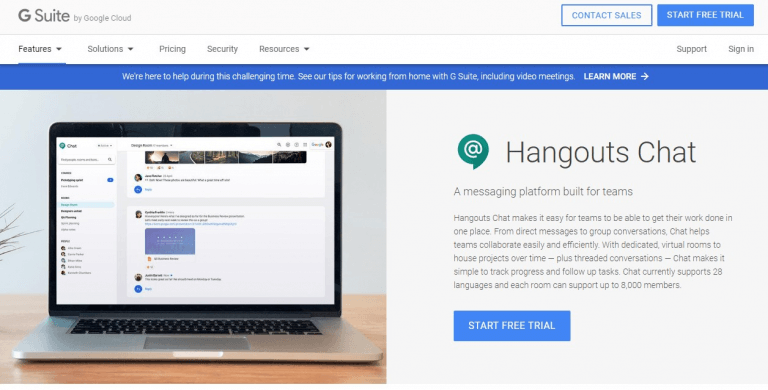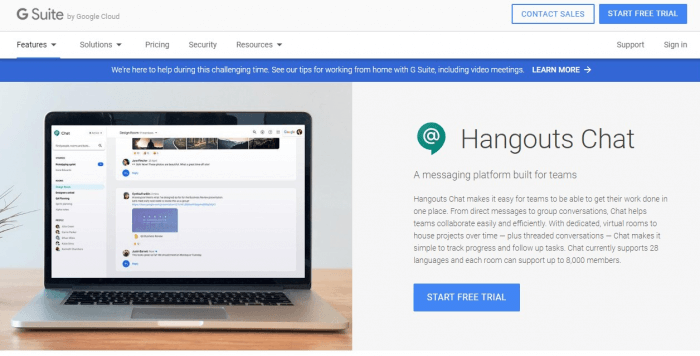 Included in G Suite, Hangouts is an in-app messaging service by Google. Like the usual communication software, it allows chats, voice and video calls, and screen sharing, making it convenient for personal Gmail and G Suite users to communicate through web and mobile app.
Google Hangouts is free for everyone with a Google account. It can also be accessed instantly through a user's email page.
RingCentral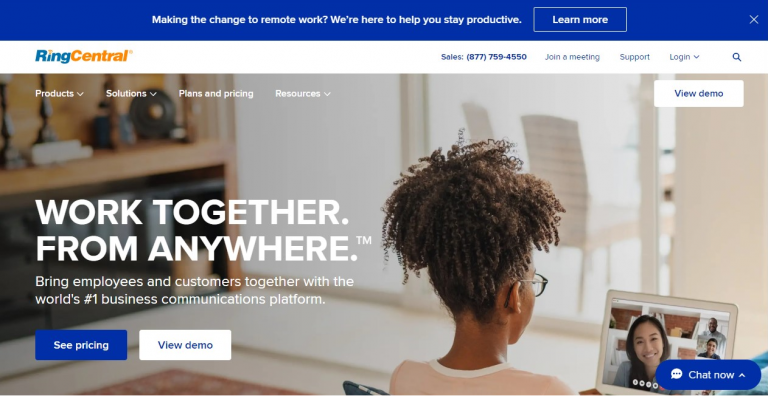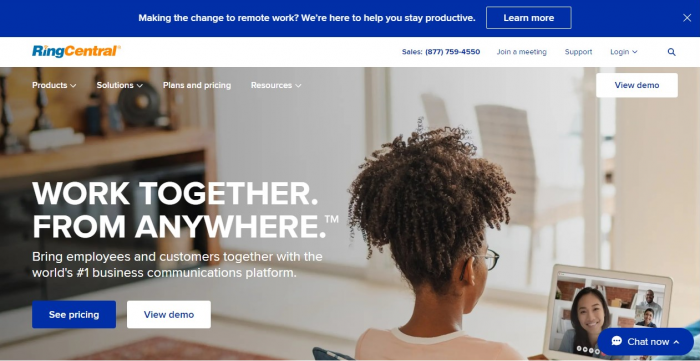 RingCentral is primarily used for business communications such as chats, voice calls, and video calls. Its companion app, RingCentral Meetings, works as a virtual conferencing and work collaboration tool for small and medium teams.
Users can try RingCentral for up to five users and two desktop phone, with 50 minutes of domestic calls each. RingCentral Meetings, meanwhile, is free for up to 100 participants and 40 minutes of group meetings.
GoToMeeting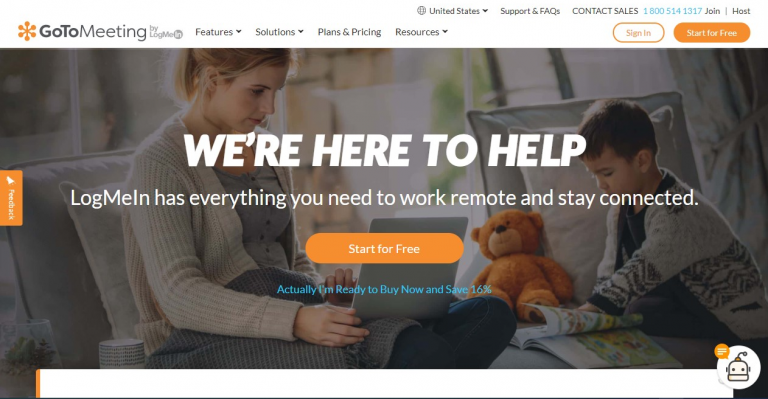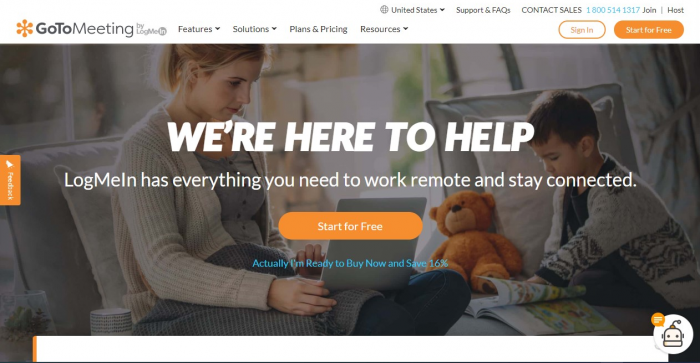 Businesses primarily use GoToMeeting for online meetings, web conferences, and webinars. It lets them take a virtual meeting room setting through video and audio calls, screen sharing, and whiteboard setting. Its users can also participate through desktop, web, and mobile apps for synchronised communication wherever they go.
GoToMeeting offers a free 14-day trial for both professional and business plans. For as low as $12 per organiser month, users can organise meetings with up to 150 participants without registration.
Cisco Webex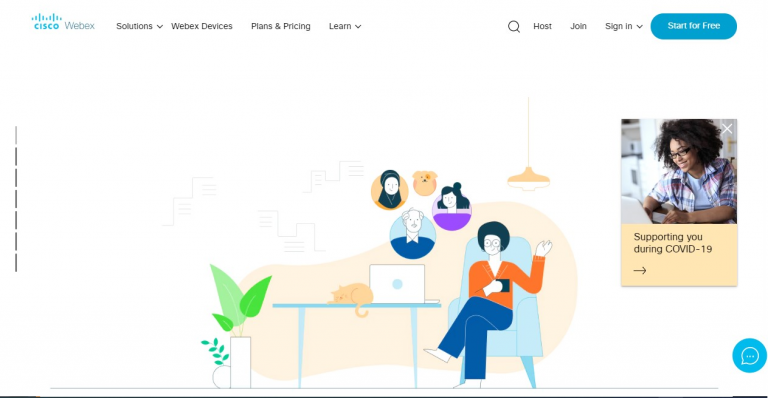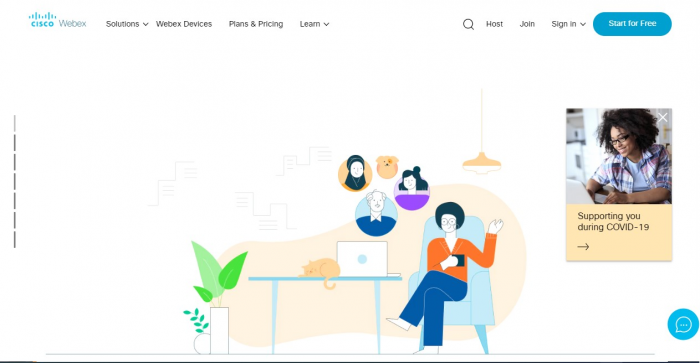 Cisco Webex is perfect for online meetings, work collaborations, webinars, and cloud calls for IT enterprises.  Aside from the meetings and CRM software, the platform also provides IP phones as a means of video and voice calling internationally.
For a limited time, Cisco Webex opens its enterprise features for free. This includes communication, collaboration, and CRM system. A basic account, meanwhile, lets users meet up to three teammates for free.
Flock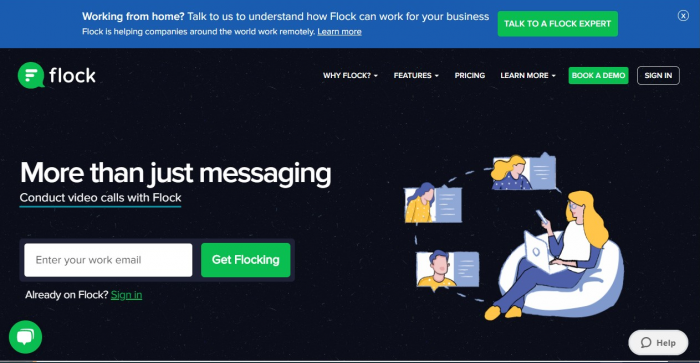 Like Slack, Flock organises team communications through video channels for a streamlined approach. The platform, meanwhile, is mostly used by sales, marketing, human resource, and customer service teams for better collaboration.
Flock can be used for free for unlimited group messages, up to 10,000 searchable messages, 10 channels, and single team admin.
Project management
Asana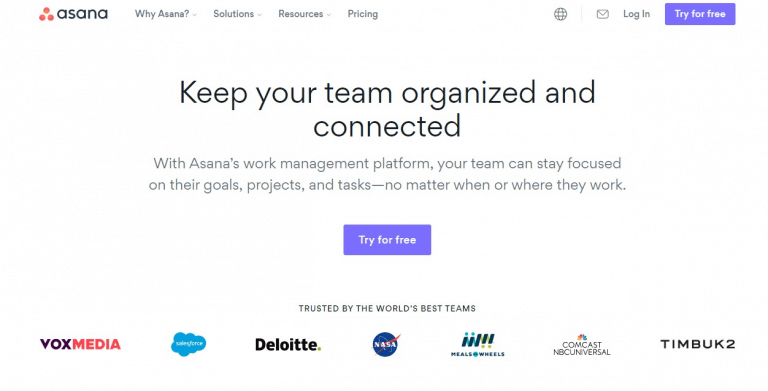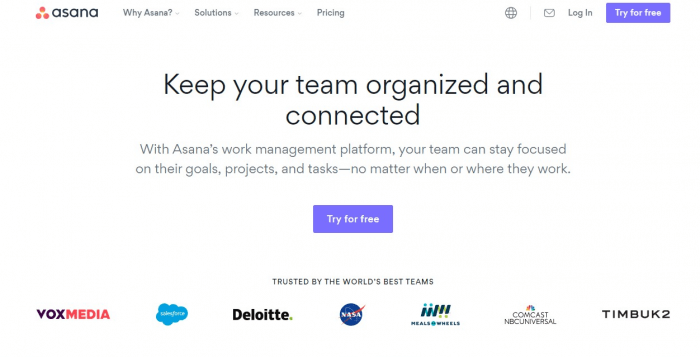 Asana is one of the simplest project management software that businesses can use. It allows task assignment and management by creating a checklist shareable between users. With this, monitoring becomes easier and more convenient.
A free account gives users access to Asana's basic features, including tasks and subtasks, due date scheduling, and commenting.
Trello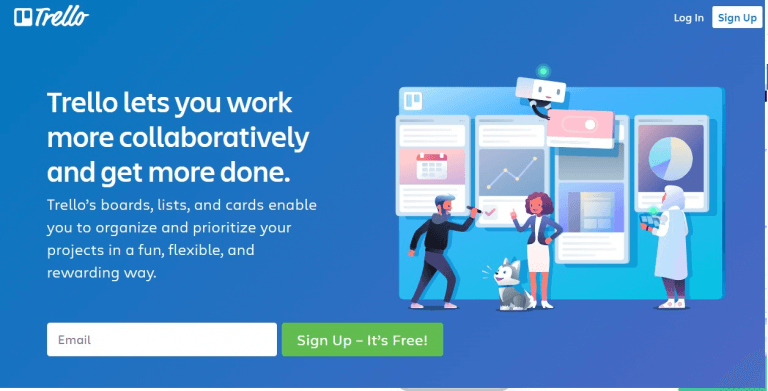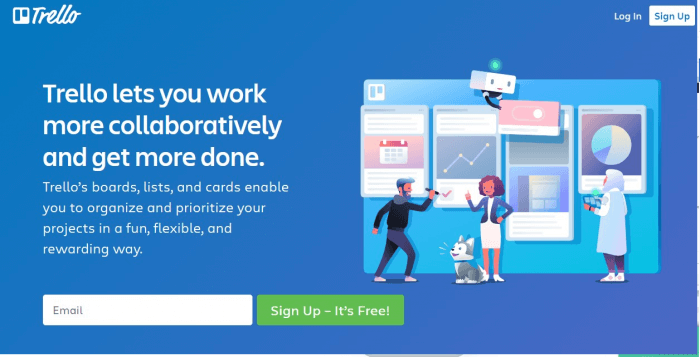 Trello, meanwhile, is perfect for users looking to better organise their tasks. The platform uses a Kanban-style of organising tasks, grouping each task by cards depending on how the user customises it. They can also add and organise due dates, statuses, and specifics of each of their tasks.
Limited features are included in the free version. Though personal boards and cards are unlimited, users can add up to 10 team boards with simple automation of up to 50 commands.
Process Street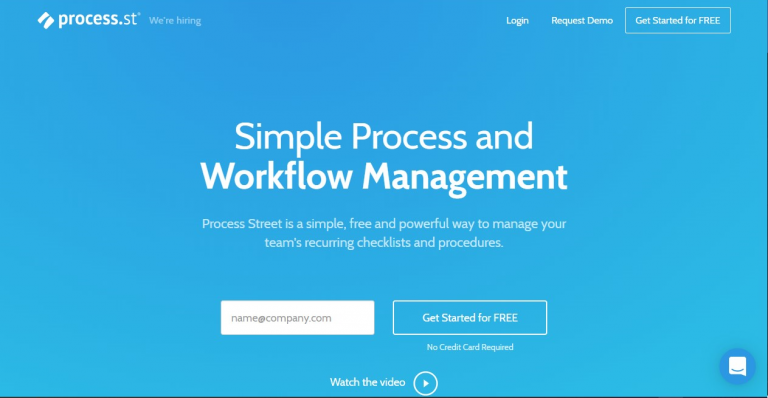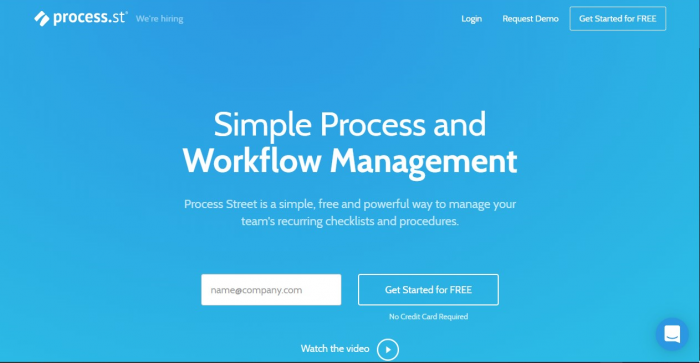 The platform helps teams to better organise their processes and workflows. Process Street provides checklist-type templates that users can customise or use as a guide for streamlining work, creating SOPs, and even preparing requirements for compliances. What's more, the entire system works in the cloud so they can access their accounts anywhere. 
Users will start with a free 14-day trial of their full features. After the trial, they can choose to avail a plan starting from $12.50 per user per month or have a free plan with limited services.
Basecamp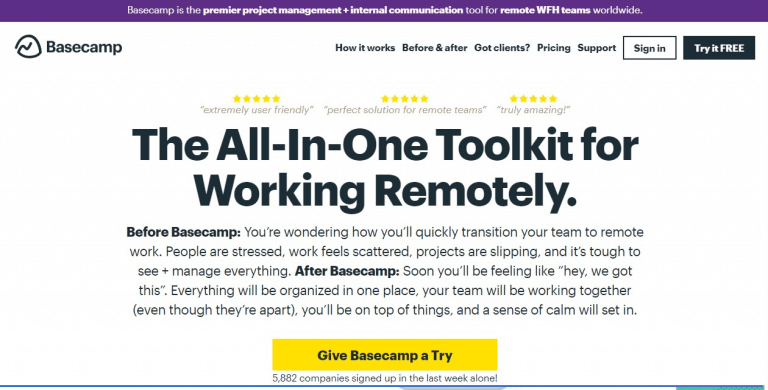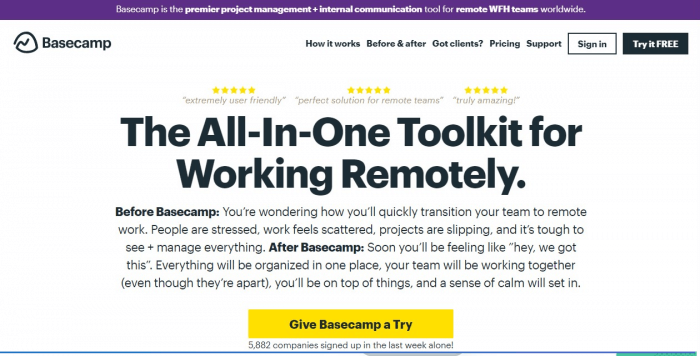 Perfect for first-time remote teams, Basecamp lets users manage their team through a simple integration and a centralised system for sign-ins, task delegation, and progress report. It also removes clutter from using multiple apps for messaging and scheduling by keeping it all in one place. 
The platform offers a 30-day free trial of all their Basecamp Business features, including 500GB storage and client integrations. Basecamp Personal, meanwhile, limits its features to up to three projects, 20 users, and 1GB of storage.
Airtable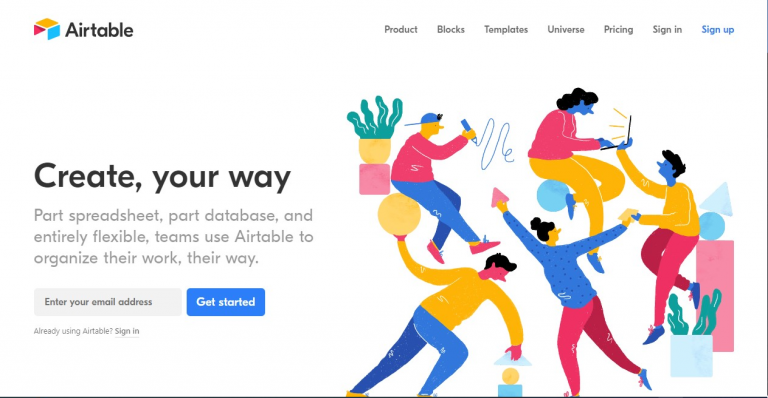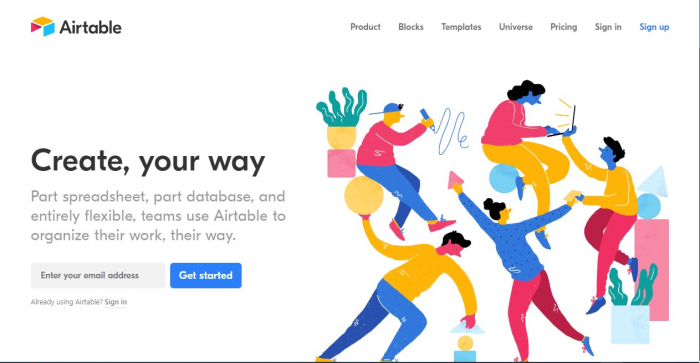 One of the unique tools in the market, Airtable gives its users access to hundreds of databases they can customise for their personal and business needs. The platform is perfect for creating CRM systems, managing inventories, and integrating social media strategies for the company.
Each database can also be saved as a .csv file for offline management.
A free account includes basic features for the user, but with limited workspaces, storage, and revision history for each base.
Zoho Projects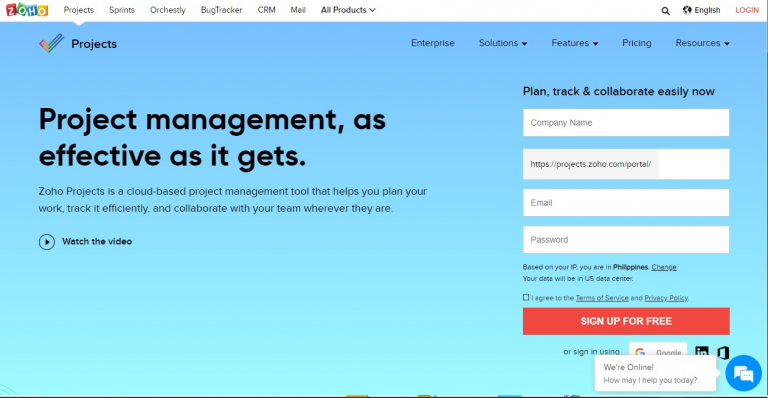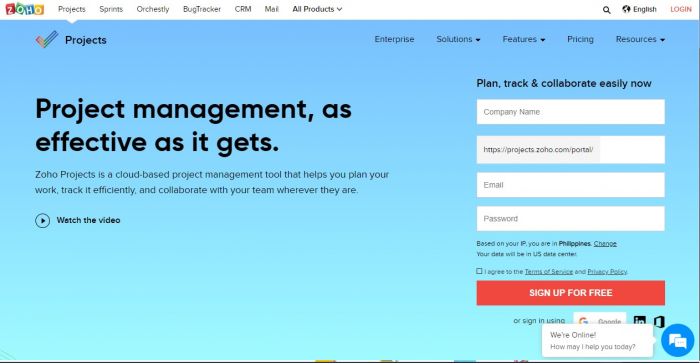 Since Zoho Projects is cloud-based, there is no need for users to install another application in their desktops. This flexibility lets them access and manage their projects at different desktops anytime. The platform also has a mobile app to let users delegate tasks on the go even without a laptop.
Zoho Projects offers a free plan for up to three users and two projects with Gantt char viewing. They can also get a 10-day trial for additional services and projects for a standard plan worth $5 per user per month.
Bitrix24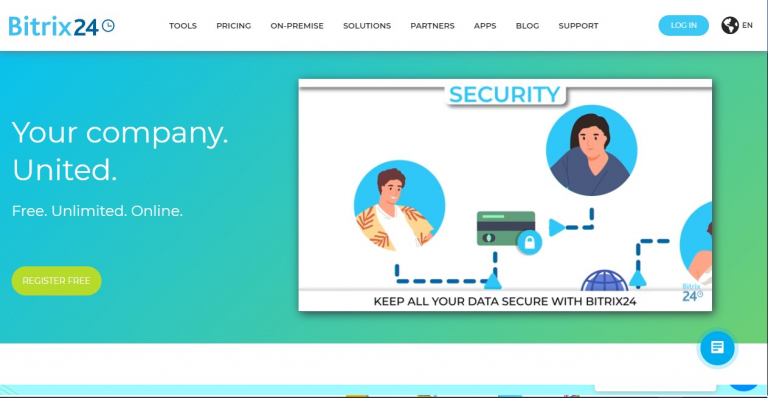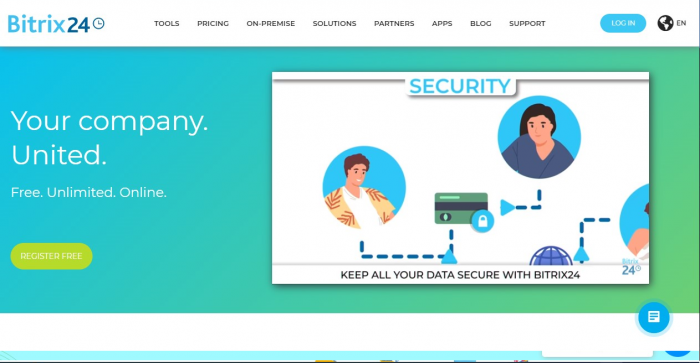 Suitable for sales and customer service teams, Bitrix24 provides free cloud solutions for project management and work collaboration. Some of its features include internal communications, CRM management, task delegation, and basic website creation.
Most of its features are free to use. They also have customised plans for additional services in sales, CRM, and project delegation starting at $19 per month.
ProofHub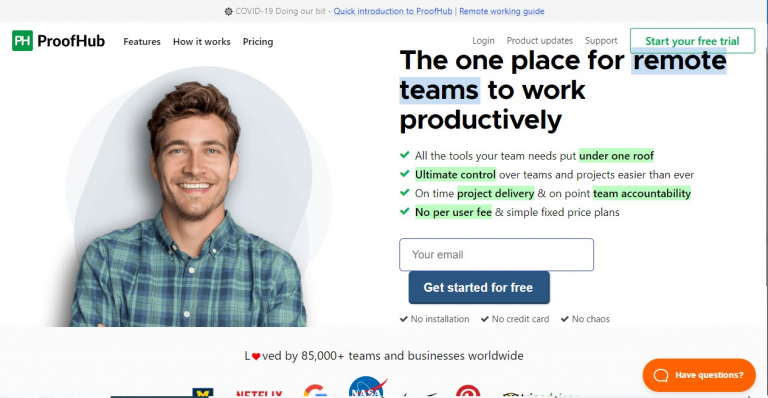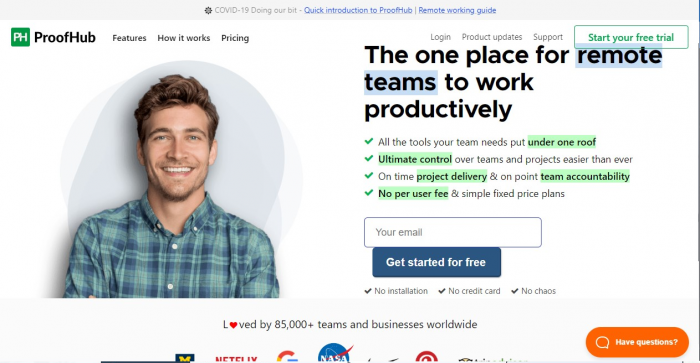 ProofHub allows customization on project management for teams, management, and clients. For instance, managers can control access over shared documents and projects, set daily agenda, and generate individual reports to avoid bottlenecks when working. The platform is also easy to use and navigate for team members and clients to help them collaborate better.
The platform offers a 14-day free trial of its full service. Their plans start from $89 per month for unlimited teams and projects.
Podio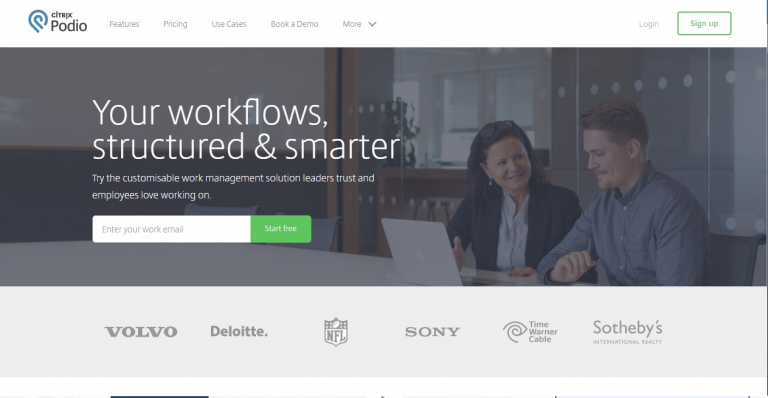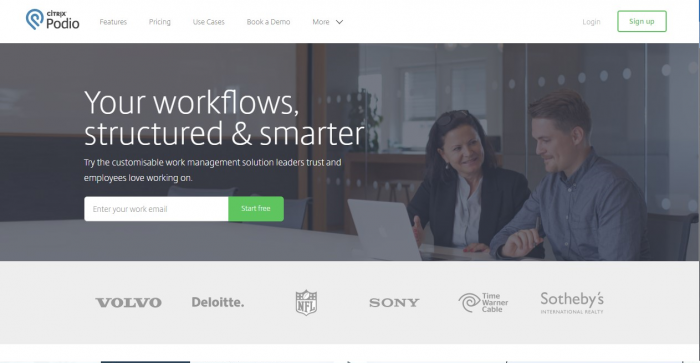 Another all-in-one project management and collaboration platform, Podio is perfect for creatives, design, and development teams looking for a way to better manage their workflow. They allow its users to manage CRM, organise SCRUM processes, and streamline basic processes pertaining to event organisation and management.
Podio's basic task management and workspace creation is free for up to five employees. Their plus plan of worth $14 per month gives them sufficient features to manage teams and automate workflow.
Wrike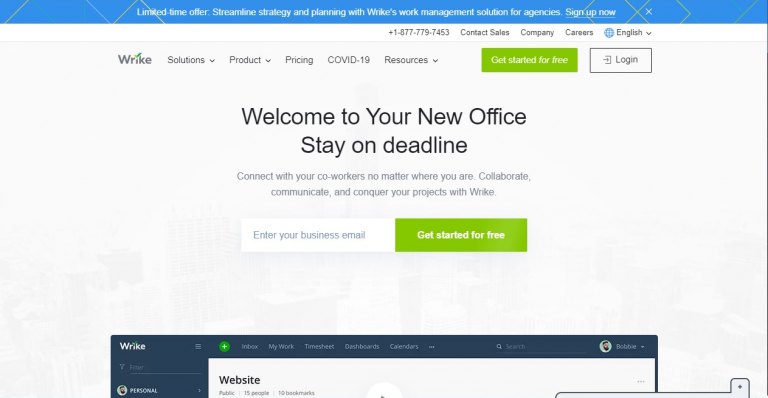 Among most project management tools, Wrike offers a COVID-19 business continuity template to help teams get back on their feet and go business as usual amidst the pandemic. They also offer solutions for creatives, design, project development, and business management teams for streamlining processes and simplifying work plans.
A free account gives its users sufficient features such as task management, file sharing, and activity streams for up to six members of their team.
Screen monitoring
Time Doctor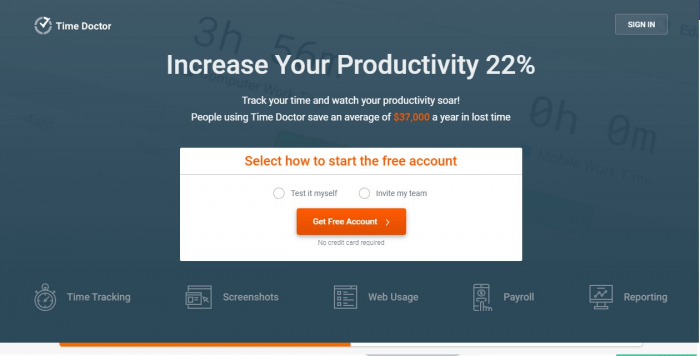 Launched in 2012, Time Doctor is one of the leading screen monitoring tools in the market. It helps the employers fairly manage their team's activities, from their attendance, website logs, key logs, up to taking a screenshot of their desktops as proof of their work.
The platform offers a 14-day trial, unlocking its full features for free. Afterwards, the subscription is a standard $10 per user per month.
Timecamp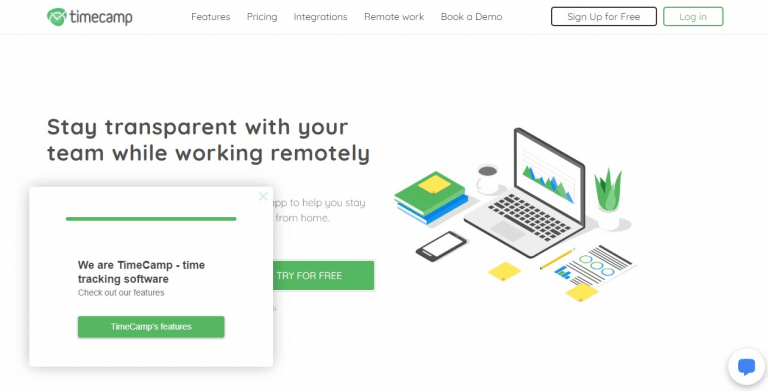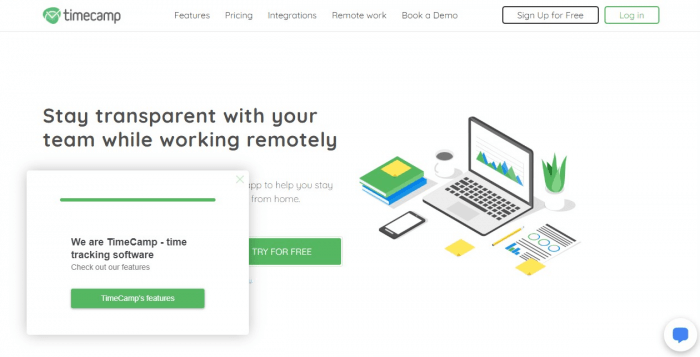 Timecamp, meanwhile, is suitable for monitoring for one-time and output-based projects. Any employee outputs that need minimal monitoring can be tracked through the app to improve its profitability and quality.
A free account is exclusively for one user and only allows time tracking and graphical timesheets. For more users and features, employers can avail of monthly plans for a minimum of $7 per user per month.
Harvest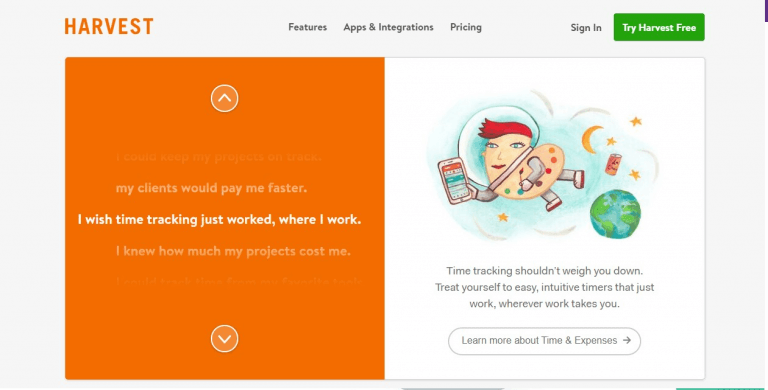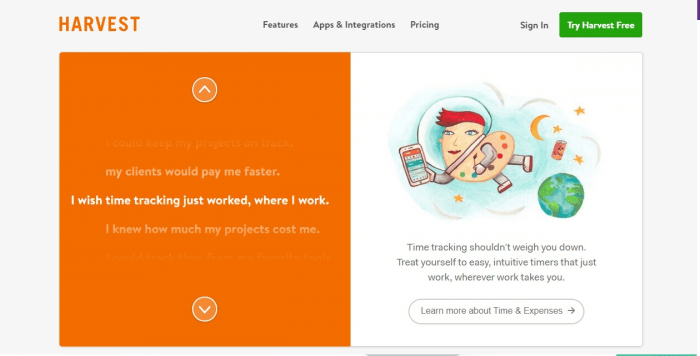 A unique thing about Harvest is the way it tracks employee productivity. The platform integrates best with Asana. Aside from the billable hours, it also tracks the non-billable hours of an employee to prevent them from experiencing burnout.
Users can either avail a free account for one person and up to two projects or a 30-day free trial of its monthly plan with unlimited people and projects.
ActivTrak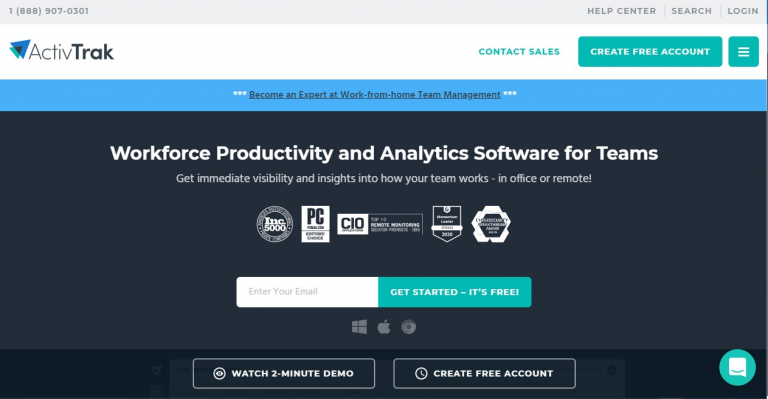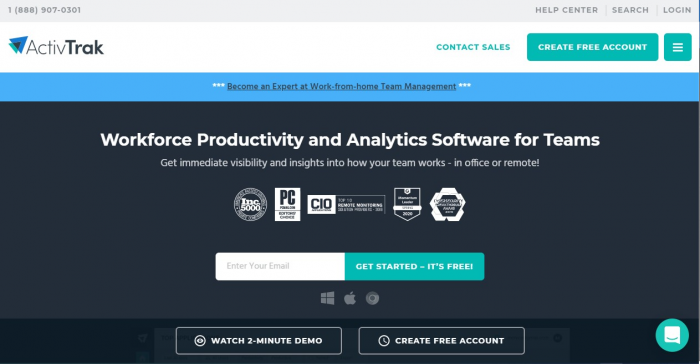 Invisible to an employee's desktop, ActivTrak lets employers discreetly monitor them. It logs their idle times and tracks their activities through mouse and keyboard. With this, employers get an insight into how their employees use their work time and improve it by removing distracting environments and wasteful practices.
A free account is available for one user, usually freelancers who track and bill their clients according to the time they have worked. 
KickIdler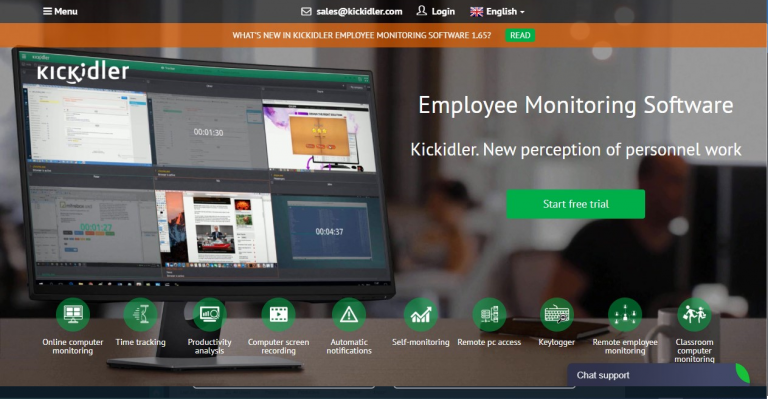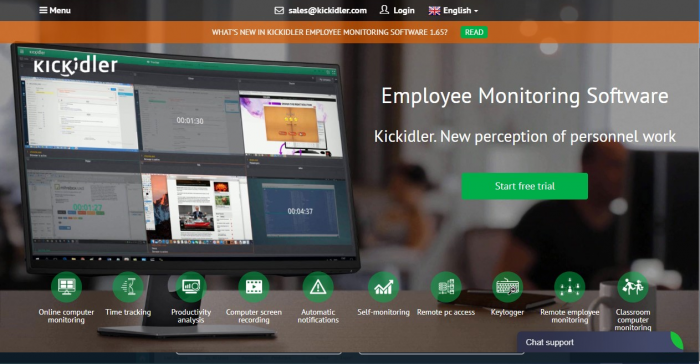 KickIdler is a premier employee monitoring software that tracks employees more efficiently. The platform lets employers track their productivity through online monitoring, keylogging, and screen recording to name a few. 
Users can try the platform's full features for 30 days free. Afterwards, they can continue monitoring through the software but with fewer functionalities unless thy avail a license plan. 
File storage and sharing
Google Drive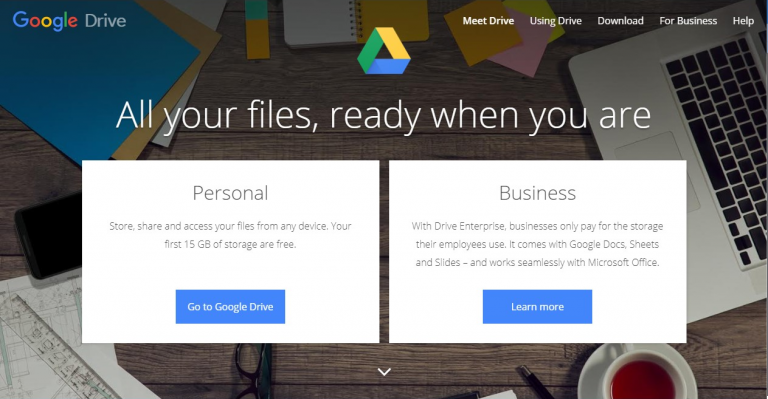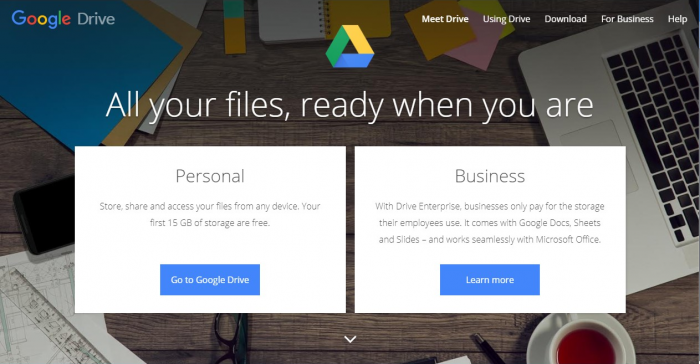 A part of G Suite, Google Drive is one of the most accessible cloud storages to date. By creating a Gmail account, its users can enjoy a large storage space perfect for small and large file sharing, document collaboration, and third-party app integration.
Users can access their 50 GB storage at drive.google.com. Several plans are also available for additional storage space.
Dropbox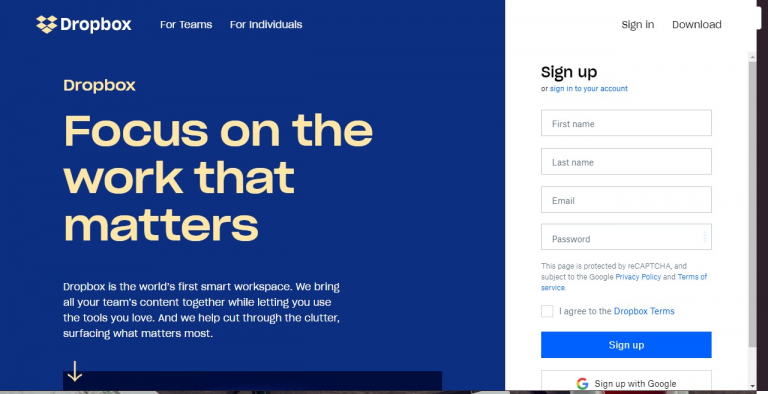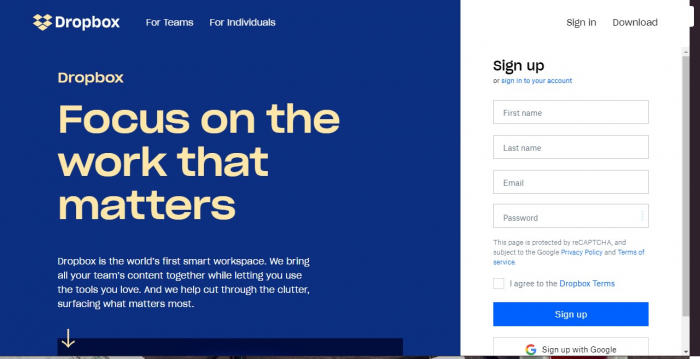 Dropbox, meanwhile, is suitable for strictly document sharing and storage for teams. Through its desktop app, the platform will let its users backup their smaller files, customise its access, and integrate it with Microsoft Office tools for editing. 
Users can get free 2GB of storage expandable upon availing different monthly plans. Dropbox Business starts at $15 per user per month, allowing up to 5TB of storage.
Onedrive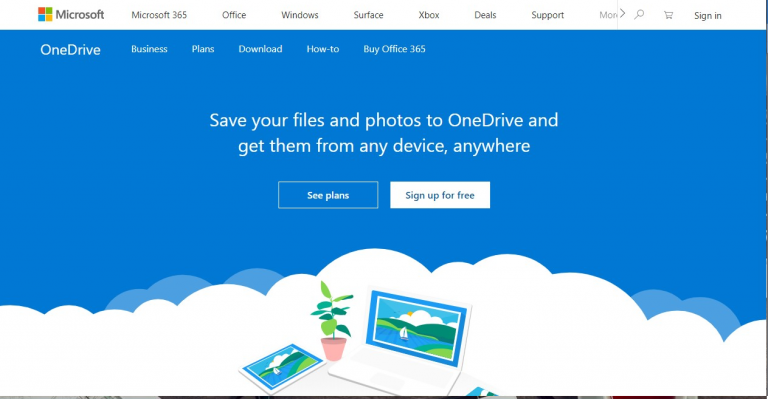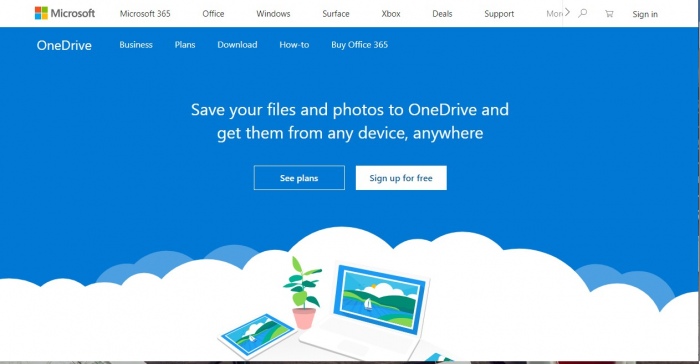 Along with Microsoft Office tools, Onedrive is also used as convenient cloud storage for Outlook users. The latest version of Microsoft Office autosaves a document to a user's drive which can be accessed on the web and upon sharing. 
Aside from a 5GB storage, Onedrive users can also access their Personal Vault where they can store up to three private documents. 
Box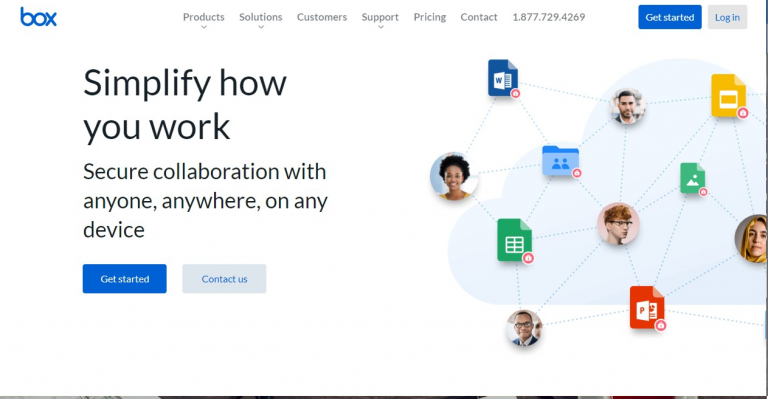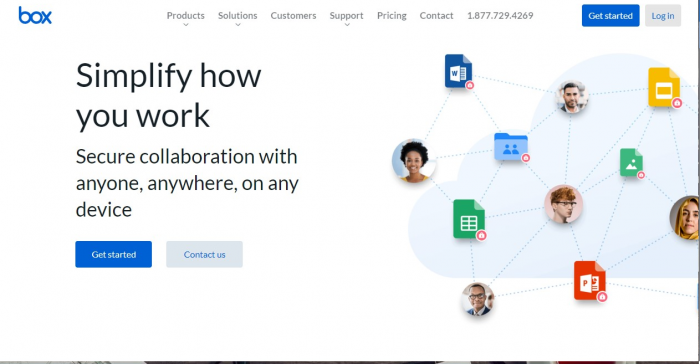 For a more secure file sharing, users can try Box. The platform assures security from its end-to-end data protection and cloud management. It also enables streamlined Zoom integration so that employees can make their file management and sharing better.
Users can sign up for a 14-day free trial of their services, depending on the storage they need. A minimum of 100GB storage starts at $4 per user per month.
WeTransfer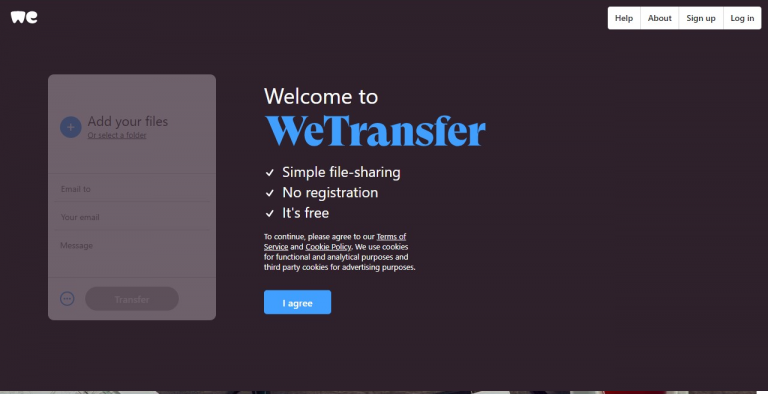 Unlike the apps in the list, WeTransfer only allows file uploading and storage for a limited period. However, the platform fits for sending and receiving confidential and large-size files (up to 2GB) when a user does not have any cloud storage available.
Sending a file through the free version only allows seven-day access to the file before it expires. With the Pro version, meanwhile, the file can last up to four weeks validity.
Graphic design
Canva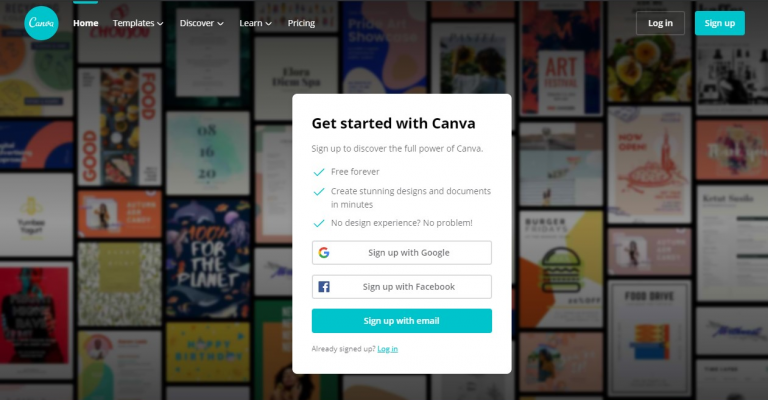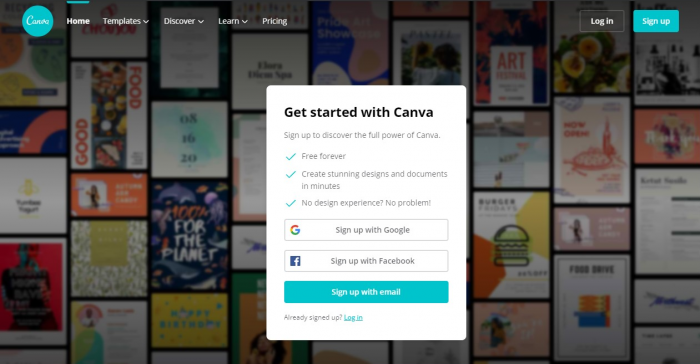 Canva is tagged as graphic design for non-designers. With its interface, users can create professional graphics to be used for social media, website, and ebook covers, among others. It also allows them to create their template aside from the default ones included in the platform.
Canva is free for both desktop and mobile app with limited functionality. Starting at a lite plan, it allows the users to make visual content using premium stock photos found in the site.
InVision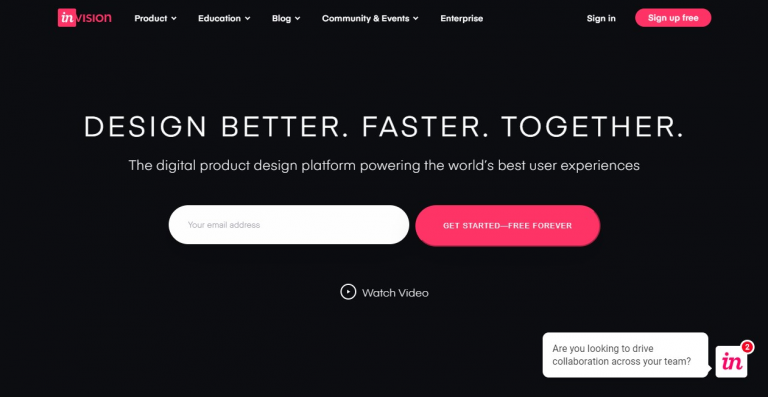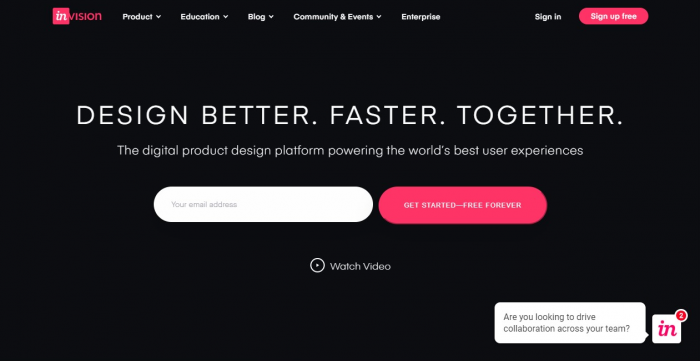 InVision online app helps to make designs that improve user experience. It provides functionalities such as Inspiration boards, digital whiteboard for brainstorming, and InSpace for creating prototypes.
Photopea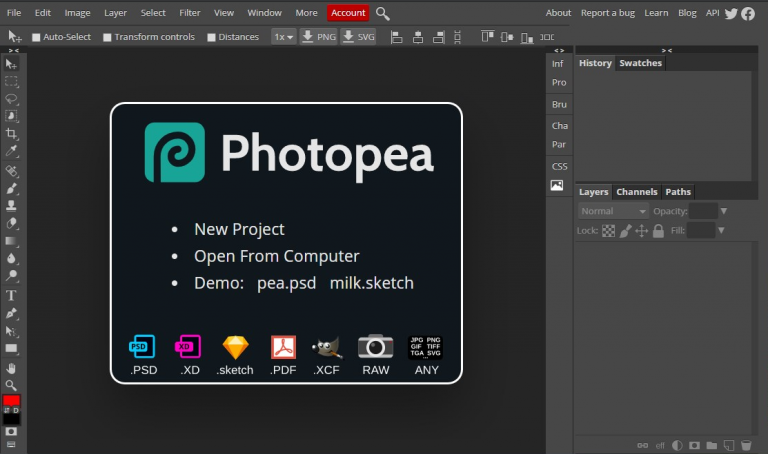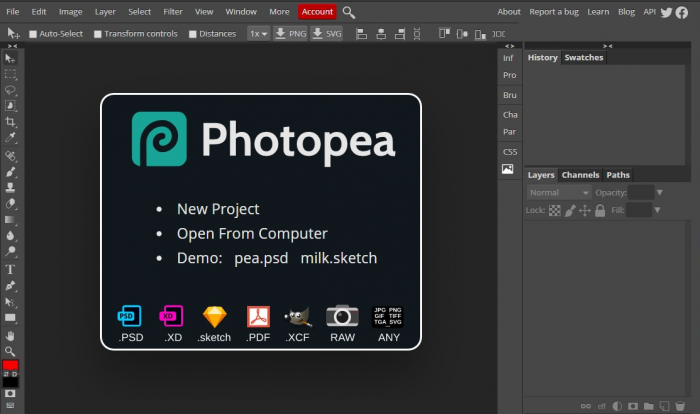 For employees without Adobe Photoshop on their devices, Photopea can do the trick. It is an online photo editing tool with almost the same functionality as Photoshop. With this, users can erase a photo's background, add different layers, and outline their cutouts for a cleaner look.
Its full functionality is free upon creating an account. The platform also lets you save your work in .psd format and export it into .jpeg, .png, and others.
Software development
GitHub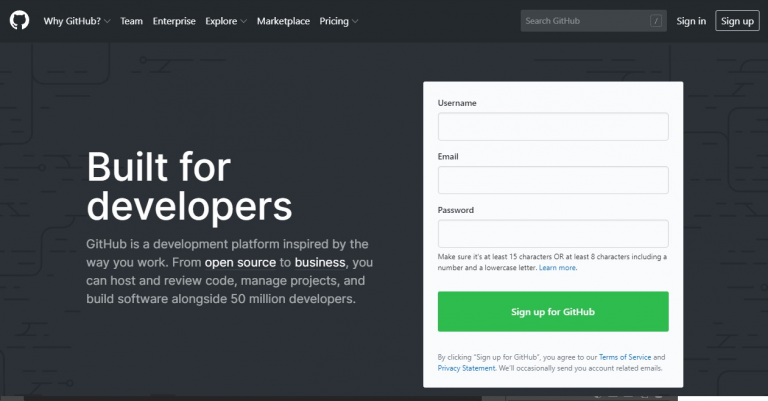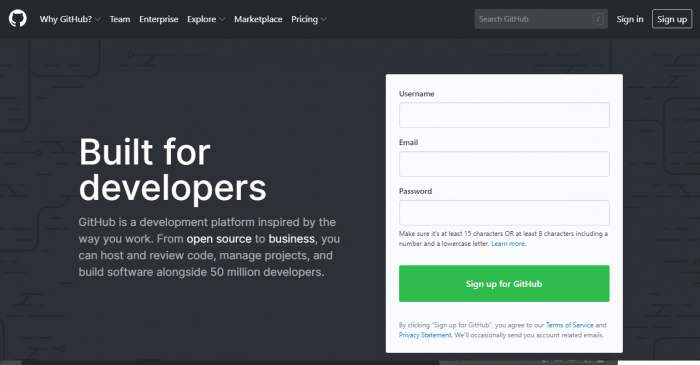 GitHub provides an entire range of tools for software development and workflow management for developers. It offers private hosting, CI/CD, coding review, and team management for an easier and more streamlined workflow.
Its free accounts give the basic features a small team or a single developer needs, such as unlimited private hosting, GitHub packages storage, and community support. For additional storage and features, teams can opt into Teams plan for as low as $4 per month.
GitLab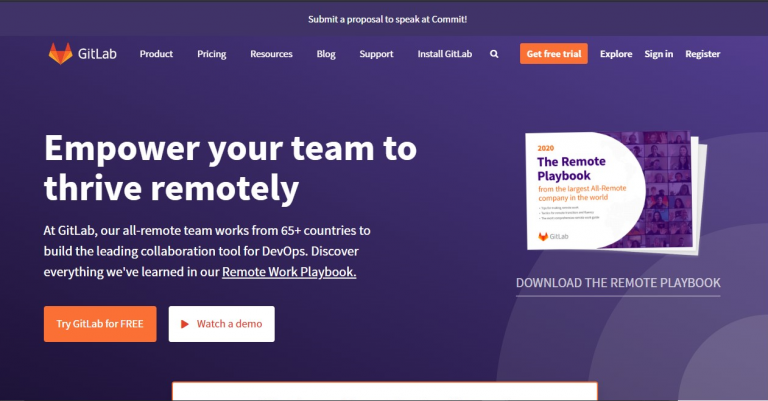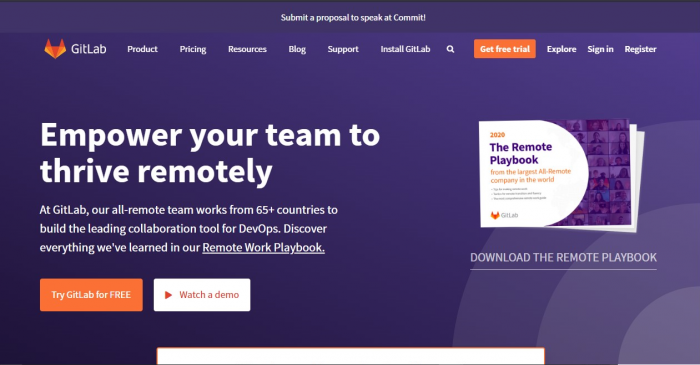 Unlike GitHub, GitLab provides free unlimited repositories for software development data. The platform promises an entire DevOps lifecycle in one application to help their users reduce development costs and decrease time to market.
Documentation
Google Docs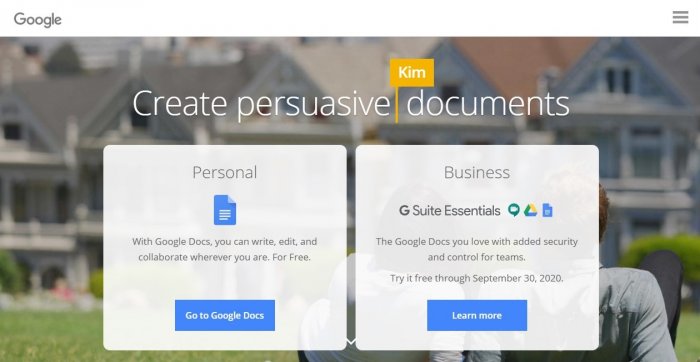 Google Docs can be found along with the G Suite interface. It bears the same functionality as Microsoft Office Word in processing documents such as letters and manuscripts. Only, it saves the document to Google Drive in real-time to prevent loss of input data.
For free users, Google Docs has full functionalities but limited fonts. It cannot recognise unfamiliar fonts especially those installed in a single desktop.
Microsoft Office Online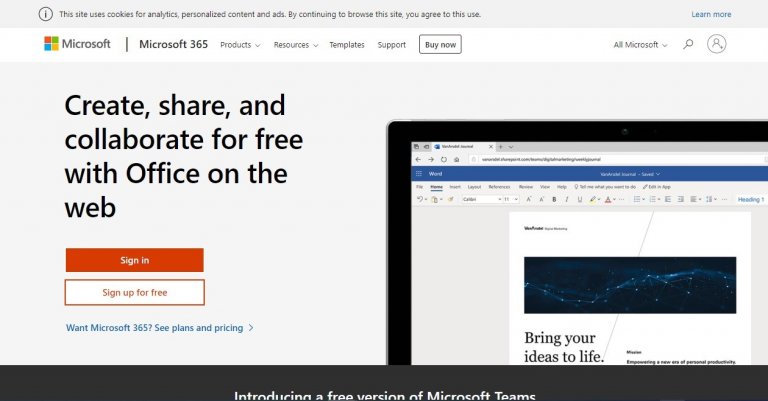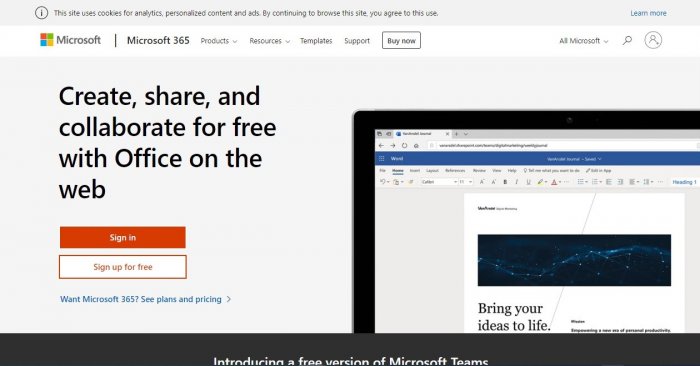 The same format with Google Docs, Microsoft Office Online is the web version of the Microsoft Office tools. Without installing the entire suite on the desktop, it instantly accesses all documents saved in Onedrive and makes it available for editing and commenting.
Full functionality of the Office Online can be accessed by purchasing an Office 365 subscription or its 30-day free trial.
OpenOffice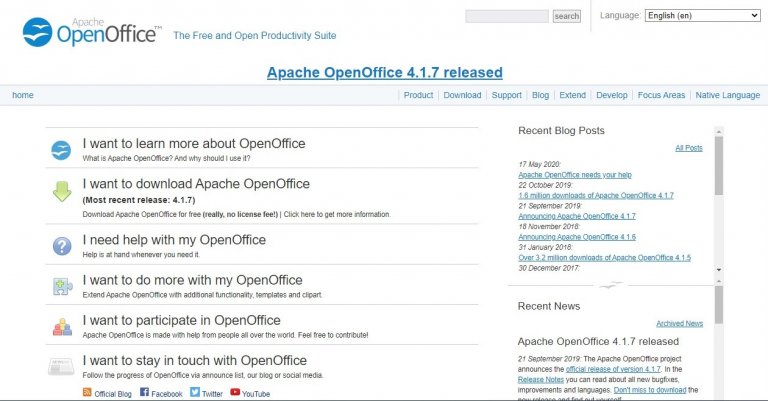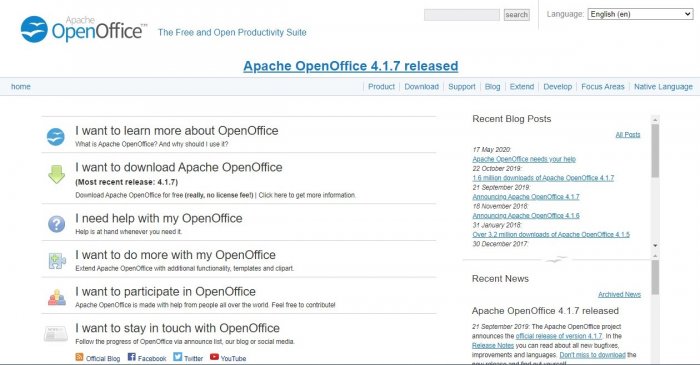 OpenOffice is a good open-source alternative for Microsoft Office. It already allows its users to create presentations, spreadsheets, documents, graphics, and databases in one place. It is mostly used by nonprofits, institutions, and government agencies.
The platform is totally free to use and is released under Apache 2.0 license.
Scheduling 
Deputy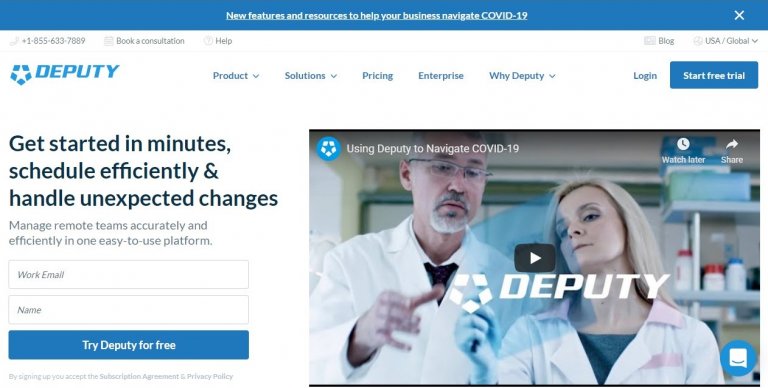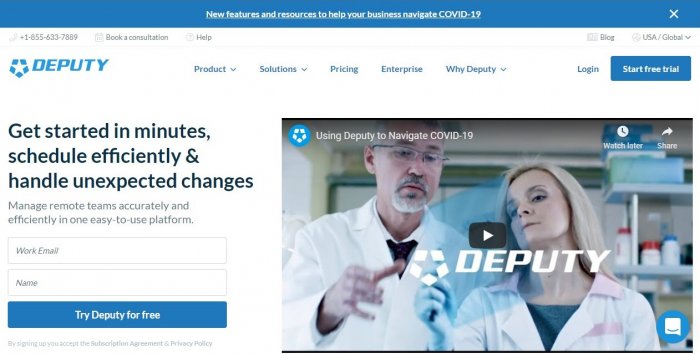 Deputy provides scheduling solutions to customer service, healthcare, and logistics teams. Through the platform, employers can know each employee's shifts, track attendances, leaves, and undertime, swap shifts, and bill them according to their schedules. It also integrates with payroll and HR solutions to manage the workforce more efficiently.
Users can start with a free trial of its full functionalities. Depending on the team, they can customise their plans to simply scheduling, time and attendance, or a combination of both.
Baluu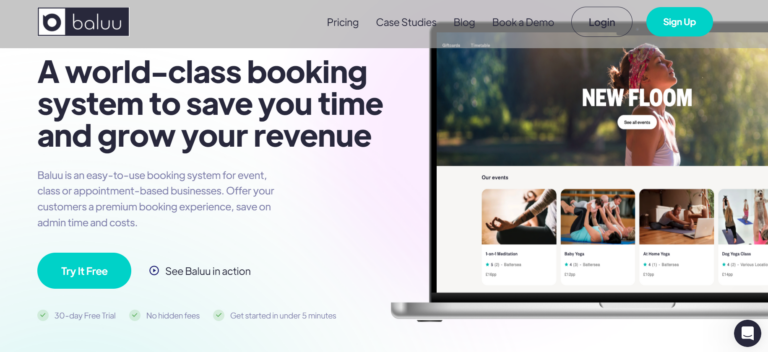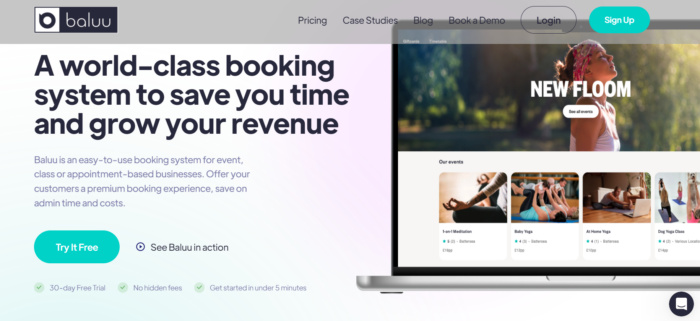 Baluu is booking software that helps you effortlessly manage your team and can do both things for you.
It allows them to manage their customers and lets them know where they need to be and when they need to be there, in addition to enabling or restricting access to your timetable and CRM. The booking software also allows you to assign events directly to your team.
If you exceed the monthly booking limit for the free plan, you must upgrade to one of Baluu's paid advanced plans. The free plan has a limit of fifty bookings per month.
Calendly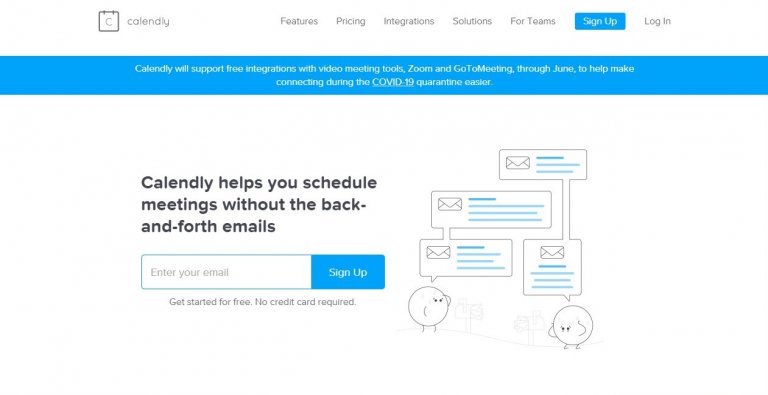 Calendly, meanwhile, can help in appointment scheduling for internal teams and client meetings. Due to the COVID-19 pandemic, the platform allows free integrations with Zoom and GoToMeeting in organising online webinars and meetings.
The platform is available for free for 14 days with its full functionality or with a basic account with one specific event and only one calendar to use. 
Google Calendar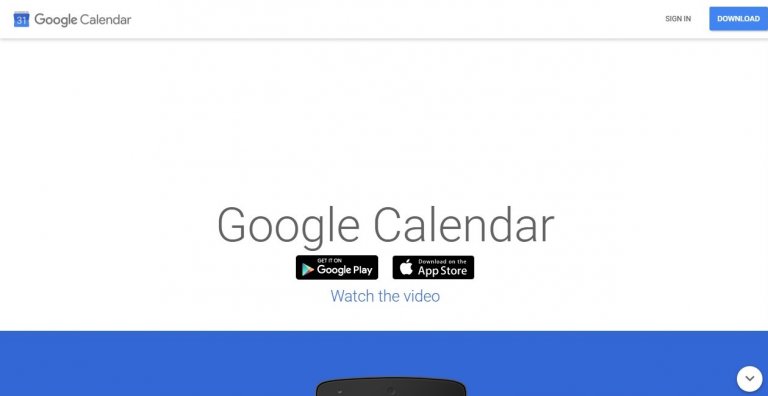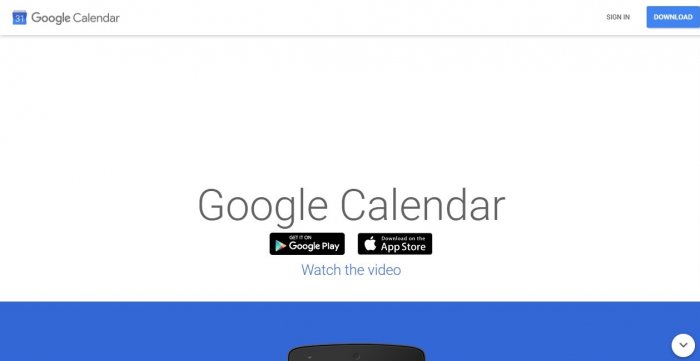 Also included in G Suite, Google Calendar lets its users schedule activities easily and invite others through email. No need for integration to another email service, the host just has to input their invitee's email addresses upon creating an event for instant notification.
The platform is entirely free to use for Gmail account holders, whether for personal or business. Just look for it on Google apps or go to calendar.google.com.
Expense management
Fyle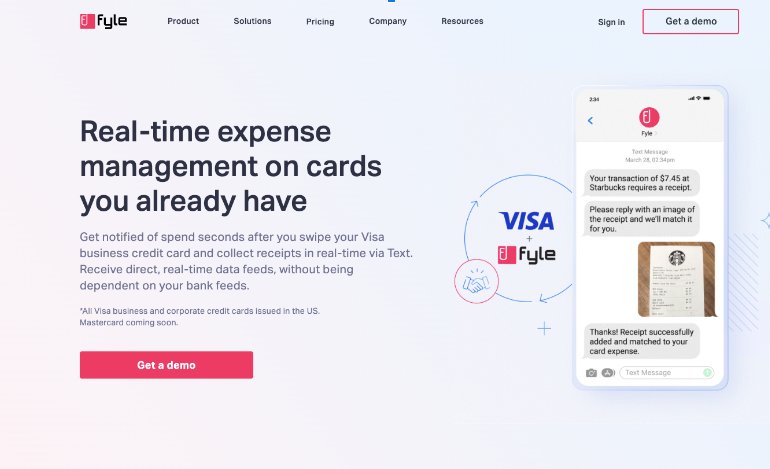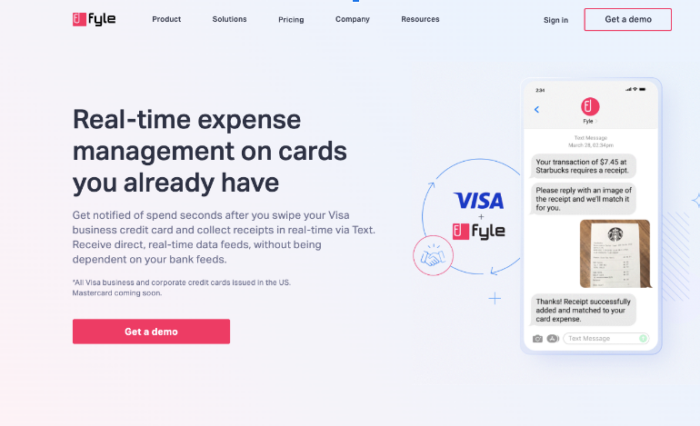 Fyle is a spend management tool that gives you real-time expense management on cards you already own. It notifies Finance teams of spending seconds after your business credit card has been swiped.
They can collect receipts via text and reconcile expenses in real-time. This ensures you aren't dependent on bank feeds and have access to real-time data feeds.