Modern entrepreneurship and virtual staffing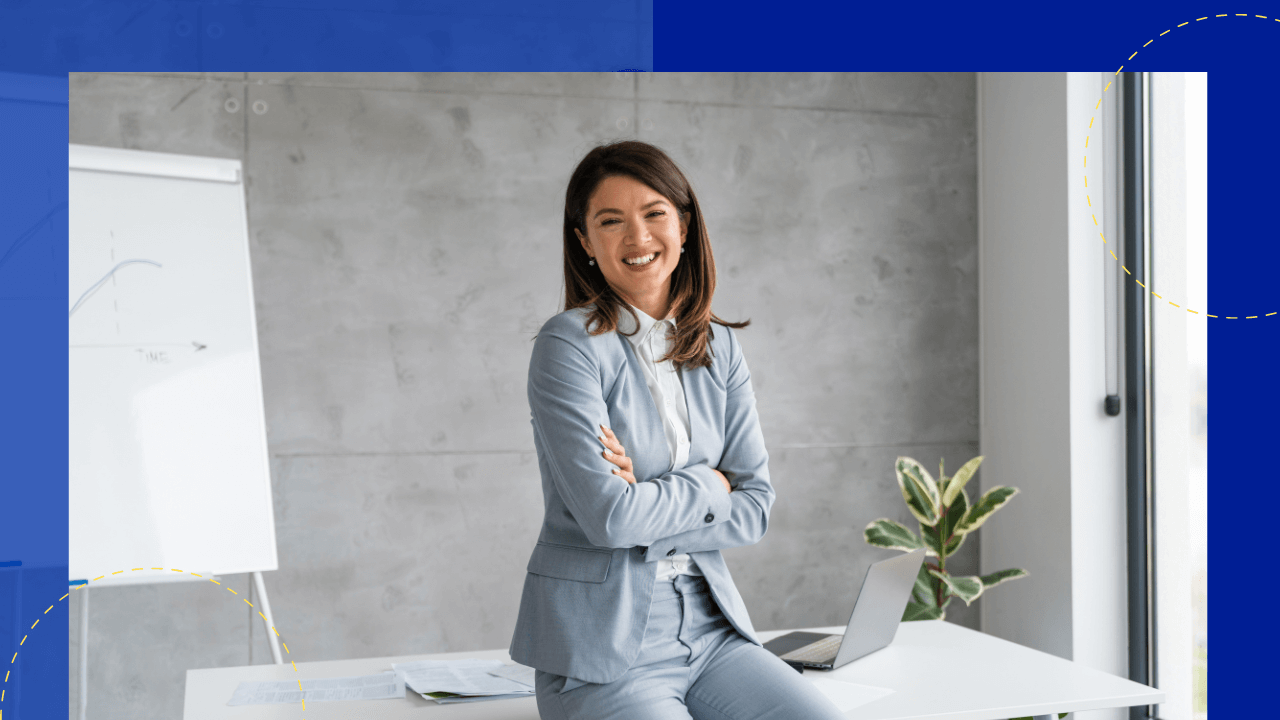 Modern entrepreneurship and virtual staffing
Technology has changed the way a business operates. It has changed the definition of entrepreneurship and opened the opportunity to everyone who wants to start their business from scratch with minimal capital. Technology also changed the way businesses employ people through virtual staffing. This erased the boundaries of hiring overseas and made their communication easier through the internet.
The modern entrepreneur
According to the World Bank, small businesses contribute a lot to most economies, especially in developing countries. They form around 90% of businesses and more than 50% of employment worldwide. Solopreneurs dominate most of these businesses. 
The modern definition of entrepreneurship usually involves the use of technology and network for building and growing a business. With the internet, modern entrepreneurs start their businesses with minimal to no capital at all. However, this also draws a setback since they need to cover expenses for their website maintenance, marketing, salaries, etc.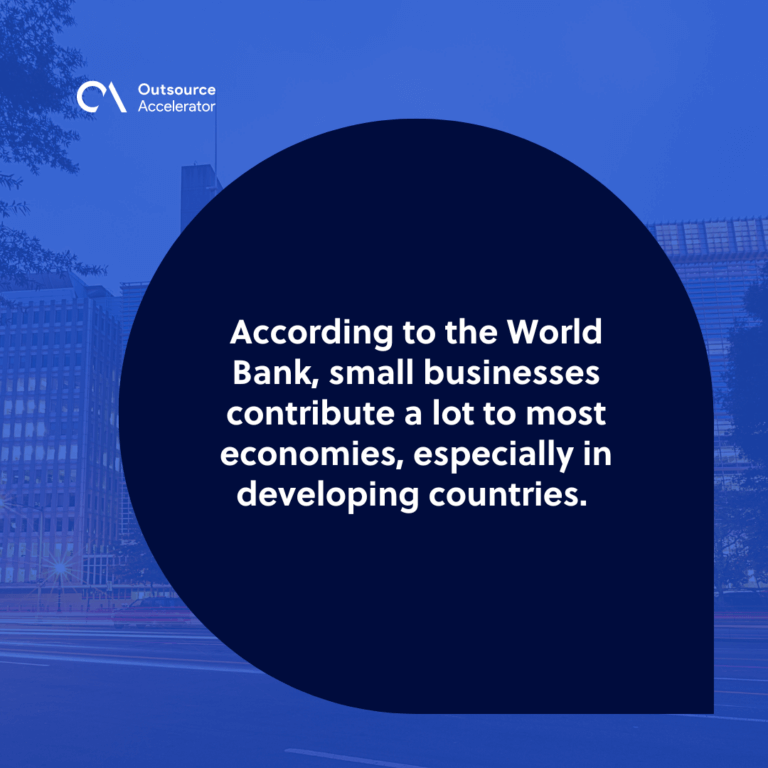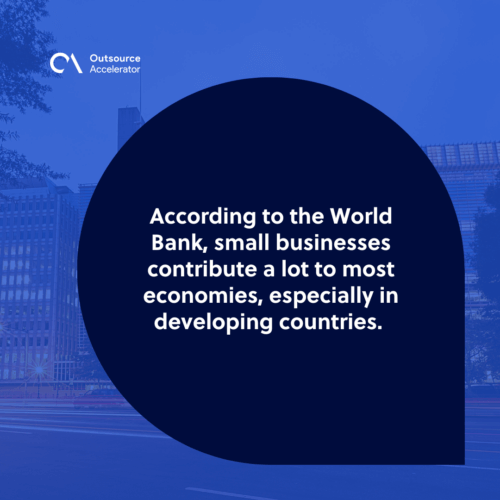 Skills
How can a solopreneur, for instance, keep their business running? They possess different skills and mindset to reach their goals, such as:
Passion and determination. Young entrepreneurs, especially millennials, are passionate about their thing. This passion keeps them going and guides them in reaching their goals.
Multitasking. These entrepreneurs can multitask, especially when they are starting. Most of them juggle both their jobs and their businesses and work for more than 12 hours a day, 6 days a week.
Knowledgeable in technology. Nowadays, entrepreneurs are also fans of technology. This makes them juggle their tasks easier and build a wider and more established network and audience.
Storytelling. Lastly, successful entrepreneurs are great storytellers. They can introduce their products and build their brands in the market. This helps them form a stable presence online to attract niche customers.
Challenges
However, entrepreneurs are also prone to business failures caused by:
Resource problems. Entrepreneurs also experience having insufficient resources to start or continue their businesses. Most of them are self-funded or have small funding. With this, they can't eventually afford to maintain their manpower and service costs.
Insufficient skills. Sometimes, entrepreneurs are so fond of multitasking that they only deliver average quality output in their business. Worse, there might be a few errors they are making, such as in marketing with the right audience, that can cost them in the future.
Cut-throat competition. This usually happens with tech companies and other sectors that need to constantly meet changing customer demands. Most businesses require to constantly innovate and improve their products to stay on top of their game.
No market. As opposed to having tight competition, some products have little to no market at all. With this, entrepreneurs feel like they are throwing away their capital. However, they can use this as their trial-and-error basis on what works for their target market and what does not.
Technology in modern entrepreneurship
Small businesses and startups nowadays now have access to technology in every aspect of their business. With this, transacting is made easier unlike before when everything is done manually. 
Payment gateways
Before, international payment is burdened by expensive conversion fees and other charges. Processing takes up to weeks, and it might take a month before the payment enters the end user's bank account. Today, payment gateways have made it easier to transfer payments. No matter how far, with a simple account, it will be done in an instant with fewer fees. 
Business management
Manual processes are almost things in the past now. With the help of management tools, entrepreneurs can run their businesses wherever they go. They can consolidate their books of accounts, update contracts, pay their suppliers, file their taxes, and work with their remote teams in one place. Screen monitoring and payroll, meanwhile, can be done in another device.
Now, their smartphones can also be their personal assistants with Siri, Cortana, and Google assistant on the rise. This shows that the wider desks before have been compacted into an all-in-one workspace now, perfect for those who are always on the go.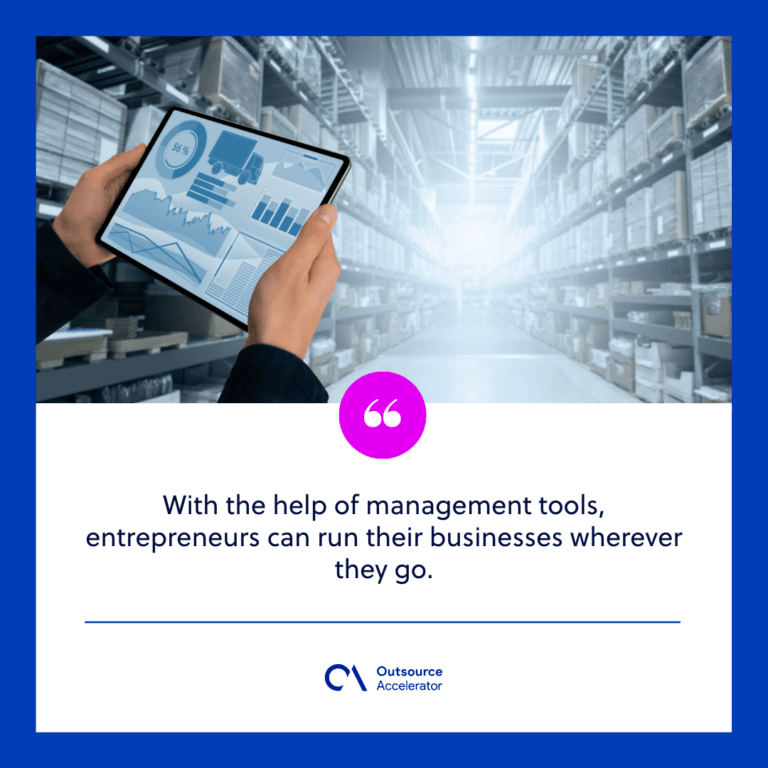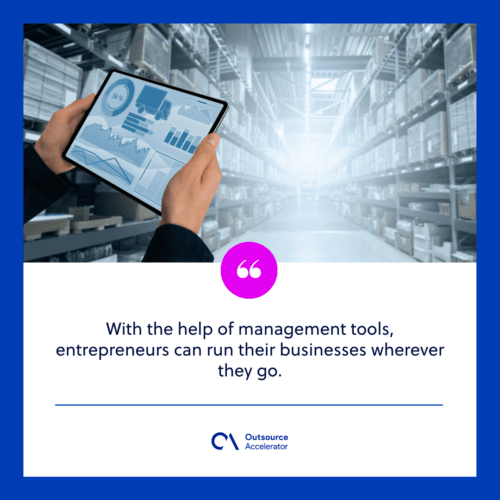 Digital marketing
Small businesses market their products to introduce the company and build their brand. A study by The Manifest states that almost all (87%) of small businesses advertise. Those run by millennials even uses more mediums, including social media and TV.  Using different mediums helps them reach a bigger audience and make them remember their product.
There is a lot more a business can do in advertising. One of these is focusing on creating content for their websites. However, only a few of them focuses on content marketing. This move, experts warn, makes them miss a key opportunity to grow their traffic.
Virtual staffing
Aside from local employment, businesses now use virtual staffing as a flexible way to expand and scale their business. Based on the analysis done by Global Workplace Analytics and Flexjobs, remote workers in the United States alone has grown by 91% over the last 10 years. Technology has also paved the way for freelancers and outsourced staff to work efficiently with their clients.
Virtual staffing has become a win-win situation for businesses and employees. Employers, for instance, gained access to a global talent pool. With this, hiring quality employees at a fraction of local talent is made possible.
Employees, meanwhile, became more satisfied and productive with their work. It reduces their stress in traveling to their work every day through working from anywhere, even at their homes.
Freelancing vs. BPO
There is a great difference between hiring a freelancer and a business process outsourcing company. They differ in terms of quality, efficiency, and length of service to a company.
Companies hire freelancers mostly for one-off and short-term contracts. They can be contracted and paid through freelance platforms such as Upwork and Fiverr at an affordable price. They offer a wide range of roles, including virtual assistants, programmers, and designers. However, many freelancers tend to perform less than expected. Some even just leave their employers without a trace. This is why freelancing can be a tricky way to hire a person for the job.
With outsourcing, meanwhile, businesses can hire a third-party company to set up their team. Trusted BPO firms like Outsource Access gives them the option to have their offshore team or just a shared one. They can be sure that they will get the value for their money since the BPO takes care of their needs such as office space, latest equipment, and employees.
Some of the top outsourcing countries they can choose from are India and the Philippines.
Technology in the future and the threat of automation
Artificial Intelligence slowly rises and innovates the way work is done. And it shows through different software and mobile applications everyone uses. However, this has become a threat to millions of jobs worldwide. Experts say that in a few years, AI can replace 95% of jobs, including call centers. 
Change is inevitable. However, there is still hope that this can be reversed. Take it in customer experience. Customers might be okay with automated chatbots, but they're still looking for human help when it comes to more complex issues.