Outsource to the United States: A quick yet comprehensive guide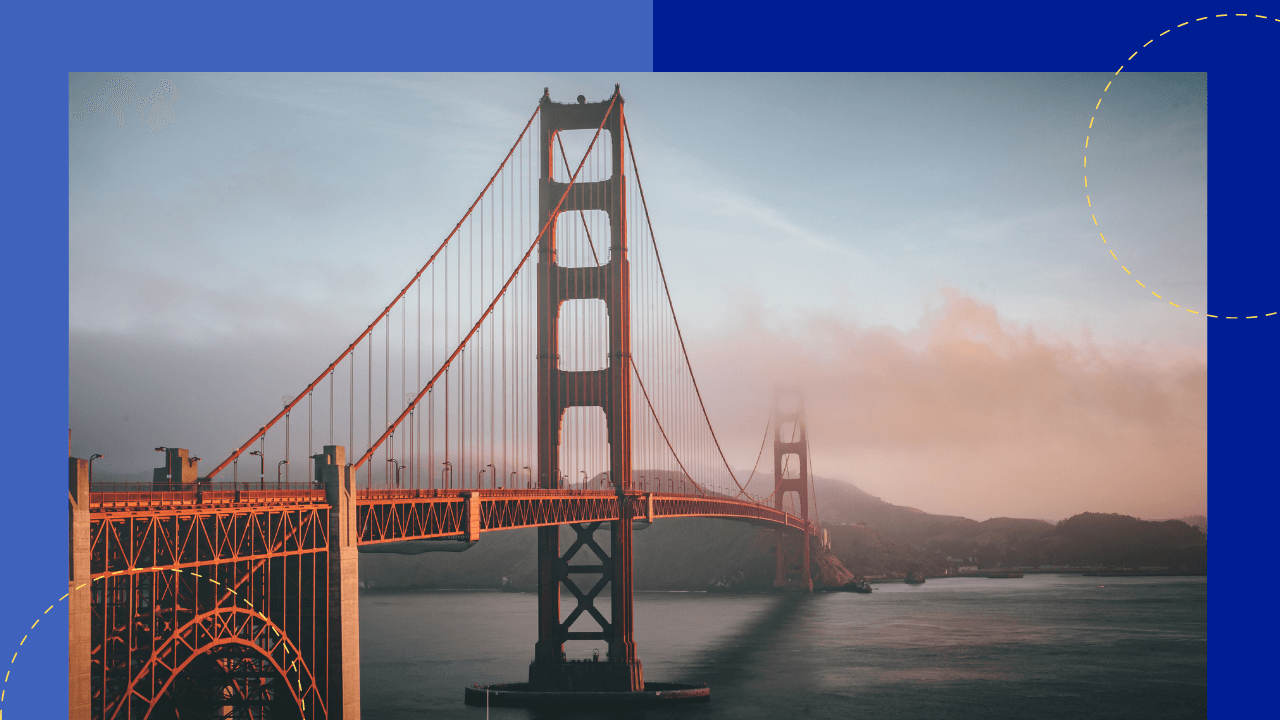 Over the years, outsourcing has indeed become a way of life not just for start-ups or small businesses but even for the big dollar companies. This has become even more evident as the world continues to combat the economic impacts of the COVID-19 pandemic.
More and more companies have turned to outsource to keep them afloat and their business operations up and running. Some firms even outsource to the United States – which can be quite surprising. A lot of people are used of American companies farming out parts of their daily functions. 
However, the US Business Process Outsourcing (BPO) industry is now becoming recognized in terms of onshore and nearshore outsourcing. In fact, according to the Tholons Services Globalization Index in 2019, the US has ranked third out of fifty countries for digital services. 
The outsourcing industry in the country screams great news! However, not long ago, outsourcing has been a controversial topic that stemmed from Trump's stance towards this sector. 
Joe Biden amended the outsourcing and offshoring practice regulations when he stepped in as the newly elected President of the United States.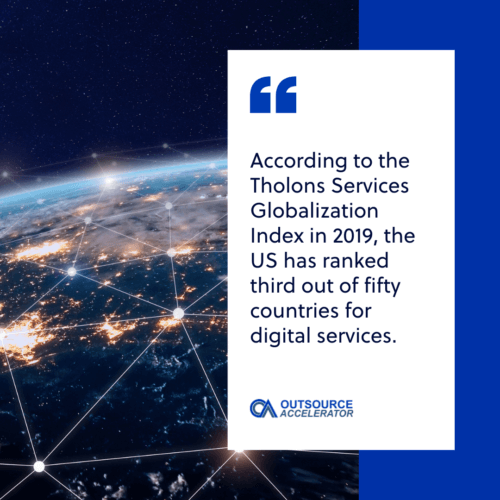 Outsourcing views and policies: Trump vs Biden
Since the start of his reign in 2016, Donald Trump has then laid out his opposition against companies that contract out work outside the country. This was in support of his strong disposition, which is to make America great again.
The former president of the United States believed that unpatronizing outsourcing will bring back more jobs in the nation. 
Onshore and nearshore outsourcing started to become known in 2017. This was as a result of Trump declaring that companies that outsource will have to face certain reprimands – along with an increase in taxation. 
From that year, apart from digital services, companies that outsource to the United States mainly delegate their IT-related and tech support services. 
When Joe Biden won the presidential election in 2020, he had vowed to restore diplomacy with regards to international relations and global trades. While it is quite apparent that the presiding US leader is also not an advocate of outsourcing, he is committed to rehabilitating international relations.
In addition to that, he is also a supporter of a more globalized economy.  
Why does nearshoring provide greater opportunities for US companies? 
At present, IT-related functions have been one of the leading outsourced services for onshoring and reshoring in the US. 
Although outsourcing to the United States may come with a hefty price, BPO companies in Los Angeles, New York, or San Francisco usually have a wide talent pool of highly skilled IT professionals. Other advantages to onshore outsourcing are the cultural familiarity and the non-existing time-zone difference. 
But then again, organizations mainly outsource to save on costs. That being the case, a lot of US companies today have also been delegating some of their daily work to Latin America. 
US companies nearshoring to Latin America
Latin America is vastly becoming a nearshoring hotspot for US companies. Aside from cost-effectiveness, cultural similarities are one good reason why a lot of American companies opt for outsourcing companies in Latin America. 
Further, the small time-zone difference is what also attracts more and more business from Southern and Northern parts of the US to nearshore. With the little time differences outsourcing providers in Latin America are able to work in real-time with their outsourcers from the country. 
On top of that, traveling between countries is quicker compared to offshoring to other countries like Asia per se. 
Puerto Rico is considered to be a top IT outsourcing destination in Latin America and it is just a four-hour flight away from the cities in the US. Various multinational technology companies across the world have also established their own locations in the country. Among these companies are Microsoft, Infosys, Rock Solid, and more. 
Other major nearshore locations in Latin America include Colombia, Nicaragua, Argentina, and Belize. 
Offshore staffing to Asia
Despite the emergence of the "Outsource to the United States" agenda, there are still companies that prefer offshore outsourcing. The Philippines and India have always been the two leading offshore destinations around the world for decades.  
Generally, US companies that offshore to Asia are able to boost their overall productivity while being able to majorly save on costs. As talent gaps in the US widen, offshoring grants companies access to a highly-skilled talent pool from outsourcing providers across Asia. 
As for the huge time-zone differences, this has been more of an advantage for US companies as they are able to perform their daily work overextended hours. One perfect example of this is foreign organizations that farm out their call center functions in the Philippines.
These companies attend to their customers 24/7. Yes, that includes the weekends!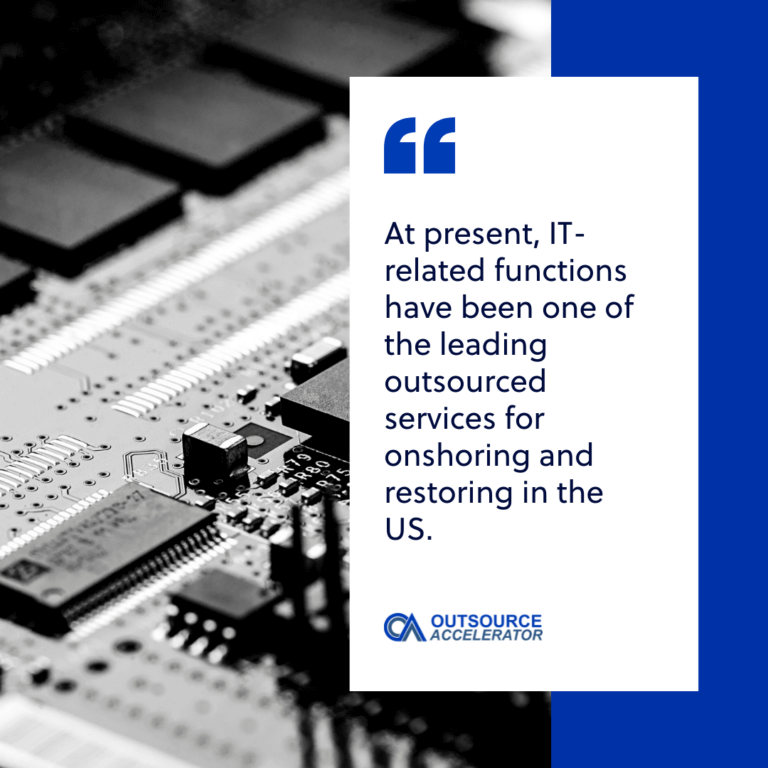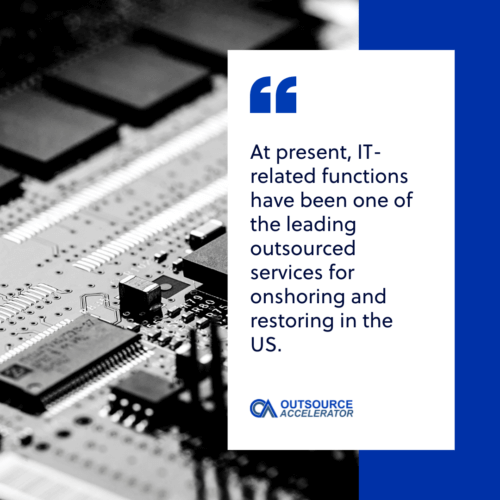 Outsource to the United States: What outsourcing services can companies avail?
A lot of people tend to associate outsourcing with cheaper labor costs from other distant countries. In reality, this is not always the case. Setting aside the costs, the outsourcing industry in the United States also has its own great advantages to local companies. 
This relieves companies from having to worry about cultural incompatibilities. Another thing is that it is also way easier for these organizations to manage and keep track of their outsourced staff, projects, or tasks. 
Here we have listed some of the commonly outsourced services that local companies avail of in the United States: 
Marketing
Marketing outsourcing firms help thriving businesses with content creation, ad design, social media management, and more. These outsourcing providers enable organizations to fast-track the promotion and marketing of their brands effectively.
These are all outsourced with the assurance of yielding positive results.  
Accounting
Outsourcing accounting functions are common to small businesses. Outsourcing to accounting experts helps companies manage their finances as they comply with certain accounting standards and tax filing.
Typically, accounting professionals in the outsourcing industry may handle several clients all at the same time. 
Human Resource
Outsourcing providers offer human resource services from sourcing out candidates, hiring, on-boarding and management of the outsourced staff. 
Recruitment is the commonly outsourced HR services that most companies usually contract out. This tedious process frees up more of these businesses precious time as they focus more on improving their core functions. 
Sales
Without sales, a company will not survive. Outsourcing to sales professionals allows companies to get a hold of sales expertise that they usually lack.
Outsourcing providers have salespeople that are well versed in performing sales calls. These people are also well experienced in setting up sales processes and funnels that are centered around closing more deals. 
IT Management
As we have mentioned earlier, the IT-related functions are among the leading outsourced services in the US BPO industry. Among the top IT outsourcing companies in the US that are also known internationally are IntellectSoft, ELEKS, and Symphony Solutions. 
These companies have fully invested in their capabilities by taking a step further their – talent model, service model and intellectual property. They also have gone an extra mile in enhancing their presence around the world.   
Shipping & Logistics
Outsourcing shipping & logistics services is very popular for entrepreneurs in the e-commerce industry. Outsourcing providers that perform shipping & logistics services are responsible for shipping out and handling of products directly to customers. 
Research & Content Writing
Other US companies prefer to have all their writing content be done by native English speakers. These companies believe that native speakers have a more in-depth knowledge of the English language, common local phrases, and jargon. 
Overall, the current government's support in the US outsourcing has been slowly taking back local jobs in the country. 
The US and its budding outsourcing industry
The US population has over 99% literacy rate and as of 2021. Further, the country's BPO market size has recorded an increase of 0.4%. 
The demand for BPO services related to finance, banking and insurance in the US is also set to increase from 2021 onwards. These types of industries typically deal with tons of sensitive client data and various proprietary information.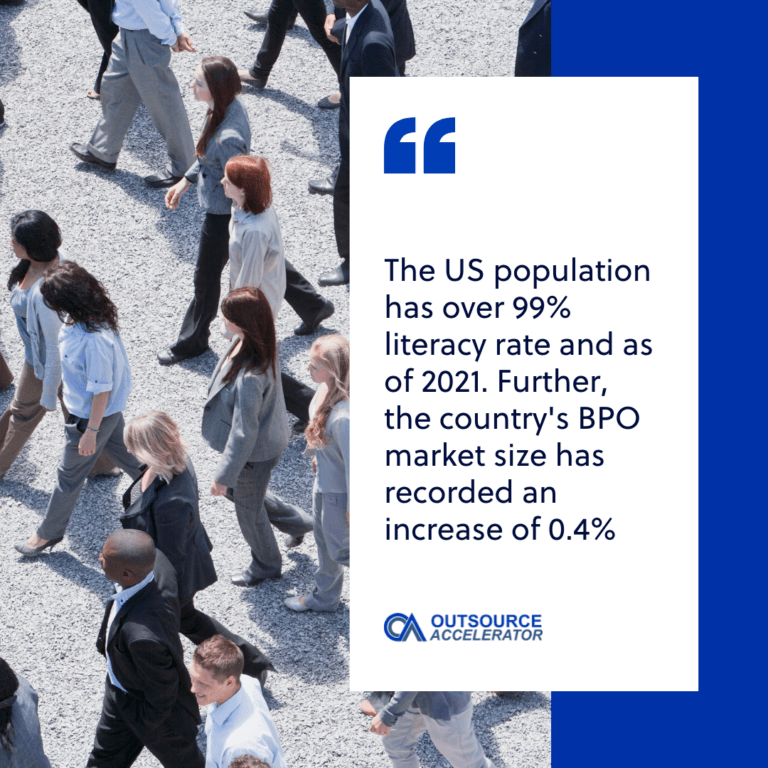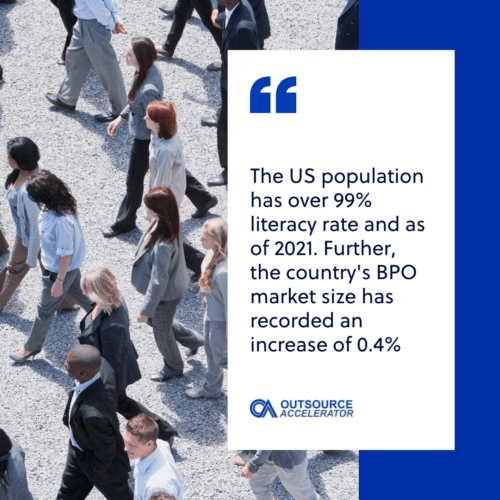 What constitutes the demand for BPO services related to these sectors are back-office functions specifically. These include record maintenance, regulatory compliance, and settlements, among others. 
At present, the market size of the BPO industry in the United States is recorded to have reached over $54.8 billion. In between the years 2016-2021, it has grown at an average of 0.5% rate for each year. 
If you're looking to outsource to the United States, we have listed down the top 30 BPO companies in the United States. Good luck!