Top 20 BPO companies in Puerto Rico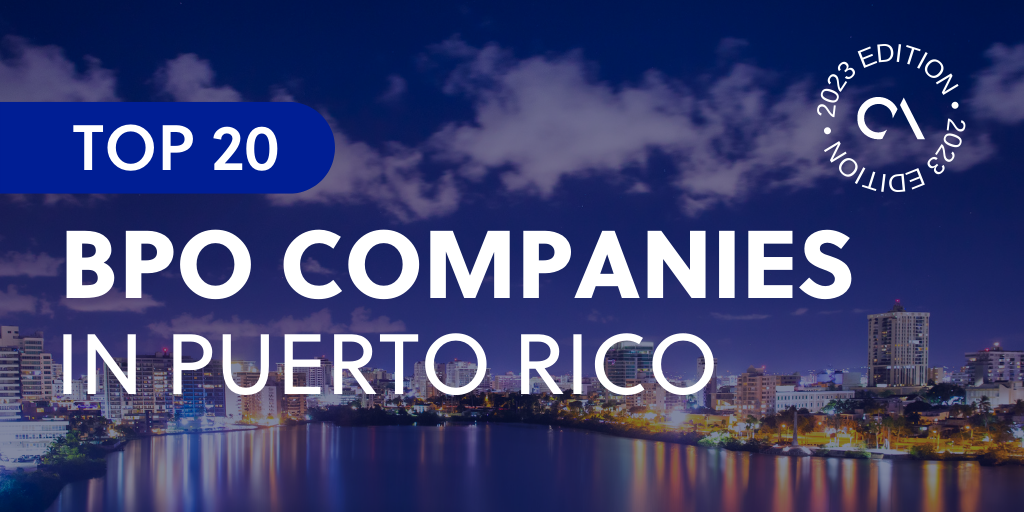 US companies who are looking to outsource can now delegate their services into nearby territories in the Caribbean and Pacific. What's more is that they are freed from the hassles of cultural incompatibility and remote management. 
The Commonwealth of Puerto Rico, known simply as Puerto Rico, is becoming one of the country's most ideal nearshoring destinations. It was ranked 74th in Tholons top outsourcing destinations in 2016 and climbed up to 47th in Tholons Digital Nations the following year.
Located in the Caribbeans, it only takes a few hours and around $400 to go to the Commonwealth from Miami.
Being a part of the US territory since 1917 gave the Commonwealth an advantage to be culturally compatible with the country, adapting its work environment, language, and even currency.
Let's see why Puerto Rico is an ideal outsourcing destination, especially to its neighboring countries. 
In this article, we'll dip into the current outsourcing sector in the country. We have also compiled a list of the top 20 BPO companies in Puerto Rico. 
Top 20 BPO companies in Puerto Rico
Top global outsourcing lists
Outsource Accelerator is the world's leading outsourcing marketplace and advisory. We list over 3,000 BPO firms located across the globe in our global directory, and we provide detailed information, price guides, and reviews.
Whether you're a solopreneur, SME owner, or a corporate executive, we can help you find the most suitable outsourcing provider for your business.
Explore our outsourcing directory now. You may also check out our Top BPO Outsourcing lists per country here:
An overview of outsourcing in Puerto Rico
Business process outsourcing in Puerto Rico is considered as either nearshoring or onshoring since it belongs to the U.S. territory. Companies that have taken back their offshore work turned to delegate their services into nearby countries and territories.
In 2017 alone, the BPO sector in the Commonwealth has recorded an unexpected boom, with an increase of 110% market growth from 2013. The data provided by the Puerto Rico Industrial Development Company (PRIDCO) attributed this growth to Act 20, which sets a 4% income tax rate to the US and foreign companies exporting their services.
Puerto Rico has heavily adapted to American culture, from the English language to the currency it uses. This brings a high advantage to US companies since language barriers and cultural shock will be less from their worries. With low taxes and affordable fare to get to the location, companies can also easily control their operations while enjoying offshore benefits.
Puerto Rico has become popular with software development outsourcing, though other services are also offered by several local and multinational companies.
In our list of top 20 BPO companies in Puerto Rico, we have included a mix of outsourcing firms that offer a variety of specialized services. 
Top 20 BPO companies in Puerto Rico
Take a look at our top 20 BPO companies in Puerto Rico: 
CommSense is a bilingual and bicultural contact center that aims to help organizations reach out to their Spanish-speaking customers in the United States.
The company believes that US organizations need to adapt to the growing Spanish-speaking population in the country if they want to grow their audiences more. This is why they aim to help ease the primary barrier between them – language. CommSense offers cost-efficient operations and diverse customer interactions in both English and Spanish.
Founded in 2010, VarMed Management Group offers fully integrated healthcare solutions for healthcare institutions in both Puerto Rico and the US. The company provides support and assistance for several health services, including telemedicine, health assessment, and disease management.
Telecontacto, a contact center powerhouse in the heart of San Juan, Puerto Rico, was founded in 1995 by experts in advertising, marketing, and public relations. The company offers bilingual and bicultural communication services focusing on developing and maintaining customer relationships for customers and clients in the United States.
In 2013, India's second-largest software firm Infosys BPM opened a 250-seat center in Aguadilla, Puerto Rico.  It was developed in collaboration with PRIDCO to serve its clients in the aviation sector.
From there, the company has expanded into communications and healthcare services to further cater to its US clientele, especially the Fortune 500 companies. Nowadays, Infosys supports clients from the US, Europe, Middle East, and Africa, focusing on customer satisfaction.
DRSI Call Center, LLC is committed to providing the utmost customer experience for clients serving English and Hispanic markets. With over 28 years of experience, the company helps its clients maintain customer relationships by providing dedicated staff trained in maintaining focused engagement foremost.
Aside from bilingual telemarketing services, they also provide web and chat support, direct mail handling, order fulfillment, and business-to-business (B2B) services.
IntelVox LLC prides itself as an exclusive boutique call center serving clients from all industries. They aim to provide high-quality customer service and help their clients manage their businesses better.
The company provides dedicated staffing for inbound and outbound customer service, reservations, and tech support services.
Considered as CX leaders in Latin America, Atento has teams in 14 locations around the world, including Puerto Rico. The company offers offshore and nearshore multichannel services in English and Spanish with more than 1,500 employees serving clients in the United States and other countries.
Atento de Puerto Rico was also recognized by the Great Place to Work Institute as one of the best companies for work in 2019.
LinkActiv, meanwhile, is an established BPO company providing bilingual and bicultural contact center and direct marketing services in Puerto Rico and the US since 1993.
The company offers integrated solutions for contact center, direct mail, order fulfillment, and social media services that deliver top results.
Established in 2013, ECONSOL is one of the companies to offer customer experience, chatbot, and workforce optimization services in Spanish. The company helps its clients manage their work through integrated cloud services, making it easier for them to work from anywhere in the world.
TAS United in Puerto Rico has been regarded as the first call center offering telephone answering services since the 1960s. Their teams are trained to handle answering services for text notification, virtual reception, and appointment setting and management.
Among the contact centers listed, TAS United is the sole company offering a free 7-day trial for first-time clients who want to try their services.
GRC Executive LLC is an award-winning recruitment process outsourcing (RPO) company that primarily helps businesses recruit top talents for their roles.
With over 32 years of experience, the company prides itself in recruiting rank-and-file talents, mid-management leaders, and high executives in small and large businesses in Puerto Rico, Noth America, and the Caribbeans.
Overactive offers goal-driven, service-oriented, and scalable software development services for their clients' needs.
Relatively young to the industry, the company has been tapped by Fortune 500 companies in creating cost-efficient logistic solutions for their critical business processes.
They provide software development solutions for mobile and web platforms and work digitization.
One of the advanced outsourcing companies in Puerto Rico, Wovenware provides artificial intelligence (AI) and software development solutions to clients in the United States.
The company aims to elevate customer experience and drive businesses into digital transformation through its provided solutions and high-quality results.
Founded in 2006, INGELLICOM is an American-established IT consultancy and software development company located in Guaynabo, Puerto Rico. They mainly provide IT consultancy services to clients in the Telecommunications, finance, healthcare, and state and federal government industries.
Business Software Solutions have been around for over 20 years. Since 1993, they have been providing finance and accounting services for small and medium-sized businesses both in the United States and Puerto Rico.
Their services are designed to help clients with their computing needs and easing their accounting tasks so they can focus more on other crucial aspects of their company.
ADP is one of the largest cloud-based technical solutions providers for payroll and human capital services. They serve businesses of all sizes in different countries, even in the United States and Puerto Rico.
The company offers cloud tools and human services for both payroll and human resources so businesses can maximize their growth and take care of their employees better.
A premier independent payroll processing company, Easy Checks provides payroll services in Puerto Rico and 10 states in the US. They help eliminate the risks of penalties in documentary compliances and make salary processing and bookkeeping easier for their clients.
Alight Solutions provide business consultancy and human capital solutions for clients around the world. They have several locations in the United States, Puerto Rico, and several countries. Their main goal is to provide business advice on workforce optimization, healthcare management, payroll solutions, and financial management.
Crowe PR offers tax accounting and business consultancy services in Puerto Rico, the Virgin Islands, and the United States. Their teams have extensive experience in handling accounting services including audit, tax compliance, and risk calculation.
Lastly, ISO Group is the sole company on the list that offers outsourced compliance services for businesses in the medical industry. They provide business solutions, top-performing teams, and process improvements under international standards, particularly ISO.