Top 20 BPO companies in Ethiopia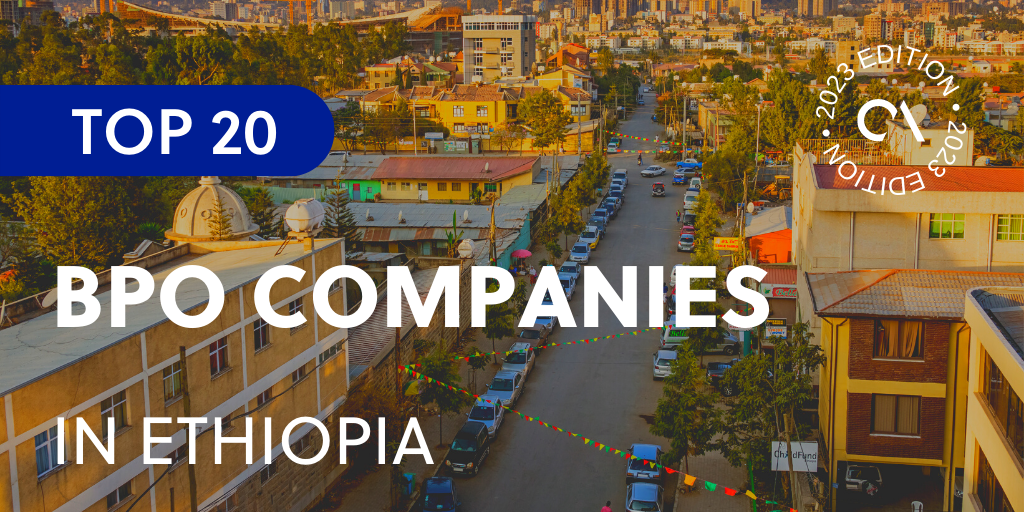 BPO companies are responsible for providing services to their clients or partner organizations. They act as third-party providers, helping businesses with their internal processes such as customer service, IT, accounting, and human resources. 
The top BPO companies in Ethiopia vary in terms of industry focus and the services they offer. These are two things that you must consider before outsourcing.  
List of BPO companies in Ethiopia
An overview of the BPO industry in Ethiopia
Did you know that Ethiopia is one of the top seven countries for outsourcing in Sub-Saharan Africa? Foreign businesses across the world are partnering with BPO companies in Ethiopia because of affordable labor and setup costs.
The government's initiatives in supporting the BPO industry are also the reason behind its continuous growth. The existing policies attract foreign investors, creating thousands of jobs yearly. 
Ethiopia has a 6% annual growth rate, landing in the 6th spot for having the largest economy in Africa. And with its current trend, this rate is going to go higher in the next few years.
In fact, the country's goal is to become Africa's leading tech hub. Hence, this explains the growing number of BPOs offering IT services here.
Things to consider when choosing a BPO company in Ethiopia
Many factors must be carefully considered when choosing a reliable BPO company in Ethiopia. Here are some of them: 
Track record of success 
You want to make sure that you are partnering with a BPO company that has proven itself to be an excellent service provider.
Remember, you will be handing them important processes that can affect your business in different ways. 
If you are seeking customer service representatives to take or make calls to your clients, then you should choose a BPO partner known for its customer support. Look into awards and recognition when assessing a potential company. 
Industry knowledge
Always outsource services from an organization that understands your industry.
This way, they will be aware of the trends, issues, and unique challenges that your business face. They will also know the industry regulations that must be followed.
Flexibility and adaptability
Can the BPO company adapt to change? The right one can anticipate and react swiftly to any market changes and internal or external issues.
Should your needs change, they will be able to adjust the partnership parameters or implement new procedures.
Tech and innovation
The top BPO companies in Ethiopia stay abreast with the latest innovation to offer more efficient services. They are willing to try something new so you can also stay ahead of the competition.
Top global outsourcing lists
Outsource Accelerator is the world's leading outsourcing marketplace and advisory. We list over 3,000 BPO firms located across the globe in our global directory, and we provide detailed information, price guides, and reviews.
Whether you're a solopreneur, SME owner, or a corporate executive, we can help you find the most suitable outsourcing provider for your business.
Explore our outsourcing directory now. You may also check out our Top 40 BPO Outsourcing lists per country here:
Top 20 Top BPO companies in Ethiopia
For more than 10 years, SICS IT Outsourcing has been dedicated to helping clients gain a competitive advantage through its business solutions. It's known for offering excellent media production services.
Different global brands are also relying on their end-to-end BPO services to improve their overall efficiency and productivity.
Based in Addis Ababa, Ablaze Labs is a BPO company that specializes in providing IT consulting, call center services, and customer service solutions. 
Since its establishment in 2021, the company has worked with a variety of clients across different industries. Its team is also comprised of recruiters who search and scout top talents in the tech field.
When it comes to social media marketing outsourcing, you can trust Chainlinx Technologies. Companies outsource their creative team to make web designs, software, and videos for marketing.
This BPO company was established in 2019 in Addis Ababa. Its services grow and now they also offer email and chat support, tech support, order processing and tracking, and returns and refund management.
Since 2004, Target Business Consultants has been serious about helping businesses grow their market and profits. It caters to SMEs, government entities, and organizations in other industries. 
While known for its business advisory services on organizational systems and development, the company is also offering non-voice BPO solutions. They help businesses with fund management, payroll, human resources, and project management. 
R&D Group is among the best offshore BPO outsourcing companies, serving clients in Europe, the US, Canada, and Asia. It prides itself on its state-of-the-art amenities and excellent customer support and IT services.
The company can help businesses with different HR, IT, and customer service processes, including payroll, insurance, AI Data management, content management, document management, and customer contact management. 
While Manpower Ethiopia is famous for being one of East Africa's reliable manpower solutions, it is also a BPO company.
It offers a variety of outsourcing services, such as staffing, payroll, recruitment process, and global employment outsourcing. 
Manpower Ethiopia's BPO services include social media marketing, telemarketing, customer service, and data analysis.
AFRICOM Technologies is proud to be one of the first ISO-certified tech companies in the country. As the leading IT service provider, it specializes in software development, ICT consulting, and capacity building.
Since 1996, AFRICOM Technologies has established a strong reputation in the industry. It is also offering offshore, onshore, and nearshore outsourcing services for clients in and beyond Ethiopia, including Asia and Europe. 
AIT Technology is a reputable tech company offering contact center services in Ethiopia. It caters to medium and large organizations, helping bridge the gap between businesses and customers.
AIT Technology's professional agents handle outbound and inbound calls and can be available 24/7. They can manage appointments as well as perform cross-selling.
If you need to outsource the financial processes of your business, look no further than Service Cops. This fin-tech BPO company just entered the banking market in Ethiopia, partnering with Awash Bank.
The company offers data processing, inbound, and outbound BPO solutions. Currently, Service Cops are providing services to various commercial banks, and payment aggregators in Africa and different parts of the world.
Need new people on your team? Let the professionals in HR recruitment handle the process for you.
YES (Your Employment Solutions) is a one-stop shop for HR processes. It offers recruitment and staffing, payroll management, and executive search. 
You can rely on the experience of the YES team to perform assessment and background checks as well as training and development.
LebawiNet Trading is the company to call when you need a new application, software, or website design for your organization.
Since 2020, the firm has created web apps, and system management software for schools, hotels, and other clients.
LebawiNet Trading is also a professional when it comes to social media marketing, promotions, branding, and design services.
If you need to build a remote team, consider partnering with MMYC Tech. Its headquarters is in New York but has offices in Addis Ababa, Dubai, and other parts of the world. 
MMYC Tech has worked with different brands, including McDonald's, Altour, and Internova. It is dedicated to training remote staff to be the best in software development, event support, IT help desk support, and customer service.
Founded in 2019, Sheger Tech is a BPO company that you can trust for all your online marketing requirements. Their team of experts is experienced in website design, web development graphic design, and SEO campaigns.
The company has a broad range of clients coming from advertising, marketing, IT, eCommerce, and dental sectors in Ethiopia.
Versavvy Media has been offering advanced media and communications solutions since 2020. This Ethiopian BPO company aims to deliver creative technologies and timely support for transportation, retail, and hospitality companies. 
Versavvy Media creates digital advertising, including video walls and corporate signages. Businesses also tap them when they need professional live production and streaming services. 
MAKE Enterprise is a consultancy firm that offers project management outsourcing along with IT managed services and consultancy. The company boasts professional project managers in different disciplines, including IT, engineering, and medicine. 
You can also use their other services to improve business efficiency, such as open EDX deployment and support service, and management training.
When you need to outsource marketing professionals, turn to Straight North. It has digital marketers who are adept in various areas of Internet marketing.
The company performs SEO, paid advertising, and other creative services. 
As an industry leader, Straight North has partnered with thousands of companies, helping them generate leads and improve their profits.
Jasper Ethiopia is one of the most reputable sales and marketing outsourcing companies in the country. It assists businesses in achieving their financial and organizational goals through quality services at affordable prices. 
Jasper Ethiopia has an experienced team who can handle your digital marketing, HR tasks, and even organize events.
Axis Marketing Services is a BPO company that focuses on marketing outsourcing services. It aims to create the best marketing strategy according to their clients' needs and core values. 
The organization uses social media advertising, influencer marketing, web development, tv and radio advertising, event organizing, and merchandizing to promote brands. It also does talent sourcing. 
This full-service company was established in Addis Ababa in 2010. This Ethiopian outsourcing provider offers a variety of communications, advertising, and production outsourcing services. This includes event marketing and planning, social media marketing, and video production.
As an all-inclusive communications company, Eternal Media & Communication is capable of taking care of all your promotional needs. 
Looking for the top freelance talents in the Pan-African area? Partner with Gebeya.
With the goal of showcasing Africa's competitiveness, the company is focused on continuously expanding its network. 
It is in the business of finding highly skilled, certified, talented African candidates who are capable of meeting their client's needs. Choose from pre-vetted talents that are ready to take on short-term or long-term projects.