Top 40 Outsourcing call centers in the UK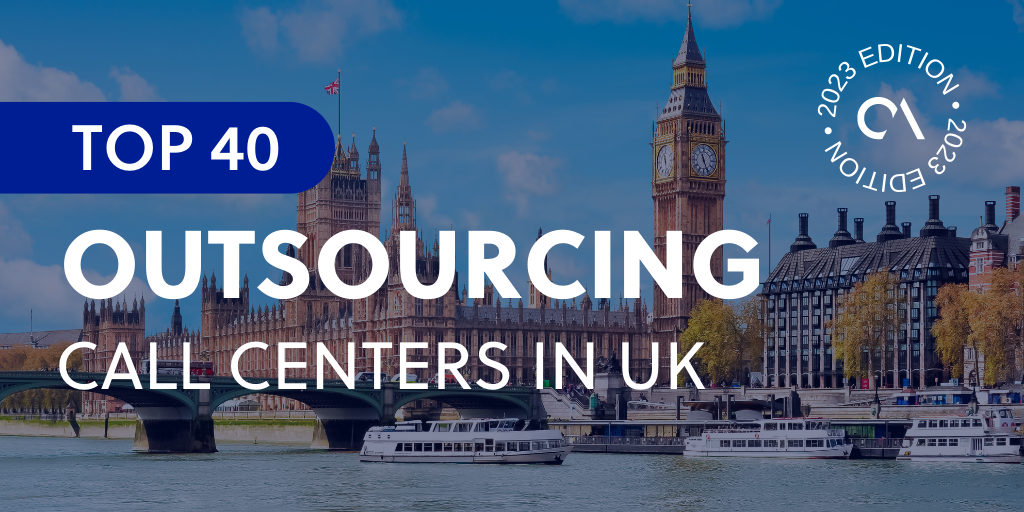 It is a fact that outsourcing to Business Process Outsourcing (BPO) provides various advantages to businesses of any industry. Most corporations delegate their back-office functions – especially customer service operations – to trusted call centers. 
Well-trained call centers provide excellent service to their callers. The inbound call agents are qualified to perform sales calls, so they don't have to memorize scripts. They have a more remarkable ability to ask questions, establish problems, spot issues, and make decisions, all of which contribute to improved customer satisfaction.
A great call center uses updated technology whether work in the workplace or have homeworkers on board. Call center employees have been helpful with everything from healthcare to do-it-it-yourself projects. Agents have been working on partnerships with their clients, engaging in discussions. 
Top 40 BPO outsourcing companies in the UK
Top global outsourcing lists
Outsource Accelerator is the world's leading outsourcing marketplace and advisory. We list over 3,000 BPO firms located across the globe in our global directory, and we provide detailed information, price guides, and reviews.
Whether you're a solopreneur, SME owner, or a corporate executive, we can help you find the most suitable outsourcing provider for your business.
Explore our outsourcing directory now. You may also check out our other top call centers lists here:
The call center and outsourcing industry in the UK
With each passing year, the outsourcing industry has become an increasingly important component of the UK economy. In 1960, Private Automated Business Exchanges (PABX) utilized the basic features of a call center to handle vast volumes of customer contacts.
Outsourcing has a lot to do with the flourishing economy of London. Some of its benefits are creating new employment, spurring growth, boosting efficiency, and lowering costs for many businesses. 
While delegating tasks to call centers in England is still more expensive than to offshore BPO locations, it is still a very effective option for businesses of all sizes.
The top 40 call center outsourcing companies in the United Kingdom (UK)
Here are the top 40 call center companies in the UK:
The Abacus Cambridge Partners ("Abacus"), is an outsourcing firm headquartered in the UK. The firm offers "future ready" and scalable solutions to global clients across all industries.
Pearl Lemon is an SEO agency based in London that works with clients all over the world. They have a proven track record of rating their clients on Google's first list. They're also a multi-award-winning SEO, lead generation, content, and sales firm with offices in England and clients worldwide.
Quantanite combines human abilities, energy, and technology. They help clients develop essential points of their company, such as talent, scalability, efficiencies, and the best customer satisfaction.
FBSPL or Fusion Business Solutions Pvt Ltd, based in India and with branches in the United States and the United Kingdom, is one of the most reputable business process outsourcing firms. From FBSPL 13+ years of experience, their solutions are not limited to particular industry sets.
Aidey is a BPO company that helps organizations of all sizes handle their activities more efficiently through versatile and efficient outsourcing solutions. They help successful businesses achieve their goals of creating and delivering exceptional goods and services.
Conduent is the primary source of globally competitive BPO services globally, with pioneering capabilities in order management, robotics, analytics, and constituent insight. They help government and business customers provide high-quality services to the people they support.
MeritGroup is a close-knit group of technophiles and critical thinkers who focus on completing projects on time and budget. Merit lets brands of all sizes comfortably embrace future demands by developing marketing analytics, quality data, customized applications, and marketing automation.
Clearanswer has developed its strategy since 1998, offering outstanding client-facing sales assistance, customer care, and marketing programs to leading consumer-oriented companies in the UK.
They create customized plans for each customer and prescribe procedures to safeguard the company's image in an increasingly competitive and controlled environment.
CALLCARE has been providing specialist call handling services to both public and private sector organizations around the clock since 1998. With offices in London, Manchester, and Cambridge, this is a leading global outsourced contact centre and mobile answering service.
UnitedLex is a multinational supplier of legal services. The company's goal is to help law offices, law firms, and research institutions work better. For its clients in North America, Europe, and Asia, UnitedLex offers unrivalled solutions that result in risk reduction, performance improvements, and cost optimization.
8×8 is the nation's first communications cloud, connecting staff, clients, and software in a streamlined and straightforward manner to increase business efficiency for companies large and small, global and local. It is a simple, automated system that substitutes expensive and complicated proprietary products.
Sabio is a market leader, providing advanced international support solutions in collaboration with world-class technology providers. Sabio is a leading provider of unified messaging and contact centre technology, specializing in customer contact strategies and technologies. 
Sabio offers services that include contact centre virtualization, multi-channel contact techniques, and user-centred voice apps.
JAM is a multi-award-winning telephone answering service with an impressive company's reputation for the quality of service. JAM has grown into an extensive, strategically innovative company capable of serving clients on a local, national, and worldwide level over the years.
Integreon is a world-class supplier to several large law firms, administrative law staff, investment firms and technical assistance enterprises. Their services include renowned constitution, enterprise, formal, and study management strategies.
CommVersion UK helps their small to medium companies and businesses in the hospitality and manufacturing sector with both on-the-site and virtual phone migration with back-office support. They previously worked on a coworking forum for a UK Creative agency and had a 24/7 live chat service. 
Carden IT Services LTD was established in 2009 in Brighton, Essex, and New York City. They partnered with a service-learning portal to offer IT services for the company's network. They helped the customer respond to the client's regular support desk feature and ensured the machine was ready to go each day.
Pomeroy is an IT leading telecommunications company headquartered in Hebron, Kentucky, with offices in Bourne End, UK, Pittsburgh, PA, and New York. Since its establishment in 1982, the company has expanded to over 3,000 employees. Pomeroy offers IT managed facilities, non-voice call centre and back-office services, and protection capabilities.
Curral is a content marketing agency headquartered in Stevenage, England. Founded in 2017, Curral offers direct marketing, voice services, and digital marketing platforms for small and medium businesses in various industries. Curral provided leads to an app developer. 
Squiz technology allows customers to have better online services. The firm's mission is to inspire the customers by offering the forum, resources, and trust they need to succeed in a digital-first world. 
Squiz products and services have been assisting corporate companies for more than 20 years in creating and scaling digital services that improve consumer satisfaction through smooth, customized customer offerings and satisfy evolving customer demands.
BPO Recruit is a corporate recruiting firm headquartered in the City of London that specializes in the search and procurement of talent in shared services and Business Process Outsourcing (BPO).
They have been providing applicant placements since 2009 through their experienced team of hiring managers who are internationally focused and recognize their customers, the expectations for and from applicants, and respond to the needs through professional, personalized quality services.
Cenza is made up of outsourcing professionals who have solutions to the world's largest companies, legal firms, in-house agencies, and financial firms.
Cenza collaborates with its customers to understand, solve, and resolve their unique legal needs. Cenza's lawyers and legal consultants are qualified to interpret, code, and abstract documents for contract analysis and provide critical legal support resources.
NoMissedCalls.co.uk is a leading pay-as-you-go Telephone Answering Service that operates 24 hours a day, seven days a week. Their experienced operators can professionally handle your calls in the company's name and address them as directed.
Medical Billing and Collection was founded in 1992, and we have gained a reputation for providing first-rate support and have grown to be industry leaders. MBC service is customized to the individual consultant or group practice needs and built on technologies developed especially for their industry.
Cleardata is a leading record management specialist in the United Kingdom, offering document scanning, safe document collection, and document management software solutions. They enable the client's transition to a paperless workplace, boost information processing efficiencies, and secure the data.
TelemarketingPower.com is a digital Call Center that connects with new and existing clients using cutting-edge approaches and technology. The corporation employs telemarketers around the country and is supported by a sizable executive team.
Legal Road Ltd lawyers have an extensive international business and corporate expertise in emerging and developed markets in the United Kingdom. The scope of their services include telecommunications, electronics, engineering, healthcare, life sciences, defence and aerospace, automobile, oil, building, and government.
Online Giants is a successful end-to-end call centre solutions company headquartered in the UK that specializes in strategies, data management, specialized personnel, and information analytics to assist companies worldwide in acquiring, engaging, and retaining clients.
Dunnhumby encourages marketers and stores to do this by providing more meaningful and immersive experiences. The firm helps its clients create a Customer-First marketing strategy. They also offer solutions to help their clients' business and never stop innovating their services.
Symphony is driven to serve the world's most successful companies by planning, delivering, and handling modern business processes. They are redefining the methods and shaping the technology that unleashes the potential of any company to be leaders.
Their staff consists of experienced professionals who are recognized for being trendsetters and development agents.
Creative Translation has over 3000 finely chosen translators and professional authors based worldwide who translate into all commercial languages and cover every business market. Their resources include financial, legal, medical, marketing, scientific, and every other topic translation.
TRUE is a B2B advertising agency that combines strategy and creativity. Their ambition is to survive through a technological transition that would reduce the distinctions between specialist market customers and individual purchasers. 
FX Digital is a digital agency that is an expert at TV application creation and voice interactions. They provide innovative products for brands that want to be the first to use cutting-edge technology.
The experienced team of TV app developers and programmers at FX Digital will create TV applications for Samsung Tizen, LG webOS, Panasonic, Roku, Android TV, Apple TV, Amazon Fire TV, Playstation, and Xbox.
THG Fluently, formerly Language Connect, enables the company to collaborate fluently on a global scale. Many market leaders depend on THG Fluently to connect them with foreign audiences. They believe the best way for organizations and brands to compete globally is to knock down communication barriers.
Gregory Micallef Associates (GMA) is focused on providing solutions and first-rate support. Throughout their 28-year experience, many of their clients have relied on GMA for IT Support and communications solutions.
Lansons Communications is a strategic marketing firm that serves as trusted advisors to organizations worldwide. Complex working environments are among their areas of specialization. It assists clients with finding solutions to their problems. 
Speedflow is a group of businesses with over 15 years of experience in a variety of industries. Founded in 2004 in London as a VoIP-telephony service provider, the company quickly established and launched its first tech products, MediaCore Softswitch and AccuCore ERP.
Orbit Informatics is a popular option for web creation and business process outsourcing. Orbit is the most creative website development firm for IT businesses in Bangladesh and now in London.
They create and offer web production, BPO, and project management services depending on the target market. They prosper in the industry as a result of their accountability and cost-effective operation.
UM in London believes that better research and art provide better results for our customers in critical media moments. They are a creative marketing organization dedicated to blending media and creativity, data and content, and technology and art. The UM worldwide network employs 4,800 employees and works in over 100 countries.
999 Design first operated in 1982 and now an award-winning full-service marketing firm that works in both online and offline environments. They are independent, with headquarters and Glasgow.
SPC International focuses on the maintenance, renovation, and remarketing of electronic and electromechanical devices in the information technology, finance, and retail industries. SPC also provides EPOS, publishing, thin client, barcoding, and information security software solutions through its reseller operations.