Top 30 largest call centers in the world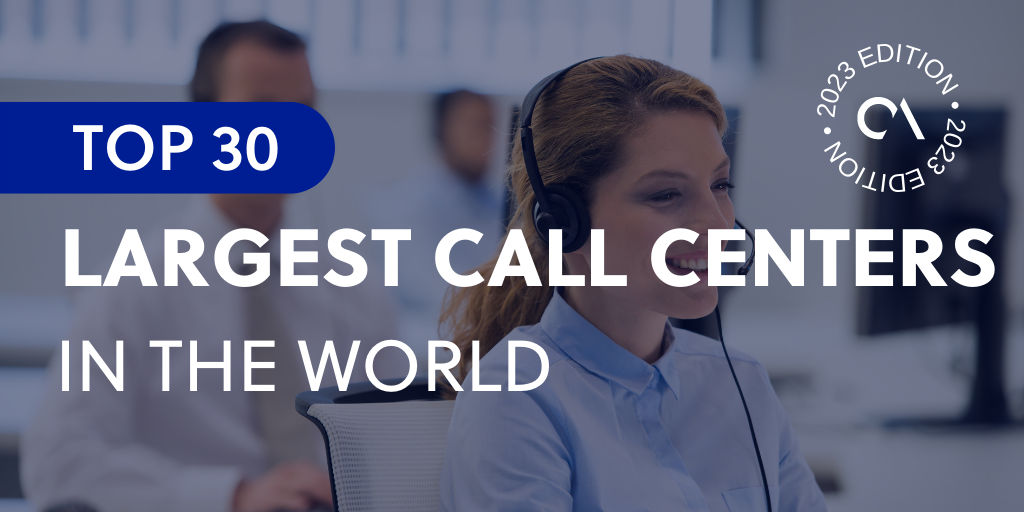 Call centers are a significant force currently driving the market of any organization and even a country.
Outsourcing the call center sector is beneficial to countries like the US and UK. Outsourcing helps cut your operating expenses. You can save expenditures on producing your goods and services.
The Philippines continues to be known as the world's call center capital. However, it took a few years for the Philippines to be recognized as a new participant in an emerging market.
What is a call center?
A call center is a section or a third-party entity that works on behalf of a company. It is mainly responsible for providing consumers with a tailored experience through inbound and outbound connections with customers and potential clients.
A call center is typically a support center where an agent answers inquiries from a customer, provides technical assistance or takes orders over the phone.
Typical call center services offered
Usually, call centers offer a wide range of inbound and outbound services that include the following.
Appointment setting
Telephone answering service
Technical support
Order-taking
Omnichannel support
Importance of call centers
Call center companies are full of advantages to businesses because they offer clients a platform to improve their image, address problems, and build a more substantial customer base. Furthermore, the data stored by call centers is becoming extremely valuable.
Call centers provide a reputable image to your company. Clients who call and receive a personalized welcome make your firm appear to be a well-established professional company that deals with many customers.
Even if you're a tiny business just getting started with customers, providing a professional customer experience is critical for any company's development.
Top 30 largest call centers in the world
Global outsourcing lists
Outsource Accelerator is the world's leading outsourcing marketplace and advisory. We list over 3,000 BPO firms located across the globe in our global directory, and we provide detailed information, price guides, and reviews.
Whether you're a solopreneur, SME owner, or corporate executive, we can help you find the most suitable outsourcing provider for your business.
Explore our outsourcing directory now. You may also check out our other top call centers lists here:
30 largest call centers worldwide
Here are the top 30 largest call center companies globally: 
Genpact began as a subsidiary of General Electric (GE), but it evolved into an independent corporation. In banking, consumer goods, energy, and other sectors, Genpact provides commercial services to customers.
Alorica is a prominent provider of BPO services that cover the entire client journey. Alorica also offers a variety of world-class services to clients in various sectors, ranging from customer service to financial solutions and digital services.
AT&T Inc. is a multinational holding corporation with its headquarters in Downtown Dallas, Texas. It is the largest telecommunications business in the world and the leading supplier of mobile phone services in the United States.
The Blue Cross Blue Shield Association is a federation of 35 distinct United States health insurance firms that insure over 106 million people in the United States.
Wells Fargo & Corporation is a global financial services company headquartered in San Francisco, California. They also have operating headquarters in Manhattan and management offices around the United States and internationally.
Verizon is a wireless network provider based in the United States. Previously, Verizon Wireless, a distinct part of Verizon Communications, handled the mobile network.
In 1998, Citigroup Inc. was established by merging Citicorp and Travelers Group, a financial conglomerate. Travelers Group was later split off from the corporation in 2002.
Citigroup's call center wing serves as the customer service provider for its main banking activity. They are tasked with processing payments, answering concerns, and accessing markets on behalf of their clients worldwide.
Conduent Inc., based in Florham Park, New Jersey, is an American business process outsourcing services company. Businesses and governments use the company's digital platforms to manage their functions.
As of 2020, Conduent has 68,000 workers across 40 countries that provide functions such as telephone answering, technical support, and virtual receptionist services.
Convergys Corporation, founded in Cincinnati, Ohio, once specialized in selling immense customer knowledge and information management software. The company is now acquired by Concentrix as a way to expand its services.
Teleperformance SE is an omnichannel corporation from France. Customer acquisition, customer service, technical assistance, credit control, social networking sites, and other services are all provided by the company worldwide.
SYKES provides various solutions and services through multichannel delivery platforms, including digital marketing, sales expertise, customer care, and technical support. Customers are effectively engaged at each stage of the customer journey.
Based in Miami, Florida, Sitel is a privately held contact center and business process outsourcing company. It outsources huge organizations' sales, technical support, customer service, and other business functions.
ADP is a leading provider of cloud-based human capital management (HCM) systems that integrate HR, payroll, talent management, time, tax, and benefits administration.
EXL is a central operations management and analytics firm that assists organizations in increasing growth and profitability in the face of constant competition and upheaval.
MDY BPO is a global BPO and call center company with over 20 years of experience and a philosophy of providing added value to their customers through the services they provide.
Transcom is a global user experience expert with an extensive network of call centers and work-at-home employees who provide customer service, sales, technical support, and collections.
Infosys BPO focuses on end-to-end outsourcing and provides transformative benefits to its clients through lower costs, increased productivity, and process reengineering.
Transcosmos has merged excellent people with cutting-edge technology to help its clients' businesses compete more effectively by providing superior and valuable services.
TeleTech, now TTEC, is a worldwide customer experience firm that creates enthralling multi-channel customer experiences for the world's most inventive brands.
Advantage Solutions' specialized sales and marketing solutions include corporate sales, retail merchandising, and marketing services, focusing on client and customer events, publications, and assisted-selling services.
Startek is a customer experience BPO and call center firm that provides customer support solutions in a unique and meaningful approach. The company offers various strategic services, including social media monitoring, professional services consulting, customer journey evaluation, and reporting suites.
24-7 Intouch can give a multi-channel approach via voice, live chat, email, and social media management by leveraging the most modern technology, extensive insights, and marketing specialists for each account.
Everise is a digital outsourcing organization that specializes in worldwide healthcare and technology experience transformation. The company's innovative methodology mixes customer and technical assistance with AI.
The Bosch Group is a world-class provider of software and services. Its operations are focused on four business sectors: mobility solutions, industrial technology, consumer goods, and energy and building technology.
VXI Global Solutions serves the world's leading brands with creative and disruptive customer service and customer experience (CX) solutions. The company created a dynamic suite of award-winning customer care technologies that improve the customer-care advisor's complete lifecycle.
Nurse on Call is Ireland's leading call center agency focused on nursing. They are authorized suppliers to all HSE and HSE-funded hospitals and work-sites around the country. In addition, Nurse on Call is the largest supplier of nurses and caregivers to private hospitals.
VN GLOBAL BPO is the market's most adaptable call center and outsourcing firm. For the past 25 years, the VN GLOBAL BPO has been transforming the banking and telecom sectors.
Konecta has grown exponentially to become a multinational with a staff of more than 54,000 professionals that takes on its customers' business and makes it the focal point of your strategy.
Neobpo provides solutions, technology, and BPO services while integrating CX, UX, and Design Thinking consulting. They assist the clients in digital transformation, developing new service days, reinventing the way consumers and businesses interact, and saving expenses.
Comdata Group is a multinational and creative services company in customer operations. They ensure a direct and global presence to better serve their consumers with cutting-edge technology in many markets, locations, and industries.