Top 20 call centers in South Africa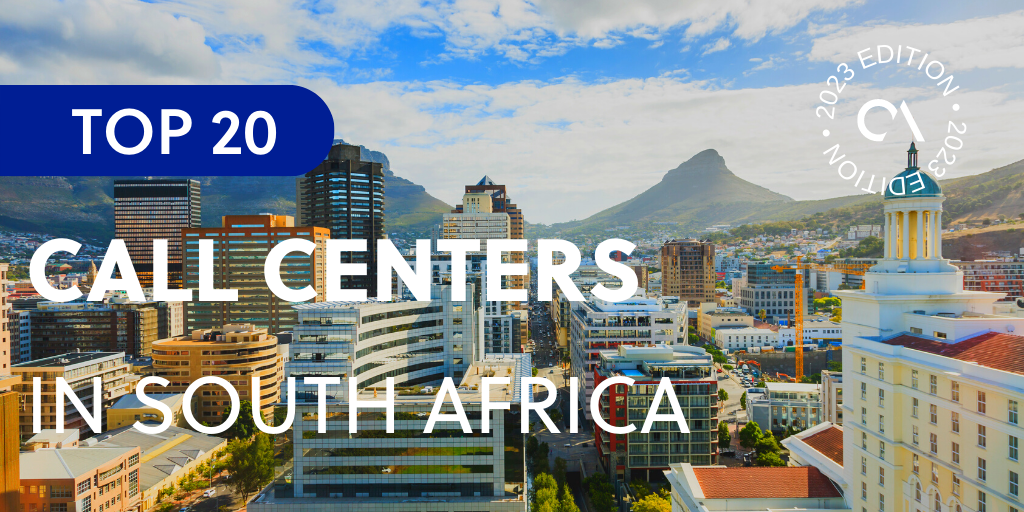 As the business world becomes competitive, companies look for ways to be more efficient to stay on top of the game. This is why call centers have become a staple. 
Call center covers a significant portion of the business process outsourcing (BPO) and offshoring sector. In South Africa alone, the call center industry has recorded exceptional growth over the past years.
The BPO market in the country employs 240,000 call center agents, expected to reach 300,000 by the end of 2023. 
Many businesses realized how call centers help in delivering reliable customer service. When customers are happy, increased revenue and loyalty follow. Look at the top 20 call centers in South Africa and deep dive into how they improve their business partner's customer experience.  
Why companies should outsource call center services in South Africa
Incorporating outsourced call center solutions into your business can contribute to your business growth. There is no business without customers. Thus, customer service should be your priority to thrive in your business industry. 
One interesting thing about call centers is that they can be in a different country than the company they provide their services to. This satisfies the high demand for offshore call center services in South Africa. 
South Africa is a hub for outsourced call center solutions as it shelters a tech-savvy workforce and an unsaturated call center labor market.
Moreover, its government has supported the industry by granting local BPOs essential service status. This ensures that the services provided to customers remain reliable.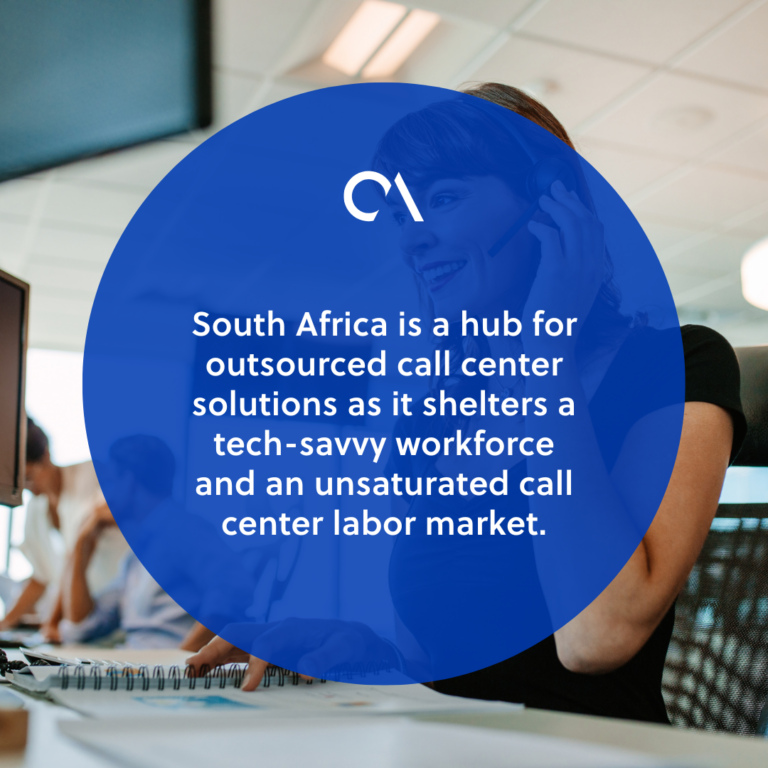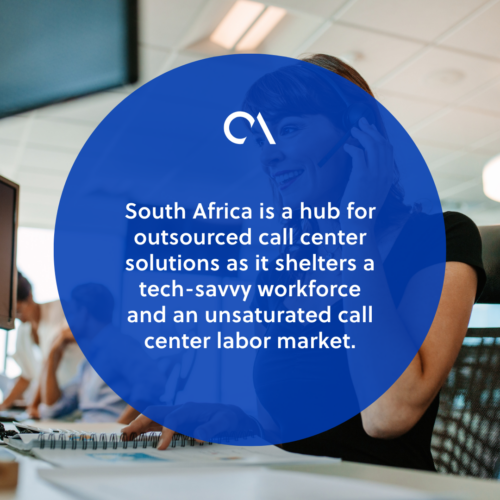 Top 20 call centers in South Africa
Top Global Outsourcing List
Outsource Accelerator is the world's leading outsourcing marketplace and advisory. We list over 3,000 BPO firms located across the globe in our global directory, and we provide detailed information, price guides, and reviews.

Whether you're a solopreneur, SME owner, or corporate executive, we can help you find the most suitable outsourcing provider for your business.

Explore our outsourcing directory now. You may also check out our Top callcenter  lists per country here:
Top 20 call centers in South Africa
Explore these top 20 call centers in South Africa that have showcased exceptional customer service and efficient communication solutions: 
When it comes to services, call center operations are one of Mango5's areas of expertise. The company has trained customer service representatives who provide technical support solutions across different communications platforms like email, phone, and web/live chat. 
Aside from these solutions, these trained professionals handle lead generation, warm calling, predictive data analytics, and social media management.
Moreover, Mango5 utilizes data analytics to streamline business operations, make informed decisions, and share valuable insights with clients.
Sigma Connected is an award-winning company with a mission to be different and make a difference. With over 5,000 employees, this company provides outsourced call center solutions and customer contact services to well-known brands. 
Sigma Connected's services include customer service, complaint management, and acquisition. The company's team of agents works alongside various brands from multiple sectors 24 hours a day, seven days a week. 
Moreover, Sigma Connected pushes the human touch during every customer interaction. Whatever the reason for the exchanges, customers should feel optimistic about the brand. When they are happy, satisfaction and retention follow. 
CCI Global's 15 years of experience makes it a go-to outsourcer in South Africa. How do they remain successful? 
CCI Global has solutions to help its business partners grow and operate efficiently. For business growth, the company develops sales strategies that impact the business' bottom line. Chat and email support, customer service, and social media are services to enhance its partner's services and outputs. 
Moreover, CCi Global has worked in various segments and industries like e-commerce, healthcare, telecommunications, and insurance.  
Wing Assistant provides executives, startups, and small and medium-sized businesses with the right remote talent who can work on mission-critical tasks.
Wing's virtual assistants are game-changers for clients. They serve businesses in various industries, including e-commerce, real estate, healthcare, and construction. 
Moreover, Wing's remote assistant can perform several tasks at hand, including administrative support, content creation, and event coordination.
Their virtual assistants can also perform lead generation, inbound and outbound calls, appointment setting, and call routing. 
TDS Global Solutions, formerly TeleDevelopment Service Inc., started as a small consulting firm. Armed with 30 years of knowledge and experience, the company became a leading provider of operational assistance and HR services worldwide. 
The company wants to make call center operations simple, exceptional, and affordable. This is achievable with its outsourced solutions, including lead generation, tech support, back-office services, inbound and outbound call centers, and customer support. 
JT Call Centre wants to solve businesses' operational challenges like any other call center company. It is the leading inbound and outbound contact center in Johannesburg, South Africa, providing an alternative to affinity-based sales and initiatives. 
The company has proven that its outsourced solutions across various sectors paved the way for building long-standing client relationships. 
JT Call Centre helps businesses grow revenues through outbound and inbound custom interactions, including customer administration, helpdesk, customer satisfaction surveys, cross-selling, and product upgrades.
For darkred, a good product is something with excellent after-sales customer service. Passion for the service industry drove the founders of darkred to establish this company. Their story started with a mission to manage its call center service and provide world-class service to its customers. 
With darkred witnessing the system's benefits to their internal team, they decided to offer its tool to other businesses. darkred offered outsourced service call center solutions to businesses needing more resources and expertise to operate an in-house call center. 
The company provides trained agents and the darkred platform itself. Moreover, darkred is also responsible for the whole job life-cycle until completed–ticket creation, job logging, resource scheduling, and customer satisfaction surveys. 
Telumac believes that focusing on services that help a business grow is sensible. For the people of Telumac, outsourcing call center services can make or break today's businesses. It is a cost-effective way to satisfy and retain loyal customers when done right. 
Telumac has mastered the art of helping companies boost their sales and generate leads being in the industry for several years. Their efforts resulted in the successful conversion of visitors to paying customers.
Aside from that, Telumac offers call handling, telemarketing, appointment setting, survey and retention service, and customer service. 
121 BPO Services' mission is to deliver an exceptional customer experience. They do this by ensuring they have the right employees to perform the job. 121 BPO also uses a customer-centric approach and advanced technology to achieve its goal. 
The company's specialists provide customer and consumer care services, complaints management, technical support, and contact center consulting. 
Boldr's mission and purpose revolve around the three C's–clients, communities, and companies.
As the company continues to expand, it focuses on giving back by investing in the community and creating opportunities for talented individuals. Boldr also builds custom teams depending on their client's operational needs.
Boldr will devise custom-built outsourcing solutions out of each firm's requirements to help their business grow.  They take this up a notch as it adopts their KPI, culture, and values. 
Moreover, Boldr offers outsourcing services, including sales, data management, customer services, and staffing. For customer service, Boldr's professionals are the customer's first point of contact in various communication channels. 
Innovation, investment, and insight–these three I's ensure that Outworx remains at the forefront of the Global Business Services (GBS) sector. It follows a customer-centric approach to give an edge to its partners.
Outworx's industry expertise enables its partners to meet or surpass their business objectives. 
The company offers business management processing solutions for multiple sectors, such as telecommunications, retail, healthcare, insurance, media, and broadband industries.
Outworx focuses on helping clients grow their businesses. Its workforce specializes in contact center solutions, customer service, inbound and outbound sales, and lead generation. 
CareCall delivers tailored call center solutions to businesses of all sizes. With 25 years of experience, the company continues to deliver the attention and care its partners deserve. CareCall handles the call center operations while its clients focus on core matters.  
CareCall is an expert in the following services: telesales, call center, event and RSVP management, FSP services, customer complaints management, surveys, and order taking. Its call center service is also flexible regarding campaign handling, whether inbound or outbound.
Ninzi-Connect has excelled in the industry for over 25 years as a telecommunications and customer engagement solutions company. They provide contact center management solutions to improve customer engagement and customer experience.
Ninzi-Connect designed its solution portfolio to promote an efficient business process and boost performance in contact center and back-office environments.
Their services include workforce optimization, call automation, interactive voice response, interaction recording, quality management, and business analytics.
The idea of the Real Receptionist sparked when the creators of Arc Tech recognized clients' need not only for a telephone system but also for someone reliable who could handle incoming calls. 
The company promoted the concept of a virtual receptionist to small businesses that cannot hire full-time employees. Fortunately, the Real Receptionist received a positive response. 
Today, Real Receptionist has highly trained receptionists who handle incoming calls provide administrative support, and schedule appointments. The company also utilized advanced call forwarding technology, enabling seamless call routing to the receptionist. 
This technology ensures that the callers receive a professional and prompt greeting whenever and wherever they are. 
As one of the oldest BPO contact centers in South Africa, 3iSolutions takes pride in its contribution to the industry.
A group of entrepreneurs and professionals established the company in 2003 to effectively and efficiently cultivate a positive customer call center experience. 
Since its inception, 3iSolutions has implemented advanced communication solutions that can lower the cost of customer engagement while increasing the return on investment (ROI) of each customer interaction.
Their services include customer service and retention, order taking, telemarketing, appointment setting, and technical support.  
Boomerang is one of the go-to BPO destinations in South Africa. It isn't surprising since it has helped other businesses position themselves in various industries. 
Boomerang values relationships and wants its partners to treat them as more than remote resources but as allies. 
The company wants to foster meaningful people connections through its services. This includes customer sales and retention, customer experience services, multi-channel inbound and outbound call center, and B2B marketing and sales. 
Consumer Links is a believer in many things. First, the company believed there was a more efficient way of managing outsourced business processes. It understood the hardships of finding reliable outsourcing partners, which paved the way for putting customers as its top priority.
Second, Consumer Links believed BPO services should be more than a cost-saving solution. It should drive real business value and create lasting relationships. These beliefs boil down to one thing–empowering and transforming businesses through near-shoring and off-shoring models. 
Equipped with technological infrastructure, global telephony, and trained agents, Consumer Links would serve as an extension of your business. The company's call center services include lead generation, appointment setting, and call handling. 
Talksure's humble beginning started in 2010. It has successfully contributed to the growth and success of many business owners and entrepreneurs. Today, Talksure is an award-winning financial services provider in South Africa and the international markets. 
A centralized customer contact center is the core operation of Talksure. Inside this hub is a successful sales agents with neutral accents. They also manage outsourced solutions and customer care inquiries. 
Aside from the agents, they also offer skilled consultants specialized in inbound, response-based marketing, and outbound, cold sales strategies.
Most businesses want to establish a remarkable digital footprint, which is what VirtuCall offers.
VirtuCall is a call center company focusing on customer acquisition, retention, and care. Equipped with experience and knowledge, the company's professional agents listen and develop solutions according to the client's needs and objectives.
The organization has served different markets and industries. Whether business-to-business (B2B) or business-to-customer (B2C) sales, its talented team ensures success in every call center outsourcing project. 
Meanwhile, VirtuCall's call center capabilities include customer order processing, order taking, market research, customer service and care, data modeling, and data analysis.
SA Commercial is another award-winning BPO provider in South Africa and international markets.
One of its missions is to create inspired experiences, achievable by managing customer experience effectively and meeting customers' needs.   
SA Commercial's services improve both back-end and contact center environments. These outsourced solutions include customer service, lead generation, research, order fulfillment, cross-selling and upselling, client service management, and technical support.