Key Performance Indicator (KPI)
Definition
Key Performance Indicator definition
A key performance indicator (KPI) is a critical indicator of the progress of business processes in reaching their objectives. It is used by different organizations at different levels to evaluate each professional services that contribute to the progress of the company and its overall performance.
Key performance indicators are categorized into two categories: quantitative and qualitative.
Quantitative is based on numerical standards of a goal while qualitative refers to the quality of the performance based on physical feelings, tastes, or opinions.
They are also measured into five types: input, process, output, outcome, and project. Since this is an embodiment of a SMART goal, it measures its objectives and individual goals through the methodology and presents it in data form.
Key Performance Indicator examples
Key performance indicators may fall into different points of measurement: financial metrics, process metrics, customer metrics, and people metrics. For instance, the assessment of net profit, cost of goods sold, and the tally of revenue vs. target fall on the financial metrics.
For people metrics, there's the average number of employee turnover, training and seminars held for employees, and the number of open positions every quarter.
Process metrics, meanwhile, measure the number of processes it has for each role over the efficiency of these processes.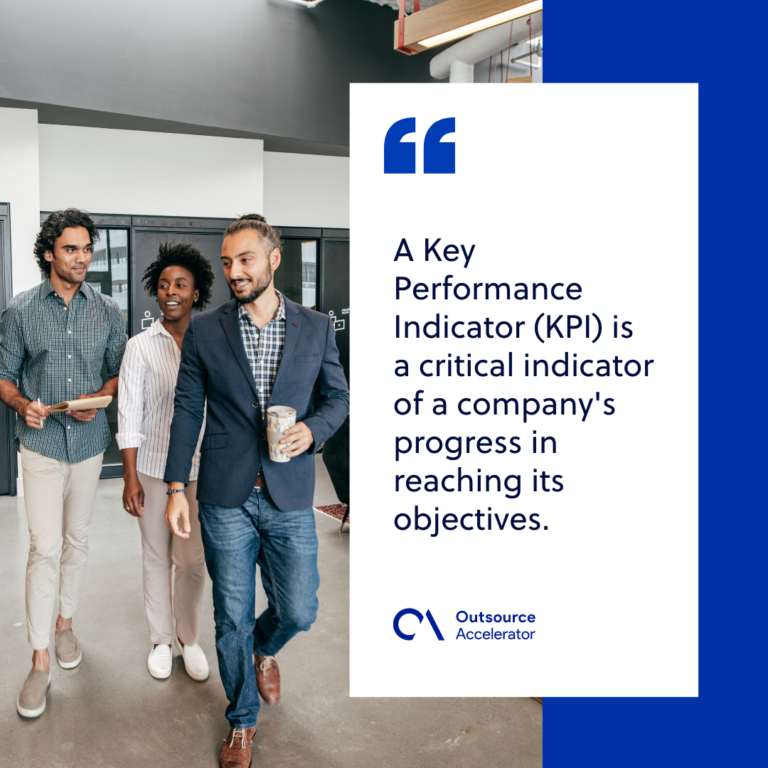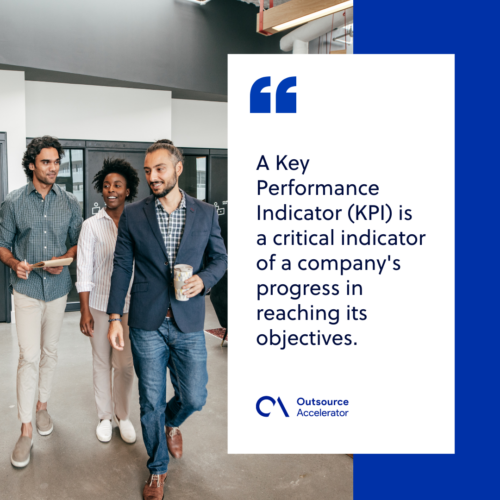 KPIs by industry
Regardless of whether you call them indicators or measures, KPIs are the most crucial benchmarks for the performance of an organization or industry. Using and measuring the right KPI is a key step in the success of your business processes.
Determining what indicator you want to utilize is the hardest part of workforce management. It can be financial, customer-focused, process-focused, and many more.
KPIs vary between different sectors. These industry-specific measures will enable you to analyze your data to know your performance and create concrete decisions for your company.
KPI's meaning in the BPO sector is also different. Many call centers use metrics that are customized to their everyday processes to measure the productivity of every call agent.
KPIs in the BPO industry
In a BPO, contact center, or call center environment, supervisors usually monitor and measure the performance of their call agents through various call center metrics.
Monitoring these KPIs allows them to analyze their everyday call volume, their call setup success rate, agent productivity, customer satisfaction, and their services' overall customer experience.
Some common contact center KPIs include the following:
First call resolution (FCR)
Also called first contact resolution, this call center KPI tracks the percentage of incoming calls or requests that were resolved during the first interaction between call agents and inbound callers.
Solving an issue quickly within the first call contributes to an excellent customer experience. This also eliminates the need for the call center agent or the tech support team to schedule a follow-up call to solve the customer's issue.
This metric is also a great way to assess the call center efficiency and the agent performance in your company.
Generally, the industry requires an FCR rate close to 90% to consider the call center service to be excellent, while 40% is considered the "low" end.
Customer satisfaction (CSAT)
The customer satisfaction score indicates whether a product or service exceeds customer expectations. It measures the service level of every call center agent and whether they delivered a poor or excellent solution to all the calls that the center has received.
CSAT is often measured through surveys given out as a post-call work to callers. Inbound callers are then asked to rate the service level from zero to five.
To calculate your final CSAT score, use the two highest values on your feedback surveys (commonly 4 and 5). Then, follow this equation:
CSAT = (No. of satisfied customers / Number of survey responses) x 100
Net promoter score (NPS)
The net promoter score measures both customer loyalty and customer satisfaction. It answers the question of how likely a caller would recommend the call center's services to other people.
The total NPS score helps businesses find out if they need to improve their services, customer support, and delivery, among others to increase customer loyalty.
As a contact center KPI, NPS helps companies determine how many of their callers are enthusiastic with their service, as well as how many are not satisfied with the service.
To measure your NPS, follow this formula:
NPS = Percentage of promoters – Percentage of detractors
Customer retention rate (CRR)
Customer retention rate measures the total percentage of customers that your team has retained in a certain amount of time. This can be weekly, monthly, quarterly, or yearly.
This metric is among the most important KPIs to monitor because it impacts the company's revenue, customer satisfaction levels, and the overall growth of the business.
A high or increasing retention rate means that your clients have a positive sentiment about your brand and that they are happy with your services.
To know your CRR, simply follow this formula:
CRR = (Total active customers at the end of a given period – No. of new customers during the same period) ÷ Total customers at the beginning of the period X 100%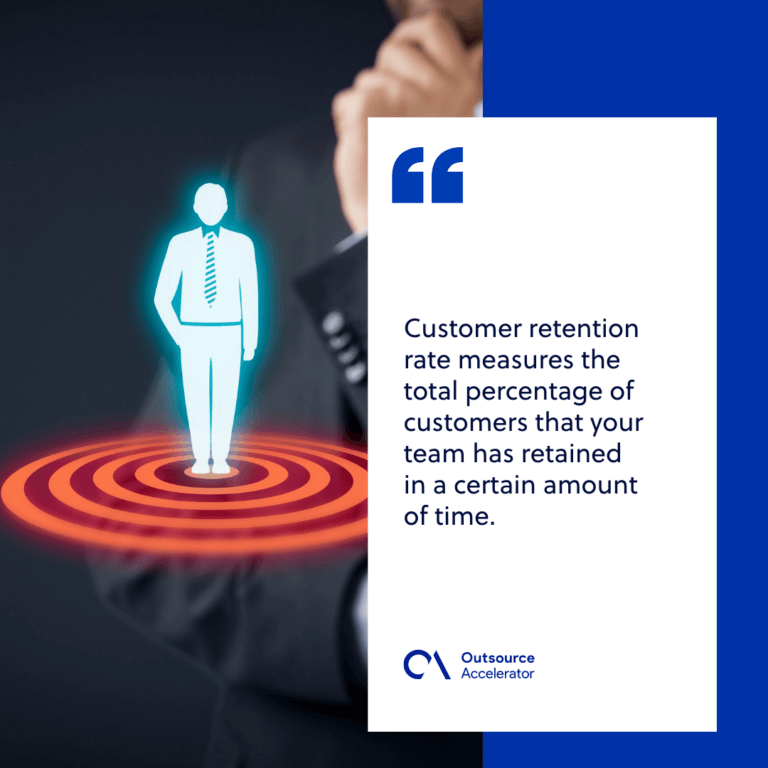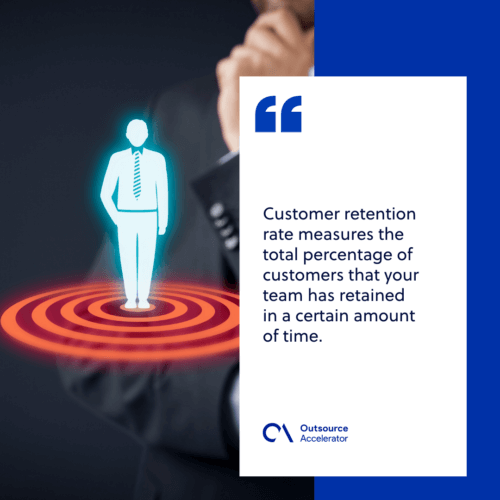 Average speed of answer (ASA)
The average speed of answer, or simply ASA, calculates the average time that agents take before answering a customer's call. This includes time spent waiting for a call agent to answer the customer's calls.
Here is a simple formula to know your ASA,
ASA = Wait time for answered calls ÷ No. of answered calls
The industry standard ASA average speed is generally 28 seconds. A longer time than that could lead to a low customer satisfaction rate and generally a bad review from a caller.
Average abandonment rate
A call center service's abandonment rate determines the percentage of abandoned calls made by customers who have already ended the call before even reaching a call center agent.
Abandoned calls are not uncommon in call centers as callers tend to be held up for several minutes to an hour before getting connected to a human representative.
Monitoring your team's abandonment rate allows you to see how many callers became angry or impatient enough to leave before receiving assistance from the company.
A high abandonment rate signals that you mostly have frustrated customers which in turn, affects your customer satisfaction rate.
Here is how you calculate your abandonment rate:
Abandonment rate = (Number of calls – Number of handled calls) ÷ Number of calls x 100
Average response time
The average response time refers to the average time it takes to respond to an incoming call and the time the agent spends completing the whole conversation. It does not include time spent waiting for an agent to answer.
The most ideal response time in the call center industry is 30 seconds. The shorter your average response time is, the higher your customer satisfaction gets.
Calls blocked
Call centers can sometimes get overwhelmed when fielding calls from their customers. This is where a busy tone or signal goes through. This usually occurs when the call center cannot handle answering more calls.
Usually, the call center software is not capable of handling the current amount. When you measure KPIs for the percentage of calls blocked, you must determine if the problem is department-wide or only to an individual employee.
Additional training can be offered for call center agents who are struggling with an excessive number of active waiting calls in their lines.
Customer effort score (CES)
Customer effort score (CES) is a KPI that measures the amount of effort the customer had to apply to be able to use a product or service, have their concerns or questions answered, or get their issues resolved.
Sometimes, any call centers or contact center platforms are hard to reach. Callers had to make extra effort to get their calls answered by an agent that could help them with their concerns.
Measuring your CES can help make accurate predictions of your call center performance. Typically, callers are asked to rate the ease of their customer experience through a numerical scale or an anger-to-happiness scale.
The higher the CES a call center has, the better. A high customer effort score means that your call center provides an effortless experience for customers.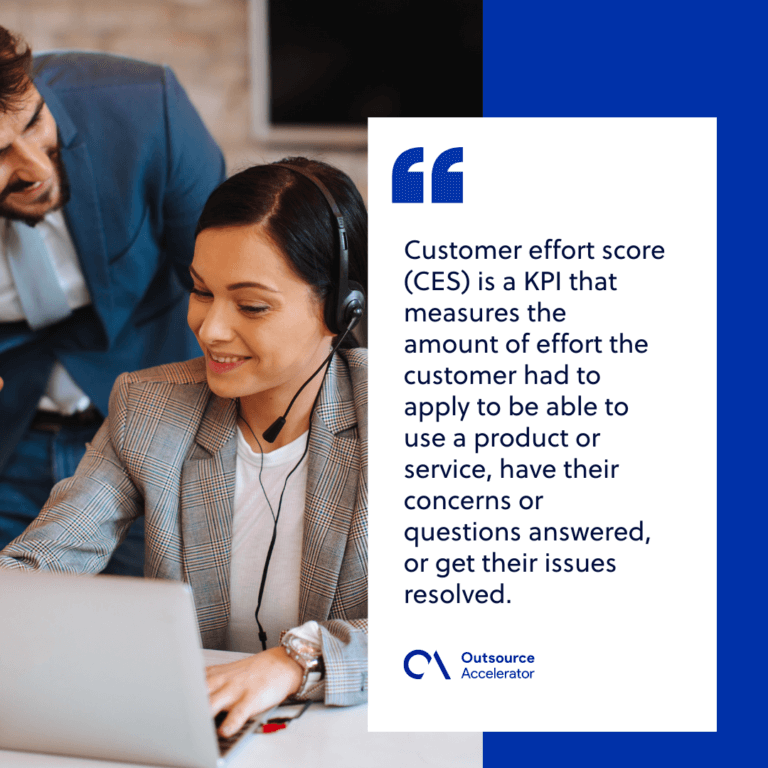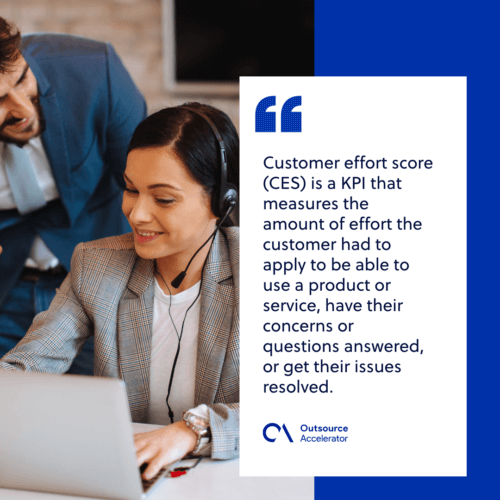 Aligning BPO employees with your KPIs and metrics
It is always advisable to track call center KPIs. It helps organizations know what to do when measuring customer satisfaction, the center's and agent productivity, the effectiveness of their services, how many calls are being answered in a timely manner — or as soon as the agent's phone rings, how agents are working to resolve customer issues, and how they avoid reaching even one blocked call.
BPOs have different ways of measuring their call center effectiveness, but all have standardized metrics for the industry. Typically this measurement combines specific focus areas and provides important insights about customer experience, putting equal emphasis on quality and quantity.
One of the most complicated parts of working in the call center industry is knowing and understanding call center KPI and metrics. Comprehending them makes it easier for call center agents to align themselves with the contact center and the goals that the company is working for.
This responsibility mostly falls on call center managers. They are obliged to study the different call center KPIs deeply to train their agents to work according to the specific metrics.
If you are still confused, you can ask for advice from outside consultants about measuring your call center KPIs.
Outsource Accelerator connects you with the best outsourcing companies in the Philippines, where you can save up to 70% on staffing costs. We have over 5,000 articles, 350+ podcast episodes, and a comprehensive directory with 2,500 BPOs… all designed to make it easier for clients to learn about, and engage with, outsourcing.