Call center standard operating procedures and best practices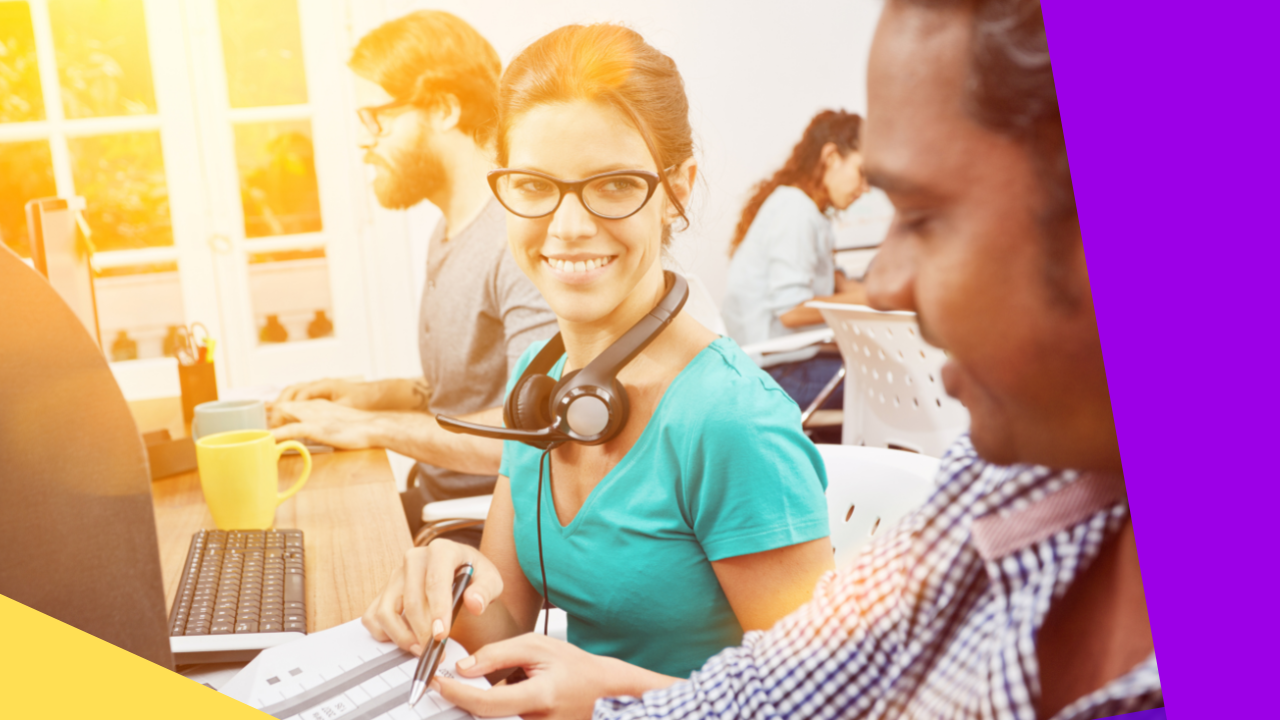 When working in a call center, standard operating procedures are there to help employees and the management team tackle workplace problems head-on. It's put into practice so that everyone can internalize these performance benchmarks.
Call centers are, no doubt, one of the most high-pressure and fast-paced environments amongst the other sectors. 
This just goes to show that growth and development in this industry are immensely important.
Defining call center standard operating procedures
Call center Standard Operating Procedures (SOP) are a set of instructions that a workplace puts into practice. This set helps employees and their respective teams carry out the best possible work etiquette.
SOPs are put into place to achieve goals and milestones within the company. SOPs help employees be efficient, productive, and resourceful when doing their jobs and responsibilities.
Administrative policies
This section of the standard operating procedure document pertains to the administrative policies of the workplace. In a call center setting, this may cover attendance, punctuality, requirement compliance, workload, and work hours.
For instance, the manual should state clearly why and how call center agents should request for shift changes. The manual would also state if the workplace allows a grace period for all employees to not be marked as tardy.
Administrative policies may potentially cover these workplace practices should the SOP be composed in accordance with their culture and operations.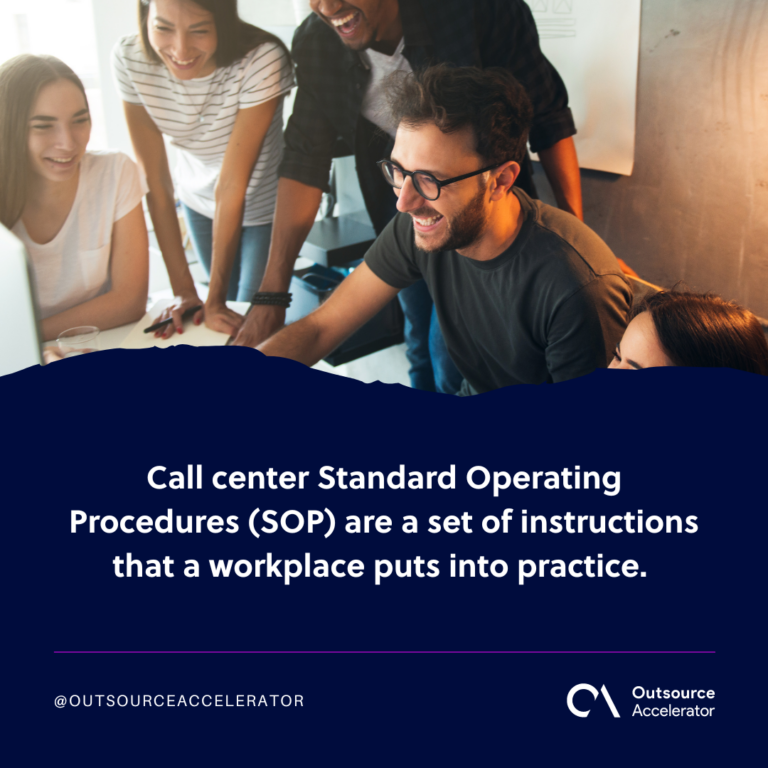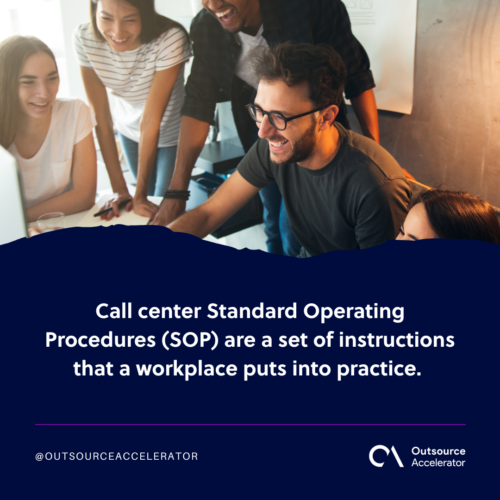 Performance management
Performance management covers the growth and development of the employees—both new and experienced. 
Evaluations of performance based on key performance indicators (KPIs) are thoroughly checked by team managers—to be discussed with and to their respective team members.
Call center metrics such as call abandonment, the amount of time spent on hold, and successful calls are put into place to determine an agent's strong point and areas of improvement.
Training and coaching
In a fast-paced environment such as a call center, continuous improvement done via training and coaching is a must-have.
A call center standard operating procedures handbook is not complete without any development plans for the company's labor force.
Call center best practices: What they are and why do they exist
Call centers are often the first point of contact for a lot of brands out there. From customer support to billing suppliers, call center agents are the ones who face the public.
How do you define call center best practices?
Defining call center best practices is something akin to the general definition of it.
When asked about the definition of call center best practices, most employees in the sector would refer to their respective company's handbooks.
In there lists a set of rules, regulations, and code of conduct that everyone should follow.
Why call center best practices are important
In any organization within any industry, best practices are important to the well-being of the employees.
Best practices are the benchmark of successful employees. Without these practices, workers from different departments would have a hard time completing their responsibilities in the right way.
General best practices in the workplace
These are the general guidelines for most professional organizations. These best practices should be enabled no matter what industry or niche your company is in.
For hiring managers, start implementing these from the beginning—sourcing, hiring, and onboarding. Potential employees would generally ask about the process early on so it's best to have a well-thought-out answer ready.
Gauging potential employees during the hiring
When hiring employees, it's important they match at least 80% of the requirements they are asked of.
If possible, hiring managers may send a detailed general rundown of the positions to the candidates for them to gauge the position more.
Remember that hard skills can be taught but a person's character can't be. While this may be an unpopular opinion, more and more hiring professionals are prioritizing character development over teachable skills.
Onboarding with clients
When introducing new hires to clients, make sure that the basics of the job are already laid down. Since onboarding with clients is more on formality, they may expect the new hire to hit the ground running.
There's nothing wrong with this—especially if it's a fast-paced environment such as a call center. 
However, it's much better to let the employee warm up to the process and standard operating procedures of the job before getting started.
Continuous improvement throughout their employment
Training, seminars, and online courses are paid for and provided by the company. All of these are pertinent to the employees' improvement. 
Even the most experienced employees need to hone their skills and upskill every once in a while. We all know how competitive industries are. There's no harm in learning a new thing or two.
Feedback and action plans
Giving constructive feedback is important. It points out an employee's area of improvement and gives them room to grow out of their comfort zone.
Employees most likely have coaching sessions with their mentors and/or team leader. One-on-one coaching sessions are a safe place wherein the team leader can give their feedback and for the agent to come up with an action plan.
As a general rule, they conduct these sessions over a certain prescribed period.
Call center best practices
Call centers are a hotspot for fast growth in a company. The environment they are in is very conducive to internal development, especially for startups.
Best practices will help both employees and the management team to achieve goals and milestones within a short period. Without standard operating procedures, most companies—not just call centers—will succumb to substandard performance.
Call monitoring and quality assurance
Quality assurance specialists handle a large volume of calls that they need to sift through. 
Their job is to find any unpleasant or any deviation from the company's best practices and standard call procedure.
Call monitoring and quality assurance will ensure that a company's customers and clients are getting the best service possible.
Abandon rate percentage
There are instances—especially in the busy season—that customers drop the call before reaching an agent on the other line. This is called the abandon rate percentage.
As most of most guessed it, having a high abandon rate may impact the customer's vision of the company. They may leave a review about slow customer service and that will impact the company's overall image.
Call scoring initiatives
Call scoring may be done based on the company's internal metrics. The most common metrics are attendance and punctuality, openness to feedback, and the willingness to learn.
Of course, the production floor's call scoring may be a tad bit different from that.
Call scoring may help agents and team leaders pinpoint an area of improvement, especially if it is closely monitored and is followed up.
Extensive training
There's no doubt that call center agents go through weeks of training being deployed to the production floor.
This training, whether it's general industry-grade training or an account-specific one, will immensely help an agent's journey in a company.
As mentioned before, continuous development should be a norm in any professional workplace. The industry is as competitive as it is, we—as the workforce—need to step up.
You can opt to skip training by outsourcing call center agents. BPO firms like SPLACE can provide you trained talent you need. They would be already aware of the industry's best practices.
High-quality technology
In today's world where everything is connected by technology, it's hard to work around devastatingly outdated equipment.
As a tech-enabled call center company, it should be a priority that every employee is supplied with a proper workplace with high-tech equipment. 
The company should invest in durable work computers, systems, and software that will make everyone's workload bearable and easier to tackle.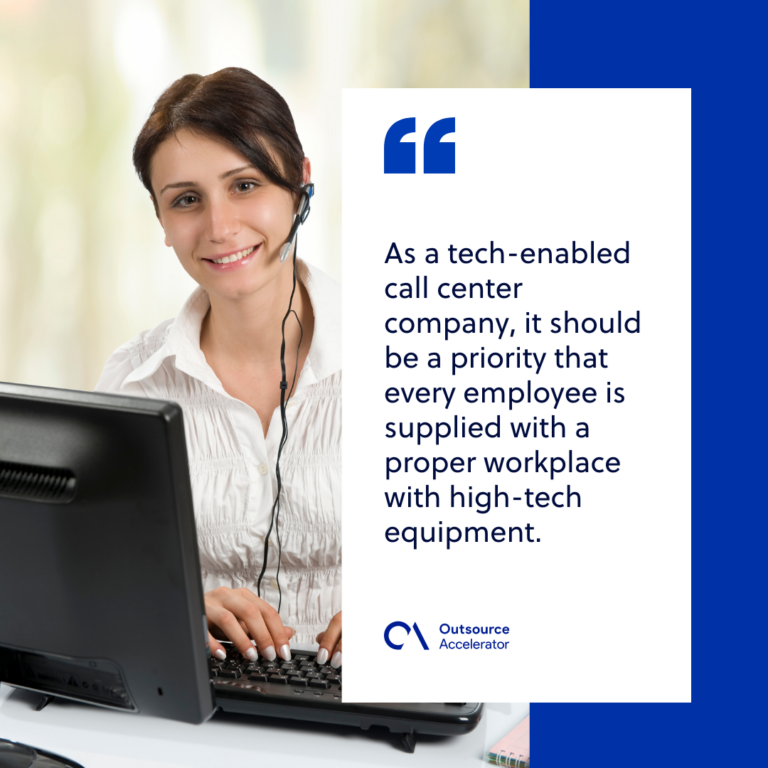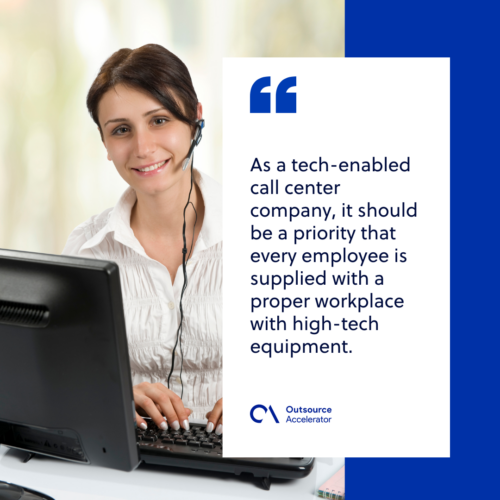 Centralized systems
Centralized internal systems should be updated with the data and information that certain departments can access. 
This would minimize the confusing back and forth between closely related departments such as HR and payroll, payroll and accounting, and so on.
Each and every employee has a file on that system and therefore should be updated should they wish to update it, e.g. information revisions, sudden status changes, promotions.
Working knowledge base
An internal knowledge base is important if a company wants to have failsafe communication between the likes of the IT department, compliance, and human resources.
Full of self-support instructions and FAQ, a knowledge base should be a call center agent's first step before calling in additional support from the departments they find an issue with.
Customer-centric approaches
Having a customer-centric culture in the workplace calls for empathetic team players. Especially in the call center industry as they handle most of the customer-related activities.
Humanizing customers—even the irate ones—is an important part of providing good customer service.
The customer-centric approach implies that the company, no matter how big it gets, will always provide the same high-quality service and product that they have grown to love.
Employee-first policy
As we all know, employees are the backbone of the company. Without them, there would be no business or anything to build upon on.
Call centers and business process outsourcing companies are notorious for their employee-first policy, especially that their work environment may be too stressful for some.
Having an employee-first vision allows these organizations to provide their standard operating procedures without putting anyone under the bus.
Reinforcing accountability in the workplace
Accountability in the workplace is an important facet of every department that makes up the company. Without it, these best practices may have been for naught.
In call centers where not every move can be monitored, every agent must know that they should practice having responsibility for their actions.
The human touch behind call centers
Call centers are a high-pressure environment. You have irate customers, demanding requirements, long hours, and more.
Most of us tend to forget that without call center agents, we wouldn't have tech support specialists that would help us troubleshoot. Without them, we wouldn't have customer service reps to call if any product or service problems arise.
With the rise of AIs, there's a low-boiling fear that they would replace agents—a valid concern. And yet, experts concluded that good customer service starts from the human on the other end of the call.